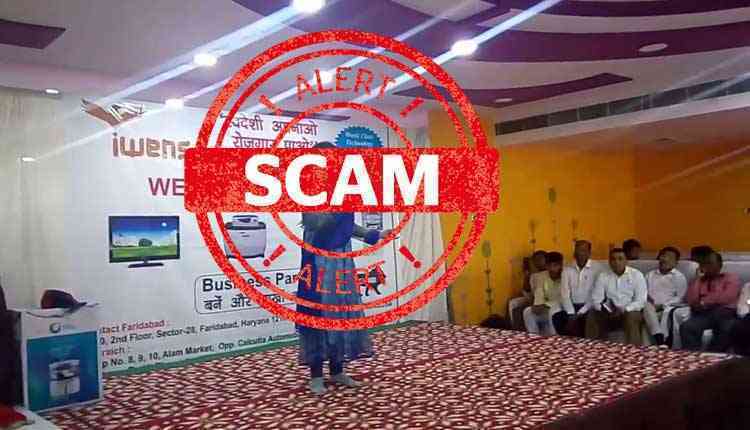 Scam and Fraud Youth Rozgar Guru Pvt Ltd Company
This is a Guest Post Written by Sunil from Faridabad, New Delhi
Youth Rozgar Guru Private Limited is a registered company incorporated on 31/05/2016 with U74999HR2016PTC064344 registration number is situated at 1520, Sector-28, Faridabad, Haryana CLAIMS to be the "leading placement company" that offers placement and consultant services in getting jobs. As per the official website of Youth Rozgar Guru Private Limited website (rozgarguru.com), the company claims to offer a numbers of services including placement, not limited to consultancy, but also resume writing, training and human resource management etc.
In this post we will expose the Youth Rozgar Guru Private Limited which is nothing, but scam and fraud company running MLM Chain Marketing (chit fund). MLM Marketing or Multi-level marketing is also known as pyramid company. According to the Google, A pyramid scheme is also known as pyramid scams that offers services or products on the promises of high-payment i.e. — Return of Investment (ROI) which could be in the form of money, service or product. Under pyramid or MLM marketing people joins the company or the scheme under another person commonly known as the leader forming a pyramid or Multi-level chain.
Running pyramid marketing based companies is banned in India and the similar companies were banned in the past and the action against the directors of such scam companies were taking including QNet where the QNet investors demand action against multi-level marketing firm.
In order to get the services of Youth Rozgar Guru Private Limited you've to become the member of this company by paying Rs. 1000 per month up to 15 months so the total deposit you make is Rs. 15,000 in the span of 15 months. The company CLAIMS, every month they organise an event in which they also conduct LUCK DRAW SCHEME and the winner get exciting offers varying from luxurious Toyota Fortuner to affordable Tata NANO and other products including Bikes, TV, Air-conditioners, Scooties, International Tours and Cash. Rest those who fail to get anything through the LUCK DRAW SCHEME, the company claims they get Rs. 51,000 CASH (Wait It's SCAM!). Don't misunderstood with the terms and conditions of their last page since the Rs. 51,000 is another gift which is only meant for the person who won the luck draw not for the person who failed to get any luck draws.
The members of this company nor the leaders will ever tell you that after 15 months you will get nothing, but a Power Card worth Rs. 30,000 (another SCAM).
The Power Card has further terms and conditions as:
You can ONLY BUY product from their another company named IWENS Private Ltd worth Rs. 15,000 Only.
You will get 15000 discount on buying property from their another Real Estate Company.
Now, talking about their company IWENS which seems to be another scam which sells highly expensive Chinese electronic products on the name of Swadeshi. The products they sell are manufactured by a company named ICONIC (conicworld.com). The price of their products is 70%-80% high as compared to the market rates. Taking an example of their Air Cooler ICONIC Air Master 65 which is a copy of OG AIRMASTER 65 LTR priced at Rs. 14999, where the market price is only Rs. 6,1777 (see the market price here).
The company gives no payment receipt or evidence in fact in the invoice they gives on purchasing products from their company named, IWENS Private Ltd has mentioned as "Not applicable" instead of the price since it has been gifted to you you cannot even move to the court and file a case.
Legally, what you can do?
First, file a case in the consumer court along with the membership book, membership card and the payment evidence if you have any. Write to the Ministry of Corporate Affairs from mca.gov.in/MinistryV2/complaints.html. In addition to that also write an email to the bank where the Youth Rozgar Guru Private Limited is operating their account with the details on running chain-marketing.
You can also Tweet on the Twitter tagging concerned minister, Government Department and Politicians addressing your issues.