India's every corner and every part can tickle your tastebuds, I bet! From Kashmir to Kanyakumari, from Gujarat to Arunachal Pradesh you'll find delicacies in every single region. Before I let you know about the 13 famous North and South Indian dishes, let us know what makes the food of these two regions different.
The difference in the south and north Indian food 
The primary difference is the base of food items in both regions or staple food. In North India, Wheat is more in use. Off course, because it's something grown in abundance there. That's why Naan, bread, roti, paratha, Bhathura etc. are more in consumption there. While in South Indian cuisine, rice, coconut and seafood are the kings of the plates. You'll find coconut chutney suitable with many South Indian dishes. You'll find rice, fishes, prawns etc. used almost everywhere from Bengal to Maharashtra, Kerala or Tamil Nadu.
North Indian food is usually a more spicy and complex blend of flavours. South Indian food is often a simple mix of flavours and with fewer spices used. 
So let's begin talking about the 13 dishes I have chosen to present here from both North and South Indian regions. Starting from the North, we will move towards the south
1. Biryani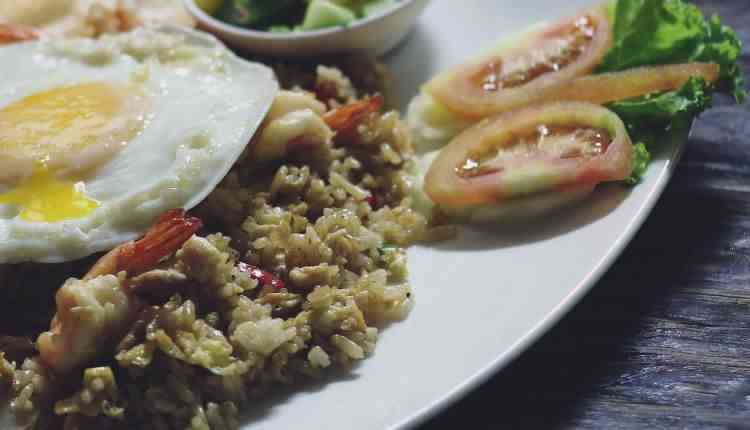 Mouthwatering dish of North India, Biryani is famous and known everywhere in North India. It is a bit time taking to prepare a good biryani, but the time spent is proved to be completely worthy as soon as it's kept in front of you.
With a debatable origin, biryani is believed to be born out of the Mughlai and Awadhi cuisine. Prepared with partially cooked rice, chicken or meat or beef or vegetables it is a complex but mouth-watering blend of spices. Biryani, when cooked traditionally in a Handi, can make you feel heaven on earth.
The best thing about Biryani is that it is famous not only all over India but also has a worldwide existence. You can find the best Biryani at Lucknow, Chandigarh, Delhi, Kashmir and even in Hyderabad ( where it is very famous) and Kolkata.
2. Chole-Bhathure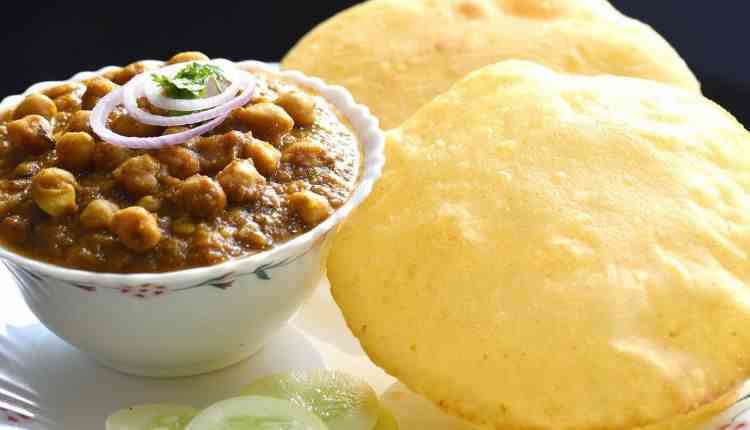 Another tongue tickler is the Punjabi plate of Chole-Bhathure. Chole made with Chickpea is the curry with a perfect mashup of spices and herbs. While the tortilla kind of Bhathura is made up of deep-fried white flour. The yummy combination of onion slices or pickle is a cherry on the cake, here. Chole – Bhathure born from Punjab are now a part of maximum street food stalls in North India. The best thing about it is you can have them as a refreshment or the main course both.
3. Stuffed Parathas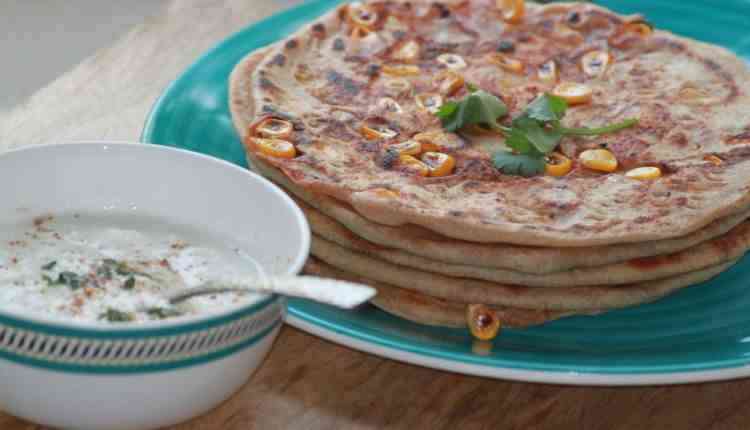 A typical breakfast of North Indian is the stuffed paratha. Vegetables like potatoes, radish, onion, cauliflower, paneer or even nuts stuffed ( sweet parathas) in tortillas of wheat flour. Commonly had as breakfast and also as the main course they are good to keep one energised. They are roasted with a bit of butter or ghee or oil in the pans. When accompanied with curd, chutney or pickle or had with a glass of lassi, they will make you feel that the paradise lies in the world of food.
4. Baati Chokha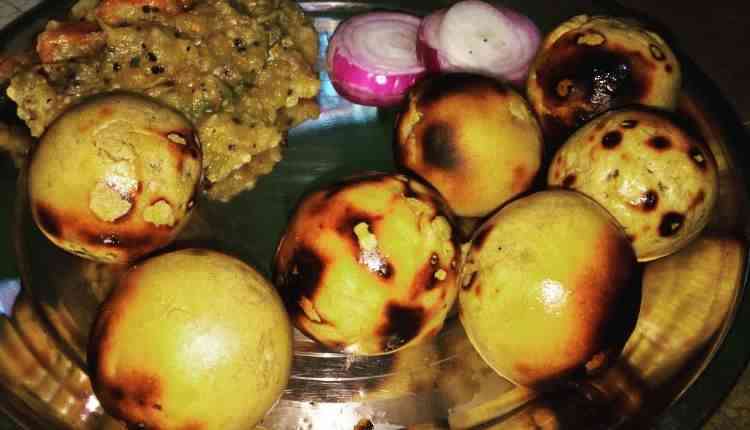 An ambrosial delicacy of Bihar is the Baati Chokha. Made of wheat flour, the Baati is a ball-like structure stuffed with roasted chana dal. This Baati is then cooked in a charcoal-based barbecue grill or Bhathhi. Roasted in the coal, it has a tempting smokey and muddy smell. The Chokha is a mashup of roasted potatoes, onions, tomatoes or brinjal. Less spicy but a healthy food item Baati Chokha is also greased with ghee, but that's ultimately your choice. Overall, it's a must-try desi food.
5. Butter chicken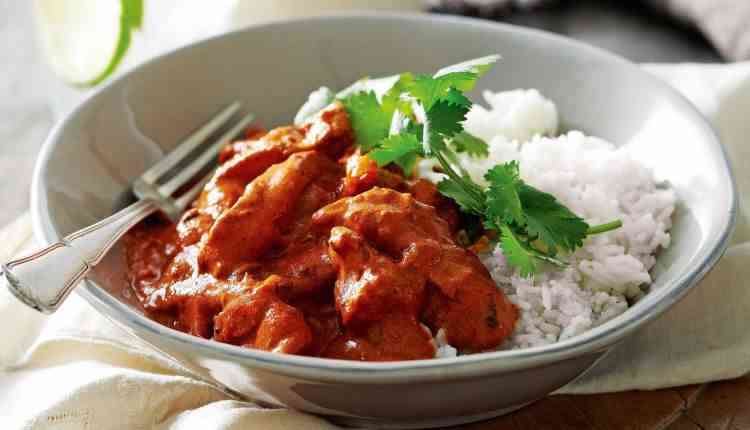 A dish for the non-veg lovers is the buttery chicken. Also known as Murg Makhani or Makhan Murg the creamy, delicious gravy of butter, cream and spices mixed up with chunks of chicken is another tongue tickler of North India. Had with naan or rice, it is prevalent in Punjabis. It is also a favourite dish of almost every non-vegetarian. You may find the best butter chicken at desi Dhabas than in a 5-star restaurant.
6. Kebabs and kebab parathas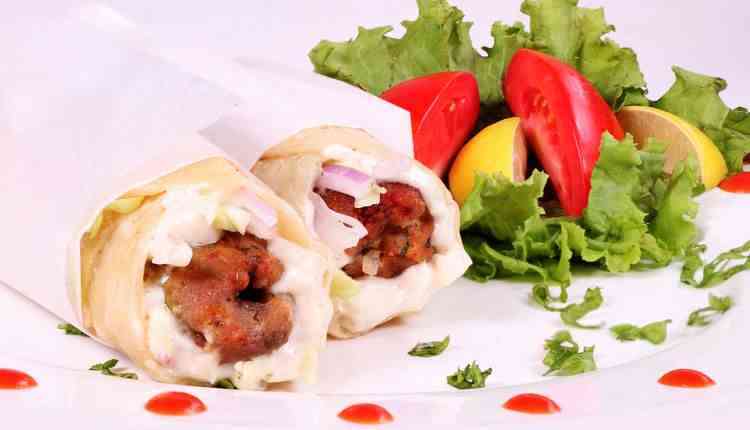 Born from the Middle East region, kebabs are quite popular in north India. Available both for vegetarians and non-vegetarians, Kebabs are meat or mashed pulses grilled well with spices mixed in it. Kebabs are usually famous in Delhi and Lucknow. Hyderabad is also a hub for delicious kebabs. Kebab is eaten generally with paratha or naan or is pierced in Seenk (thin skewer). Kebab parathas are also rolled and called kebab rolls, which is a famous street food of north India and also is healthier than many other street foods.
7. Matar paneer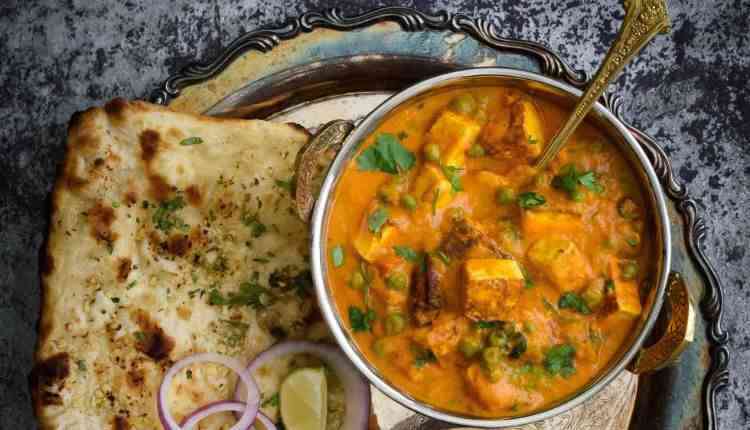 The cottage cheese or paneer paired with peas is a popular dish all over India. You will find this combination in almost all marriages and parties on the Main course menu. A simple curry made with paneer and Matar and concoction of various spices like turmeric, coriander powder, pepper, cardamom, cloves, cumin seeds, bay leaves etc., Matar paneer is eaten with chapatis, poori or naan. It is a typical but delicious dish which is favourite to a large mass of people.
Now let us move on to a few popular south Indian dishes.
8. Dosa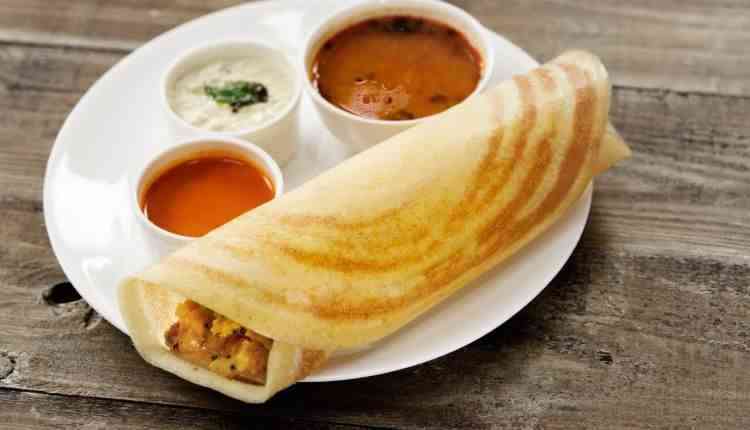 Almost every Indian, no matter from which corner of the country, is well known with this food item from South India. A healthy food, with minimal use of spices, dosa is made with a batter of soaked rice and urad dal. Paired with sambhar which is a stew of Arhar (lentils ) and few completely optional vegetables, Coconut chutney seasoned with clattered mustard seeds and curry leaves. Dosa has varieties where plain dosa is just a sheet of grilled batter of rice and urad dal, masala dosa is the same sheet stuffed with a dry curry of mashed potatoes and peas, and paneer dosa is stuffed with paneer.
9. Idli sambhar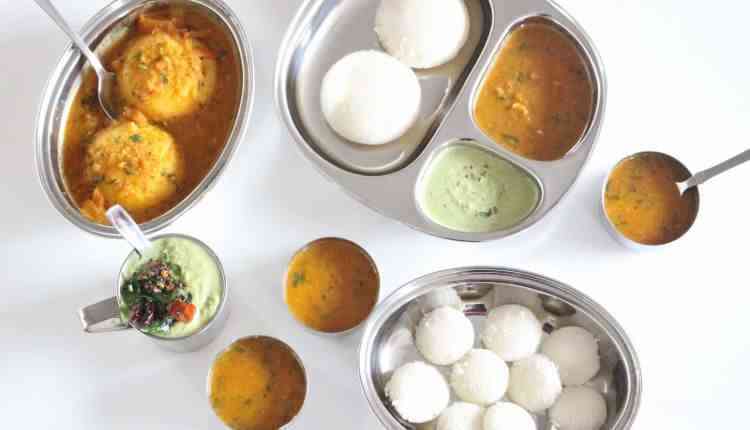 Made up of black lentils and rice or Rawa/sooji, Idli is a rice cake type dish cooked in steam. There is minimal use of oil in it making that, and hence it is very healthy as well as a savoury dish. Often eaten in breakfast, it can also be a part of the main course. Served with coconut chutney which is a speciality of South Indians, and with sambhar, idli is a must-try dish if you've never eaten it.
10. Vada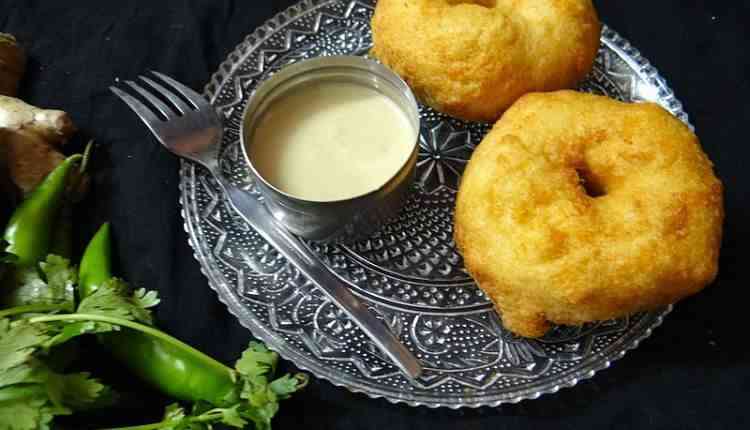 A deep-fried snack made up with dals like urad and chana. Vada is a delicious refreshment in the menu of South Indians. A batter of dals and spices is given the shape of a doughnut and is deep-fried. Medu Vada, Batata Vada, Vella Vadai etc. are a few varieties of Vada. Served with the Sambhar and coconut chutney, Vadas are a yummy treat for your tongue.
11. Upma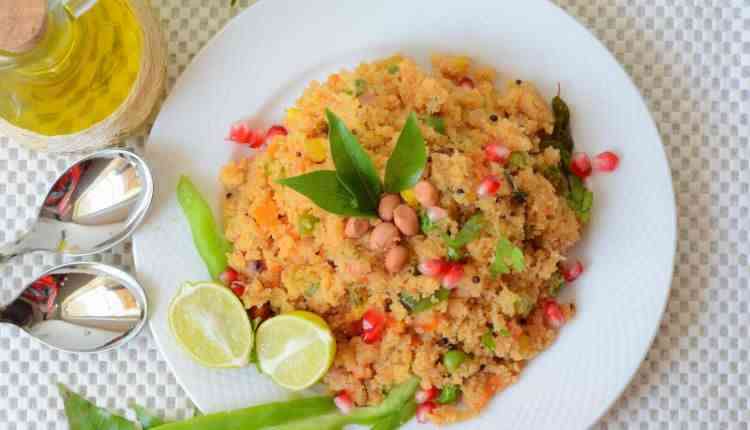 Popular in South India, Sri Lanka, Maharashtra, etc., Upma is also known as uppumavu or uppittu. Upma is a dry porridge made up of Roasted semolina or rice flour. Healthy and full of fibre and carbohydrates, Upma is a good breakfast to keep you going well. Vegetables and few spices are also added while cooking it, which entirely depends upon the personal preference of a person. Now famous all over the country, Upma is a preferred breakfast with its various varieties like Whole wheat Upma, rice Upma, corn Upma etc.
12. Rasam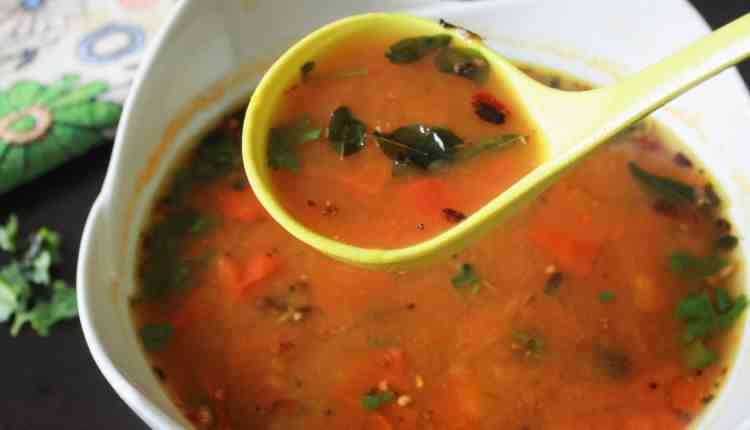 A type of Tamarind soup, Rasam is another south Indian delicacy from the kitchens of South India. Made with a proper blend of tomatoes, tamarind juice, chilly, pepper, cumin seeds, and other common spices, Rasam is a soup eaten with rice or only as a spicy soup. The spices used in it are nowadays available as a ready-made, Rasam powder. Boiled or steamed pulses (lentils) are also added in it according to the taste preferences. Rasam has absolute consistency, which makes it perfect. Too thin or too thick consistency can be a turn off for the Rasam lovers.
13. Paal Payasam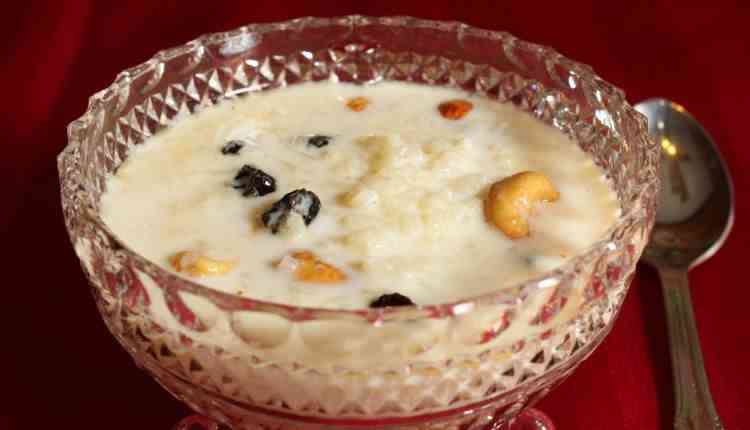 Ending this list with a sweet dish, Paal Payasam is a sweet treat to end your meal. Made with Rice, Milk and nuts, it is a sweet dish somewhat like Kheer. Thick inconsistency, it is made with roasted cashews and almonds, soaked rice and milk. It is topped with cashews, almonds and raisins which make it look more tempting. After a complete south Indian meal, do try Paal Payasam to give your food a delicious end.
These are a few 'must-try' dishes and food items you should keep in your checklist when you travel to North or South India. Every recipe has its own story, its history and each dish have emotions and beauty of cultures hidden in it. When served with love, these dishes will stick to your soul and soothe your tastebuds. They carry the beauty of India from Kashmir to Kanyakumari. Made with love and efforts, you will find them forever loyal to you. After all, food is not just food or something to keep you surviving. Food is an art. Art of making faces smile, tongue satisfied, soul contented, and your tummy happy.
Keep eating; keep living.