BlackBerry is considered to be one of the securest smartphone as compared to iOS and Windows Phone. With the comping up of Android Operating System in the market, the BlackBerry OS has been pushed to the periphery of the telephony market. The BlackBerry developers came up with an amazing idea which granted installation of Android application Package file (.apk) while integrating Amazon App store as the secondary default apps and games store for downloading Android based applications and games where for BlackBerry apps and games, App World is already there for you.
It is a good news for you, if you are running OS 10 on your BlackBerry Smartphone as such BlackBerry Z3, Z10, Z30 and so on which already comes with BlackBerry OS 10+.
The Amazon app store offers free downloading of almost 80% apps and games available in Google Play store, but still 20% are missing since many developers doesn't prefer uploading their apps on the Amazon app store due to many reason it means you may not have the apps which your friends running on the Android powered device. So, you left with only two solution first to switch your device to Android one which I will never do and secondly to download app from Google Play store.
Most of you have already tried downloading apps from Google Play Store and other sources, but, unfortunately Google does not allow downloading the apps and games directly from their Play Store and other sources a quite risky since they may come with Adware and spyware attached to it.
The safest way to get the original app uploaded by the developer is downloading from Google Play Store. Well, you will be delighted to learn that you can download the apps from Google Play Store and that's without having any Android device. There is an extension for Mozilla Firefox and Google Chrome named "APK Downloader" using which you can download the apps and games from Google Play store directly.
Things you will need
A PC with Internet connection
APK Downloader
Bluestack (if you don't have any android phone)
Gmail account
Step 1 – Downloading APK Downloader
APK Downloader is available for free to download for Google Chrome as well as Mozilla Firefox. I prefer and recommend Mozilla Firefox. You can download the APK Downloader for Mozilla Firefox from their Add-ons store and Direct APK Downloader for Google Chrome from Chrome Web Store.
Step 2 – Signing into Apk Downloader
Once you have downloaded and installed the APK Downloader no matter whether for Mozilla Firefox or Google Chrome you need to login into it using your Gmail account and Android/GSF ID. Android/GSF ID helps Google to identify your Android powered device as such which Android version you are running and other necessary details needed for installation of the app. If you or anyone in your family has the Android powered device you can use their GSF ID by downloading and installing an app from the Google Play Store named Google ID. No worries if you don't have see below to get one.
Step 3 – Getting Android/ GSF ID
If you or anyone in your family has an Android powered device, you can use their GSF ID or if they or you don't have you can generate a fake one using Bluestack Emulator.
In order to find out the Android/ GSF ID you require an app named Google ID which you can download, install from a Google Play store on android powered device and Bluestack as well.
Step 4 – Setting-up APK Downloader
Once you have fetched the Android/GSF ID you can proceed further to login into the APK Downloader Add-on. Using your Gmail account and GSF ID.
You can get into the APK Downloader login page from the menu bar under Tools> Add-ons> APK Downloader> Option in Mozilla Firefox.
The login pages look like the below image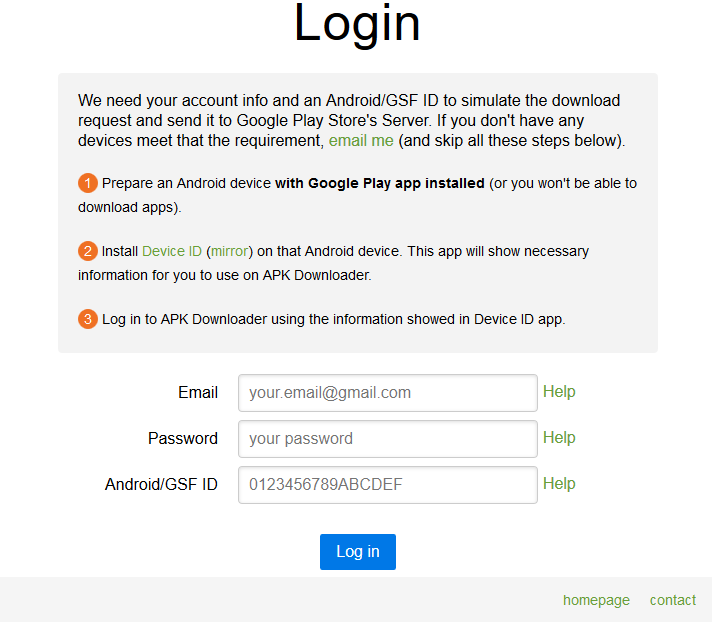 Once you have logged-in into APK Downloader you need to configure the APK Downloader for displaying apps supported by Blackberry OS 10 and the recent one.
After getting logged-in, click on Advance Settings and chose Jelly Bean 4.2 as the Android Version and click on the Save button.
Now you will able to download the apps directly from Google Play Store