How I can root my Samsung, HTC, Micromax, Sony, Lava and so on Android smartphone?
Why should I root my Android device?
Today, we'll guide you smoothly that how you can root your Android smartphone or Android Device including Smartwatch and Tablets. But before we begin with the tutorial you should be aware of some basic and shocking facts of rooting.
Rooting of Android will void the warranty. Well, you can again unroot and get back the warranty
One of the most important question pending to be answered, is why you should root your Android device? Well, after rooting you can explore whole new world in your smartphone.
Advantages of rooting Android device
Some of the advantages of rooting Android device is listed below—
You can remove pre-installed app
You can install custom ROM
You can increase internal storage space by uninstalling pre-installed apps
You can access the root directory of the phone
You can change or disable the start-up animated screen
You can increase your devices' speed performance
You can save RAM space, hence increases speed
And so on undiscovered features that you can unlock after rooting.
You might be excited to know that how you can root your Android smart-phone. Before you begin with it there are things you need to get in order to root your phone-
Things you will need to root Android device
Data-cable
Data cable is the USB wire that comes with your phone.
Your Phone's driver
Google it by typing

Driver for Your Phone

eg.

Driver for Samsung SCH-i589

. Download the driver and install it.
Kingo Android Root
You can download Kingo Android from kingoapp.com/android-root.htm and install it as normal software.
Note: Ignore small apps that may ask to install with it.
PC or Laptop with Windows XP or latest
After installing Kingo Android Root follow below steps to root Android phone
Steps to root Android smart-phone
It is as simple as nursery rhymes all you need to pay-attention and read below carefully.
Step 1 – Enable USB debugging
Depending up on the version of your Android Operating System (AOS) the method of enable USB debugging may vary slightly. But don't worry there are two ways yet only for you.
Method 1 — Go to Settings > About Phone and tap Build Number seven times. On tapping you will see the message, "You are now a developer!"
Method 2 — After following Method #1 go to Settings > Application Settings > Development and tick USB debugging. USB debugging option maybe located somewhere other in the setting dig a bit you will surly find it.
Step 2 – Connect your Phone
Connect your smartphone with your PC or laptop using data cable. The PC will detect your phone if in case it is not recognizing it means your laptop might be missing your phone's driver. You can download the driver from the official website of your phone's manufacturer or can look for the CD it maybe there in the box that came with your phone.
Step 3- Start up Kingo Android Root
After connecting your phone with your PC run Kingo Android Root that you have already installed. On running your phone may show the message, "Allow USB debugging?" pop-up. Tick "Always allow from this computer," then tap OK.
Step 4- Start up rooting process
Click on Root option and wait until it process all the stuffs including rooting of your phone. After successful rooting the phone will automatically reboot within 2-5 minutes.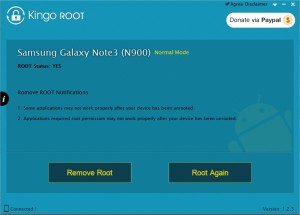 Useful apps to be installed after rooting
There are two apps that you must install soon after rooting of your Android smart device. These are—
Cheers!
Still have questions? Ask on our forum