Have you ever tried watching K-Dramas? (Korean Drama) Are you bored watching the same type of series and movies? Why not give it a try? Because Korean Dramas are cool. It's so fantastical! So appealing! Just enough to add something extraordinary colours and fantasies to your regular monotonous life, or if someone is looking for a Lil escape from today's stressful scheduled lifestyle- there is no better option than "K-Drama"!
Just like any other dramatic tradition, K-Drama also has its various genres depending on its origin and evolution period. You will find school life love stories, Korean Joseon period dramas, Crime and mystery, thriller, suspense, romantic comedy, Sci-fi, melodrama, boy love series, intense romance, fantasy, Korean folklore, ghost stories, Zombies, and a lot more fun and irresistible topics in K-drama.
The most interesting thing about K-Drama is that it never fails to allure your mind, making you curious to acknowledge it more and more. Once you start watching it, you can't stop yourself! You won't realize that you will be lost in this magical world when you have become a K-drama fan or a typical K-Drama lover.
Amazing and firm storylines, Skilful actor and actresses, Brilliant casting and directory, Heart fluttering Korean-alleys and cityscapes, Soothing sea beach views, Mesmerizing cherry blossoms, and a completely different but so natural and realistic Korean fashion sense and pastel-shaded Korean makeups would blow your mind in just a few days. You must not miss out on such masterpieces in your life.
Here is a small effort to give a good start to your K-drama journey from a typical K-Drama Fan, in case you are struggling picking which one to watch first as a beginner out of a huge stock of thousands of different and interesting genres of K-Drama.
List of a few all-time best K-Dramas to make anyone fall for it. These dramas are easily available on non-paid online sites such as Dramacool, Kissasian, Rakuten Viki with understandable English subtitles.
1. Blood
This show is truly a hit or miss. It can be a perfect example of a highly underrated show. This drama should not be ignored based on its IMDb rating because you will miss out on such a masterpiece. It's a Sci-fi drama mixture of supernatural characters, romance, comedy, fantasy, action, and science.
The story is based on a boy named Park Ji Sang; who is infected with the VBT01 virus by birth and has some unrealistic potential within him; as his parents were also infected by VBT01, in the process of their research works related to this virus, accidentally. 'VBT01' is a virus that does a human act like a vampire and causes exactly similar symptoms of a vampire in its infectee's body.
Park Ji Sang becomes a well-known skilled surgeon worldwide despite being a blood-sick and being very sensitive about blood. Incidentally, he meets Dr Yoo Ri-Ta, his opposite female lead in the drama, and both fall for each other.
The dilemma is – the world is unaware of the existence of this virus and VBT01 infections. The full form is 'Vampire Basic Type-01' aka 'VBT01'. As the story goes along, you would be able to observe two different sides of science- when a group of people would try to use VBT01 for human welfare or they will be trying to invent a vaccination of VBT01 with their all might fighting against every obstacle that comes their way, and the other group of people tries to use VBT01 for their own sake going against all the definitions of humanity. No matter what, if it's through killing innocent people recklessly. It's a must-watch if you are a fan of vampire stories or a sci-fi lover—a perfect fit for someone who hasn't watched any Korean Drama before.
2. Descendants of the Sun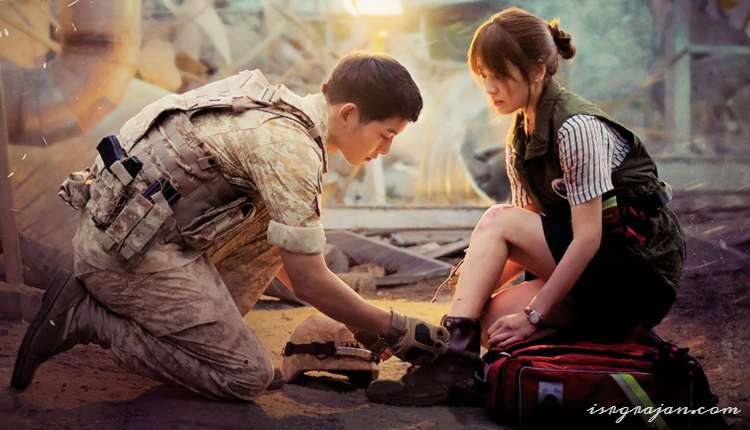 The story is mainly a Romantic Comedy and Melodrama with a heavy emotional plot twist between the main leads. The story begins when North Korea illegally captivates some South Korean military posts, so the political tension between the two regimes was on the top. For the sake of country people and to avoid a serious war situation South Korea's higher authority sends their special force 'Alfa Team', where the entry happens, of our two male, leads with some thrilling action scenes. In 'Alfa-Team', our first male lead's pseudonym is 'Boss' and the second male lead's pseudonym is 'Wolf', they are a popular male duo of the drama and constant companions to each other of their profession.
As the story goes on, Boss meets his 'Beauty' Kang Mo-Yeon, who becomes a celebrity doctor in Korea, and gradually feelings build up for each other in their mind. But their profession never fails to create barriers between these two main protagonists as Kang Mo-Yeon is a doctor whose duty is to save lives. Still, on the other hand, there is Boss who ought to keep lives at risk to save his country people, for the saviour of his motherland, which can't be helped. They had to confront a lot to save their relationship and to save their duty. Though they managed to stick with each other for a very long period, fate has to play its own game here! Boss and Wolf had to go on a mission for such a long time where they couldn't contact their family members and relatives for the privacy matters of the nation. After operating the mission very skillfully when they were about to come back, unfortunately, Boss gets shot, and while saving him, Wolf had to get shot too. Do they manage to come back and reunite with the female leads? To reveal the mystery, you must watch the drama. The story has been pretty detailed and intense. The chemistry and acting skills of the two main leads have left everyone speechless. So, this drama is one of the best dramas ever.
3. Legend of The Blue Sea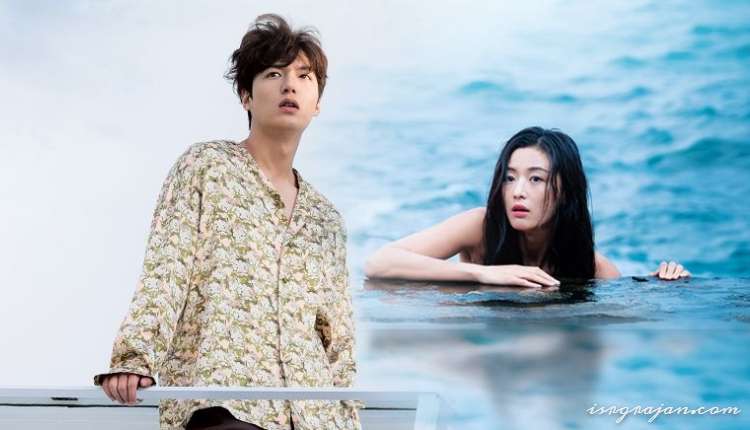 The genre of this drama is Fantasy and Romantic Comedy. This drama highlights a fantastic love story of a mermaid named Shim Cheong and a nobleman's son named Kim Moon, who are connected from their past life. Shim Cheong follows her one true love from the Joseon Dynasty to modern-day Seoul, where Kim Moon's modern doppelganger is Heo Joon Jae, a highly-skilled con man; who first becomes intrigued by Shim Cheong because of a jade bracelet worth $6 million that she wears, which Kim Moon gave to Chim Cheong in their previous life. Chim Cheong, who has no idea about today's modern lifestyle in Seoul and nowhere to go, manages to stay in Joon Jae's. Somehow, Joon Jae starts to get back his previous life's memory with Shim Cheong and everything else related to their past life and ill-fated incidents that happened with them.
Joon Jae learns that Shim Cheong is a mermaid with some miraculous abilities such as removing a person's memory, pro fighting skills, and many more. Here, the innocent Shim Cheong, who doesn't know any human language to communicate with this human world and who is a fetus about human etiquette, naturally keeps making ridiculous mistakes and insane activities everywhere around Seoul city, which is one of the best parts of this drama. The way Shim Cheong helps Heo Joon Jae to avoid and protect himself from all the dangers that await him which were conspired by his stepmother to make her own son the heir of the properties of Joon Jae's father and all the other characters' fine and flawless acting skills makes this drama undoubtedly a masterpiece, which comes among the top ten best Korean dramas ever.
4. Hwarang: The Poet Warrior Youth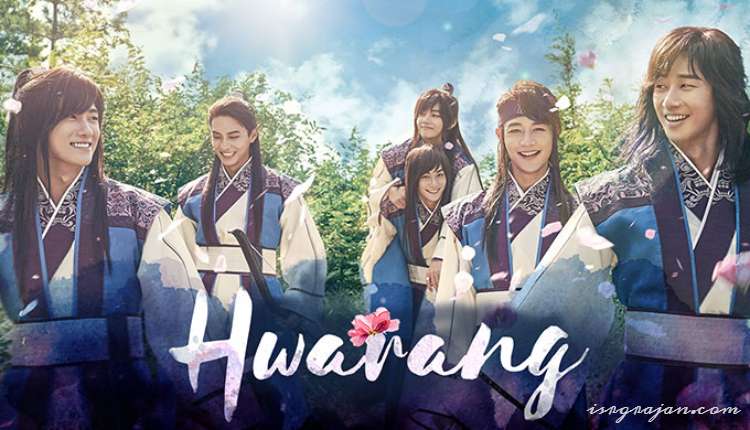 This drama upholds the story of The Passion, Struggle, Love, Friendship, Sacrifice, Growth, and Patience of the Hwarang Knights from the Silla Dynasty who lived 1,500 years ago. Hwarang, a group of most handsome-looking Korean young men of the 6th century, become the centre of unifying old Korea and makes the most defenceless, weak kingdom into a united, strong one. A few people might know about them these days. The Korean word 'Hwarang' means 'Boys like the most beautiful flowers in the world'.
Former Silla, the smallest and weakest kingdom of old Korea, when the King died, his fetus-son named Sammaekjong had to be the crowned king of Silla as the king had no other successor to save the Silla's royal throne and save the sullen country. But, the higher officials of the royal authority starts to disagree with the decision. In such a situation, queen Ji So had to send the fetus crowned king far away, out of Silla for the sake of his life and to save the real successor of the Silla's throne.
Queen Ji So takes over the throne and rules the country until the king comes back. As years passed, the crowned king grew up and came back to Silla without the Queen's permission and without letting anybody know except his Queen mother and one of her closest officials who brought up Sammaekjon. Despite having all the upskills and being taught to become a King, just because he had no practical experience of a battle-field and dominating a royal authority, Queen becomes scared that Sammaekjong might be lacking some skills, so she doesn't declare him as the King of the country or doesn't disclose his original identity immediately in front of the country people. She decides to build up a group of skilled soldiers named 'Hwarang' for the saviour of the country, who won't have any power to decide official decisions for Silla, who would only fight to save the country-land as the country's loyal dog. Those soldiers would have to come from Silla's bloodline and royal families. But, an exception happens here, a boy from a different country who had no parentage and ancestry, a shady character whose local name is Dog-Bird, becomes one of the Hwarang members and dares to threaten the powerful bloodlines of Silla while showing every strategic and warlike potential of becoming a king.
Who captured Silla's throne? Sammaekjong or Dog-Bird? How did the Hwarangs have became the all-in-all of Silla from the status of being a group of loyal dogs of the country? How much they had to sacrifice? Did they sacrifice their love and friendship to become the power of the country? To unfold all these mysteries, the drama must be watched. Hwarang has the firmest and most brilliant storyline ever. No other Joseon Period drama could replace 'Hwarang' until now.
5. Flower of evil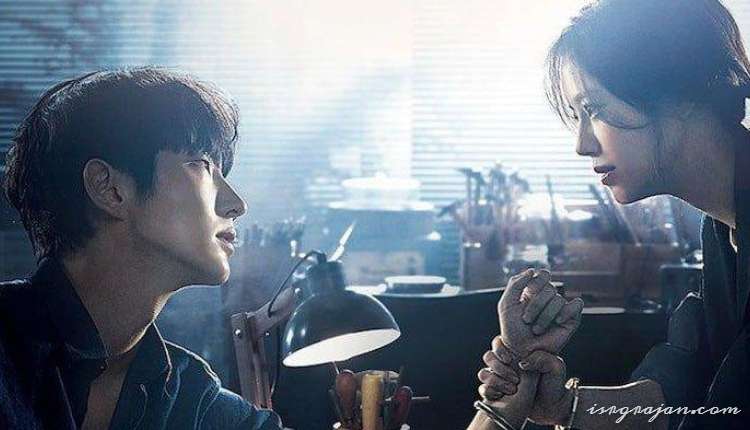 This drama is a perfect fit for those who love Thrillers and Suspense with Crime and Mystery. Of course, Romance is also one of the major definitions of this drama. The twisted chemistry of the hardworking craftsman named Baek Hee Sung and his detective wife Cha Ji Won would leave the beholder of this drama at a big 'Aww'. Plot twist, Plot twist, and Plot twist can only define the drama in the best way!
A successful metal artist, a perfect husband material Baek Hee Sung whose world starts and ends with his daughter, wife, and his metal-working studio; what dark secrets can he hide from his family in this perfect exterior of a family man? What's his actual background? Regardless of how much effort a person puts to keep his secrets hidden forever, any truth and secret have their way to come out in broad daylight and reveal its owner. Where Cha Ji Won is a renowned detective officer who is always indecisive about uncovering as many secrets as she can with her insatiable curiosity and never-ending quest for truth, how did she settle her mind to help a deceitful, hypocritical person like Baek Hee Sung, who is known as a psycho-killer in the society and kept deceive Cha Ji Won from the very beginning when they met each other? Why she helped him going against her principal and duty? Is Baek Hi Sung possessed by the evil spirit of his father and killed the Village-Head brutally while being a high school student? How did Cha Ji Won come to know about his endless unrevealed secrets in his metal-working studio?
Many mysteries, thrillers, suspense, and plot twists are waiting for you in "Flower of Evil". This drama didn't get 8.9 IMDb ratings for no reason. "Flower of Evil" is one of the best k-dramas ever in the genre of Thriller and Suspense. So undoubtedly, this drama is a must-watch.
6. Strong Woman Do Bong Soon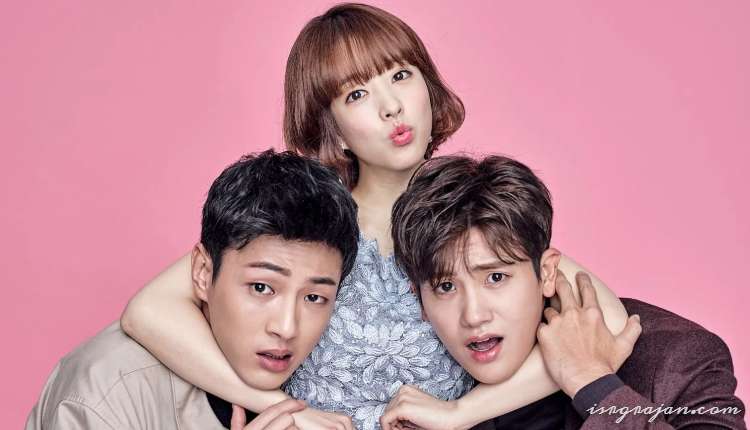 If someone starts their K-Drama journey as a beginner, "Strong Woman Do Bong Soon" is the best option. Fantasy and Romantic Comedy is the main genre of this drama. The triangle love story of Do Bong Soon, Ahn Min Hyuk, and Guk Doo makes the plot more interesting and appealing.
This drama is mainly based on a girl named Do Bong Soon, who comes from a long line of women possessing divinely supernatural power, who carries unbelievable physical strength. But, that strength only can be used for a good purpose. If used for personal gain or to mistreat others, she will lose her strength forever, just like her mother, Hwang Jin Yi. Bong Soon is an aspiring girl who wants to do a job in a game developing company to earn a good monthly salary to fulfil her dreams and become independent from her overprotective mother but has trouble finding gainful employment. Here, Ahn Min Hyuk, a young handsome, rich CEO of his own gaming company 'AIN Software' notices Bong Soon and witnesses her unrealistic Herculean strength while she was fighting against a group of gangsters; he becomes determined to hire Bong Soon as his bodyguard and appoints her to catch a blackmailer who has been making death threats against him and at last Min Hyuk ends up falling for Bong Soon. But, the story gets a new turn when Bong Soon's childhood crush Guk Doo, detective police who was perceiving Bong Soon as his good friend until now, also ends up developing some romantic feelings in his mind. On the other hand, Bong Soon has to get involved with Guk Doo in a case of catching a notorious kidnapper in her neighbourhood and unfortunately loses her divine strength being a victim of a preplanned conspiracy. Will she get back her divine strength again? How did she catch the kidnapper, and why did she get involved in this case? To reveal all the facts, you must watch this amazing series "Strong Woman Do Bong Soon", which will make you speechless after watching the series.