Class XII Exam Results for 2016 to be announced on 21st May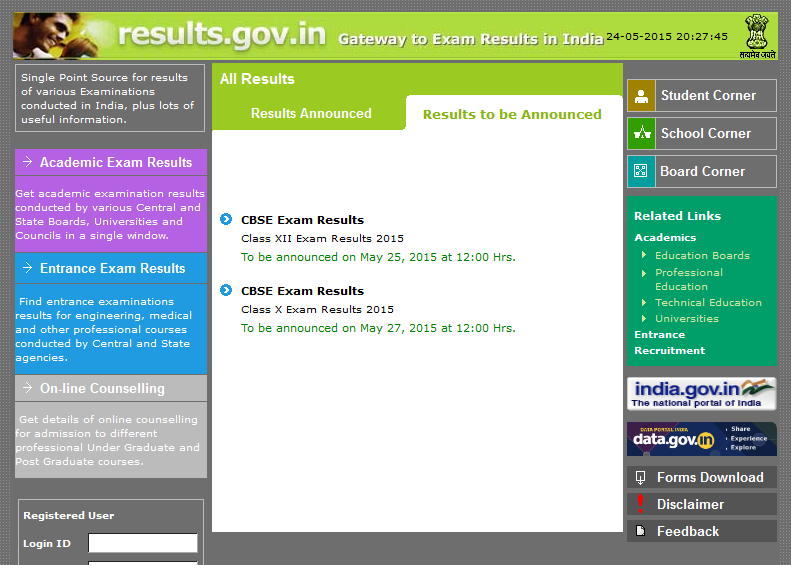 According to the students and many teachers, this year's paper of Maths and Accounts was more tough as compared to the last year one. Many of schools, teachers and even the students has registered an Online PIL (Public Interest Litigation) in the Supreme Court of India against the CBSE to take care the matter.
Now not only the students, but also the parents, teachers and various Universities across India are waiting for 12th class's results very impatiently. According to India Today the 12th class results to be announced on 21 May 2016
Advertisement

How to get notified on Email about CBSE Results?
You can subscribe to the CBSE Results Alert on your E-mail by Isrg Rajan and will be notified once the results get declared.
When will be results declared?
According, to the results.nic.in which is one of the official results portal for all the examinations conducted by CBSE, the Class XII Exam Results for the session 2015-2016 is to be announced in the month of May and most probably in the last week. The last year's result was declared in the month of May on the 21st at 12 noon.
What you can do the meanwhile waiting for results?
Students can check their results on the official website of the CBSE from resultscbse.nic.in the meanwhile you are waiting for the results you can see Professional Courses for Science, Commerce and Humanities Students after 12th or see below recommended section to find out the right college for you in Delhi.
Recommended for you
University wise Colleges
Girls Colleges
Coed Colleges
Course wise Colleges
Also See: Class X Exam Results for 2015 to be announced on May 28
Need Help? For instant and detailed answer ask your question at Isrg Forum
Related Articles