Have you always tried your hands to work on an app to try and make digital art, but it's way more confusing than drawing on paper? I used to think the same until I finally set aside time and learned about all the functions and ways to make digital art and let me tell you. It Is Difficult!! But, apparently not impossible.
If you are new to digital art, then this is the place to start as I will also be providing a walk-through through the software we'll be using and then we will try some techniques that will help you in mastering using just your fingers to create digital art.
Certainly, it's not easy, but I broke every step into little hacks that you can easily master. We will be using the platform Ibis Paint for this particular artwork. I'll be making an anime character to walk you through some really basic uses of brushes and how to work canvases and layers to make your artwork clean and tidy.
Let's get ready! The Ibis Paint system requirements are very minimal because, for this, and we are not using Premium Version tools. Ibis Paint is free software, and it makes all the premium features available you for free for 18 hours after you watch a simple video, and you can use them as many times without buying. Just watch the video and Voila!
First, let's explore the interface of Ibis Paint.
The interface of IBIS paint is very basic and interactive and easy to navigate. Here is the interface looks like this: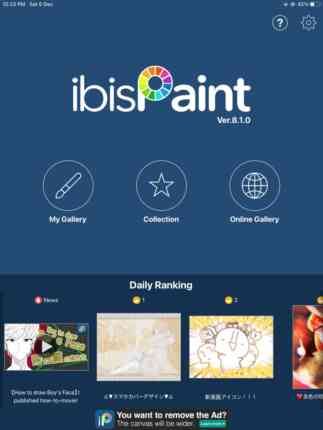 As you can see, there are three options available for today's session, and we will be using my gallery option. It will take you to a window from which you will see a plus sign at the top of your screen and then it will take you to a drop-down dialogue box from which you will have to choose your canvas size. The HD size is usually the best to work with as it gives a wider surface to work on and is easy to navigate as well.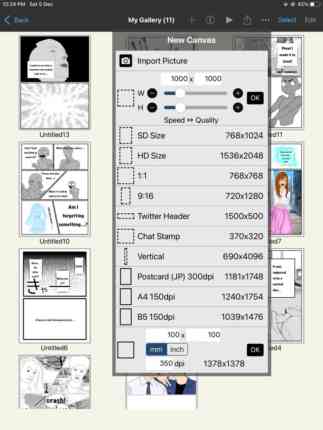 Next, a blank canvas will appear, and it will look something like this:
As you can see there is a toolbar on the left side of the window, the canvas is in the middle, there are four icons on the top right corner, and they are for selection options, stabilizing and shapes, Ruler and types of the ruler with symmetry and finally there's an additional option from where you can add pictures. On the bottom, there is a brush-eraser swap button, the brush type selection, colour selection, the layer window and an arrow pointing left side which will be used to save your work. I will show you how each dialogue box looks. You can change any shape for both brush and eraser, which is the absolute amazing feature of this software.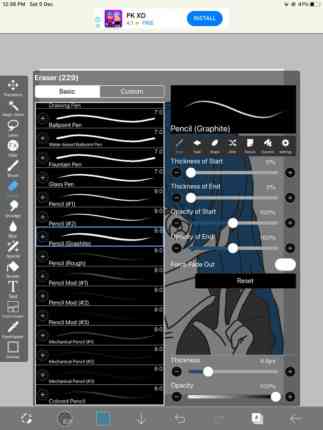 This is an example of how you can select shape, size and opacity of brush or eraser from so many options. Now we will look at the colour palette and then the layer window and the blending options.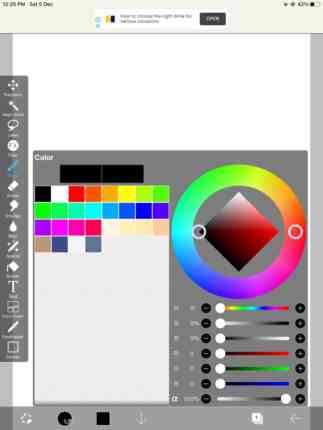 Ibis Paint allows you to mix your colours and then copying it into the palette from on the top two boxes by tap holding it and drag it to the left side.
We will now look at the layer window where you can add as many layers as you can. Now, this feature is usually paid in many software but here in Ibis Paint system requirements, It's free.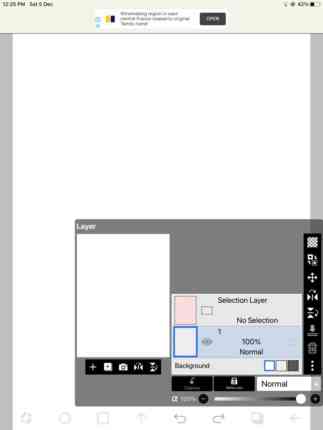 This is the Layer Window. There are various blending modes, to begin with, and practice.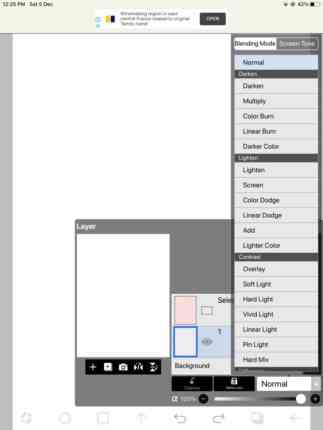 Those are blend modes. Using multiply and turning the clippings on is the only thing you need to do to do some shadings and create shadows.
Now coming on to the tips and tricks. Various things come in play while making any kind of digital art that you are first sure what to make and have a rough idea about what kind of effects we will need in that.
The basic Hacks of Ibis Paint and skill improvements that you need to improve for long term commitment:
Sketch Regularly. If you sketch regularly even if it's copying an image or maybe sketching some object. It will help you in your objects and subjects' measurements and make your hand steady enough to draw freely.
Colour Picking by reference. If you're colour picking by reference to the image, then it will create a full stop on your learning. It will not only hinder your art, but it will hinder your imagination as well.
Using Stabilizer. Using the stabilizer which is available on the top right-hand corner of your window just above the canvas and turning it to 10 will help a lot! It will help you get even lines without trembling, and it will give you an amazing finish.
The Two-finger touch Undo. The latest action will be undone if you touch two fingers on the screen while working on your art. This was the most useful feature of Ibis Paint as you don't have to look for the undo button.
Don't over experiment with different styles of brushes and textures without properly studying them beforehand, it will not only ruin your artwork, but it will not give you the imaginative play in the future.
Do not use blending or blurring brushes too much to blend your artwork instead of using a layer and placing it above your work. Now turn the clipping on and then turn the blend mode to multiply and then use the airbrush tool to blend and blur, this will not only give a rich look to your painting but using blending modes will become a bit easier.

Don't Give up! If you can't figure out how to go down to your art and everything can be a little too overwhelming, don't worry, you just need some practice and maybe a coffee! So, go get one now and kick your fears people!
Don't be afraid of the Art block. You will experience it once every while because you will have no idea what to paint or draw but don't be afraid it will be over soon and just analyze your surroundings and make art for yourself and improve.
Using the Ruler and symmetry. When drawing something urban or even drawing a square or a circle don't fret and just use the rulers and the shapes. It's as easy as it can get.
Don't worry if you don't have a Stylus or a Pencil. It doesn't make you less of an artist if you don't have the shiny apple pencils or any stylus or even the brand new software. It's a hoax that you should only be an artist if you have costly supplies. It's never like that!
Lastly, Making art shouldn't be hectic or compulsory because art is used to express oneself, and it is not mandatory to be perfect. Let's remember that people once thought that whatever was meant to be discovered was already discovered. Don't stop anywhere because you're not good at a particular thing. Always strengthen not strain and keep on discovering yourself and your amazing potential. Thank you.
And if you're looking for something to decorate your home but don't want to go out to shop because of the lockdown? Don't forget to peek at DIY Aesthetic Projects for a Good Study Time that you will surely enjoy!