Reliance Jio, one of the most popular telecoms in India, has gained popularity after it's cheapest data and calling plans – apart from low-cost data and calling plans Reliance Jio offers several other features at no extra cost which include Reliance Jio Caller tune also known as Jio tune.
You may be looking for the Jio tune deactivate number or the way on how to remove Jio caller tune from Jio music app well, in this article we have listed the three easiest methods to remove your Reliance Jio tune.
Deactivate Jio Tune service via SMS
You can deactivate Jio Tune via SMS, and the steps to deactivate the Jio tune through SMS are:
Send "STOP" (without double quotes) to 56789 and reply to the confirmation message to confirm Jio tune deactivation. You can also deactivate the Jio Tune by sending the same message, i.e. "STOP" (without quotes) to 155223
Once you send the above message to the respective number, you will get an SMS for the confirmation where you have to reply with the required option to confirm your deactivation.
Deactivate Jio Tune service via IVR or Call
Reliance Jio also offers IVR (Interactive Voice Response), i.e. Call method to deactivate your Reliance Jio tune and to deactivate your Jio tune by IVR or Call:
Dial 155223 from Reliance Jio mobile and if in case you are using Reliance JioFi you can download the JioVoice app and dial 155223 from the JioVoice app.
After dialling 155223 listen to the options and select the appropriate option to deactivate your caller tune successfully.
After successful deactivation, you will get an SMS confirmation for the Jio tune deactivation.
The above two methods i.e. Jio tune deactivation via SMS and IVR or the Call only works if you have valid active calling plans whereas customers having no valid or active calling or data plans the above method may not work for them, and in that case you can use the third method to deactivate Jio tune, i.e. by Reliance MyJio app.
Deactivate Jio Tune service from MyJio app:
You can deactivate Jio Tune service from MyJio app and if you don't have the MyJio app you can download from the Play Store or the App Store in case you are an iOS user.
The procedure to deactivate Jio tune from MyJio app is:
1. Open MyJio app and click on the menu (three horizontal lines in the left top corner)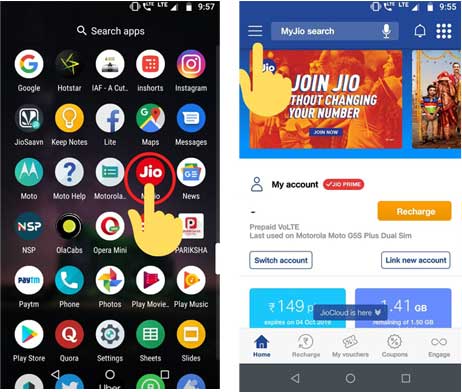 2. In the menu tap on JioTunes> and in JioTunes page tap on Deactivate JioTune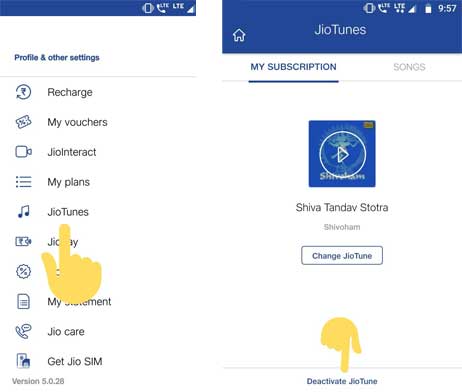 3. Tap on "YES" to confirm Jio Tune deactivation.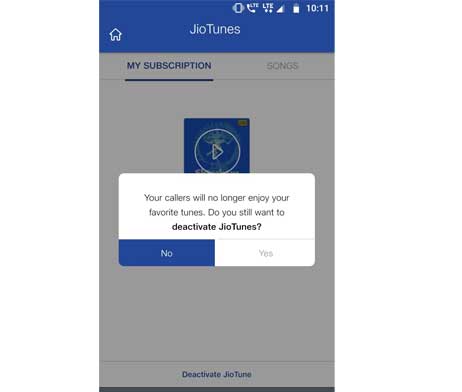 Please note Reliance Jio does not have an option to deactivate Jio tune from Jio Saavn or Jio Music app