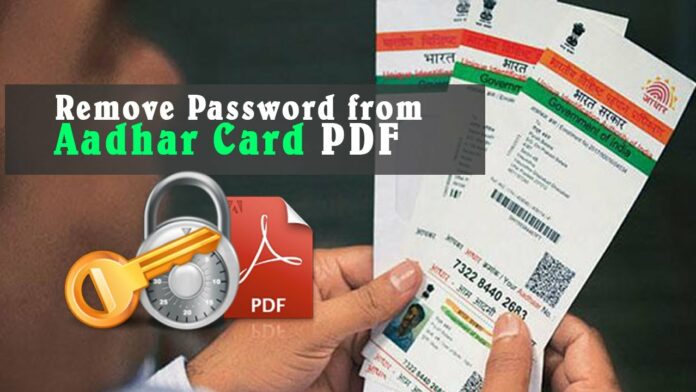 Aadhar or Aadhaar Card issued by the Unique Identification Authority of India (UIDAI) in the password-protected PDF (Portable Document Format) file. Once you apply for the Aadhar card, and it gets generated the UIADI gives you the facility to download the Aadhar card online from the official website of the UIADI Aadhar card which you can print, send to your others and upload to the other websites which may be asking for the Aadhar card or ID and address proof. These websites could be your University, college, Govt. recruitment sites or any other agencies website.
The problem with the digital or the soft copy of the Aadhar card issued by the UIDAI Online is it comes Password Protected where the Password is your 6-digit Postal Area PIN Code. Nevertheless, there is no problem in printing the Aadhar Card despite it is Password protected since you can enter the password manually and can take the print-outs, but when it comes to sending to others and uploading it online you cannot send with Password Protection since it won't be readable or accessible to the beneficiary or the receptionist.
In this article, we will learn to remove the password from the Aadhar card PDF file without installing any software or uploading it to anywhere on the third-party websites.
How to remove the password from Aadhar Card PDF File?
To remove the password from the Aadhar Card pdf file:
Open the Google Chrome (download from here if not installed).
Press Ctrl+O (it's not zero!) key to open the Aadhar PDF file that you have downloaded.
Select the PDF file of the Aadhar Card and click on the "Open" button.
What is the password of e-aadhaar?
Enter the Password (Your 6-digit area postal PIN Code for the old system and

for the new Aadhaar card the password is your first 4-character of your name and date of the year. Example: If you are name is Ravi Kumar, and your Date of birth is 29/12/1993, then your password will be RAVI1993

) and click on the Submit button or press the Enter key.
Once your Aadhar Card gets opened, Press the Ctrl+P key to get the Print page.
On the Print page, click on the Change button located on the left side of the page.
And in the Select a Destination window, select Save as PDF option.
Now, click on the Save button located on the left side of the page.
Well, you have just learnt to remove the password from the Aadhar card PDF file. Alternative, to Google Chrome you can also use the Mozilla Firefox.