One can say that like catnip are to cats, sales are to shoppers. They are drawn in by the discounts which leaves them with an impression of the deals being too good to pass. Consumers fixated on deals and discounts tend to purchase stuff which prove not to be really satisfying. The lack of satisfaction makes them continue to shop. Shopping is addictive, the rush the consumers get from snagging a bargain is even more addictive.
For shops, sales are advantageous, as well. Clothes which would not be sold on full price are put on sales. They want to keep the shelves and racks filled with items. They also get new merchandise. Eventually the items which are not being sold are put on clearance sales to get them selling.
Here are some ways with which you can exercise some control or at least, get something useful out of the sales.
1. Get to Know the Return Policy
Yes, these are great deals but have you ever taken a good look at the 'conditions apply' section? Always read or ask about the return policy. Whether you can return the item if you want to or not. And if you can return it, after how many days is it valid? What are the conditions for it to be returned? The return policy, if existing are usually short maybe around 1 or 2 days so look into it.
2. When to Go
It is always best to go to sales on the first day, and the earliest. This allows you to get the best of the sales and not get the left out, useless items. It is best to go during the day when the sun is at the top. A lot of people are annoyed by the idea of going out in scorching sun. They choose to go after the sun has set. You can use it to your advantage and avoid the crowd.
3. Look at Your Closet
Take a glance at your closet. Take a note of clothes you already have and clothes you do not. Notice the types and colors. Do you have something to wear with your red velvet jeans? If you do not, then there might be something you can get in the sale.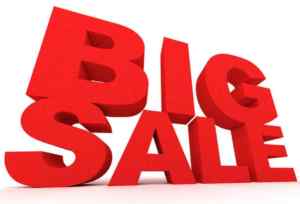 You may also have too much black or pink your closet. Avoid buying more of it. Or maybe you always wanted to buy a certain type of off shoulder dress.
4. Think!
Imagine your closet. See how the clothes would go with ones you already own. See if you already own a piece just like this. Think about how it would look on you. Will it flatter your body image? Imagine the places you would go to after wearing this. Will it be suitable? Contemplate on all these. If the shop offers a changing them, use it to see if it fits you good. Think of reasons to reject the item rather than reasons to buy it.
5. Search for Mistakes
Inspect the piece for mistakes. Why did it have to be put on sale? Is it because it is not stylish, pretty or does it have some defect? Search for stains and rips. Check the elastic and material. Do it not once, not twice but thrice. If you have even one doubt, keep it back and move on. Again, if the shop offers a trial room, go and try it on yourself. When shopping be cynical. Shop with your brain rather than heart.
6. Ignore the Salesperson
If a salesperson appears in front of you, dodge him, her or them. They are there to sell you the item. To sell the item, they will lie to you. Do not trust their judgement. You know yourself better than them. Repeat the mantra whenever you find yourself enamored by one. Salesperson tend to usually act like friends with you but do not allow yourself to be fooled. Think for yourself and act for yourself. Tell them excuse you with politeness but be firm.
7. Have a Budget
Before going to a sale decide how much you are ready to spend. Do not under any circumstance spend more than what you have decided. Maybe less but not more. If you have bought more than you can spend, look at the items in your basket. Remove things which do not make you happy or excite you or are causing doubts in your mind. Ask yourself if the sale is really important to you. Usually it is not. Driven by the urge to save while at the same time shop, people head to sales. So, ask yourself the main question.
8. Roam Around
After you have decided on what to buy, roam around the campus. You might find something you like even more. Question yourself if you want items you already own or that which you saw just now. The 'Either this or that' attitude will help you buy items you actually love and will give you happiness.
9. Search for Coupons
Look around for coupons. See if the coupon works for sales. If it does, use them. Coupons are god given when it comes to shopping. Do not be embarrassed to force the shopkeeper into accepting it. Have a, 'take it or else I'm out' attitude. Do not be afraid to walk out. You might not even feel anything after you have walked out.
10. Competition
Sales are usually thought of as a sport. It might happen that someone might have picked up something. This increases your desire to have it. A primal urge to rip it away from the other person. The clothes' value in your eyes increases. Although in actuality, it might not even something you actually like. Tone down on your competitiveness and focus on the usefulness of item which are in your hand. The grapes might have been sour, anyway.
And there you have it! A purposeful sale which proved to not weigh in on your pocket yet at the same time provide you with something useful. Before you go out, have a hearty meal since you will require energy, wear something with pockets to keep your mobile and wallet in, keep your hands unoccupied to have your mind unoccupied, be on guard and ready to negotiate.