Bollywood's versatile actor Sushant Singh Rajput, also known as "Bollywood's MS Dhoni," tragically passed away on 14th June after he allegedly committed suicide at his house in Bandra. Sushant's death not only shocked the entire film fraternity but the whole nation, where each and everyone has been mourning Sushant's sad demise. After his death, many questions have arisen. Why did he have to take such a drastic step? Everyone's first reaction to his death was that he had committed suicide as he suffered from depression. The probe into his death has recently opened up a pandora's box with new speculations emerging every day. Let's look at Sushant's life and what has happened in the Sushant Singh Rajput's case so far and why it will be difficult to find easy answers in Sushant's death.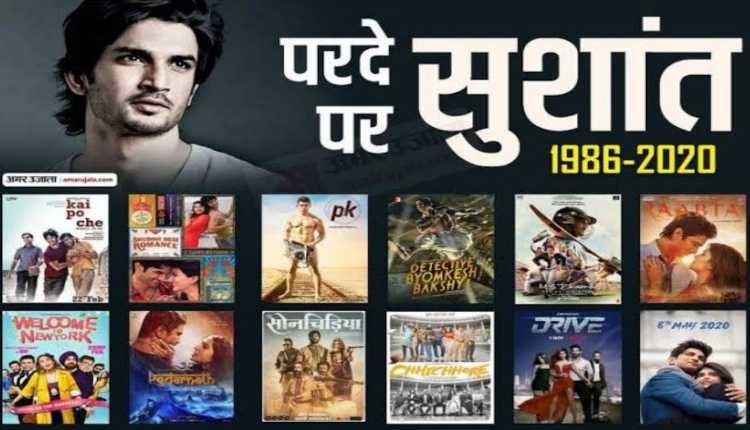 Sushant Singh Rajput made his first debut in Films with "Kai Po Che" released in 2014 which was his first movie and later was seen starring in films like "PK," "Shuddh Desi Romance," "MS Dhoni: The Untold Journey," Drive," Detective Byomekesh Bakshi." etc. He made his first acting debut on TV with Ekta Kapoor's serial "Pavitra Rishta."
He garnered applause for his brilliant acting skills in almost all his films. "MS Dhoni," in which he starred as the former Indian cricket team captain, was a blockbuster and the most successful film of 2016.
Sushant played a confused lover boy in "Shuddh Desi Romance," also amazed the viewers and proved that he could also play a romantic lead with ease. Apart from these films, he also worked in movies like Abhishek Chaubey's "Sonchiriya" and proved his acting stalwarts similar to those of Manoj Bajpayee.
In 2018, Sushant starred in "Kedarnath," opposite Sara Ali Khan. His last appearance was in "Dil Bechara," which was released on Hotstar in 2020, becoming the highest watched film on the OTT Platform and proved to be a major blockbuster.
As is often the case with popular celebrities, Sushant Singh Rajput's unfortunate death meant different things to different people everywhere.
The first most significant debate that followed the 34-year-old young actor's tragic death was around depression and mental health. The actor was reportedly undergoing treatment to deal with suicidal thoughts. There was supposedly warning signs that he was giving out.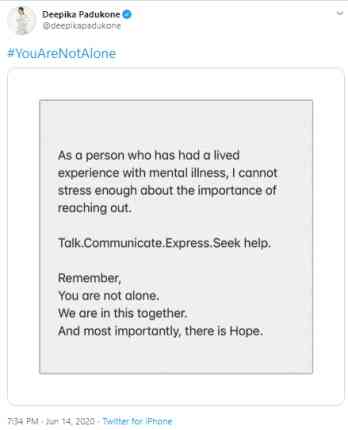 One message that was out loud and clear, from medical health professionals or celebrities no one, is alone, and celebrities were seen talking about mental illness on their Social media platforms.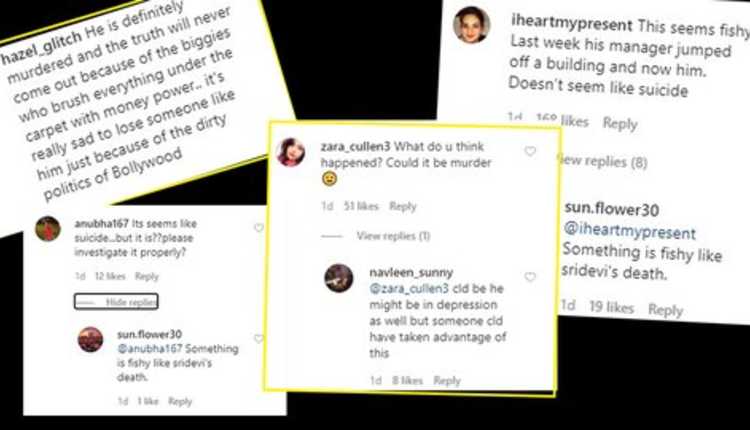 What do you think about what role is played by show business, filmmakers, famous for fulfilling dreams and equally responsible for crushing them? Some of the commentaries around the bitter, fickle ways of the Bollywood film industry elevate as quickly as it dumps.
Media Reporter's treatment of Sushant's death created a separate strand of debate where insensitivity was displayed, which included barging into the home of Sushant's father and forcing a mic into his Sushant's father grieving face, it was not new and expected from the reporters. The only surprise here was that audience expected the news channels to behave differently. But the brutality of media didn't end there just after 5 mins, after the news breaking of his death, his body's pictures were leaked, including closeup shots, photos from different angles went viral everywhere, which was very strange considering the access to the room was limited. It seems it was systematically leaked to the media.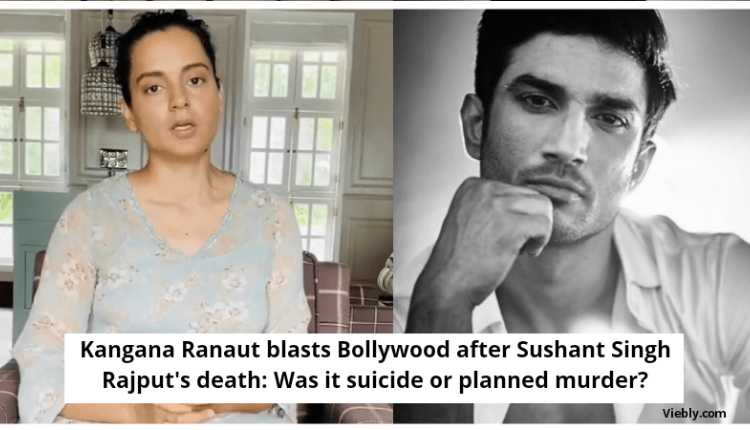 SSR's death also started a storm of analysis about the star kids-outsider debate in Bollywood. In his sad demise, some of them saw the end of dreams of a passionate actor who has worked hard to make a mark in this industry. Sushant was held up as a successful example of a self-made actor who made it on sheer merit, without any connections or Godfather. Kangana Ranaut's expressed her opinions on Nepotism in Bollywood on Karan Johar's talk show "Koffee with Karan" aired in 2017. She reiterated this in several interviews she appeared since then, and she had a separate hashtag-fuelled follower on social media.
Kangana recently has been seen accusing influential Bollywood personalities, filmmakers whom she's also named the 'movie mafia,' of being involved in propagating Nepotism in the Bollywood industry. Kangana believes that Nepotism was the actual reason that ruined Sushant's career.
The nepotism debate is going on for a long time. Interestingly, Rajput got a leg-up on TV from famous producer Ekta Kapoor. Balaji Telefilms was her company, which produced his popular TV series Pavitra Rishta (2009-2011). Sushant's movie debut Kai Po Che! (2013) was also directed by Ekta Kapoor's cousin, Abhishek Kapoor. Over his entire career, Sushant worked with both "outsider" and "insider" filmmakers.
However, Sushant Singh Rajput family's lawyer Vikas Singh "Nepotism may have affected Sushant's career in a small way, but that can't be an actual crime. Even if it was, we have first to decide what crime it would be under the IPC section. If there is no cognizable crime, then the police have no right or jurisdiction to do this so-called questioning of different people from the industry, until now 51 people from the industry are questioned. Vikas Singh thinks the Mumbai Police has done a very shoddy job by calling in people from the industry, making them wait for many hours and asking them questions on Sushant's issues. This will be going nowhere in Sushant's suicide matter.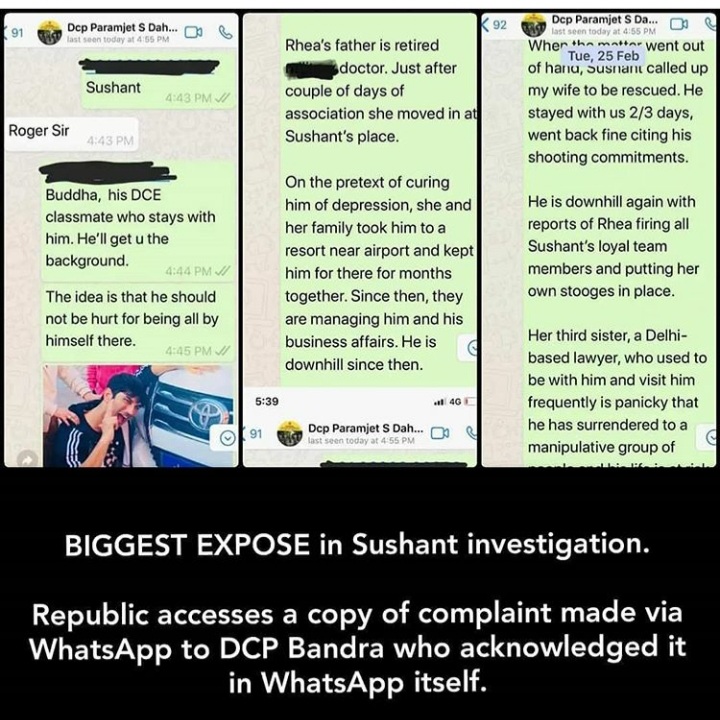 Now coming to the scene of the crime, before his Sushant's body was taken out, pointed out many discrepancies between what the police disclosed and what was actually seen in the room with the help of video and photographs released: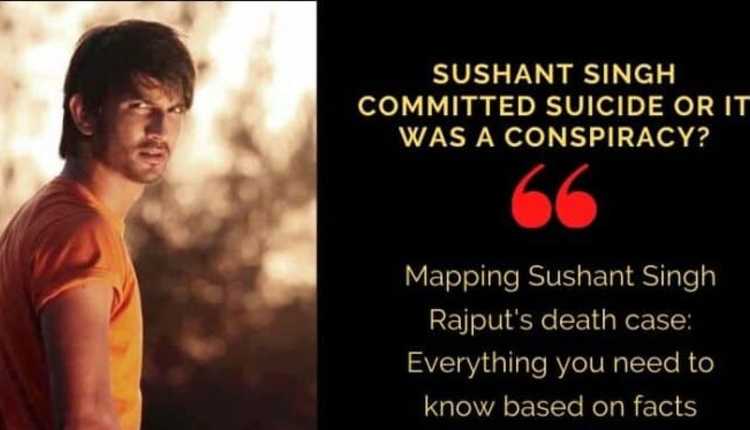 The Mumbai police reported he had used a bed to hang himself from the which is next to impossible, as the height between the bed around 1.5 to 2ft height and the fan seemed to be far less for a man of 6 ft, weighing around 75 kilos, to be hanged to death from the video footage that went viral. The green cloth which was torn seemed far more flimsy to hold his height and weight.
Also, some sources alleged the duplicate computerized key to his bedroom was missing (which should have been there with someone who trusted). Now the question that arises is who had the keys and Sushant's cook and friends who had stayed overnight when the found Sushant not opening his bedroom door instead of breaking the door they waited for the locksmith. So how did they get the key then so fast?
Police, when they entered, found his medical documents and prescriptions beside his bed. Doesn't it seem suspicious for a person attempting suicide to leave documents and medicines there usually, or was it framed to show it was a suicide?
His body seemed to have strangulation marks that were not V-shaped but round-shaped, which should not be when a person commits suicide. Several images also showed a dark indent that could only be caused by a rope and not a flimsy dupatta.
When a man commits suicide, there are some common signs of struggle like the face would turn blue, eyes, or tongue protruding. Still, the images clearly showed that there were bruises near his eye, arms, and forehead. Doesn't it seem mysterious, if this was suicide, how did those marks appear?
Sushant's dog Fudge also didn't create an alert or bark, which generally doesn't happen in the case of animals; instead, he seemed confused about who was looking for his owner from the video, so there is a high possibility that he was drugged.
Sushant's autopsy results showed he died due to asphyxia caused by hanging, which can also be caused by strangulation later staged as a suicide.
While the police report showed no chemicals in his body, the glass from which he drank juice after going to his bedroom was missing.
Sushant made his last calls to his girlfriend Rhea Chakraborty, at 1.47 am and Actor Mahesh Shetty at 1.51 am, but none of the calls were returned.
Sushant's body was apparently taken to Cooper hospital rather than Leelavati hospital, which was nearby by his friend, Sandip Singh, which coincidentally was the same hospital where actresses Jiah Khan, Divya Bharati and Parveen Babi were taken to after their mysterious death. It was later reported that Mahesh Bhatt had a connection in Cooper Hospital.
One more video that went viral showed that his finger was moving to show cadaveric spasm, which was then covered by a cloth by someone present there.
The postmortem report of Sushant's body showed no injury marks on his body, but the images and video proved otherwise, and the Doctors revealed it was a clear case of suicide, so was his death conspired?
Fans, celebrities, and well-wishers are clamoring for a proper CBI investigation, requesting the PM to take the case more seriously to ensure justice is given to his family and fans as they no longer have faith in the local police.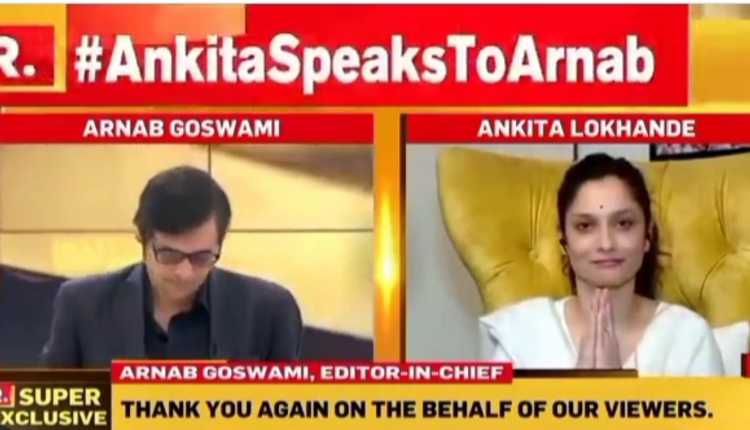 In the latest development, Sushant's former girlfriend, Ankita Lokhande, claimed in an interview with Arnab Goswami that Sushant was the kind of guy who used to find joy in little things. He couldn't have taken his own life because he believed suicide to be a "terrible thing."
Sushant's father, K.K. Singh, has filed an FIR with the Patna against Rhea Chakraborty under various sections, including abetment to suicide, alleging that Rhea and her family members financially cheated, threatened Sushant that she will release his medical reports to public proving him a crazy person and mentally tortured Sushant.
Rhea Chakraborty, Sushant's former girlfriend, has also released a video statement that went viral where she spoke about all allegations made against her on her in connection with Sushant's death are false.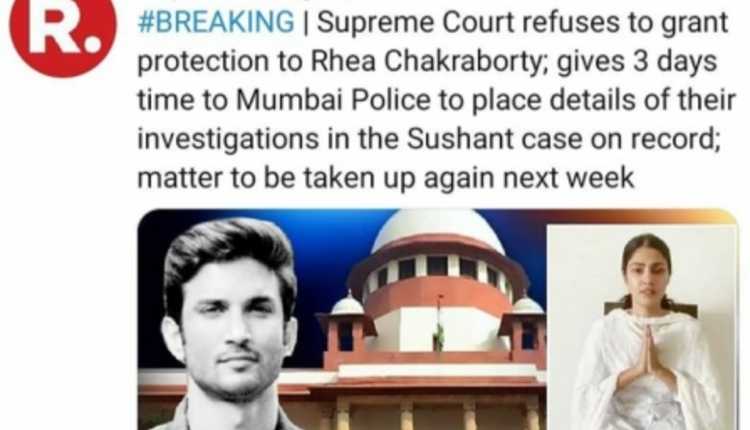 BJP MP Subramanian Swamy recently claimed that actor Sushant Singh Rajput was murdered and provided several possible evidence and remarks about what could be possible to support the theory.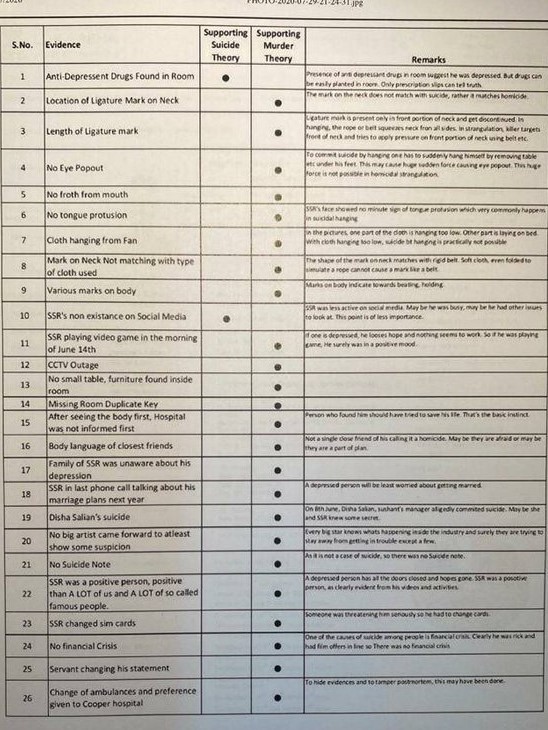 News channels every day are coming up with new headlines with new twists and turns in the case, revealing new accusations against Rhea one by one, talking about how Rhea withdrew.
Rs 15 crore from Sushant's bank account, how she and her family threatened the Sushant in a well-planned conspiracy and had opened new companies with Sushant's hard-earned money. It was also reported Rhea left Sushant's house on 8th June with cash, jewelry, and credit cards.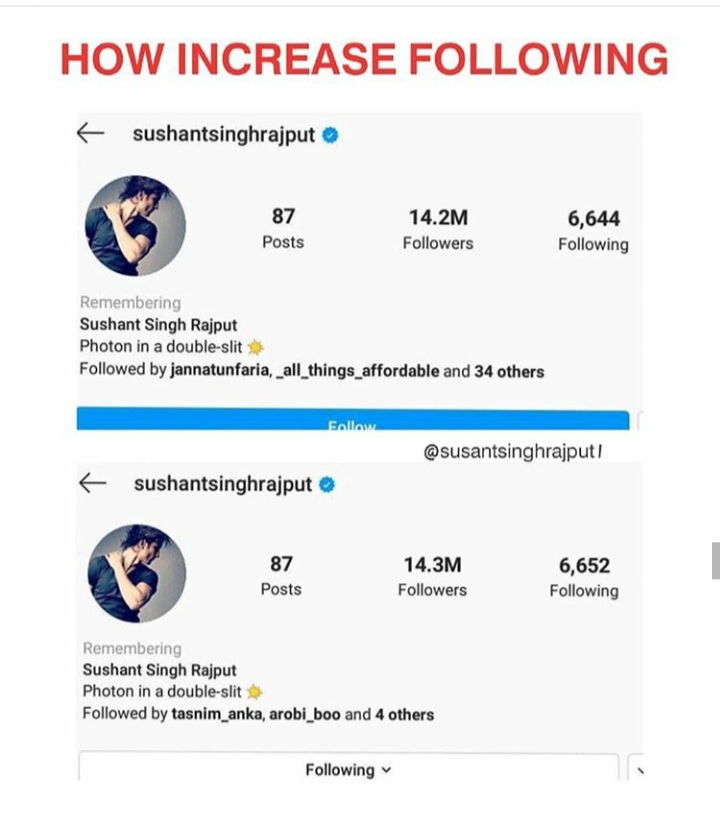 What seemed unusual is that after his death, his phone, which was in the police custody, his social media accounts were being tampered by someone present there as a change was noticed in the following list.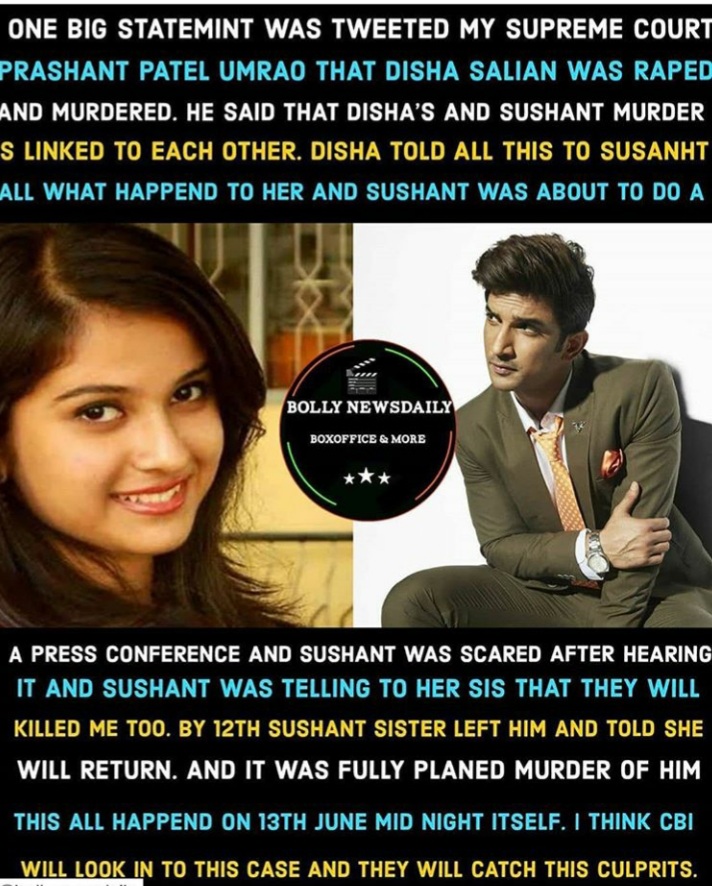 Recently news reports were coming where it is said Sushant's death was connected to his manager Disha Salian suicide eight days, and now everyone is wondering whether her death is linked to Sushant's death.
One fact remains that the Bollywood industry has seeped in a quagmire of politicians and underworld, and the fate of actors and movie makers are controlled by them, and with their help, they even decided who would star in the films. The police forces in Patna and Mumbai are busy clashing and not supporting each other. Bihar politicians believe a deep-rooted conspiracy is behind Sushant's death that Mumbai police is hiding. Every day, there's a new politician, agency, journalist, and a new actor jumping into the case surrounding the investigation of Sushant Singh Rajput's death. At the same time, the entertainment media and people on social media platforms conduct their own trial of the case.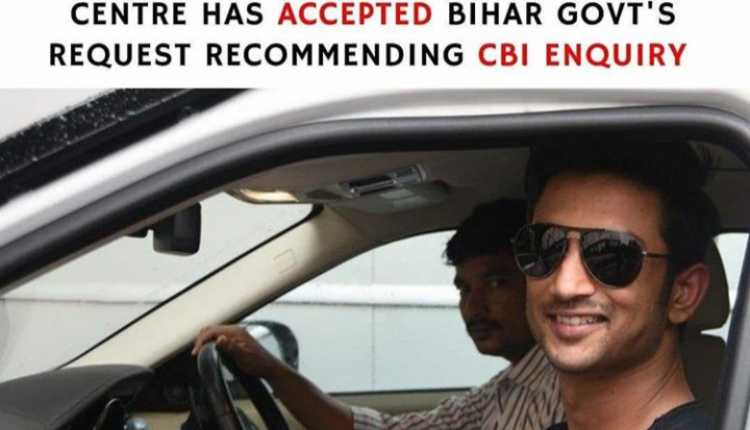 Recently on 5th august, the supreme court has accepted the Bihar government's CBI probe request of Sushant's death case. Now that is a step towards justice, and hopefully, his family will get the justice they deserve.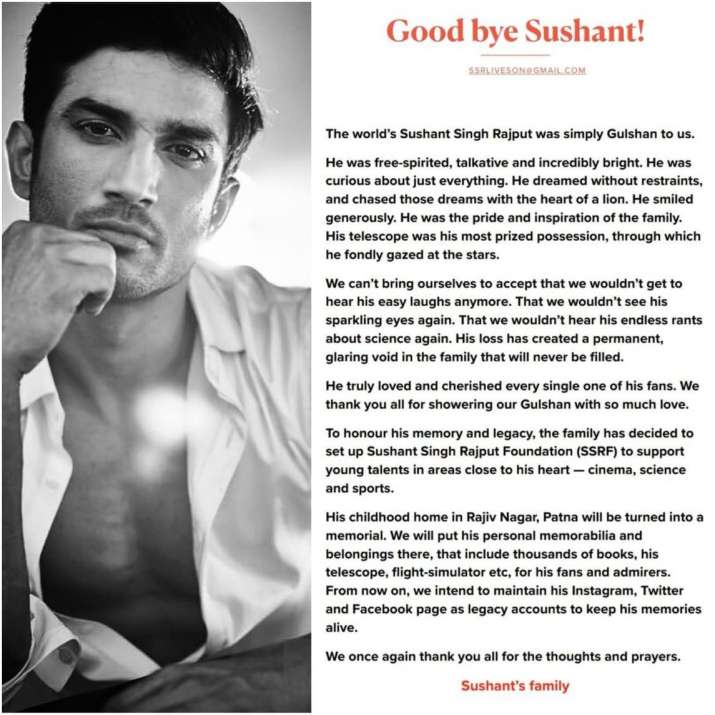 The mystery of his death remains more pervasive. There will be no easy answers in his death because no one is ready to accept why such an intelligent, ambitious, and humble person leaves the world silently without leaving a suicide note. Sushant's well-wishers and supporters believe that once the case is solved and Sushant gets justice, they can give a dignified, final goodbye to the beloved star they loved.