Every Booklover needs a favourite 'Young Adult' bookshelf that is filled by the best books out there, but not just the best but those too that challenges you the way you think, they should be relevant and realistic stories. Some thrilling, some relaxing and our Indian author manage some seriously fantastic storylines that have all those factors above. So not to due it any further, let's see the 13 Best Young adult books by Indian authors.
13. Will you still love me? By Ravindra Singh.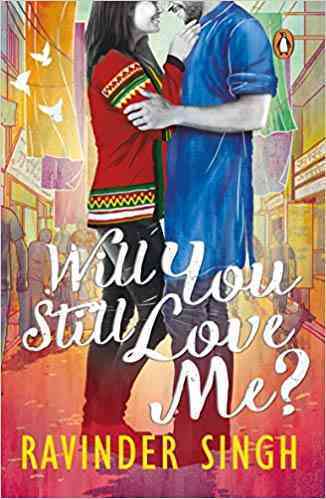 Summary- Lavanya Gogoi is from the scenic hills of Shillong while Rajveer Saini belongs to the shahi city of Patiala. Worlds apart from one another, the two land up next to each other on a flight from Mumbai to Chandigarh. It's love at first flight, at least for one of them. For the others… well, it's going to take more than a plane ride!
With a rating of 4.5/5 on Amazon and 3.8/5 on Goodreads, Will you still love me? By Ravindra Singh can be a tad bit predictable love story but it can be good relaxing read with a plot. Lavanya is a northwestern strong independent young women where Rajveer is a Punjabi boy who doesn't care about the traffic rule much. They met on the plane ride. It is a beautiful Romance. The narration will live you spellbound and have a perfect message in the end about how the little habits that we give the name of 'that's the way I am' can drastically impact our lives. It's a pretty much a contemporary romance that says Its destiny. Some people are just meant to be.
12. I too Had a Love story by Ravindra Singh 

Summary– This Story is about two people met on the internet, fall in love hard and fast everything was perfect they were engaged, their families were happy with this arrangement, they were about to get married, but destiny has the other plans as a tragedy strikes.
With ratting of 3.6/5 rating on Goodreads and 4.5/5 on Amazon, I too had a love story by Ravindra Singh is a real tear-jerker. This story can be explained in two words heartbreaking and straightforward. Putting his own love story into the paper Ravindra Singh takes you on the journey of life, love, and destiny that he experienced first hand. Love is beautiful and straightforward, but its pain is anything but ordinary. An exciting read for every person who had loved and lost in any way, they will find themself in the story.
11. Can Love Happen Twice? by Ravindra Singh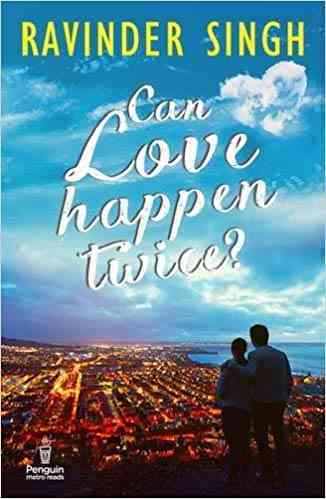 Summary- When Ravin first said 'I love you….' he meant it forever. The world has known this through Ravin's bestselling novel; I Too Had a Love Story. But did Ravin's story end on the last page of that book? On Valentine's Day; a radio station in Chandigarh hosts an exceptional romantic chat show. Ravin and his three best friends are invited as guests to talk about Ravin's love story. But surprisingly everyone apart from Ravin turns up. As the show goes live; there is only one question in every listener's mind: what has happened to Ravin? To answer this question, the three friends begin reading from a handwritten copy of Ravin's incomplete second book—the entire city listens breathlessly; unable to believe the revelations that follow.
With a rating of 3.3/4 on good reads and 4/5 on Amazon, Ravindra Singh again penned down his story as he walks through the road named love again, so the question is Can love happen twice? If after reading I too have a love story, you are wondering what happens to Ravin? Well its sequel, Can love to happen twice? By Ravindra Singh will sure to answer your questions. Starting with a live radio show and ending with, don't know if we can call it happy or sad but very satisfying and on the note that will leave you with hope in your heart. This story will take you on the journey of heartbreaks, Romance, relationships and friendship. All in all, this is another emotional read.
10. No Matter What I do: I End up falling for you by Devanshi Sharma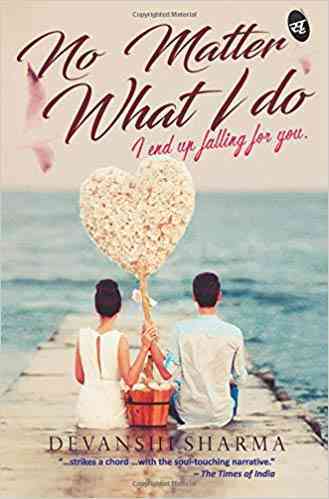 Summary-Kabir, Amaira, Kushank, and Suhani – four very different people bound together by love and friendship – struggling to find the motto of their lives. Four individuals were striving to find themselves. Four threads entangled together and four lives recuperating each other – No Matter What I Do is the story of these four youngsters, on a journey to find themselves.
The love story narrates tales of reversing stereotypes and finding individuality. But will they find their reason to live?
With 3/5 rating on Goodreads and 4/5 rating on Amazon, No matter what I do: I End up Falling For you by Devanshi Sharma is the story that four individuals who are bound together by love and friendship and it is about their quest to find their identity and purpose of life. Two pair of siblings Kabir & Amaira, Kukshank & Suhani. While Kabir is ambitious, wannabe Politician and love attention, Amaira is confident and Free Spirit girl. Kukshank is a Businessman and fond of his work, but lack in confidence department and Suhani is shy, obedient and introvert. With excellent characterisation, this is the tale of love and friendship.
9. Until love set us apart: To Love with love by Aditya Nighhot
Summary- Aisha and Rohit are like chalk and cheese. While Rohit is completely aimless and imperfect, Aisha is focussed and a perfectionist. Just two opposites. But don't they say opposites attract?
He loves her… She loves him. Their wedding is on the cards, but their love is put to the test when an unforeseen incident hits their lives.
Can loving somebody immensely set you apart?
Can everything change in the blink of an eye?
Inspired from real-life incidents, this 'Best Romance Book of the Year' award-winning novel is a heart-wrenching tale of true love, friendship, and destiny. And a young author's quest to find out what exactly happened…
With the rating of 4.20/5 on Goodreads and 4.5 on Amazon, Until love set us apart: To love with Love by Aditya Nighhot is a thrilling romantic ride. Falling in love change a person but does seriously set us completely apart? It's love, its war its love with war. Suspense, thriller and love story all rolled into one this thrilling ride will keep you on the toes.
8. two states By Chetan Bhagat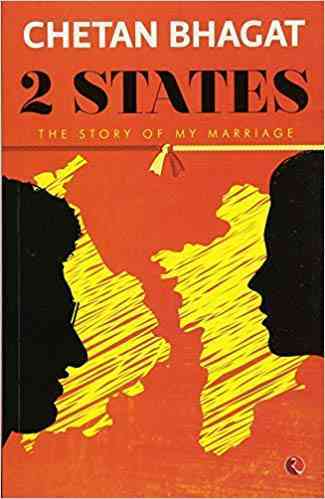 Summary- Adapted as a hit film, this book is the fourth in Bhagat's list of novels and also the fourth one to be adapted as a movie. This fun-filled love story that gets complicated when the question of marriage comes up is a loose adaptation of Chetan Bhagat's marriage.
This is a story of a love affair between two IIM students hailing from two different states, Punjab and Tamil Nadu. Miles apart in distance and custom, Krish and Ananya's love blossoms within the confines of their college walls. But with the end of college and the beginning of a career, the question of marriage does not stand far away.
With the rating of 3.3/5 on Goodreads and 4.4/5 on Amazon, two states: The story of my marriage by Chetan Bhagat has been adapted into a movie so all of you might have seen it and already know what it is all about. But if I have to summarise it I would say, Two People meet in the college sparks fly, falling in Love in India is easy but turning it into a love marriage, now that is a whole different story. This story is relevant, easy to read and easy to connect with the characters. This adventurous love story is about what happens when Punjab meets Tamil Nadu and telling us through the journey love is always find its place, it's stubborn like that.
7. Half Girlfriend by Chetan Bhagat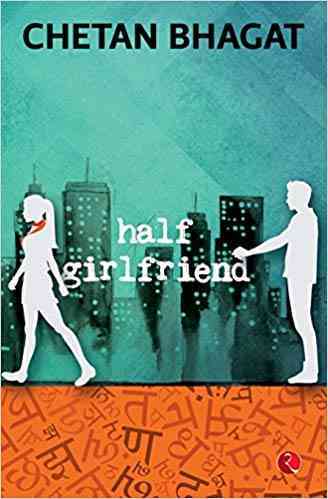 Summary – According to the author, the book is meant for the "non-English-types" and reveals the utter dissatisfaction and language problems a young man from Bihar, who speaks Bhojpuri and knows little about the ways of big cities, had to wade through as he got admitted at St. Stephen's College in the national capital, a place that signified sophistication. He falls for a rich, smart and high-class girl from the city. Although the girl never fully accepts this relationship, she nevertheless gives the nod to be his "half girlfriend".
With the rating 3.2/5 on Goodreads and 4.2/5 rating on Amazon, Half-girlfriend by Chetan Bhagat is all so adapt into a movie, personally speaking, the film does not do justice to the book. Madhav, a Bihari non-English speaking boy, is smitten by a Delhi high-class girl Riya. Their world is apart. Their lifestyle is different. Riya is reluctant to accept Madhavs affection and is ready to be his half girlfriend. More than a friend less than a girlfriend. Though this story is told in Madavs point of you narrating the story of him conquering over Riya's heart, this story is as well about Riya who was finding it hard to let Madhav in she was the girl who wants to find her identity to be free by the norms she was brought up with, breaking Madhab's heart in the process.
6. Something I never told you? by Shravya Bhinder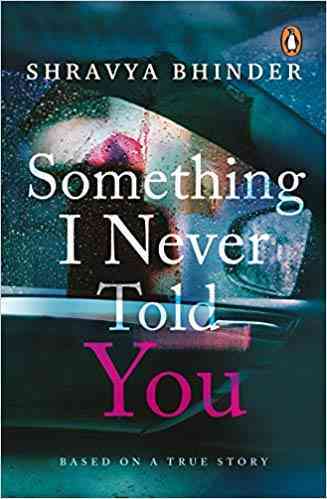 Summary- Ronnie knew that his first crush was way out of his league, and yet he pursued and wooed Adira. Shyly and from a distance in the beginning, and more persuasively later. He couldn't believe it when the beautiful Adira began to reciprocate, falling in love with him for his simplicity and honesty.
Slowly, as they get close and comfortable with each other, life takes on another hue. From truly magical, it becomes routine. There are fights and then making-up sessions-a clash of egos and doubts.
Things begin to change for the worst.
It is too late.
Ronnie and Adira will probably never find their forever after.
4.5/5 rating on Amazon and 4.5/5 rating on good reads, Something I have never Told you by Shravya Bhinder is a classic love tale with excellent narration, Ronnie thinks Adria is too excellent and out of his league, but that does not stop him from developing a feeling for her, at first he was shy and hesitate to confess his affection for her. Still, when he was landed a second chance he grabs it, Adria ends up reciprocating. Falling love easy keeping that way well that is the whole trick is about. This story conflicts and ups and downs of a relationship. The characters are relatable, and the narration makes you feel involved.
5. I am always here with you by Himanshu Rai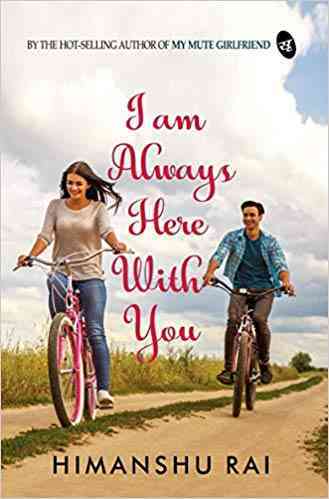 Summary– Kartik fell in love with Ashima the very first time he saw her. She was everything he had ever imagined in his dream girl – his angel. As their friendship blossomed into deep love, culminating into marriage, he became her teddy, her confidant and eternal support. But in trying to be with her, Kartik made a choice that broke his father's heart and hopes. As Kartik and Ashima gear up to step into the next phase of their relationship, life seems like an overload of joy and love. He is confident his love for Ashima will win overall odds, even his father. Little did he know that things were going to change drastically, forever. Why does Ashima marry someone else? Why does Kartik accept it silently? And why is life so unpredictable? This is a story of deep love that knows no bounds, relationships that break all barriers, and a promise – I am always here with you.
4/5 Star Rating on Amazon I am always here with you by Himanshu Rai takes you on the journey of life's unpredictability and tragic romantic Drama that make you heart cry out. The narration is beautiful and simple, making you hang into them and getting through the end. Life might be unpredictable, but love is a limitless entity.
4. You are the Best friend by Ajay K. Pandey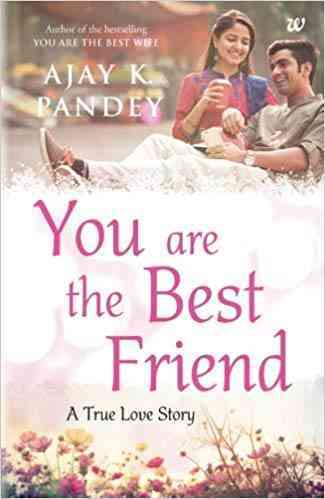 Summary- 
Ajay has lost his wife and is deep in depression. No amount of medication or therapy seems to help him as he struggles with his grief. He has only one wish—he wants to immortalise his wife.
Then, he meets Anisha, who is shocked at Ajay's hatred towards God. How can a person hate God? Where would that hatred lead him? Anisha is ready to judge Ajay harshly when a simple, caring and guileless gesture changes her perception of him.
So begins the journey of two people who are poles apart — a journey which will change their outlook towards life.
A bittersweet tale, told very simply, by a man who lost everything, except his ability to find humour in the world. This is the story of Ajay, who finds a second lease of life. What helps him? A friend? Or the love that he finds again?
With a rating of 4.5/5 on Amazon, You are the Best Friend by Aditya K. Pandey is the story about second chances, While Ajay had lost the meaning of life after his wife died, Anisha is bold and full of life they are poler opposite but can these two different poles will ever meet, will Ajay love again? It's a good witty and sweet story the narration will leave you spellbound.
3. Was it Love? by Neha Sultania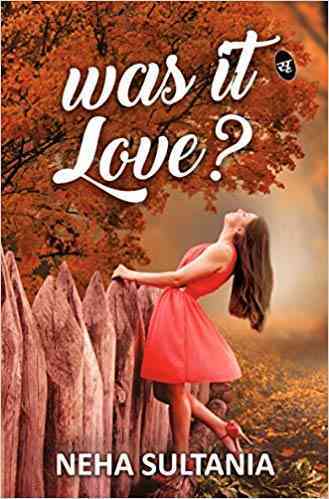 Summary- Leila Rajput is a young girl, struggling with life and relationships, dealing with the trauma of a past life-event. Unaware of her true potential, she has almost given up on life, till she meets this dynamic, near-perfect Vikrant Rao via the internet. He identifies her potential and offers her a strange arrangement to be her mentor.
He teaches her the basics of life, makes her realise her dreams and helps her in achieving them step by step. Under his guidance, she evolves into a confident and independent woman. They eventually fall in love, and Vikrant relocates to her city, where he meets her friend Maya. While he solves Maya's life conflicts and helps her elope with Shahan, he charges a fee none could ever imagine.
Is Vikrant a villain or a victim of greed? Did he truly love Leila, or was she just a puppet to reach his next victim?
Was it Love? Is a story of Leila's journey through emotions, trials, betrayal and the devil called love?
With a rating of 3.6/5 on Amazon, Was it love? By Sultania is what seems like a predictable love story at the starting but as a plot, progress will make you doubt it. This story is more of a thriller than a love story. Follow Leila as she learns to fight her past demons and becomes a confident young woman when she realises that all is not what it seems. This story is made to push you over to the edge.
2. The Rule Breaker by Preeti Shenoy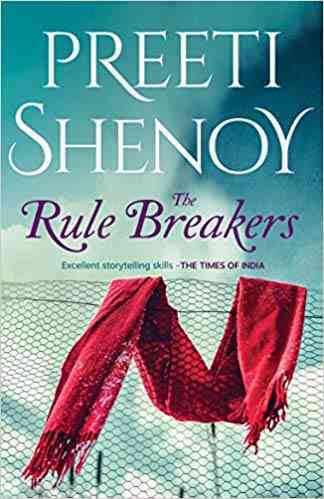 Summary –There are two kinds of people in this world—those who follow the rules and those who do not think twice about breaking them.
Studious, smart and sincere, Veda harbours big dreams for the future. But her parents arrange a marriage for her, and the twenty-year-old discovers that she has no say in the matter.
Forced to leave behind an idyllic life in the hill town of Joshimath—filled with conversations and pleasurable times with her siblings, and her best friend, the handsome Suraj—she puts aside her ambitions. She moves into a flat in Pune with an indifferent husband and a mother-in-law from hell.
Though brought up to be quiet and obedient, Veda chafes at the meaninglessness of her existence and struggles to cope with the unexpected loneliness she is engulfed in. Then, amidst the dark clouds of stagnation and despondency, Veda carves out the unlikeliest of silver linings.
How does she do this? By breaking the rules?
Or by following them?
In this emotional roller-coaster of a novel, Preeti Shenoy treads bold new ground yet again.
With 4/5 star rating on Amazon, The Rule Breaker by Preeti Shenoy is a real controversial read where you will question yourself if to be happy you have to break the rules is it a good thing or bad thing? Will Veda be able to find happiness when all hope is lost, or she will struggle for rest of life? This story is the reality of many women, according to the author. It's an engaging read and narrating of emotions of the character is done perfectly.
1. You Bring the Distance Near,

by

Mitali Perkins
Summary- Five girls. Three generations. One great American love story.
Ranee, worried that her children are losing their Indian culture; Sonia, wrapped up in a forbidden biracial love affair; Tara, seeking the limelight to hide her true self; Shanti, desperately trying to make peace in the family; Anna, fighting to preserve her Bengali identity.
4/5 star rating on Goodreads, You Bring the Distant Near by Mitali Perkins has everything that a story needs, Family, Friendship, love, and Sisterhood. Follow Das Family, immigrate Indian Bengali Family that moves from India to Landon to NYC, it's basically a women-centric story that follows Five girls through three generations, their character. Their story is different from one common thing they all are trying to adapt their new lives while not trying to compromising their own beliefs and roots. Please go through the journey with them as they learn what to hold on and what to let go.
Conclusion
Those are 13 best Young Adult Books By Indian Authors, Most of them make a good interesting read. In contrast, few make a heartbreaking and emotional read, where some of them are classic and typical, but their narration the characters are what makes them the best. Those are all the coming of age stories, where character deals with life, love, relationship, family and friendship bonds. I hope you have a good emotional rollercoaster ride while reading them, may the narration and words leave you speechless and you enjoy it through. Do you agree with the list? Let me know in comments. Happy Reading!