In today's date, almost every television (TV) manufacturer offering plug-in and play feature through USB, so-called "pen drive", "flash drive" and so on. Now many of you might have started using your external hard disc drive to watch the latest movies that you may have purchased or downloaded from those free and paid websites.
Anyways, keeping it aside, let us focus on the topic. So, most of the TV sets which are now commonly known as LCD and LED TV to have the following issues:
Device Not supported
Media Format Not Support
Video Cannot Be played
Too large images
In this post, we are going to fix all these issues with simple steps, and you don't need much technical knowledge as we are here to explore everything in the simplest way as we can bring to down to earth. So, let's begin one by one.
Fixing "Device Not Supported" Problem
No matter whether you are trying to play a media file from your Pen drive or the external hard drive, the problem is the same with all these portable devices. Most of you might be having the "Device Not Supported" problem with their TV sets and the USB stick. Well, there is nothing wrong with either. The problem drives with the format of your Pen that you need to fix. In the technical term there are three basic formats of the drive formats, these are:
FAT32
NTFS
exFAT
90% TV sets with the USB support capability supports FAT32. It means there are more chances that your TV support FAT32 format instead of NTFS and exFAT. Well, to fix this problem all you need to have a quick look about which type of format is being supported by your TV set from the manual book or the Internet. In case you are not sure, we highly recommend you should change the format of the drive to FAT32. The steps are given below:
Attention: Take the backup of your Pen Drive before performing formatting
Plug the Pen/hard drive to your PC using data cable.
Go to "My Computer" (in Windows 7, 8 and 10 it may be named as "XYZ PC" or just "This PC")
Open the drive which belongs to your Pen/Hard-disk-drive
Copy all the files to avoid loss of data (backup it)
Paste it to a different drive or the desktop
Once finished with backing up your data, again return to the My Computer
Right Click on the drive and select "Format" option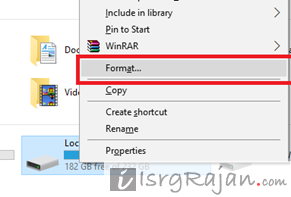 Select the "NTFS" under the File system option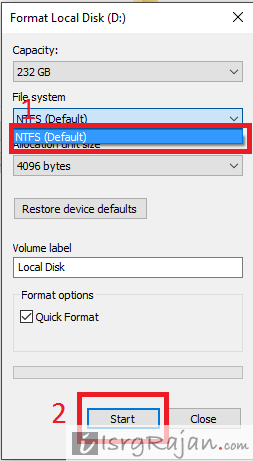 After selecting NTFS file system format, click on "Start" button and wait until the process finishes
Fixing "Media Format Not Support" and "Video Cannot Be played."
Most of the TV sets don't support the latest and the advanced video formats as such .mp4, .mov, .mk, .mpeg etc. instead it supports .avi format. The Audio Video Interleave (AVI) is most often used by DivX and PCs, and now it's being used by most of USB enabled TV sets. It means you need to change, i.e. have to convert the video file format to .avi.
There are many ways of converting the video files (mp4, MOV, etc.) to .AVI where we recommend you to use YouTube Video Download (YTD from ytddownloader.com) which has inbuilt video conversion option.
Fixing "Too large images" and photo files
Your TV set may not render files larger than 3 megabytes (MB). In this case, you need to trim the size of the file, and for cutting down the size of the image file, there are good quality and a variety of free and paid software that you can use. Some of are:
Microsoft Office Picture
Adobe Photoshop
Online Photoshop (pixlr.com/editor) or you birme.net