This has been like a big mysterious question that have to be answered in detail. In India and across the globe, many big personalities, bloggers, business owners and business people, etc. are still waiting to get their Facebook page be verified. You must have googled "How to get Facebook page verified?" and definitely must have found millions of the results. Those blogging websites out there are teaching you this or that way of getting your Facebook page verified, but this is a bit ironic that their own Facebook pages are not verified. They are writing just the shake to draw some more professional audience on their blogging websites. So, before I begin with the detailed instructions, please check out my own Facebook verified page and don't forget to like it well, here is the link https://www.facebook.com/IsrgRajan.
There is no magic or trick to get your Facebook page be verified and please do not expect from me that I am going to show some magic or the trick. In order to get your Facebook page be verified all you need to represent what you are? So, let's begin with it.
Step 1 – Keep your Page Neat and Clean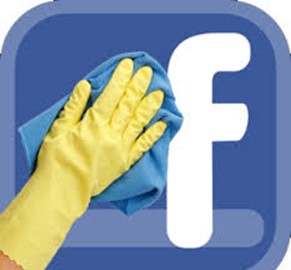 Most important thing is you should keep your Facebook page neat and clean and avoid posting unnecessary post which doesn't relate to your business. Posting such stuffs not only harms your business, but also you lose the trust of your followers.
Step 2- Provide Essential and Relevant Information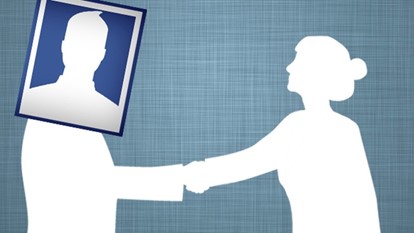 It is mandatory that you should provide the necessary and the valid details about yourself and your business on your page. Details like:-
Who are you?
What you do?
Where you belongs to?
How your Fans can reach you?
Do ensure that people get answers to all these questions from your page. By providing relevant information you not only step forward towards getting your Facebook page be verified, but also you gain the trust of the people and the followers.
Well, you don't need to post anything like "Hey! Hi, I am XYZ, and I am blogger" or "Hello! I am ABC, and I live in Delhi" rather you fill out those fields provided by the Facebook under the page setting sections.
Step 3- How many Likes you need?
There are thousands of Facebook pages that have millions of likes some pages have more than 10 Million likes and I really wonder how hard they worked to get so many likes. Even after the millions of the followers on their Fan page they failed to get their Facebook page be verified and this is just because of the silly mistakes that they had done with their Facebook pages.
Most of them uses third-party website to get some more likes which are really eroding the image of their fan pages and also losing the trust of the Facebook. You may be thinking that Facebook is not aware about the things you are doing on your page, then you are in the deep darkness since Facebook knows each and everything that you do on the Facebook. If you are one of them stop it immediately before it's too late and Facebook punish you by deleting your Facebook page.
In order to get your Facebook page verified you don't require millions or the thousands of likes all you need to represent yourself and your business where 25 likes will be sufficient, but I recommended you should get at least 1000 numbers of the likes.
Step 4- Provide a Source of Evidence for Verification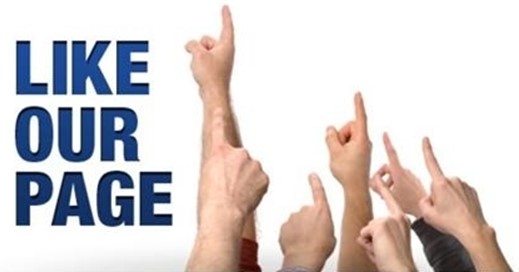 After providing the necessary details on your Facebook page you need to step ahead and provide a source of the evidence for the verification. In simple words, you need to let the Facebook know that you are not only the real and the actual owner, but also an authorized representative of the Page. This can be done by following ways:-
Provide the link of your website on your Facebook page (recommended)
Link your Facebook page with your website
Use Facebook like widget on your websites (recommended)
Publish the link of your page everywhere you advertise (like newspaper and TV ads in case you advertise)
Also ensure that the information you provided to the Facebook about yourself and your business through your page is available and can be cross examined from your website that is the link you provided on your page. I recommended, "Just add the homepage link" only.
Step 5- Let the Facebook know that you are real and ready
Once you have done with the above steps you can request to the Facebook for the verification. This can be done by simply submitting an online verification form provided by Facebook at https://www.facebook.com/help/100168986860974/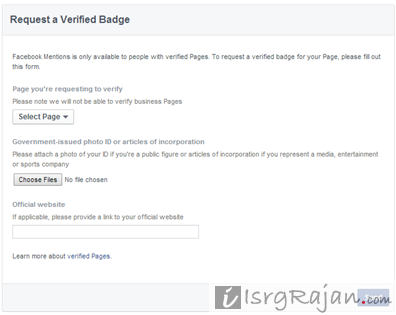 Unfortunately, this form is not available if you are not from US or UK, but if anyone your known lives in the UK or US you can ask them to do this favor after making them admin of your Facebook page and of course only if you trust them.
Step 6- Stay calm and don't lose faith
The last and the most important step that you should have patience and trust in yourself. The verification process can take a lot of time and getting your Facebook page be verified doesn't give you any special or the additional feature except that blue tick which states you are the authorized owner. You can do the same things as on a verified page. Hope you will find it useful.
Thank you for reading.