Are you tired of wearing jeans every day? Not even the various shades of denim like white, black and red turn you on anymore? Or are you searching for something comfortable enough to sleep in?
Let us face it: jeans are not the most comfortable thing in the world. They are pretty but comfortable? No, they are not. This article presents to you some cute and comfortable alternatives to jeans.
What is the best alternative to jeans for girls?
1. Palazzo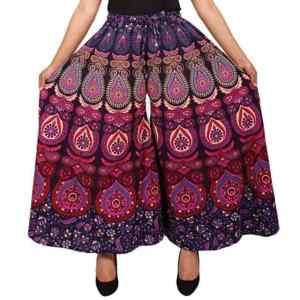 The Palazzo also is known as Pantada in India are long and loose trousers. At the end they are wide-legged, flaring from the waist. They are loose, breathable and flattering to most body types. They can be both girlish and professional looking. Apart from the basic black and white shades, invest in some prints. You can wear these on plain tops, Kurti or mix and match to create new exotic combinations.
Here are a few suggestions:
Wear palazzos with a top that defines your waist. Something like a crop top, corset, spaghetti, shirt made of thin fabric or an A-line Kurti.
Do not do print on print unless you are really, really, really confident that it works and you can pull it off.
It is better to play safe. Do not wear loose on the loose.
2. Cigarette Pants
Cigarette pants are like trousers, but with more narrow legs. You might know it by the name of pencil pants or stovepipe pants also. They are slim fitted and end above an inch or two above the ankles. What differentiates them from skinny jeans is the square opening at the foot. Where the skinny jeans are tapered or flared, Cigarette pants are straight even at the ends. They are casual, classic, chic and professional all at the same time.
Here are a few suggestions:
Get a pair that ends above your ankles.
Buy a set which fits your figure well. These are usually fitted everywhere but at the bottom.
If you are tall, opt for cigarette pants which have some details.
Curvy people should go for stretchy fabrics or structured pants.
Neutral coloured cigarette pants are a must-have basic these days. You can wear them anywhere from the office to parties.
For a clean look, pair these up with a button-up shirt and blazer. Add a neutral-coloured pump.
For a casual look, throw on an oversized T-shirt and canvas shoes.
3. Harem Pants
Harem pants are full, loose-fitting trousers. They are made of soft material, gathered together at the ankle. And they are so damn comfortable!
Here are a few suggestions to wear these:
Go for fabrics such as silk, cotton jersey or any other soft, delicate fabrics. They drape well, do not get wrinkled easily and are amazing to work in.
Note that the drop crotch is not below your mid-thigh. The folds should be falling well. Otherwise, it will look uncool.
A curvaceous woman should go for dark, solid and large printed harem pants.
A petite woman should go for the opposite, i.e., lighter and smaller prints.
Go for tops that stop above your pants.
If your shirt is too long, tuck it in.
Harem pants are statement pieces. Wear them lie statement pieces. Go for minimum jewellery and light makeup.
Have a pair of black harem pants in your wardrobe.
4. Paper bag Waist Pants
Paper bag, waist pants are pants with excess fabric at the waist. Hence, you can pull 'em up and belt it. This creates a feminine silhouette, adding shape to the outfit. These are usually worn high waist. It gives the person a chic and casual look. You might have seen models wearing this sort of pants, often. The thing is though, and they do not go well for everyone. It is a sad thing since they are overwhelmingly comfortable. So for which body type they work? Hourglass or pear. Basically, those who lack a defined waist (like apples or rectangle) should avoid this one. So, skip? Anyway, here are a few suggestions:
If you have a petite form, these paper bag waist pants tend to overwhelm you. Hence, it would help if you went for a cropped pair. Make sure they stop above or at the ankle. Go for Capri paper bag waist pants or shorts with tapered hem.
Plus-sized people should opt for the opposite. Go with wide-legged pants. While you are at it, choose heels over flats. It helps to make you appear tall.
Like every (at least mostly) pants in the world, go for paper bag waist pants which complement the figure. Yup, go for form-fitting ones especially since they add volume and are baggier.
Wear your top tucked in.
Pair the pants with a thin belt in case your paper bag waist pants do not come with a built-in belt. It helps provide some definition to your waist.
5. Jogger pants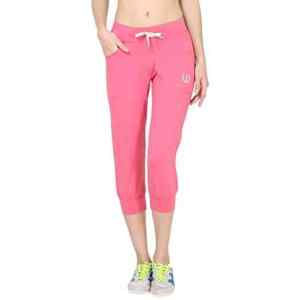 Jogger pants or track pants need no introduction. From the gym and now to the streets, these have become nothing short of style statements. They no longer are just for jogging. You can see them acting as a fashion piece on men and women equally. If you are interested in this style, too, here are a few suggestions:
India has a warm climate so rather than buying woollen ones, choose a lighter fabric like cotton or linen.
Mostly track pants are worn for a casual look, but you can dress up to suit the occasion. For starters, buy a black or at least a neutral colour. Later if you continue enjoying track pants, you can invest in bold colours and patterns.
You can dress up jogger pants with blazers, button-downs and cute sweaters. Who said you have to go with athletic clothing only when it comes to tracking pants? Think white shirt, black blazer and black jogger pants.
Couple jogger pants with fitted tops. Wearing jogger pants with loose ones creates a sloppy look. You can tuck in long tops.
Pair jogger pants with sneakers, booties or heels. Do not let the shoes you wear to cover up the elastic ankle.
And there you go! Some cute but comfortable alternatives to jeans.