Marriages are made in heaven. Every individual has a dream to be happily married and get settled in their lives. Weddings in India vary from region to religion, culture to traditions, costumes to rituals. A wedding is not only the union of the bride and the groom but two families, two relationships, and two cultures. People from different religions follow different cultures and prefer to find brides and grooms within their cast and traditions. Indians become part of many weddings and functions throughout the year—Hindu wedding, Christian wedding, Muslim wedding, Sikh wedding and other religions weddings. The percentage of arranged marriages and love marriages in India are the biggest thought of planning and involve the decision making of the entire family members. The consent for love marriage holds an equal position as the arranged marriage. After the approval of the family members, the whole ceremony takes around three to seven days, including various rituals and functions, religious or cultural followed by the wedding.
Indian weddings are termed as Vivah in Hinduism. Various functions and ceremonies that are involved in the basic Indian wedding involve engagement ceremony, get-togethers including ladies sangeet, dances followed by a meal, cocktail (optional) and reception. It is the amalgamation of guests, family members, and near and dear ones who joins the ceremonies before the wedding; this includes eating, dancing, singing, and enjoying ourselves together. It depends on family to family as to what significant amount or financial share they want to invest in these marriages. Many want to celebrate simplicity and sobriety. On the other hand, many believe marriage has a significant function, including pomp and show. So basically they spent a considerable amount of lavishly in making all the ceremonies more luxurious and magnificent.
Change in time:
With the outburst of the Corona pandemic, everything has changed. Due to the increase in cases those who have fixed their marriage in 2020 have to either postpone it for the things to get relieved or they have to marry in simplified ways with the ongoing situation. The more stress is on being cautious and following safety measures to the maximum. So ultimately, the focus has been shifted from spending high to spending safely. This difference has been made by the government's orders, and decisions as only fifty people are allowed in total to attend the wedding.
People are getting more aware of using hand sanitizer, wear masks, and ensure maximum safety to attend wedding ceremonies with simplicity undertaking the precautionary measures. The diverse and lavish spending on ceremonies and attending guests has now been decreased. The top fifty lists are chosen among the near and dear ones, including very close relatives. This deduction has somewhat relieved those parents who were concerned about their daughter's wedding. With this, they have got the opportunity to save more and give their best to their daughter in the form of cash or gifts whatever is useful for her in the upcoming future.
Effect of Coronavirus on marriages in India: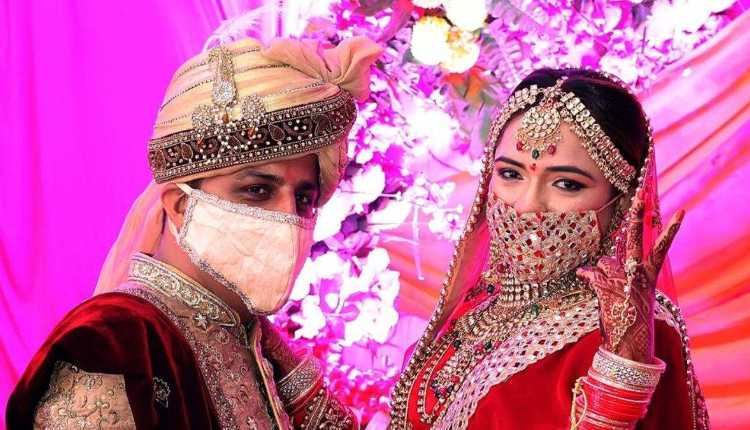 The year 2020 came up with many ups and downs. Not only India but the outburst of the Corona pandemic has changed the lifestyle of every individual in terms of studies, earnings in the form of service or business. The major setback came in the wedding business as well where event management companies have faced severe losses. Exclusive decorations and wedding plannings have taken a sharp turn as people are now willing to opt for simple weddings without exclusive pomp and show. Also few are there who are still eager to make the event more beautiful with little gatherings and serene decorations.
Minimisation:
With the increase in the number of covid cases, there are guidelines by the Government to reduce the number of guests in weddings from many to only fifty. Earlier the data was reduced to two hundred, but considering the situation, the data has decreased to fifty people per wedding. Where proper sanitisation and precautionary measures have to be taken, violations of any can lead to a fine or penalty by the government.
Decreased Marketing:
Due to postponed weddings or changes in wedding structure, there are severe shortfalls in various markets and businesses. The markets, stores, and shops, whether big scale or small scale have witnessed serious shortcomings of buyers around. Clothing, Jewellery outlets have minimal strength as people are not being to open markets. Those who are going have to follow the complete instructions and guidelines of the Government. Non-wearing masks have to deal with fines and penalties. People have to maintain proper social distancing. Few stores and shops have allowed only limited entry at a time depending on the size of the store/shop.
Loss of Business:
With fewer buyers in the markets, shopkeepers are trying to give discounts on clothing, jewellery, and necessities. There is the facility of online dealings as well where pictures of selling stuff are posted, and the buyers have the choice to purchase it. Even free home delivery facilities are also available. These provisions are made to provide maximum safety and avoid the unwanted rush in the marketplace.
Lack of Craze for Destination weddings:
Living with the pandemic people are getting more and more aware of the life risk involved in Covid. Before the corona pandemic, there was much excitement in couples to plan for destination weddings. People were keen to choose national or international destinations, depending on their budget and social status. So accordingly it needs planning as event organisers, wedding planners, choreographers, decorators, booking of the place either open-air or the set up was done as per requirements and personalisations. Within India, places like Mussoorie, Udaipur, Jaipur, Jim Corbett and Goa are quite famous for weddings and various functions.
Covid19 has changed things to the extent that couples are planning to choose nearby destinations with safety measures and maintain the extravagance of the event. Event planners have also maintained the limitations in the food court area to reduce the number of dishes including snacks, mocktails, main course, or deserts. This reduction is made to reduce wastages and to avoid unnecessary leftovers. This has helped in making the proper use of plate systems which were generally paid off even left used or unused during the wedding parties and functions. In other words, with the reduction in guests list, there is less wastage of food and other resources too. This helps in saving more and wasting less.
Relieved Family Members:
With the reduction in heavy expenses made in wedding functions, somewhere the parents of the bride are relieved as now with the limited gathering and financial resources, they can easily marry their daughters. There is also less societal pressure as only those relatives are coming who are very near to the family. Parents have the choice to be free in terms of giving dowry to the groom's family. Apart from serving unnecessary guests, they can give a token of love in the form of gifts to the bride and the groom.
Reduction in Marriage Loans And Debts:
The corona pandemic, on the one hand, gave many painful memories that cannot be forgettable even for a moment. Still, in some ways, it has also given some positive vibes of being together and value relationships. Where the parents who were so much concerned to marry their daughters in the nice and happy families and for this, they have to sacrifice their hard-earned money to please their in-laws and even the whole society. There is always social pressure on them. Few can afford and few cannot. So they take loans and burden themselves. Few have to pay huge interest also throughout their lives just to see their children happy and content. With the change in the prevalent situations and reduction of wedding budgets, there is relaxation on both sides of the families of the bride and the groom. They have a better option to go for court marriage and hold a wedding reception for the couple.
Virtual Weddings:
Virtual weddings have started gaining popularity these days. Couples are tying knots straightforwardly, and the guests are either joined through virtual meetings using online platforms like zoom meetings, Skype, WhatsApp, Facebook video calling. With this introduction, people are getting the chance to be a part of the wedding functions without being physically present. This virtual way helps a lot in maintaining proper social distancing and enjoying the wedding too.
Conclusion:
Corona pandemic has spread its wings everywhere and has left a deep mark in the lives of people, but still, it has taught each one of us to relive and redefine our lives and ourselves. Nothing is left unsolved or undefined. It has given shape and answer to every situation in terms of relations, society, maintaining social distancing, and valuing the relations. Social, as well as the economic structure, has encountered a huge setback. The year 2020 brought a loss of jobs, relations, lives, health, families. But still, there is a positive hope that things will get changed soon.
The relations and wedding planning that is disturbed and postponed due to covid pandemic has found a new direction to plan in a simple and sophisticated way. Those who will wait for the next year still have the hope to enjoy their wedding with great extravagance and joy. Let's hope for the best is the only answer to this !!