Maggi is one of the favourite food items of all age groups — from kids to older people all love the taste of Maggi. When we were kids, Maggi is like an introduction of noodles to us. And surely many of us have some good memories attached with it while growing up. It was all-time favourite snack items when we were kids in the '90s. And continue to be a popular and most liked snack for kids of today's generation too.
Sometimes cooking a daily routine meal can be a daunting task or if you are in a lazy mood, it is one of the easiest options to grab a packet of Maggi and by giving it some variation we can make it healthier and tastier. It is one of the easiest and quick option to cook and fill your hunger. So let's check out some of the innovative ways to make our favourite Maggi more delicious:-
1. Maggi Veg Patty Burger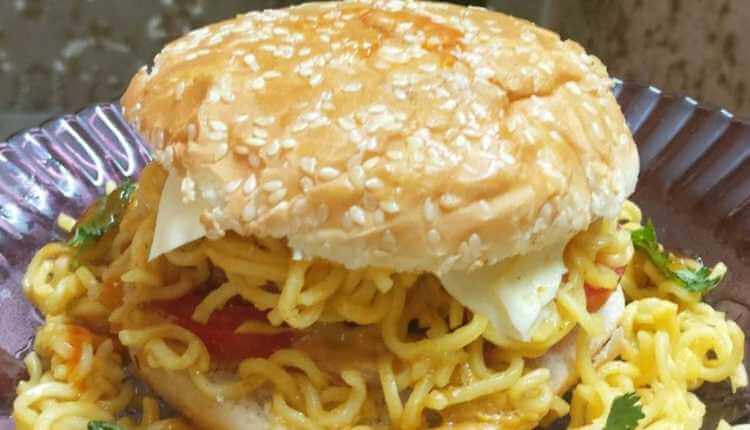 For Maggi Patty Burger ingredients that are needed (For 4-6 servings):-
Maggi Packet/ 1 Maggi Masala
Cups water
Medium-size potato, boiled
3 tbsp corn, frozen/boiled
3 tbsp peas, frozen/boiled
2 tbsp french beans
Coriander leaves
1/2 tsp red chilli powder
1/2 tsp amchur powder
1/2 cup bread crumbs
Cooking Oil for frying the patty
For Coating Maggi Veg Patty Burger:
1.5 tbsp maida
1.5 tbsp cornflour
1/4 tsp pepper
Salt to taste
1/2 cups water
Burger buns
Onion-1
Tomato-1
Capsicum- 1
Cheese Slices
Tomato ketchup or Burger sauce
Recipe for making Maggi Veg Patty Burger
First, take a pan or wok put 3 cups of water in it. Let the water come to boil, put Maggi packet in it, and boil it for 3-4 minutes. Drain out the excess water from the strainer and keep the noodles aside.
Now, in a bowl take two medium-sized potatoes and mashed it.
Add other vegetables, green peas, corn, beans and coriander leaves in it.
Add all the dry masala's, red chilli powder, amchur powder, Maggi masala and salt in it.
Give it a good mix so that all the ingredients are combined well.
Now add boiled noodles and mix it gently.
For coating, prepare a paste by combining maida, cornflour, pepper, salt and water.
Mix it well. The batter should be of flowing consistency, and there should be no lumps in it.
Now grease your hands with oil, and from the mixture make small round patties, press it slightly to flatten it.
Then dip the patty in prepared maida paste and cover it from batter completely.
Cover the patty from bread crumbs from all sides.
Take oil in a pan or wok and deep fry the patty in hot oil.
Fry on medium flame till it turns golden brown from both sides.
Now Maggi patty is ready.
Now we have to toast the buns slightly.
For it takes the frying pan and put some butter on it and spread it.
Then cut the bun from the centre and toast it lightly from both sides.
Finally, on a plate take one slice of the bun, put some tomato ketchup or burger sauce in it.
Then put the Maggi patty on one slice.
Put, slices of tomato, onion and capsicum on it.
Sprinkle some black pepper and salt on it.
Put cheese slice on it.
Then put another slice of burger on top.
Put skewer on it so that burger remains set.
2. Maggi Dosa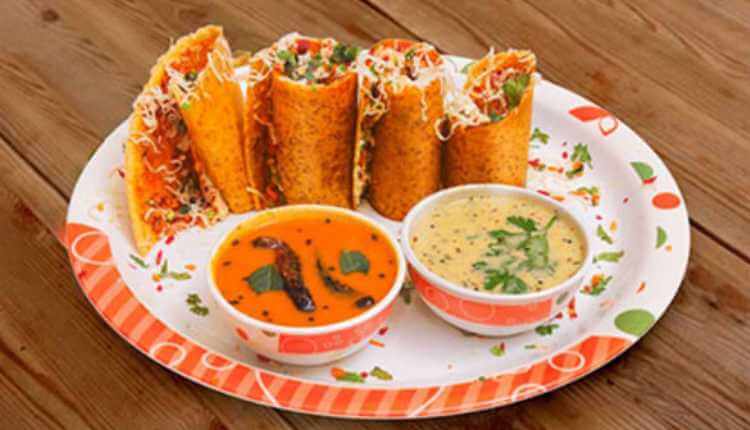 For Maggi Dosa ingredients that are needed (For 2 serving):-
3 cups of ready Dosa batter
1 tbsp finely chopped capsicum
1 tbsp finely chopped onion
1/2 tsp red chilli powder
1/2 tsp garam masala
1/2 tsp cumin powder
1 tsp Schezwan sauce
salt as per taste
1 packet of Maggi boiled with tastemaker
2 tbsp butter
1 tbsp cooking oil
Block of cheese for garnishing
Recipe Maggi Dosa
First heat a non-stick pan. Sprinkle some water and wipe it with a cloth so that the temperature of the pan become moderate.
Then put some oil and grease the pan.
Spread a spoonful of Dosa Batter on the pan and spread it evenly in round direction.
Then put butter and schezwan sauce on the dosa and spread it.
Then add capsicum, onion all the dry spices and a little bit of butter on the dosa and mix well the ingredients and spread it.
Add cooked Maggi again gives it a good mix with the above ingredients.
Now cover the pan and let it cook for 1 min.
After 1 min grates some cheese on the dosa mixture.
Flip the dosa from the other side.
Maggi Dosa is ready to serve.
3. Maggi Manchurian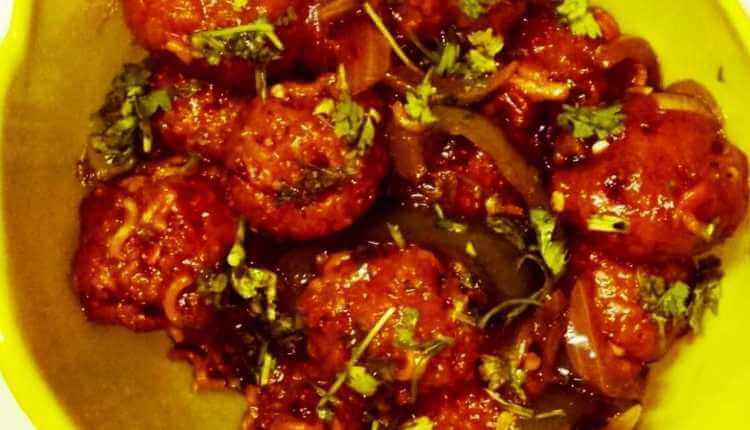 For Maggi Manchurian ingredients that are needed (For 4 serving):-
Maggi packet- 2 packet.
Maggi masala- 2.
Onion- 1 finely chopped/ 1/4 cup in big size.
Green capsicum- 1/4 cup
Yellow capsicum- 1/4 cup
Red capsicum- 1/4 cup
Green chilli- 2
Garlic cloves- 5-6
Spring Onion- 1/4 cup
Gravy for Maggi Manchurian:
Soy Sauce- 1tbsp
White Vinegar- 1tbsp
Green chilli sauce- 1 tbsp
Red chilli sauce- 1 tbsp
Schezwan chutney- 2 tbsp
For coating of Maggi Manchurian:
Corn flour- 2 tbsp
Rice flour- 2 tbsp
Red chilli powder- 1/4 tsp
Salt to taste
Recipe for Maggi Manchurian
First for making a Maggi take a pan, add 3 cups of water in it and bring the water to boil.
When water starts boiling, add 2 packs of Maggi noodles in it, cook the noodles, let the water of noodles dry completely and turn off the flame of the gas and let it cool.
When the noodles are completely cooled, in a mixing bowl take noodles, add onion, spring onion, cornflour, rice flour, red chilli powder, Maggi tastemaker, salt and schezwan chutney.
Mix all the ingredients very well.
Then from the mixture, put a little bit of water on the palm and make Manchurian balls of small size.
For coating and making the Manchurian ball more crispy, crushed some raw Maggi noodles in a plate and roll the balls in a plate of crushed noodles, so that layer of noodles sticks or cover the ball.
For frying heat oil in a pan, keep the flame on medium heat, when oil is hot put Maggi balls in it, fry balls for some time on medium temperature flip it in between and then fry it on high flame, once the colour changes and it turns golden brown.
Take the balls on a strainer, and Manchurian balls are ready.
For gravy, heat 2 tsp oil in a pan add green chilli, garlic, fry it for a few seconds, add all three types of capsicum, onion.

Fry it for some time on medium flame.

Add 1/4 tsp of red chilli powder.
Add salt and mix it well.
Add white vinegar.
Add green chilli sauce.
Add soya sauce and red chilli sauce, tomato ketchup and schezwan chutney mix it well.
Add some water in cornflour and pour the batter in Manchurian sauce.
Add 1/4 cup of water and increase the flame too high.
When the gravy sauce starts boiling, add some spring onion in it.
Turn off the flame, add Manchurian balls in it.
Mix it well.
Coat the ball properly in gravy sauce.
Manchurian balls are ready to serve, garnish it with some spring onions.
4. Maggi Samosa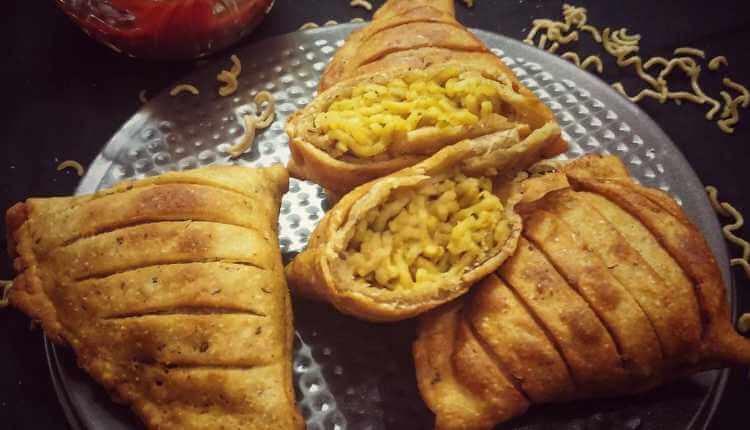 For Maggi samosa ingredients that are needed (For 4 servings):-
2 pct Maggi noodles
2 cups all-purpose flour (maida)
1 tsp carom seeds
1 cup of vegetable oil
water
salt
Recipe Maggi samosa
First, we prepare dough for samosa. For that in a bowl take maida, carom seeds, salt, put 2 tbsp oil in it and then slowly add water in it and prepare a slightly hard dough from it, put some oil on it and set aside for some time.
Then we prepare a Maggi, take a pan to add 3 cups of water when water starts boiling, put Maggi and tastemaker in it, also add some salt and let it boil. Once cooked, drain the water from the strainer and keep it aside and let it cool.
Then make small round shaped ball from the dough.
Now roll the round shaped balls from the rolling pin and then cut it from the centre and one part makes a cone-like shape.
Stuff the Maggi inside the cone and press the corner sealing it properly.
Samosas are now ready to fry.
Now in a kadhai or wok take some oil and heat it on medium flame.
Then dip the samosa into the kadhai, and deep fry them. Once they turn golden brown take them out of the oil and place it on tissue paper to absorb the excess oil.
Can serve the Samosas with green chutney and tamarind chutney.
5. Maggi Spring Roll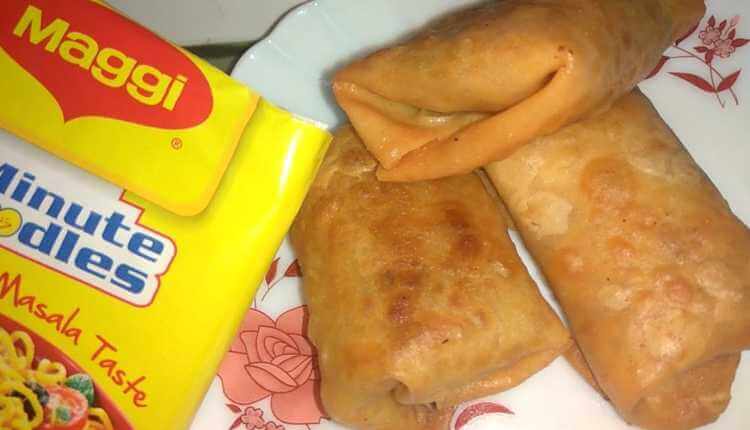 For Maggi Spring roll ingredients that are needed (For 4 servings):
Maggi- 1 pkt
All-purpose flour or maida – 1 cup (also some maida paste)
Onion- 1 cut in slices
Green chilli-1 finely chopped
capsicum- 1 cut in slices
carom seeds- 1/4 tsp
pepper powder- 1/4 tsp
Garam Masala- 1/4 tsp
Amchur powder- 1/4 tsp
Tomato ketchup
Salt
Cooking oil
Recipe of Maggi Spring Roll
First in a mixing bowl take maida, carom seeds, pepper powder, salt according to taste, add 2 spoons of cooking oil.
Knead the flour using water, put some oil on the kneaded dough, cover and put it aside for some time.
Now we'll prepare stuffing for Maggi spring roll.
For that in a pan put some oil, add green chilli, chopped onion, chopped capsicum fry all the vegetables for some time.
Add salt, garam masala, amchur powder, tomato ketchup stir the vegetables and mix it with all the spices.
Add Maggi noodles in the pan, and also add water, add Maggi masala and mix everything well together.
Cook this until all the water of Maggi dries up.
After cooking for 2-3 minutes, stuffing is ready.
Put this stuffing to cool off.
Now we will make the outer layer of Maggi spring roll.
For that divide the dough into four equal parts and make round shaped ball.
Now roll these balls flat using dry flour.
We have to roll another ball also since, for making of Maggi spring roll, we will be cooking two sheets together.
On one sheet put some oil and spread all over, then sprinkle some dry flour.
Put another sheet on the top and roll together both sheets.
Now cook them on a hot pan from both sides.
When cooked, take it out from the pan.
Since oil is applied between the layer of sheets, it will therefore easily split.
Now take one sheet and put Maggi stuffing on it.
Then roll it properly sealing it from the maida paste, so that it doesn't open up while frying.
Now take some oil in a pan when oil heats up, put Maggi spring roll in it and fry it from both sides for 3-4 min till it turns golden brown in colour.
Maggi Spring Roll is now ready to serve.
So, these are some of the different ways of making Maggi dishes which make Maggi tastier and more delicious.