What do adventure sports mean?
Adventure sports are widely also known as extreme sports or action sports. A normal human does play a decent amount of regular sports in life. Even those people spending extremely sedentary lifestyles must have played some regular sports in their lives. Sports helps a lot in keeping you fit and maintaining a healthy weight. Apart from this they keep you on a regular adrenaline rush and keep you healthy while you enjoy it as well. While regular sports are considered good for people with sedentary lifestyles, there is something called adventure sports which is specifically not for those spending sedentary lifestyles. Those who opt for extreme sports must already be fit and healthy, and this is not used for keeping yourself fit or healthy, but this is for the huge temporary adrenaline rush/pumping or enjoyment of a person. Adventure sports involve high degrees of risk. Usually, this is a kind of aggressive sports which may prove to be very horrifying and very enjoyable for others and usually involves a height, speed, highly specialized gears, and a very high level of physical exertion. No drug in the world can take you even close to the high adrenaline pumping that adventure sports can take you in a completely legal way.
How popular are adventure sports?
Adventure sports attract more and more youngsters. Facing challenges makes people happy. The adventure feels great specifically for youngsters. Several surveys have suggested that more and more youngsters want to at least try adventure sports once in a lifetime and many actually save money to do it at least once a year. This industry is growing, and the youngsters have started realizing how great these are and understand the potential risk here as well. Since the population of people under 30 in India is about 60-70%, i.e. very high, the craze for adventure sports in India is increasing rapidly.
What are some adventure sports?
Some of the most famous adventure sports across the world are ATV riding, snowboarding, surfing, canyoning, paraskiing, gliding, wingsuit flying, highlining, volcano boarding/volcano surfing, freediving, caving, mountain biking, and many more. Just hearing of these names gives chills to the people who have experienced them.
Some of the very famous extreme adventure sports played in India are as the following:
1. Bungee Jumping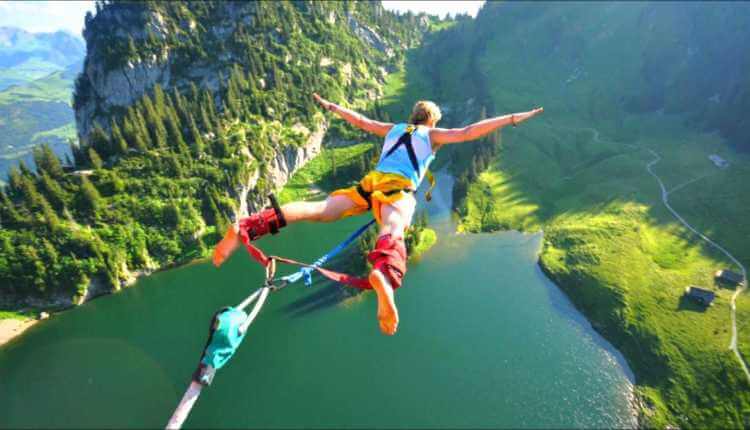 Imagine you are on the top of a cliff and somebody pushed you down. The same adrenaline rush and fear which you will experience at that time will blow your mind, and you can experience bungee jumping. The only difference here is that you will not die. You will be tied up by an elastic cord, and you will be pushed through a tower or a cliff or a beach. Here you can experience free fall, which is a fascinating experience for extreme sports lovers. Apart from that, the part where the elastic string stretches and gives you a rebound is also great. Many love Bungee Jumping specifically for this part. This hardly gives you 2.5-5 seconds of free fall, but it is worth it.
The highest point for Bungee Jumping in India is Jumpin Heights in Mohan Chatti, Rishikesh, Uttarakhand. It is 83 meters high and costs around 3550 Rs.
There are some more, but none of them is even close to this height. Some of them include:
Ozone Adventures, Bangalore (130 ft, 400 Rs)
Wanderlust in Delhi (52 m, 3000 Rs)
Gravity adventure zone in Goa (25 m, 500 Rs)
Della Adventures in Lonavala (45 m, 1500 Rs)
2. Sky diving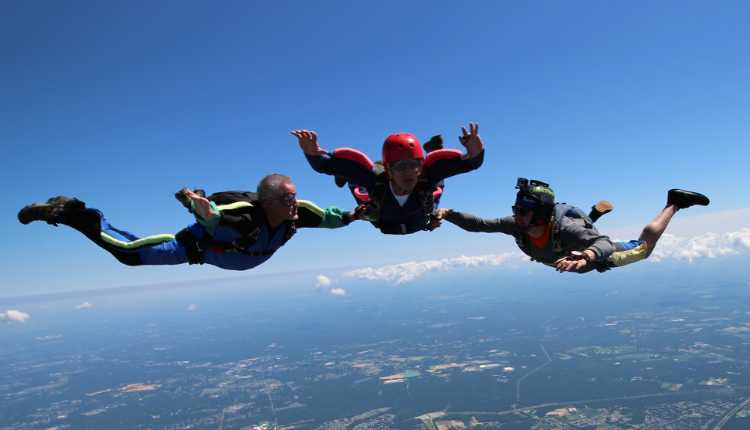 Sky diving, one needs a little more knowledge and courage as well. Imagine somebody pushing you down through an aeroplane when it is at its highest peak. Freaking out in the middle of the air is not a really great option here. This is usually done in a group of three and those who are experienced in this like to hold hands together or competes about who reaches the surface earliest and some other cool stuff. One jumps with a parachute bag with him and has to open it a little before he/she reaches near the surface in order to grab a safe landing. This one is far more exciting as well as dangerous as compared to bungee jumping. The time of free fall totally depends on the height of the plane and the courage of the diver, but it usually ranges between 30-60 seconds. As the height increases, time increases. This gives you a great deal of time to enjoy the globe from height and enjoy the wind bashing your body. These are costlier, and at every site, before going for this sport, the instructor gives complete instructions of the do's and don'ts which one must listen carefully. They also teach their audience about the different kinds of jumps and their many places that have different prices for different jumps.
The best place for sky diving in India is operated by Thrills Extreme in Aamby Valley, Maharashtra. They make you fall from the height of 10,000 ft. They are famous for their Tandem jumps (where an instructor is connected or tied with you and he instructs you about everything you need to know). They charge 20,000 Rs from Monday to Thursday and 25,000 Rs from Friday to Sunday.
Apart from this, there are several more skydiving spots in India like–
Deesa in Gujarat (3500-4000 ft & Static line jumps-16500 Rs, Tandem jumps-33500, Accelerated free fall-37500) operated by the Indian Parachuting Federation
Dhana in Madhya Pradesh (9,000-10,000 ft & Tandem jump-35000-37500 Rs, Static jumps-24000 Rs) operated by Thrills Extreme and Chimes Aviation Academy
Narnaul in Haryana (10,000 ft & Tandem jump 27,500 Rs) operated by SkyHigh
Mysore in Karnataka (9,000-10,000 ft & Tandem jump-35,000 Rs) operated by Skyriders
Aligarh in Uttar Pradesh (9,000-10,000 ft & Tandem jump-27025 Rs, A jump to remember-31625) operated by Skyhigh
Pondicherry in Tamil Nadu (10,000 ft & Tandem jump-27,000 Rs) operated by Waltair Escapade Thrills and Skyriders.
3. Scuba diving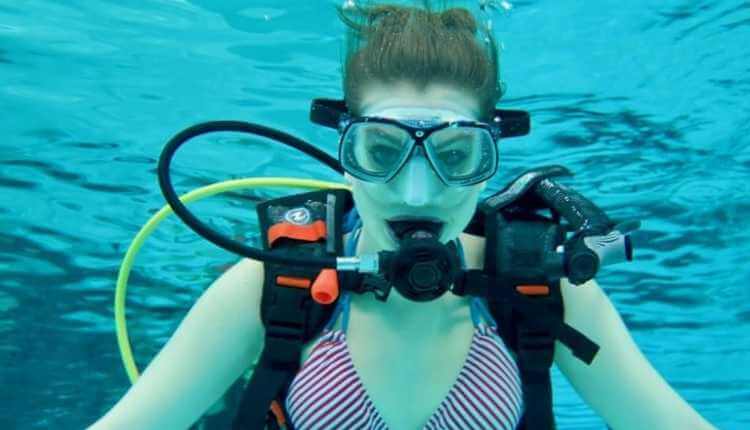 Scuba diving is also known as snorkelling and diving. Imagine you have been pushed inside a sea, you can swim to the bottom, and you have oxygen for about a couple of hours. You can explore the sea. You can watch exciting sea animals and plants in their natural habitat. Here, you are provided with a breathing apparatus or an oxygen cylinder with a diving suit that helps you to penetrate deep inside the sea. Usually, diving sites are constructed near shipwrecks as there is more to see, and it attracts more sea animals giving the diver a better experience. This is not only beautiful but dangerous as well. Taking yourself deep down the sea is actually a challenging task. To do this, one needs to have a medical certificate.
Some of the best places in India which offer scuba diving are–
The Havelock Islands in Andaman and Nicobar which is considered as the best amongst; there are many interesting spots in this area as well (The cost ranges between 4,500-6,000 Rs)
Grand Islands in Goa (4000 Rs)
Netrani Island, Karnataka (5,500 -6,000 Rs)
Kovalam, Kerela (20,000 Rs)
Bangaram, Lakshwadeep (4,000-7,000 Rs)
Coral sharks reef, Pondicherry (3,500-6,000 Rs)
Scuba diving in Dwarka, Gujarat (4500 + 18% GST and 3-day water-course 26000 + 18% GST)
4. Rock climbing
One may know and had done in their life a great deal of mountaineering or trekking. One must have gone on the mountain for walks and all but ever imagined actually climbing a big huge rock with bare hands. If the rock is of a few feets and the angle is near to 90 degrees, that is fine, but some people like to climb rocks of heights in a few hundreds of feet. Thinking of it freaks a normal person out by tying a piece of rope to your waist climbing up a huge rock with bare hands to the top with the fear of falling down. This is like the worst nightmare.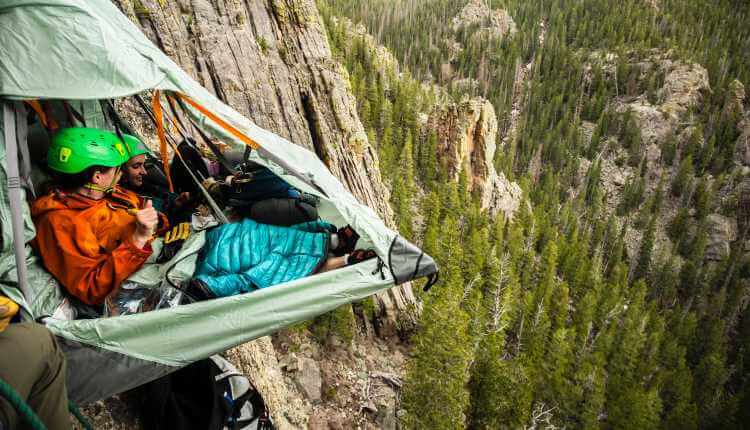 It is suggested to never try this without a little experience and place your moves very carefully for going to this one. India specifically has a great potential for rock climbing of a few feet. If you are in a group, rock climbing can be followed by vertical cliff face camping. Imagine camping on the edge of a mountain. The picture shown here will help you more to understand this. Making tents or camping at this part, with this I mean spending the night or sleeping here is a great height. You need guts to sleep here.
Some of the best places in India where one can go for Rock climbing are–
Parvati Valley, Himachal Pradesh
Shey Rock, Jammu, and Kashmir
Damdama Lake, Haryana
Malshej Ghat, Maharashtra
Madhugiri, Karnataka
The Pythal Mala, Kerala
Lado Sarai old rocks, 3 km from IIT Delhi
5. White water rafting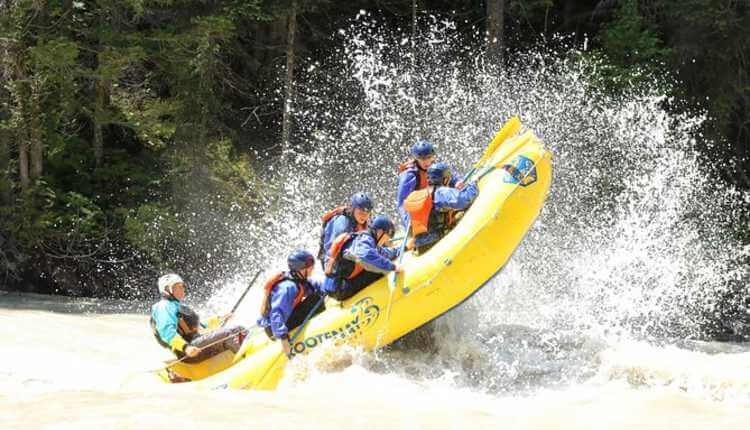 It is also known as river rafting. All must have seen slow-moving rivers, but there are some very aggressive rivers that have huge stones in their paths. Imagine being on a boat with a few of your friends trying to control the raft with two rowing sticks in each of your hands. Here, you will have to try not to get thrown out of the raft with the force of the river and avoid as many rocks to hit the raft as possible in order to survive. This sport sometimes turns into a very deadly one. One must know about the flow of water, the speed, and the basics of rafting here in order to avoid death or serious injuries by getting thrown out of the raft or by getting smashed on the rocks.
There are different classes of difficulty levels in white water rafting, a basic idea of them is as follows-
Level 1- Class I Rapids: Very Basic. Moving water with small waves. This one is more of like boating than rafting and is a nice way for relaxing.
Level 2- Class II Rapids: Waves up to 3 feet tall and wide channels. A little manoeuvring is required here.
Level 3- Class III Rapids: Waves up to 4 feet high and the passage is narrow. The shimmying of the boat can be observed from this level and water splashes on the sides of the raft/boat. This one actually feels a little exciting.
Level 4- Class IV Rapids: Narrow passages, precise manoeuvring is required, long waves and difficult rapids, fear develops, heartbeats increases.
Level 5- Class V Rapids: Larger, more complex, gushing, twisting, and spinning rapids and harder to manage.
Level 6-Class VI Rapids: These can be called extreme or suicidal ones. These can include waterfalls.
Enjoying each level for a beginner starting from level 1 and ending at 4 or maximum 5 gives them a great experience at all. Level 6 must be avoided and must only be performed by experts.
Some places in India which provide river rafting services are–
Indus river, Ladakh (Grade 1, 1500 Rs, 25 Km)
Barapole River, Coorg (Grade 4 to 7, 1200 rs, 150 Km)
Beas River, Kullu and Manali (Grade 1 to 4, 400-600 Rs, 14 Km)
Bhagirathi River, Uttarakhand (Grade 3 to 4, price depending upon the distance, up to 150 Km)
Teesta River, Sikkim (Grade 2 to 4, 785 Rs, 309 Km)
For those who are looking for the best countries to do adventure sports, here are the top 10 countries for adventures in the ranking order are–
Brazil
Italy
Spain
Greece
Thailand
Portugal
New Zeland
Costa Rica
Argentina
Australia
NOTE: All the prices and services mentioned in the article may vary.