WhatsApp a Facebook owned company has always been experimenting with new features and trends. Sometime they even face a lot of criticism and legal threats. One such incident is the sharing of the user's data with Facebook to deliver more accurate advertisements which has raised various Privacy issues and security breach.
It is not always that WhatsApp announces good news– About a few months ago, they'd announced to discontinue with support to various devices from 31st December, 2016, which includes BlackBerry Z3, Z10 and Nokia phones running on Symbian.
This news is not yet officially announced by Facebook, but a redditor on Twitter @armando_rod. According to him this features pop-ups stickers as soon as you type text in the field — The similar feature is already available with the latest version of Hike Messenger.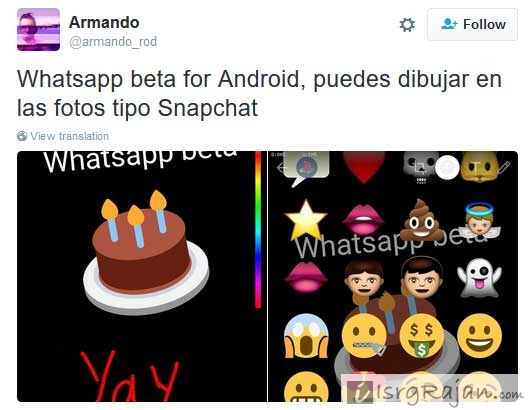 Recently, WhatsApp addressed various new features such as text-formatting which offered italic, bold and strikethrough and  document sharing, which allowed users to share pdf and word files; and possible it is about to bring the stickers to stay in the race as per the news from various known Android Blogging websites like — Android Authority that WhatsApp is testing its Beta version which include the stickers and scribbling.
( Also Read: How to Run Reliance Jio 4G SIM with 3G Handsets?)
Unlike, other Instant Messaging apps like Hike messenger, Facebook and Snapchat which already has this feature since a very long time whereas the WhatsApp was lagging in the race. This features might be useful for many users who love to say a lot in just a few words.
Those who are interested in checking out the WhatsApp Beta version can register themselves at — https://play.google.com/apps/testing/com.whatsapp