In a significant development, the CEO of the globally renowned technology company, Zoho Corporation, Sridhar Vembu, issued a cautionary statement on Monday, October 2, regarding a looming global economic downturn. Vembu took to Twitter to express his concerns, stating, "We saw a fairly pronounced slowdown in growth in September across countries and across products. Given the geographically and product-wise diversified nature of our revenue streams, I suspect the G is taking a turn for the worse. Caution ahead."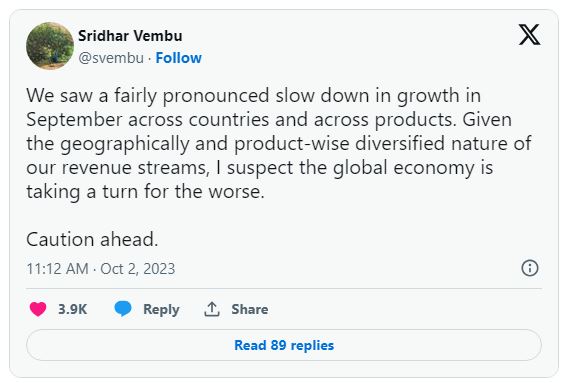 This alert from Sridhar Vembu comes as a response to a noticeable deceleration in growth experienced by Zoho Corporation during the month of September. The slowdown impacted various countries and a broad spectrum of products offered by the company, raising concerns about the overall state of the global economy.
Just last month, Zoho, headquartered in Chennai, achieved a significant milestone by surpassing 100 million users across more than 55 business applications. This landmark achievement was reached in less than a year after the company proudly announced its attainment of $1 billion in revenue back in November.
The past few years have witnessed remarkable growth for Zoho Corp in terms of both sales and user counts. To put this into context, the company crossed the 1 million user mark in 2008, and remarkably, it onboarded the last 50 million users in a mere five years.
Furthermore, Zoho Corporation has made substantial progress in the enterprise sector, commonly referred to as the "upmarket" segment, within India. With an impressive 3-year compound annual growth rate (CAGR) of 65 percent, Zoho now supports over 7 lakh businesses across more than 150 countries. Notably, India remains one of the fastest-growing markets for the company.
Adding to the concerns raised by Sridhar Vembu, a report published by the World Bank in March of this year warned about the declining "speed limit" of the global economy. This "speed limit" represents the maximum rate of long-term growth that can be sustained without causing inflation. The report, titled 'Falling Long-Term Growth Prospects: Trends, Expectations, and Policies,' offers an extensive evaluation of potential output growth rates, especially in the aftermath of two significant global events—the COVID-19 pandemic and the Russian invasion of Ukraine.
The report paints a concerning picture, highlighting that nearly all the economic forces that have historically driven progress and prosperity over the past three decades are now diminishing. These factors underscore the growing uncertainty and the need for caution in the face of a potential global economic downturn.
In conclusion, Sridhar Vembu's warning, coupled with Zoho Corporation's recent growth challenges, has cast a shadow of uncertainty over the global economic landscape. With the global economy at a crossroads, it becomes imperative for businesses and policymakers to closely monitor these developments and prepare for the challenges that lie ahead.