Durga Puja is the largest festival of Bengalis in India and all across the world. Durga is not only a festival, but it has many emotions attached to it. It needs months preparation to celebrate and arrange everything for Durga Puja. People prepared for months before for Puja shopping and also take care of their skin or hair, whereas the Puja committee takes months preparing and organising for Puja.
The artisans spend months to show their skills by various artwork and making themed Pandals during Puja. So, Durga Puja is no longer a festival of four days, but it is the festivals where every person's emotion, planning as well as earning related to it. It takes several months of preparation, so every life relates to it. As Durga Puja is mostly famous in Kolkata here are 10 unique experiences one can have in Durga Puja in Kolkata.
1. Visit the idol-making hub
First and foremost things in Durga Puja is the making of idols, and there are unique rituals that the first clay of idol making should be from Ganga and from Brothel, where the priests go to Brothel and beg for the clay as the clay is considered holy. After that, the preparation of idol takes a few months and its very enchanting to visit the potters' colony in Kumartali Kolkata. Visiting idol-making hub is allows ones to admire the artisans and get to see thousands of idol in the making.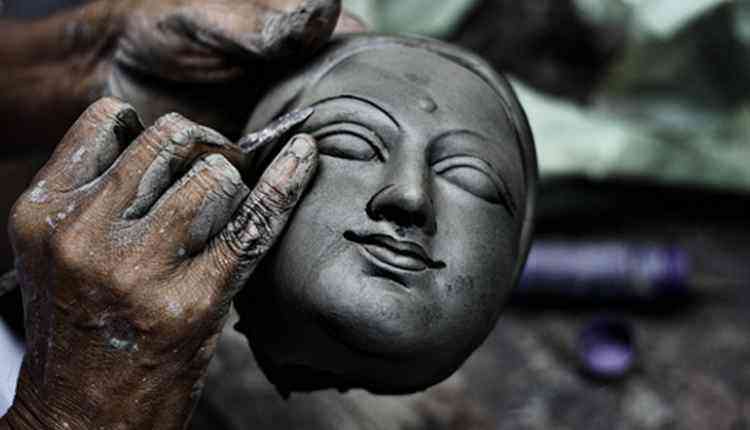 2. Listen 'Mahisasur Mardini' on Radio and prityu pakhya
On the day of Mahalaya, or the first day of the start of Devi pakha', one can find every household listening to 'Mahisasur Mardini' on the radio at early dawn. It is not a tradition, but it has got nostalgia attached to it. No Durga Puja get started without listening to Mahisasur Mardini by, recorded by Birendra Krishna Bhadra on the radio. Also at the end of Prityu pakhya according to the Hindu rituals, the men pay homage to their ancestor in the Ganges.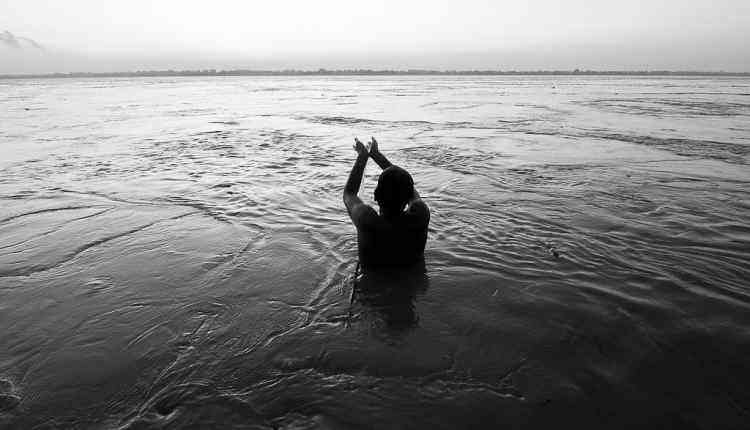 3. Whole night pandal (mandap) hopping
Although the celebration is for four days, i.e., Saptamani, Ashtami, Nabami and Dashami, the pandal hopping starts from Chaturthi or third day only. This includes visits to the different Puja pandals across the cities and admires all the artwork. There is no routine for four days during Durga Puja as people visit pandas whole day and night. Their bands used to be crowded during these four days, and it may take several hours to enter in one Pandals. Also, the metro, trains and bus services usually remain open for around 20 to 24 hours during these days. Food stall and medical services used to available in pandals. The roads are filled with food, lightning, people all 24 hours during these four days.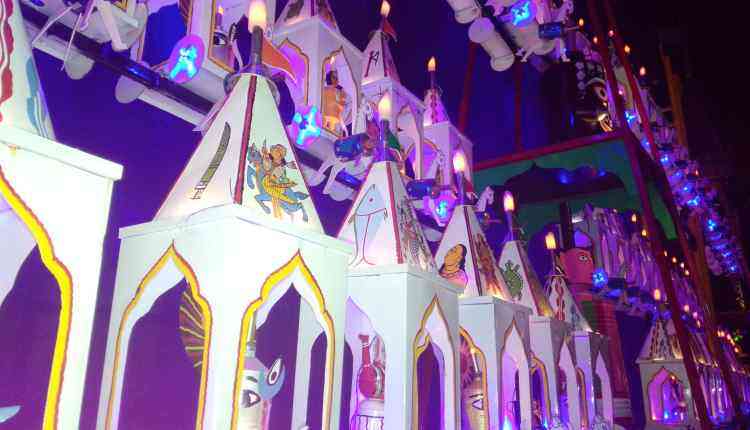 4. Themed idols and pandals
The pandals and idols are usually made themed nowadays rather than make it look traditional. So one can find idols and bands of different themed like pandals are made to look like different monuments around the world, famous sites and monuments from India and the world, or straight from the blockbuster movie like Bahubaali. Also themed are made abstract or ideas or from Puranas or mythological tale or books and movies etc. Pandas are also made from unique items like plastic bottles, bottle cap, pin, paper, bamboo, tin, woods, clay pot and everything on earth. It shows the creativity of artisans. Sometimes the idol is decorated with saree and jewellery worth cores made of diamond or gold.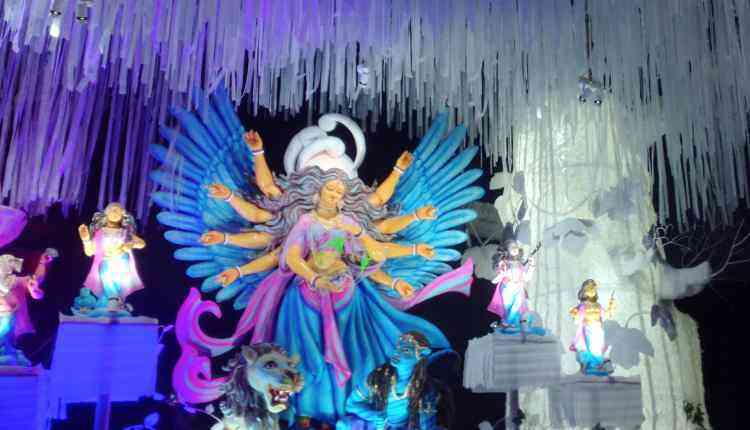 5. Ashtami Anjali (chanting of mantras and prayers)
No Puja is complete without Ashtami Anjali, followed by having bhog. In Ashtami, the people mostly dressed in traditional attire in the morning for the Anjali. So here one can find women draped in red and white saree and men by dhoti or Kurta Punjabi for the prayers, this is usually done after brief fasting in the morning followed by having a Bhog or Prasad. It is one of the most important parts of Durga Puja.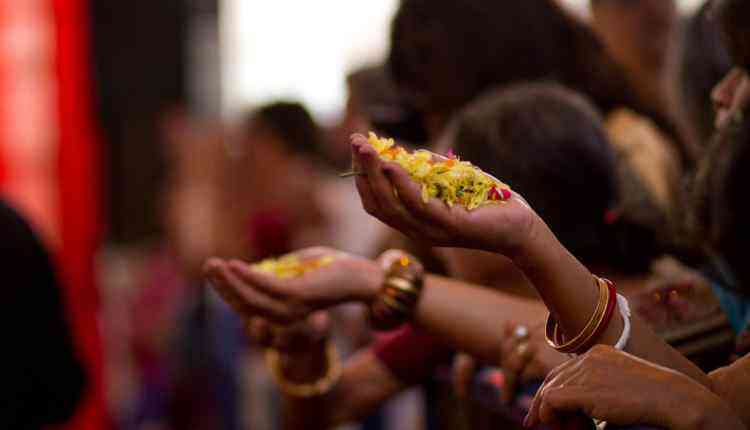 6. Visit Bonedi puja
If one wants to enjoy heritage, they can visit 'Bonedi Puja' in Kolkata. These are traditional Puja in Kolkata. The Bonedi Bari is usually referred to as the rich zamindars or landowners from the then undivided Bengal. There are several traditional pages, and it will give one some unique experiences. Some of these Pujas are more than 150 years old. There are several Bonedi Puja in Kolkata majorly in North Kolkata, where one can enjoy. These include Sabarna Roy Chowdhury family, Khalet Ghosh family, Sovabazar Rajbari and many more around Kolkata.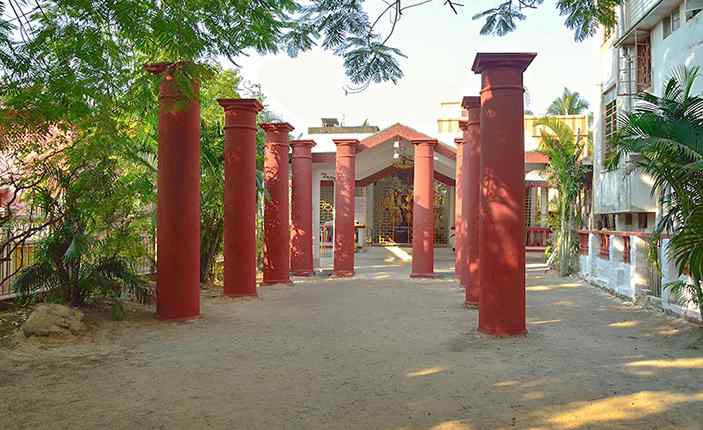 7. No diet plan
Kolkata is usually well known for its street food and during Durga Puja, the road gets filled with mouth-watering street food along with other cuisines and dishes. The roads and Pandals are filled with the tempting smell of food which urge one to eat. Also, after Pandal hopping, it's better to eat something and gain energy. One can even find the stall like Kfc, dominos, pizza hut etc. along with Chinese, Thai, Indian, Continental, snacks, street food, Afghani, Lebanese, on everywhere around the street and the clock. The desert and drinks are also available. So when food is everywhere around you, there is no need to diet.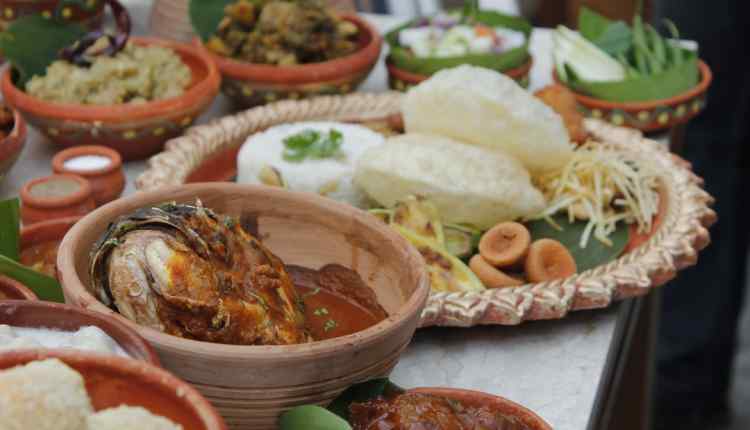 8. Shopping season
The shopping for Durga Puja starts months before, so it's the busy season for both shopkeepers and the buyers. One can find busy roads, overcrowded markets and streets during these seasons. Also, many people from the neighbouring country like Bangladesh and other states of India used to visit here for shopping during the season. Durga Puja is a season where people used to dress up well decked like a fashion parade without maintaining the diet plan. It is itself a truly inspiring.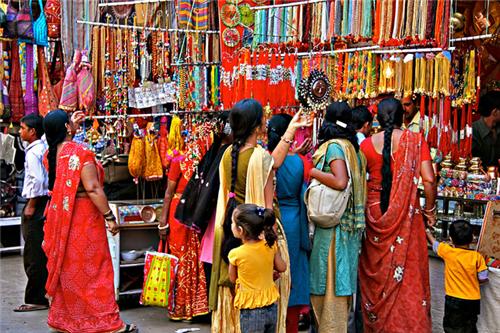 9. Dhunuchi Nach and Sindoor Khela
To enjoy the festive spree and to shake the leg, one can perform dhunuchi Nach in Durga Ashtami also during the last day of the Puja. Dhunuchi is an earthen pot which is filled with burnt coconut husk and camphor and people used to perform with it in hand or mouth in the rhythm of Dhaka. Also, several dhunuchi dance competitions used to hold so one can surely come and enjoy the dance or participate. Whereas Sindoor Khela performs on the last day of durgatshov or Vijaya Dashami where they play with indoor or vermilion powder especially by a woman draped in traditional saree. The sound of Dhaka all over the city during the season and the chanting of mantras everywhere seem to be a different world.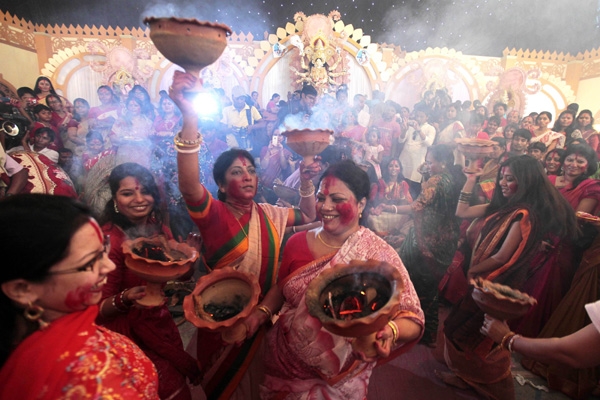 10. Watch idol immersion at the Ganges
It is exciting to watch idol immersion in the several ghats of Kolkata or to join the procession of idol immersion, the idol is usually decorated, and the people lead the idol to the Ganges followed by music, band, parade, tableau, Dhol and many things. People usually dance without rhythm, which is fondly called bhasan dance or immersion dance, where you don't need to be a dance all you need is to dance like nobody is watching. Join bhasan dance can be too much fun. The immersion can be watched in the ghats like Babughat along with several other ghats.