Uttarakhand state in India is divided into two administrative divisions, Garhwal divisions and Kumaon division. Kumaon is also spelt as Kumaun, is one of the regions of the state of Uttarakhand. During the time of British control, between 1815 and 1817, it was known as Kemaon. Kumaon division headquarters is located at lake city, Nainital. After the Independence of India in 1947, Kumaon became an administrative and revenue division in the Uttar Pradesh state until it was separated from Uttar Pradesh's state and became an independent state Uttarakhand in the year 2000.
Kumaon region is a place enriched with natural beauty. It is full of mountain ranges and mountain peaks because of its scenic views and beautiful hilly surroundings with tall trees, and it is a place of attraction for tourists from all over the world. In the Kumaon region, every river and mountain is related to one or another folktale. Kumaoni culture is all about folktales and countless stories of Hindu Gods and Goddesses. The residents of Kumaon are known as Kumaonis, and they speak the Kumaoni language. Kumaoni people are brave, hardworking, and honest. Though the Kumaon region is associated with the Kumaoni people, there is a significant population of Kumaoni in Uttar Pradesh, Madhya Pradesh, Maharashtra, Punjab, and some regions of Himachal Pradesh. Pahari people can also be found in Nepal, West Bengal, and North-Eastern India.
Here is the list of concerning and good things about the Kumaoni people living in the Kumaon division, Almora and Nainital:
1. Kumaoni Society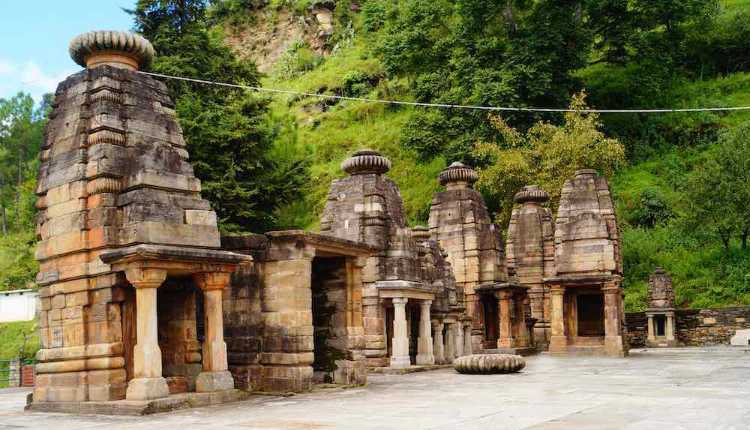 People residing in the Kumaon division of Uttarakhand are referred to as the Kumaoni People. However, this isn't completely true since people from other regions of India have migrated here with the purpose of business, trade and occupation. They are also known as the Pahari people since the Kumaon division is mostly a hilly (Pahari) region. Hinduism believe in the patriarchal system, and so the Kumaoni people. In Hinduism and Kumanoni culture, the eldest male in the family is referred to as the head of the family. Although women also hold an important place in society as they work in fields and do household duties, their role cannot be neglected, and they are also an integral part of the culture. There are some social differences; still, men and women are treated as equals in society.
2. The Language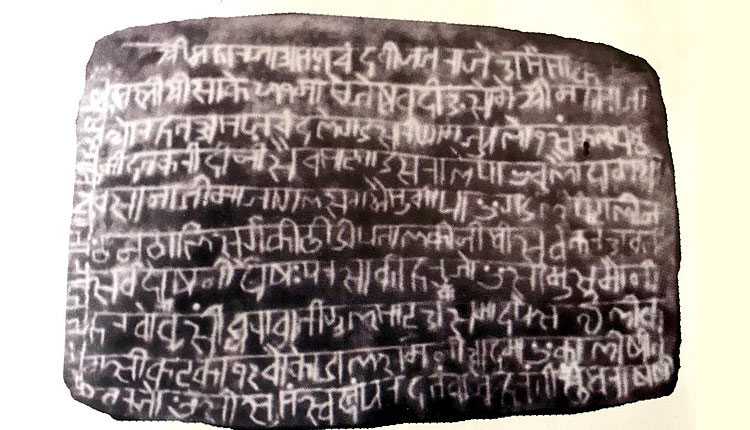 The script used in the Kumaon region is Devanagri, one of India's recognised languages. Kumaoni language is an Indo-Aryan language. Since there is large-scale migration of people of Kumaon to cities, which is affecting the language, and with time, it seems that the Kumaon language is diminishing rapidly. UNESCO's Atlas of the World has mentioned that the language requires consistent conservation effort. Thus in view of this respect to promote and protect this native language Government of State in December 2019 has introduced official Kumaoni books for classes 1-5 students in the Kumaon division. There have been demands to include Kumaoni and the Garhwali language in the 8th schedule of India's constitution so that it could be made one of India's scheduled languages.
3. Clothing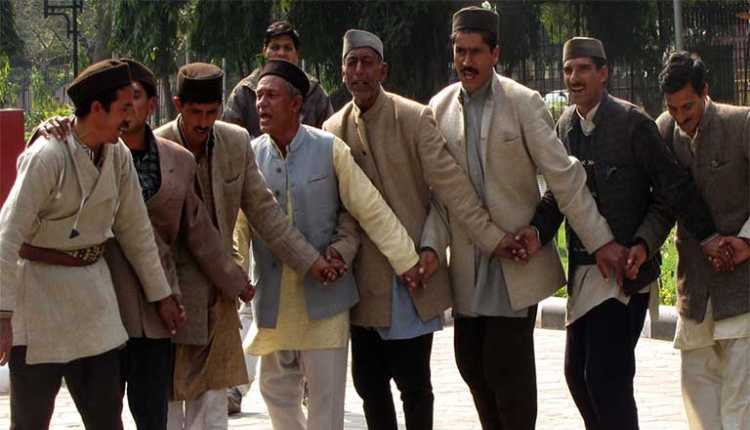 There is a resemblance between the clothing of the Kumaon people and the Garwhali people. Men of the Kumaon region wear kurta and pyjama along with a turban or topi. Sometimes they can also be found wearing jewellery on their necks or hands, specific to the Kumaon region. Kumaoni women wear Pichhauras which is usually worn during wedding and ceremonies. It is a traditional dress which is made handmade using vegetable dyes. Pichhauras are available in red and saffron colours. They generally wear ghagra along with kameez as a blouse. Their attire is similar to Rajasthani women's attire.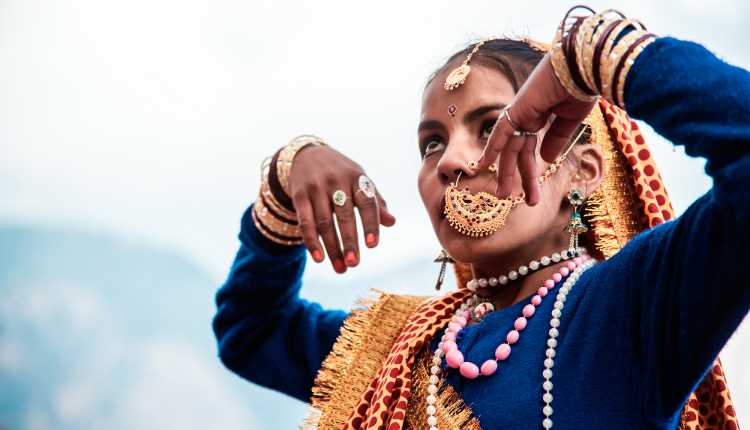 In jewellery, they wear a big Nathni (usually worn on the left nostril and joined to the left ear with a gold chain) made from gold, black beaded necklace, Hansuli (popular ornament clutched around the neck), Bichuye (toe ring), and sindoor considered mandatory for married women.
4. Food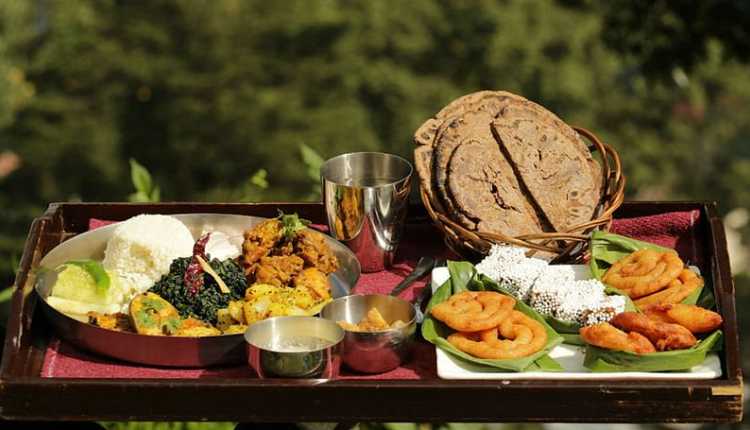 Kumaoni food is simple and nutritious, and the food is compatible with the environment of the Himalayan region. There is a type of lentil called 'Gauhat', which is fried in clarified butter and then cooked in a curry; the dish is known as 'Chudkaani'. Rice is the staple food of Kumaoni cuisine, and a combination of rice and local lentil is one of their extremely popular dishes. Cereals like Mandua with rice are also popular. Mandua is grounded in fine flour and is cooked into chapatti, similar to wheat flour. The flour of Mandua is suitable for that environment because of its warm nature. Baal mithai, which is quite famous in Nanital, is a traditional popular sweet decorated with sugar balls and has khoya Kheer stuffing inside. On a special occasion like a festival or puja, liquid or condensed milk is used for cooking kheer and sweets. One of the popular recipes, Jhangora kheer, is made from milk, sugar, and home grew cereal Jhangora.
5. Folk Dance
Choliya dance is a folk dance that is practised in the Kumaon region. It is a traditional dance form that is popular in Pithoragarh, Champawat, Bageshwar, Almora of the Kumaon division and is also spread to the Garhwal division. This folk dance form dates back to over a thousand years, and it is a dance form that has its origin in the warring Khasiya kingdom of Khandesh. According to the old tradition, the Rajputs perform this dance form in their wedding ceremonies, which is led by male dancers who go on dancing until they reach the house of the bride. The entire dance team consists of 22 people, eight of whom are dancers and 14 are musicians. The costume of dancers mainly consists of Churidar Pyjama, one long Chola, one cross belt, one belt to be worn around the waist, Pattis on the legs, and a turban. They also wear earrings, a bronze shield, and a real sword.
6. Personality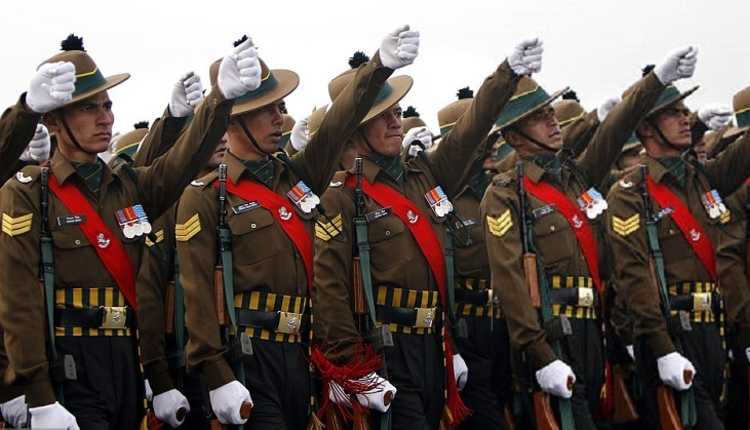 Kumaoni people are kind in nature and led simple life. They are hardworking with limited resources; also, they work hard and generate employment for themselves. Indian army is in the soul of every people. Everybody has someone in the military in the family. They are peace-loving and well-behaved people. They are busy with their daily life routine, whereas wedding and religious ceremonies are occasions to meet and greet and rejoice. They are very religious people and always maintain practicality with richer cultural values.
7. Kumaoni Theatre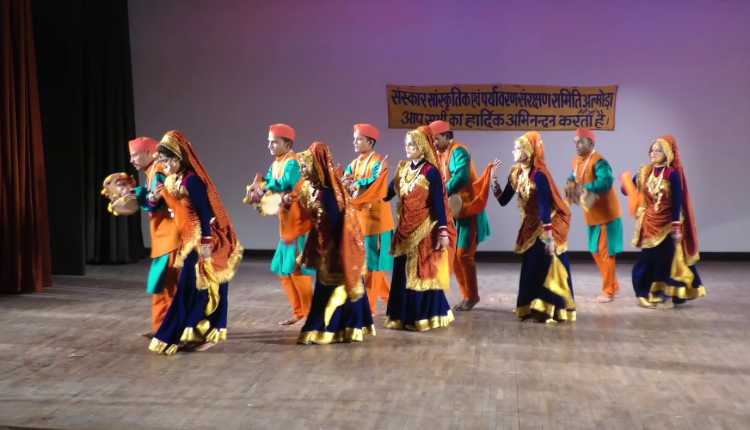 Kumaon people are interested in plays and dramas. It is developed through the "Ram Leela" play. It was later evolved into the modern theatre with the effort of theatre experts like Mohan Upreti, Naima Khan Upreti, and Dinesh Pandey. Sumitranandan Pant, the famous poet, also is from the Bageshwar district. 'Ankaha ' of Lucknow did an outstanding job in the field of Kumaoni theatre.
8. Religion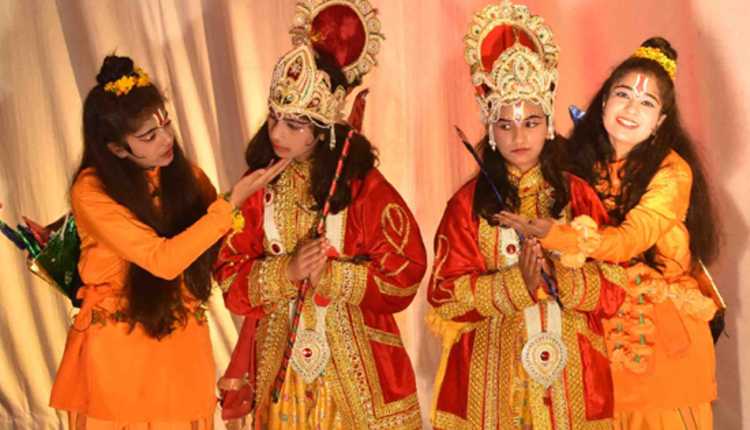 Kumaoni people follow ancient rules and customs. The majority of the population are Hindus and follow all the Hindu festivals such as Makar Sankranti, Basant Panchmi, Raksha Bandhan, Holi, Dusshera, Diwali, all celebrated with great zeal. Kumaon region is a place to a plethora of Hindu temples that include Patal Bhubaneshwar's cave and the famous temples of Jageshwar, Bageshwar, and Almora. Kumaoni people are god-fearing, large-hearted, fun-loving, and very religious people. There is a lot of influence of religion, dharma in every aspect of their lives.
9. Festivals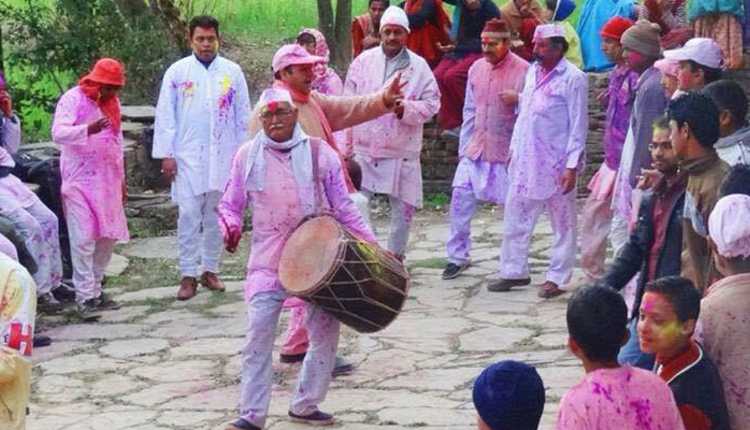 The people of Kumaon celebrate Holi in a distinctive style. Among the Kumaoni people, this cultural festival remarks the victory of good over evil. It also indicates the end of the winter season and the beginning of the sowing season. In Kumaon traditional celebration of Holi lasts for almost two months. Kumaoni Holi has three varied forms of celebration: the Baithki Holi, the Khari Holi, and the Mahila Holi. During the celebration of Baithki Holi and Khari Holi, songs on themes like spirituality and melody are sung.
In comparison, Mahila Holi is an extravagant celebration done exclusively by women. In Kumaon, there is an extravagant celebration of Holi every year which attracts thousands of tourists. The calendar of Kumaon is filled with festivals and fares. Some other important celebrations are Uttarayani Mela, Nanda Devi Mela, Fairs at Jageshwar, Bhitauli, Laxmi Pooja, Ganga Dusshera, Olgi, Samvatsar Padyaoo etc.
10. Houses in Kumaon
In Kumaon, there are loosely group homes surrounded by farmland. Houses are connected with footpath, and villages are generally located near rivers or springs. Houses are usually made up of mud bricks with tin roofs or thatch. The house's paintings with the bottom part are painted with red clay, and the top halves are whitewashed. The houses usually have two or more stories. Most of the houses have porches and courtyards.
These are the ten important things to know to be familiar with the Kumaoni people. Kumaon is the region of endless charms and breathtaking beauty. And the people of Kumaon are immensely proud of their culture and tradition.