Fitness and diet are directly proportional to each other. If your diet is clean and healthy, your fitness will be maintained for life. But all of this definitely does not mean that you need to survive on fruits, vegetables, juices, salads, and oatmeal. You can enjoy your life, treating your taste buds with common Indian delicacies that are low in calorie value, are high in nutrition, and are filling enough to make your tummy feel contented. Although, there's an old and known proverb that says. "Excess of anything is harmful." It applies here too. So, watch out the quantity and frequency of your eating, and you can easily grab your fitness goals without being too harsh on yourself.
Listed below are some food items with their caloric and nutritional values along with the ideal methods of preparation and consumption. This will help you in your fitness journey so that you can satisfy your taste buds without any guilts.
The 12 tasty Indian dishes you can have without any guilt while on a diet are:
1. Veggie Masala Dosa: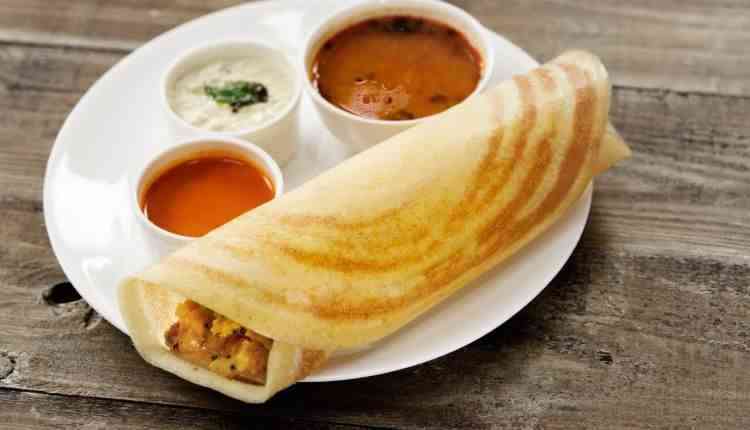 Dosa is one of the South Indian dishes that are not just delectable but also healthy. There are nearly 200-250 calories in a normal Masala Dosa comprising of a bit of oil and stuffing of dry potato curry. Still, you can make it lighter by using minimum oil and replacing potatoes with sauteed vegetables like onion, capsicum, tomatoes and cabbage. You can also stuff grated paneer into the vegetables to make it tastier. All you need is the available veggies, chop or grate them to their smallest size and saute it in half a teaspoon of oil. Add salt, a pinch of garam masala and a dash of vinegar to bring taste. Keep vegetables crispy and don't overcook to retain its nutritional value. Replace your regular refined oil with mustard oil to add on to health factor. The calories of this vegetable dosa can be reduced up to 25% from the regular dosa. Also, since the vegetables are partially cooked, they are rich in Minerals, Vitamins, iron and other important nutrients.
2. Chiwda or rice puff bhel: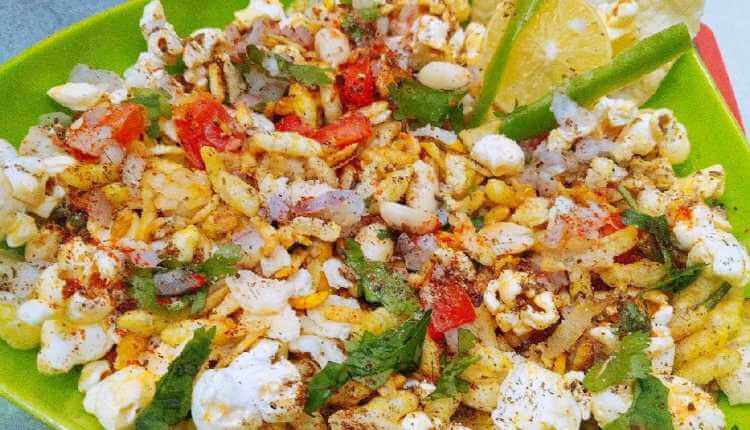 Chiwda is flattened rice, commonly called as Poha. It is light and fibrous. It is easily digestible and can be eaten raw or by roasting it or by soaking it in milk, curd or water. (In the case of water, it's fried with vegetables and nuts) Chiwda is a good snack if not deep-fried or eaten in its packed forms available in the market. They are available in the market by names like Diet Chiwda or Lite Chiwda and are completely opposite to their names as they are quite unhealthy and not at all dietary. Rice puffs are another light crispy rice variant also called Murmura or Laiyya in various regions. They are also light and good for snacking without stacking too many calories.
You can make a bhel out of Chiwda or rice puffs/Murmura or using both. Dry roast them on medium flame, add chopped onions, green chillies into it. Add tamarind sauce, lemon juice, salt, coriander or mint leaves, roasted grams and enjoy it as an evening snack or your tea partner. It is light and oil-free. A bowl of this bhel won't have more than a 100 calories. It is nutritious and tasty at the same time. It is also loaded with fibres and good carbs to help your digestion and provide energy too. Above all, it is free of any artificial things and is easy on your pocket too. You can modify the taste according to your wish by adding chopped carrots or tomatoes or any such thing out of your innovative mind.
3. Poha: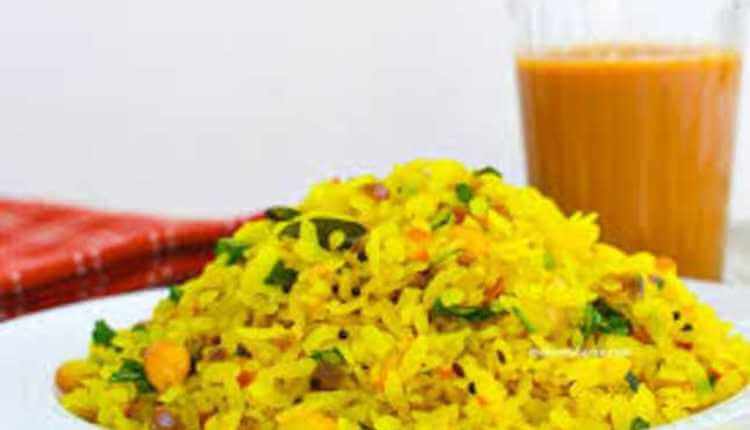 Chiwda or flattened rice is also cooked and served as a snack or a breakfast in many parts of India as Poha. Poha is a tasty and healthy Indian breakfast. It is a good choice to fill your tummy and throw a treat to your tongue because it is not only filling but also scrumptious. Poha is popular in Gujarat and Maharashtra. Why is it a good option to have while on a diet? Because it is heavy enough to fill and doesn't have more than 200 calories per serving if prepared without heavy fats. It can be prepared in a healthier way by adding peanuts, a lot of veggies and using lesser oil. It has various nutritional values since it's a variant of rice, it has a good amount of carbs, less fat and a considerable amount of fibres. It is easy to digest and toothsome, as well. You can go creative through your cooking skills and give it flavours according to your wish. For instance, you can add mint and prepare a Minty Poha or Lemon and make it Lemony and tangy.
4. Indian Style Burger: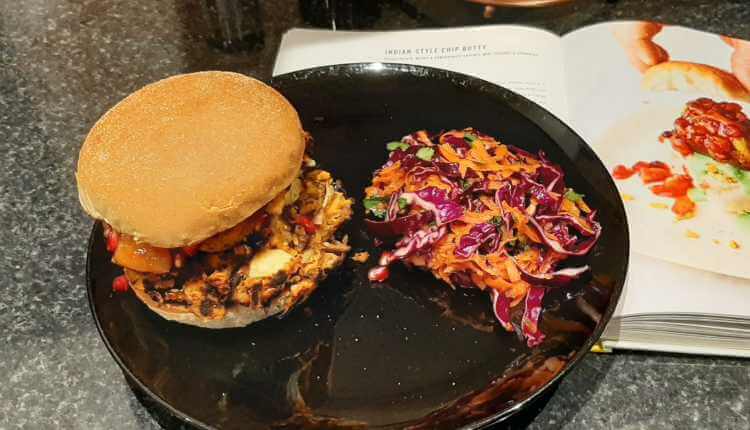 Burgers always have a red cross over them when it's the matter of weight loss and diet. But guess what! A simple Indian veggie burger has around 200-250 calories, but a packet of Good day cookies has around 375 calories. Know the difference. Burgers are indeed unhealthy if made that way. To prepare a healthier Indian Vegetable burger, you should use whole wheat bun instead of the normal one. Use a considerable amount of vegetables, fresh cream, soyabean chunks, lettuce, herbs to make it a good combo of health and taste. You can bake the patty used in the burger rather than frying it. To bring up the spicy Indianness, use homemade chutneys, roasted spices and transform it in the way you want. Bring out the healthy MasterChef in you and how about making a burger with a leafy spinach patty. Or how about a burger with curd and chutney together as a sauce? Or one stuffed with mashed paneer and chopped onions. Healthy eating is not boring if you have a creative mind. Nutritional values of an Indian veggie burger are good enough to remove your guilt from the pleasure. Whole wheat bread is a good source of carbs; using paneer can add on proteins vegetables like spinach, tomatoes or broccoli will add vitamins, minerals, iron, magnesium and dietary fibres.
5. Idli: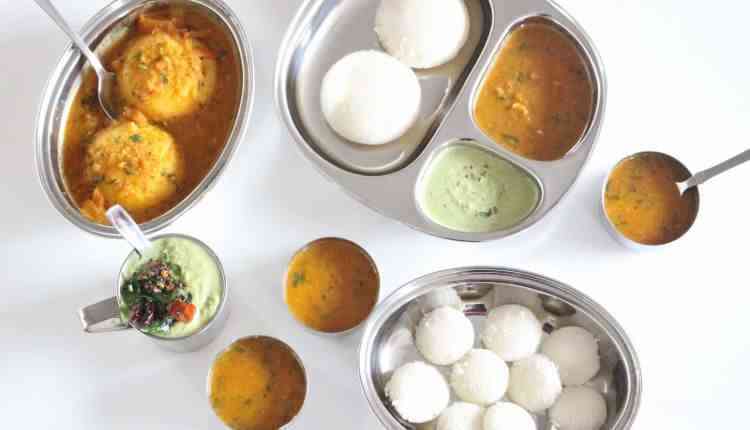 Do you ever forget Idli when talking about something healthy and tasty? The best part about idlis is it's filling power. Two medium-sized idlis will fill your tummy well and won't let you feel hungry for hours. Now the question is about calories. Two plain steamed idlis don't have more than a 100 calories. Isn't it cool! Why is it so light yet occupying? Because it is made up of either rice, gram or rawa and is steamed. This means that minimum oil is used in its preparation.
"But plain idli is boring!" Fact accepted. You can add on spices and salts in the batter while preparing it. A dash of spicy coconut chutney is indeed the best partner of Idli. What about trying stuffed Idli? Stuff your simple Idli with grated paneer, soya chunks, onions, vegetables, or whatever you'd love to. It is all up to you. Prepare sambhar using lesser oil. Use curry leaves and mustard seeds with an open heart. Idli is packed with good nutrients too. Carbohydrates in rice or rawa, proteins in dal for sambhar, calcium, and iron in curry leaves, magnesium in mustard seeds, all of this is beneficial for the body.
6. Steamed Atta Momos: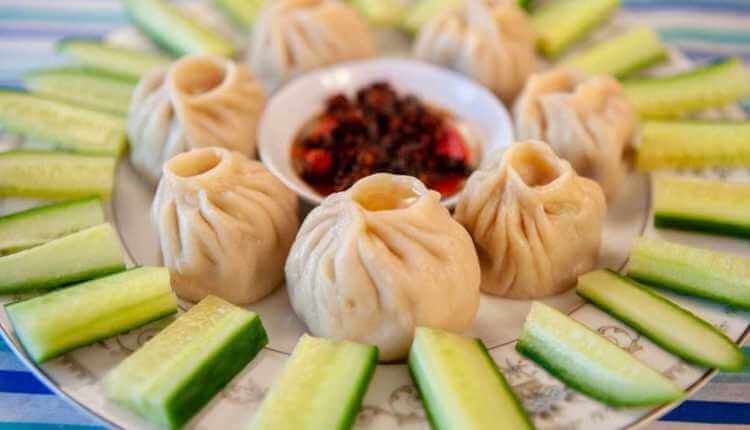 Are you a momo lover? Are you saddened because your health consciousness does not allow you to eat momos outside very frequently? Try making them at home in a healthier way. Normal steamed momos are made up of refined flour or maida, which is a good friend of obesity. Maida does not digest easily and also is full of bad cholesterol. Use simple whole wheat flour instead of maida and prepare your momos yourself. Stuff whatever you like, be it vegetables and soybean, paneer, chicken, etc. Ideally, use a good amount of vegetables, soybean, and steam the momos in a steamer. Enjoy this feast without any regrets. 5 pieces of atta momos won't have calories more than 110. Whole wheat flour has vitamins B-1, B-3, and B-5 and riboflavin and folate. Vegetables are already loaded with so many qualities. Soybean and paneer are major sources of protein. So, happily go for your favourite momos in their healthy version.
7. Rawa Upma: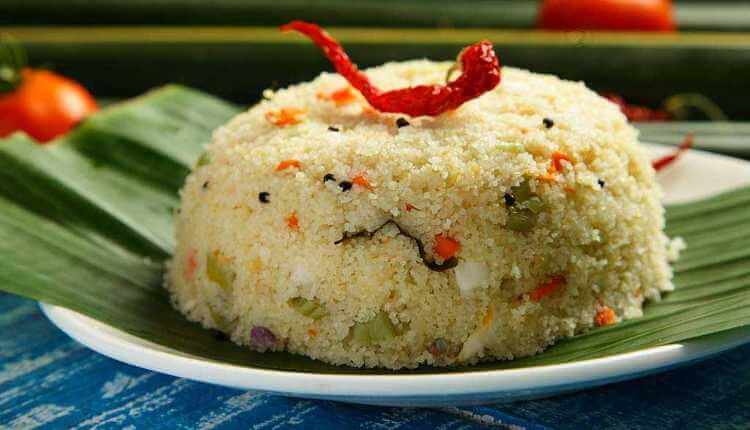 Another South Indian delicacy, Upma, is a common breakfast in so many parts of our country. Upma is made up of rawa or semolina. Upma is preferred as an ideal breakfast because it is less in calories, high in nutrients, and heavy enough to satisfy your hunger and keep you going. What should be kept in mind is the ideal usage of oil. A little oil is enough for preparing Upma. Curry leaves and mustard seeds tadka is not just to enhance its taste but also it increases its nutritional values. Upma can also be modified by adding Indian spices, herbs, chillies, and colourful vegetables to make it more interesting. A bowl of Upma has around 192 calories out of which maximum are due to the carbs. Curry leaves as mentioned are rich in magnesium, potassium and iron. Upma is an ideal breakfast because it provides energy to stand strong throughout the day.
8. Farre: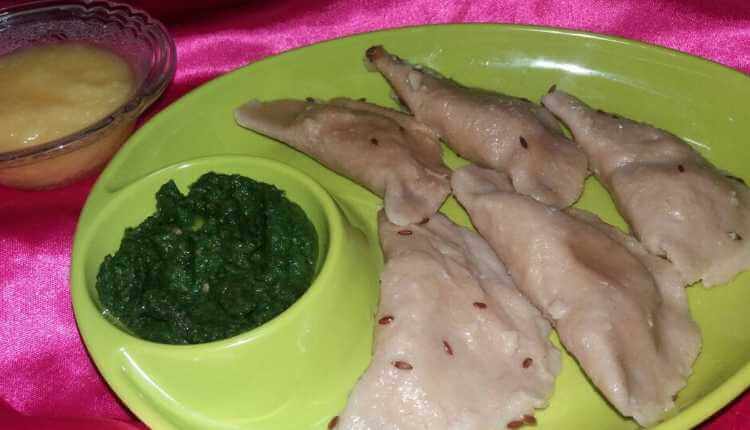 If you don't know what Farre is, let's give it a short introduction. Farre is a North Indian dish usually made on festivals like Karva Chauth and Diwali. It is grinded and roasted spicy urad dal stuffed in whole wheat atta. The atta is shaped like gujhiyas and is put to boiling water. It's a common dish in North India that is not only healthy but also tasty. You can also make the filling out of any other dal or whatever you like. People eat it steamed and sometimes shallowly fried too. If not shallow fried, it's a dish with minimum use of oil. Two large farre have around 200 kcal. Since it's a whole wheat dish, it's full of dietary fibres, carbohydrates and proteins from dals. It's easy to digest and delicious as well.
9. Dal Dhokli: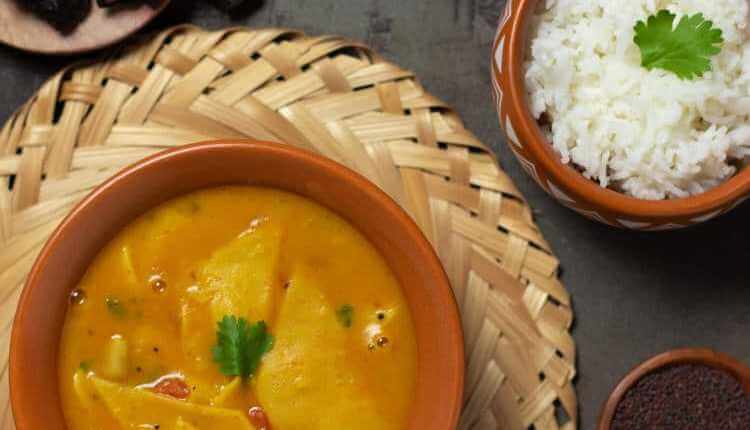 Dal Dhokli is made of gram flour and whole wheat flour dhoklis simmered in toor dal. Dal Dhokli is famous in Gujarat, Rajasthan and Maharashtra. There's a similar dish prepared in Uttar Pradesh named Dal ke Dulhe. In this, atta or besan is kneaded with spices, and after flattening it like chapattis, pieces are cut out of it, either round or diagonal. They are cooked in dal. It is a complete meal and tasty too. It is a one-dish meal as it consists of all important nutrients like carbohydrates, proteins, fibres and fats in it. A bowl of Dal Dhokli has around 350 calories is a complete meal in itself. It is filling and tasty.
10. Baati Chokha: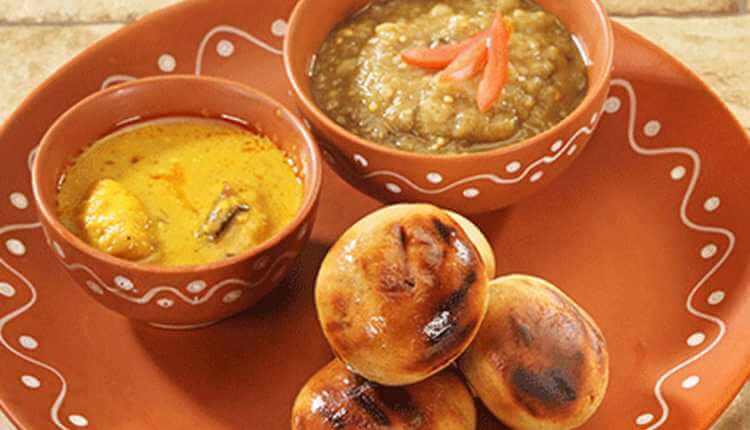 One of the most popular delicacies from Bihar, Baati Chokha, is a very healthy food that is probably ignored when talking about Healthy eats. Baati Chokha is a tasty dish from Bihar and is being popular all over North India. Baati is a round ball made of wheat flour and stuffed with roasted gram flour or Sattu. It is baked in desi Chulhas and tandoors. Chokha is made up of roasted brinjals, tomatoes, and potatoes mashed well. It is a healthier eat because very less oil is used in its preparation. Oil or ghee is optional. It is low in calories, and two medium Baati won't lend you more than 200-220 calories. It's a lovely option to have because it is rich in good carbs, the vegetables are dry roasted, so they don't lose all of their nutrients, and minimum spices are used in its preparation. It has the typical essence of Desi Mitti.
11. Dhokla: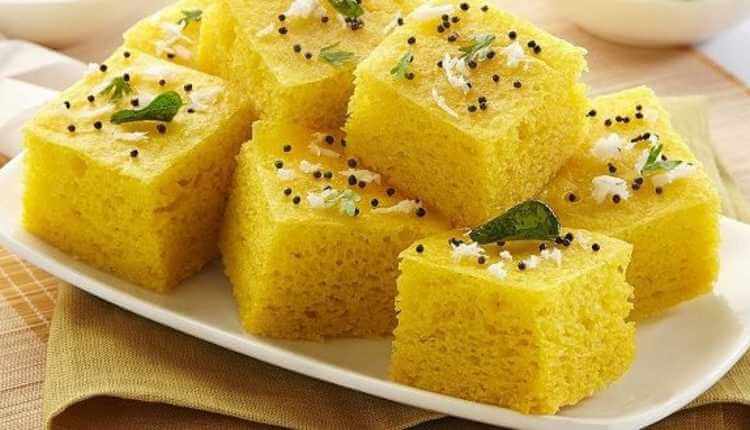 Dhokla is another steamed dish from the parts of West India. Dhokla is a common Indian breakfast, low in calories and high in nutrition. The Dhokla batter is made up of fermented rice flour and grams. It is filling enough to provide your stomach with the satiety it needs. The Tadka of mustard seeds and curry leaves is a cherry on the top of it. Dhokla is popularly eaten in Gujarat and is full of fibres and good carbs. It is light because minimal use of oil is done, and it is steamed. It has very few calories. A piece of Dhokla has no more than 25 calories. It is full of carbs and proteins. Dhokla can be a good option to go for while on a light diet.
12. Vegetables Stuffed Paratha: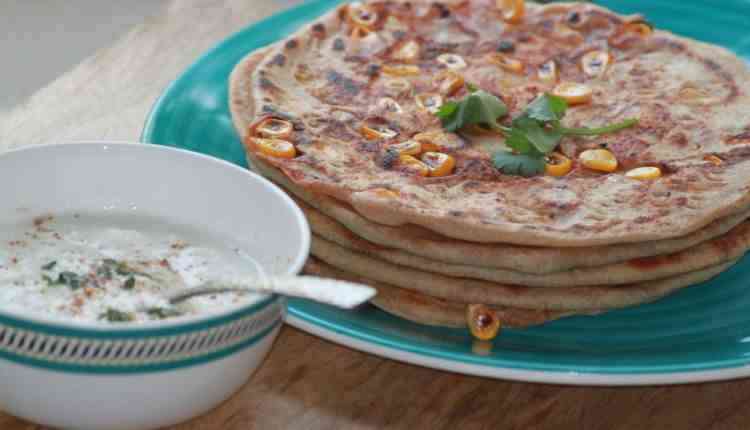 Paratha is Indian food that is eaten almost in every region of the northern subcontinent in a way or other. Stuffed parathas are popular in its various types. Aaloo stuffed paratha, paneer stuffed paratha, gobhi paratha, mooli paratha etc. are eaten all around with sheer fondness. It can be heavy if made with too much oil or butter. But if we prepare them well and in a lighter way, they are a lovely go-to option for breakfast, lunch or dinner. Use whole wheat flour instead of maida. Use minimum or no oil—stuff healthy leafy vegetables or dals. Use your favourite vegetables, herbs and spices to make it tasty. Add some chutney to your plate to enjoy the feast in a better way. There are around 150 calories in a paratha. So even if you have two of them, you'll feel satisfied and won't consume more than 300 calories. It is loaded with dietary fibres, carbohydrates, vitamins and minerals (in vegetables) and will provide you with a considerable amount of energy.