Outfit and dresses represent the personality of an individual. Somewhere dresses has to affect our overall behaviour and the way of doing our work. So, according to the social trends and norms, some dresses are designed for particular purposes or occasions and if it is worn on that situation than it fulfils its aim. Whatever a person chooses to wear can be influenced by many factors. Fashion is that thing which changes according to the circumstances and feelings and thoughts of a person. It is that thing with which we have to deal everyday. Presently there are many choices of clothing available as the variety, and types of cloth are unlimited.
India is a very vast country. It has a mix of different cultures and traditions followed in different states and regions. Some outfit or attire are thus designed according to that particular area, keeping in mind their environment, climate and which enhance its custom tradition and values. South Indian culture forms an integral part of Indian culture. It covers the culture and tradition of South Indian States like Andhra Pradesh, Karnataka, Kerala, Tamil Nadu and Telangana. As college-goers has to spend the whole day in college, so wear should be comfortable and it should perfectly go with regular college days look also.
The list of some South Indian outfit and dresses recommended for college students starting with attire for college going girls:-
1. Kurta with jeans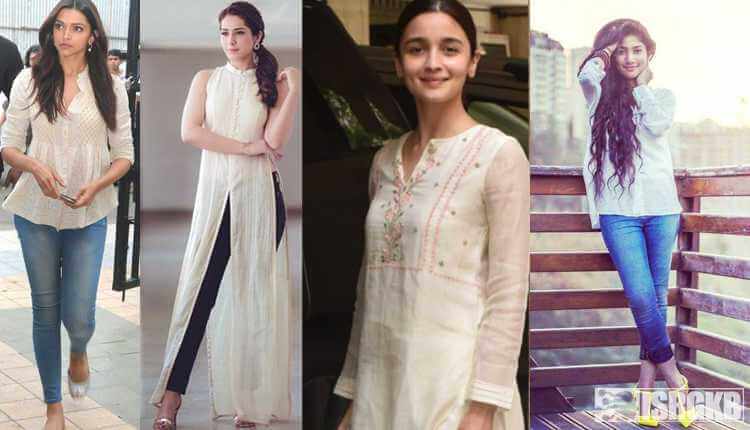 It is a foremost essential of every college going girls wardrobe as it gives a decent look and makes you feel comfortable too. Can try for different colours giving a simple look. You can also try stitching Kurtis from old sarees according to your size. Along with this you just need matching leggings or Plazo or any other bottom wear making you feel comfortable and relaxed. You might also be interested in the 30 Stylish Dresses for College Girls to Wear Regularly.
2. Skirts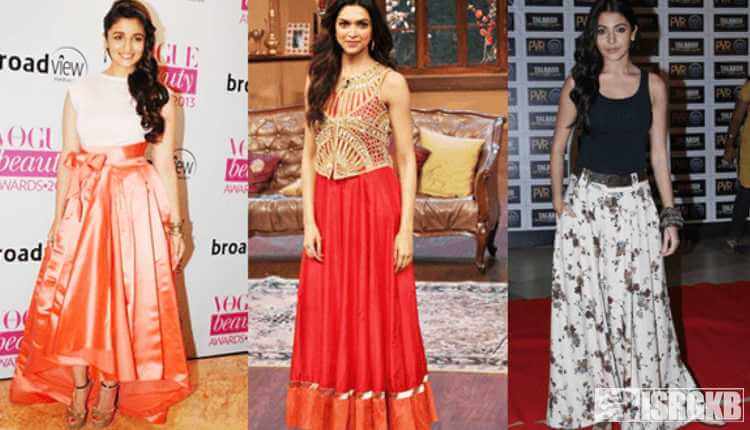 It is a very well-liked clothing attire for girls. It offers a lot more variety, and it is available in different styles and shape. You can get long skirts stitched out of old sarees also. Saree material mostly is suitable for A-line skirts. A contrast coloured plain top is all you need to match with the printed A-line skirt. It gives an elegant look with a comfortable feeling. In Kerala, the long skirts for girls are also known as the name of Kasavu and can be worn on special occasion or festivals. Don't miss the 23 Everyday Stylish Indian Fashion Ideas For Women and Girls.
3. Plazo Pants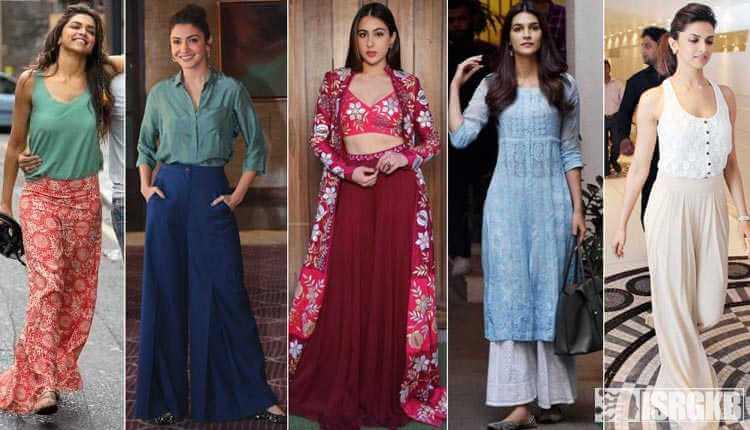 They are straightforward to wear very comfortably and stylish also. It is a long, loose, wide-leg trousers, usually made from light, breathable fabric. It is best suited with a crop top which gives a trendy, fashionable look, or either team-up with a simple t-shirt. It can wear with long kurta also as their combination goes well.
4. Kurti With Leggings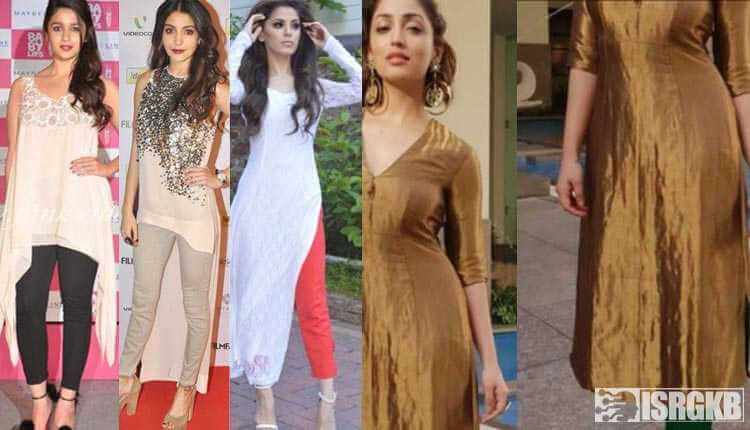 Kurti can be worn with many types of bottom wear. So, leggings are also one of the simple but best option. It gives a trendy and stylish look at the same time since generally they are cotton-based they ensure ease too. It can be wear for any occasion and is the perfect combination of style, fashion and comfort.
5. Kurti With Patiala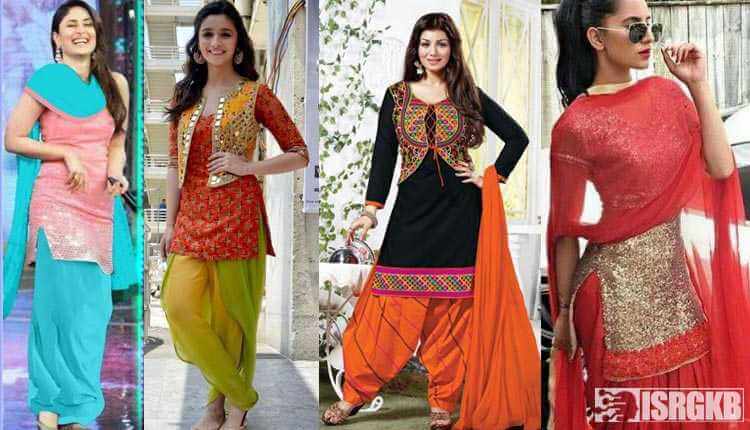 It is a very comfortable outfit to wear since Patiala Salwar is very loose and stitched with pleats. The fall of the pleats of the Patiala Salwar is such that it gives a beautiful draping effect. Short Kurtis is generally worn with Patiala Salwar to avoid covering up the Salwar design. Long Kurtis with a front slit can also be wear with Patiala Salwaar.
6. Kurti with Simple Salwar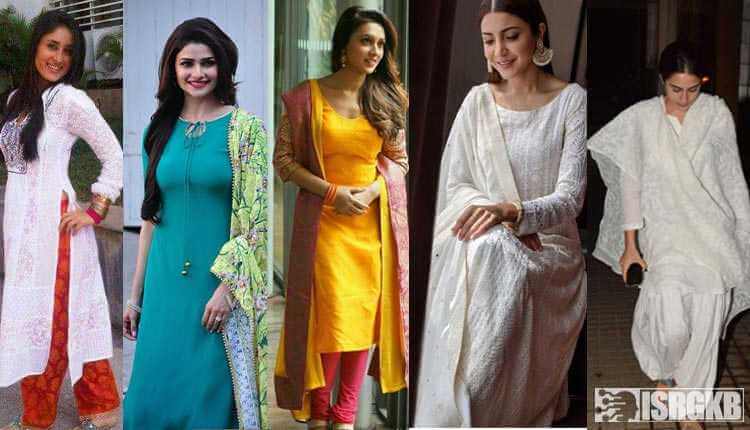 It has become a popular attire among girls and women of Tamil Nadu. The Salwar is the outstanding piece in this ensemble. It has pleats, and it is loose at the thighs and waist area. At the ankles it is narrow. The length of the kameez is generally of knee-length. It is a perfect combination of style and elegance ensemble that is popular in many states of India. It gives a decent and yet cosy, comfortable feeling. This outfit never goes out of style. It is classic wear that has been worn for so long up to date by the girls and woman.
7. Long frocks
It is a beautiful and graceful dress. In Tamil Nadu, Silk Pattu sarees are mainly South Indian sarees with silk texture. It is one of the traditional sarees in India. Pattu is a Tamil word that means silk. So, long dresses can be made out of old and damaged sarees. It gives a gorgeous and traditional look for college going girls. It is also known as the name of Pattu Pavadai in the South Indian States.
8. Slit Kurtas With Jeans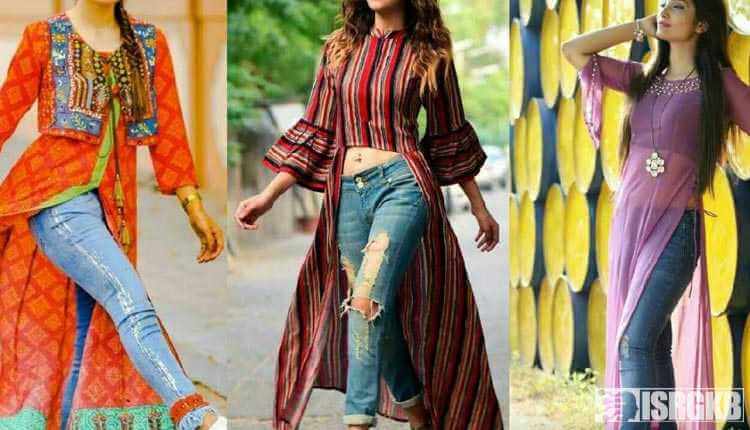 It is a stylish pick for college outings. It can team up with simple jeans, Plazo or matching trouser. The Kurtis are like a floor-length gown, which is really fashionable and gives the comfortability too.
9. Make Dupatta's out of Silk Sarees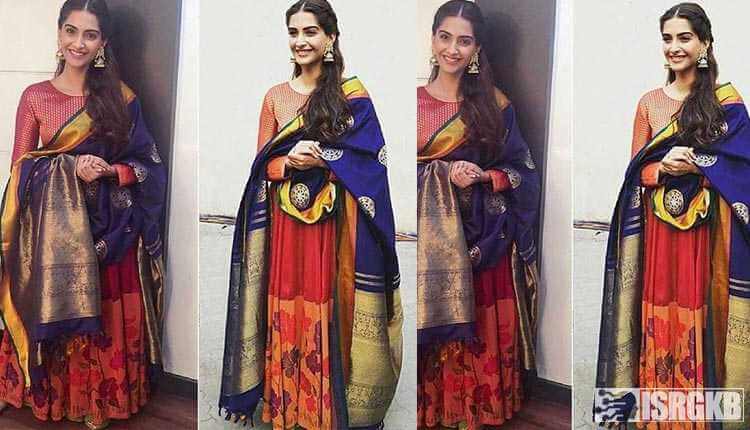 Silk dupatta is totally in growing trends. It can pair with an Anarkali or other long designer Kurtis to get the dressy vibe with minimal efforts. It can be used as Odhni in the South Indian style also
10. Scarves or Stoles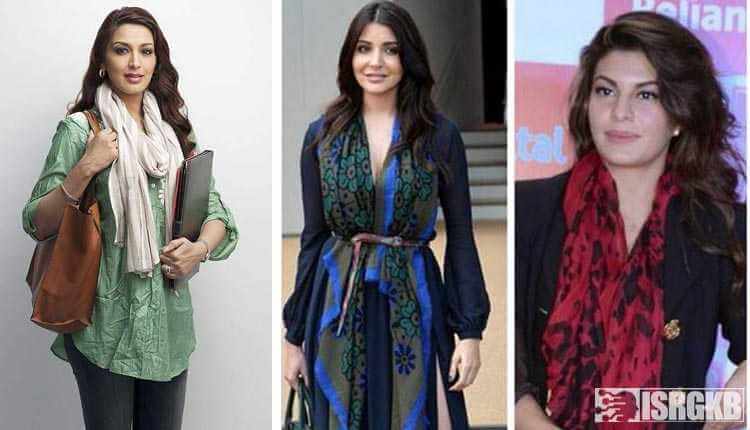 They earn to be a part of the wardrobe essentials of every college-going girl. The scarves or stoles can be drape in different ways, giving a new look and smartness to your college attire every day.
11. Dhoti Pants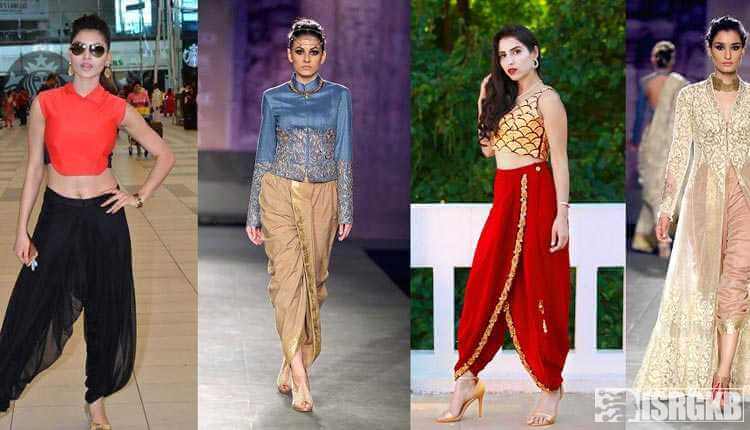 This attire is also much in fashion, as it gives a bit of desi look as well. It can wear with short tops or short kurta. It is a comfortable yet stylish outfit to wear in college.
12. Cotton Shirt With Flared Pants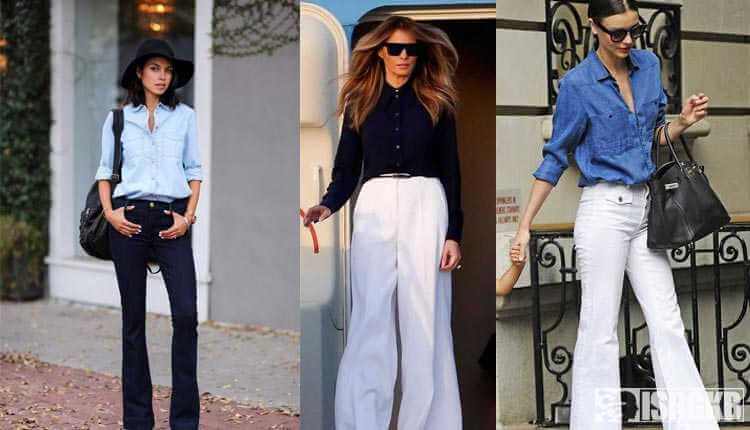 It is the latest trend in fashion and gives a trendy look. It can be paired with light colour shades of cotton shirt giving fancy and pleasant feelings.
Since girls are more inclined towards fashion trends so started from their dressing attire and the list is however endless. But nowadays boy's also not lag in fashion style, and they too have a wide variety of clothing line.
So, now let's have a look for the outfit of boy's also:-
1. Checked Shirt and Jeans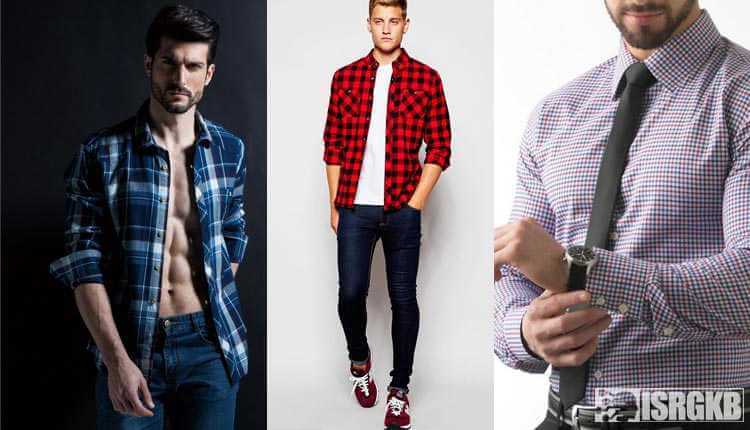 The Checked Shirt is a classic style statement and will never go out of style. Can team with pair of jeans depending on the colour of your shirt.
2. Basic T-Shirt, Denim Shirt and Jeans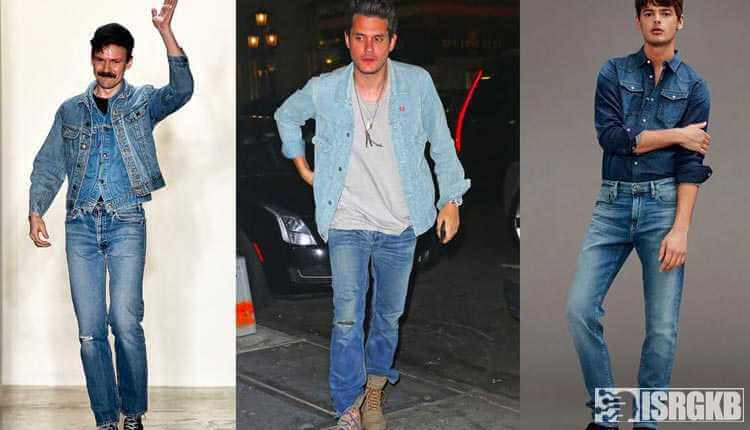 Denim is simply perfect for college-going students. One of the popular combinations is the pairing of a plain T-shirt, topped with a denim shirt and with jeans. Denim Shirt is like must-have wardrobe stuff for boys.
3. Graphic T-Shirt, Denim Jacket and Jeans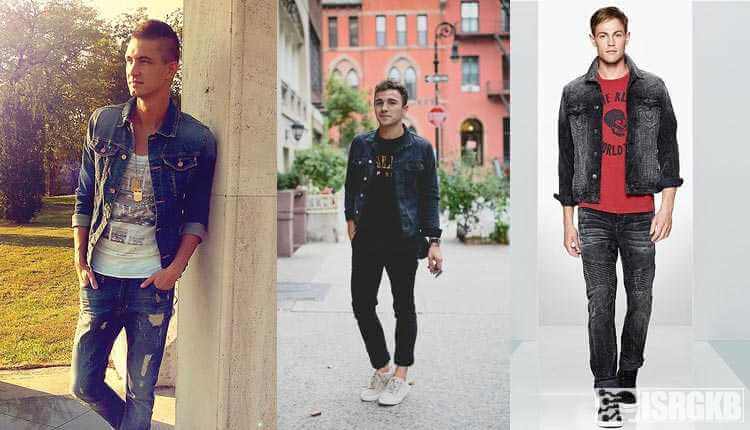 It is a perfect blend of Graphic T-shirt especially suits for college going guys, can pair it up with a pair of blue/black jeans. Top the things off with a denim jacket, and you are all set to have that combination of style and comfort.
4. Formal Shirt and Trousers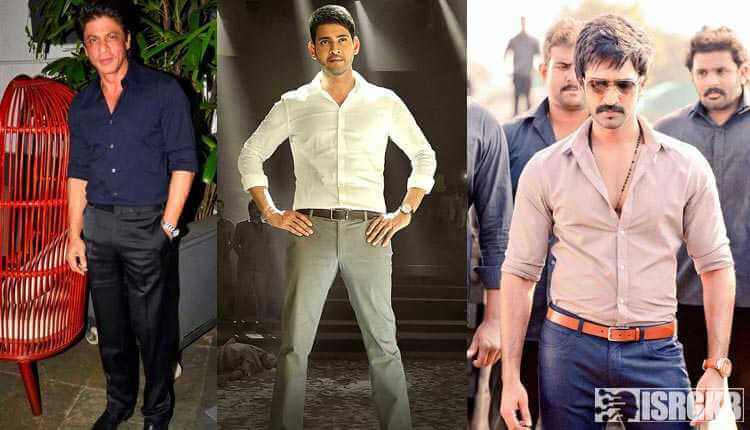 It is classic and ideal combination giving your comfort level top priority and yet is a style statement also. Mostly this combination can be worn by students during campus interview or viva examinations etc. in the college campus as it gives a suitable look.
5. Kurta and Jeans
It is the combination of formal and casual themes by pairing your kurta with skinny jeans. Short kurta does not require to be tucked in hence making them perfect to be paired up with jeans and can be worn to just about any place and occasion. Long kurta generally makes a better choice for a more formal look.
Actually, you can hardly find college going boys wearing traditional dress. Only during a special occasion or festivals, male section of Indian society can be seen in traditional attire, but nowadays dhoti-kurta, Sherwani churidar has become the latest fashion trends which boys can wear at any celebration, events at their colleges also.
The Indian Dhoti is a very traditional drapery that symbolises the Indian Culture and tradition. In South India, it is worn with an ' Angavastram' that is an unstitched cloth draped over the shoulder in Tamil Nadu and a 'Chokka' or 'Jubba' in Andhra Pradesh.
6. Dhoti Salwar Combination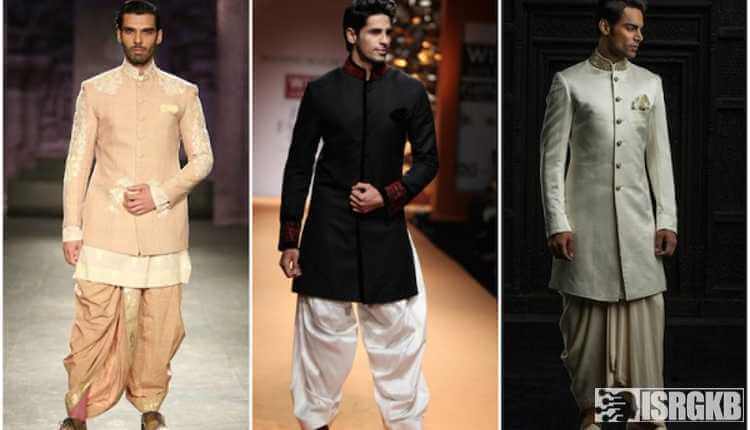 The combination of Dhoti Salwar gives a more stylish look. It is becoming immensely popular outfits for any special occasions. It comes in different colours, various types of fabrics, embroideries etc. Can pair it up with varying types of kurta's, shirts.
So, these were some of the South-Indian outfits suitable for college students. Include it in your wardrobe list of clothes and give it a try when the lockdown period is over and your college re-opens.