Architecture is the soul of building spaces. Nature has given us water, air, hills and flora as surreal architecture. We mould these natural forms to create Architecture of our times. What we see, what we feel, what we live, is all part of Architecture. We need spaces for us to get nurtured, to be protected and to do good for humanity and to the Eco-system. We develop buildings on earth to mark our existence and significance. In this regard, We take up Architecture as a profession, i.e. — professional career.
Architecture is one of the most pioneered and respected profession all around the globe. It is a profession which develops our minds to be proactive and creative. Academic course for a bachelor's degree is for five years. Students of Architecture are basically from a Science background. However, few institutions grant access to commerce stream students as well. An online test is mandatory for Architecture admission, which is conducted by NATA, i.e. — National Aptitude Test in Architecture. All around India and aspiring students come forward to get admission.
In Architecture, students are taught to design building plans, their sections and elevations on a drawing board for the first two years so that they develop a habit of using pen and paper to reflect their creative mindset. Later on, they are allowed to use their skills in computer software like AutoCAD, Revit and Sketchup etc. Students are also taken out of town every year to show them real architecture marvels in the cities and states. A trip may last for 4 to 10 days. Students do get excited about travelling as being part of the curriculum.
Local site visits are arranged to make them understand the construction methodology at different stages of erection of the building. Students with a good flair in sketching are benefited at a later stage as they can well transform their thoughts on a piece of paper. However, it is not the sketching, but the purity and transparency of thoughts that pays. The vision, the focus is all needed for any architectural project to come into existence. Architecture, exterior and interior design, are two faces of the same coin. However, people can pursue any of them in their later life as it is subjective.
Subjects in Architecture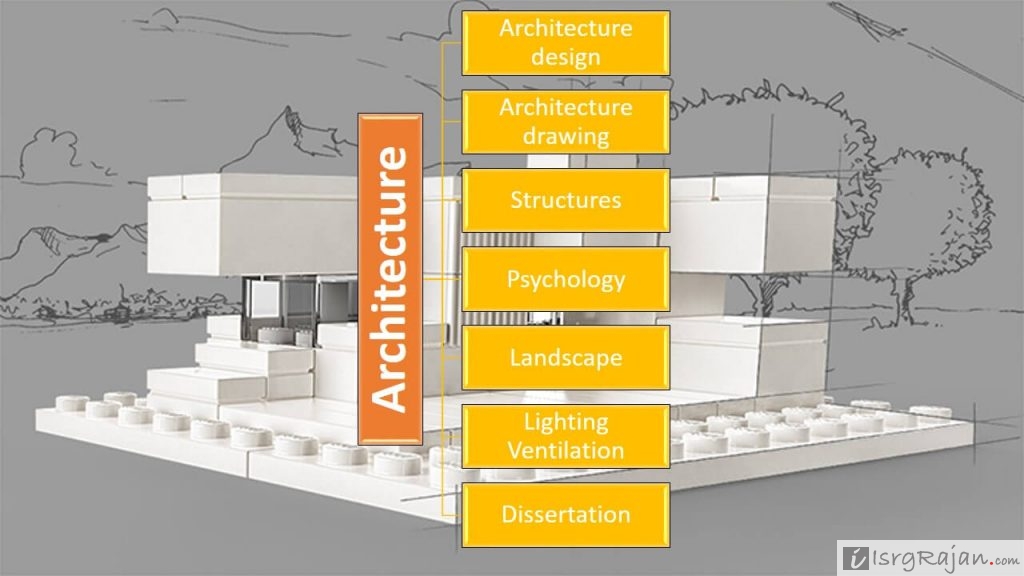 In these five years, a student works day and night to excel in the profession, in which he or she covers majors subjects like Architecture design, Architecture drawing, Structures, Psychology, Landscape, Lighting and Ventilation, Dissertation and finally the thesis as their final step to qualify as an Architect. A mandatory Internship is required to be accomplished in a semester as part of the academic curriculum. A student in his seventh or ninth semester approaches Architectural firms and applies as an intern/Trainee. He/she learns how practically they run an organisation and perform their duties as per rules and regulations of the Council. They are provided with a stipend as well. An average student may fetch around Rs. 10000/- pm as a stipend, unlike engineers who have to shell money to pursue an internship. Architecture internship is undoubtedly a platform that will instil the confidence within them, and that is the key to being a true professional. Here comes in ethics, rules, code and conduct and self-respect.
Working hours for Architect
Working hours for Architectural firms are usually 8 to 10 hours. It is better to understand that seasons and not hours that count in this profession. A person spending 10 hours in an office may not be a key player than a person who has a vision about the project. Skill formation that is still a new word in India finds acceptance in this profession. Architecture has no boundaries. It is an imprint of your thought. You may face hindrances in terms of structure or few clearances by authorities involved, but the stakeholders and consultants involved in the project rectify and expedite the project smoothly. It is not a one-person show. A team effort counts on any magnificent building designed.
Salary of an Architect 
Salary of an Architect in India are as follows:
Fresher- Rs. 25000
1-2 year experience- Rs. 25000-35000
2-5 year experience- Rs. 35000-70000
5-10 year experience- Rs. 70000-100000+
As one completes their internship, they may continue their job there or look for better emoluments. A fresher Architect usually fetches around 25000 as a basic monthly salary which increases based on individual performance. One works on various projects like residential, commercial, medical, industrial, institutional and hospitality etc. As one feels that they have developed themselves good to run their organisation based on the quality experience they have earned in an office, they fetch their projects from clients known or referred to them.
The best thing about an Architect
Everything starts from scratch here at architecture studies. An Architect gets himself registered with Architecture governing body known as the council of Architecture which is a must to practice this noble profession. We, as Architects, start their practice and employs junior architects to work as a team. A right professional is one who possesses excellent interpersonal skills, a unique, accessible office address, a sound library and a pure mind, that's it!! Rest all in god's hand. So, students who aspire to become architects, this article will surely help you to understand the elements of this profession.
Best and top Architect Colleges in India

The best and most preferred architect colleges in India include :
Faculty of Architecture (GBTU)
Chandigarh College of Architecture
School of Planning and Architecture (Delhi)
Sir J.J. College of Architecture
Sushant School of Art and Architecture