After overcoming discomfort weather in summer, we are eagerly awaiting for the soothing weather. So either autumn or spring, when knocks at the door, it brings very chilled weather with bright sunlight. I just love to spend the day time in the outside of my room to feel the fantastic seasons, and I used to do a lot of work outsides every day. Those people who love gardening, they are passing in their garden area and take care of the plants under the sun. Most of the kids at this time used to play in the ground and enjoy their vacations. Some of us may enjoy our afternoon listing stories from our grandparents on the roof during the sunshine. So we all are going to take a sunbath in those seasons. But the main problem is that the UV rays coming from the sunlight can penetrate our skin and causes sunburn. This sunburn will be the central issue of any kind of skin disease in the future. Even it causes skin cancer too. So unlimited sunbathing without any protection will be harmful to your skin. Don't miss the Winter Skin Care Routine for a Healthy Facial Skin.
To pamper your skin, applying sunscreens is one of the most necessary steps after taking a shower. Most of the homemakers borrow a wrong idea about applying sunscreens. They used to think that what is the reason to apply sunscreen lotion when they are always in-home and busy with household works. You are in the house obviously, but you can't resist the entrance of the UV-rays from your open windows. The rays then ping to your skin, and your skin has to suffer from dermatitis. Therefore, if you apply your sunscreen, especially in the day time, it will protect your skin from sunburn and dermatitis.
Now following the trend of 'being independent,' I've taken a step to make our sunscreen at home with some of the ingredients available at our storeroom.
Some of the beneficial effects of a natural sunscreen lotion:
Lots of harmful chemicals are in the store-bought lotion. If we go with a homemade lotion that will help our skin and the chemicals can not affect our skin.

You can select the components in such a way that the homemade lotions are more effective than the commercial lotions.

As the components are already in our house and we may not run for any chemicals so we may get low-cost sunscreen full of benefits.

You may store the lotion in a glass bottle so that whatever you want, you may borrow it in your bag.
Now one thing is that you must go for such type of ingredients which has both the qualities of anti-bacterial property and sun protection factor (SPF). Because if we get a two-in-one solution, then it may be cost-effective also. I'm sure this wonderful sunscreen lotion can be a wonderful addition to your summer skincare routine. Before going to search the domestic components for making homemade sunscreen, one thing is that you must maintain the SPF of sunscreen. Whether you buy the commercial one, you have to check the SPF value before paying the cost of the product.
So you must keep in mind all the basics mentioned above when you are going to make a homemade suns cream lotion. Therefore, now, let's grab the recipe and check the list of ingredients before.
I've chosen to make carrot sunscreens naturally because the carrot is very suitable for my skin.
Ingredients:
Shea butter (SPF-5):- 1-2 cup

Extra virgin coconut oil (especially cold-pressed one with SPF-10):- 2-3 tablespoon

Beeswax (it's optional. This ingredient gives a lotion consistency):- 2-3 tablespoon

Almond oil:- 1/2 cup

Essential oils like lavender oil or jojoba oil:- 1-2 teaspoon (approx ten drops)

Carrot seed oil (SPF- 35-40):- 1-2 tablespoon
Procedures:
1st step: After arranging a double boiler, you first put the shea butter for melting purpose and set the heat at medium level. Shea butter may maintain the consistency of the cream.
2nd step: When the butter is going to be melted, then add the cold-pressed coconut oil and stir them until the whole thing is liquefied.
3rd step: Now add the beeswax and stirring continuously because the beeswax takes a little more time to melt.
4th Step: Now, the whole thing is looking like oil, and in this time, you may put almond oil as per mentioned quantities and whisk them properly.
5th step: Let the whole thing be cool and then put it in the refrigerator for about 30 minutes.
6th step: Now put the carrot seed oil followed by essential oil to enhance the sun protection factor. So the whole combination is now ready and let pour it into a covered glass jar and use it as sunscreen lotion forever.
Some other options that are already in my notepad. All of them I found when I was searching the internet to complete my DIY project.
Option 1: Aloe vera sunscreen (aloe vera, coconut oil, essential oils, shea butter)
Option 2: Glycerin sunscreen (Glycerin, rose water and turmeric powder)
Option 3: Sunflower sunscreen ( sunflower oil, sesame seed, Vitamin E drops), and so on.
In the process of making sunscreen naturally, we may avoid adding zinc oxide, which is an important component of the commercial cream. We can not be able to see the microscopic lump of this component produced at the time of formation. To avoid the lump, we need some technology and instruments in our house, but I think it's impossible for everyone. Instead of zinc oxide, we may go with Vitamin E oil and some of the essential oils for their sunblocking quality, and these products can absorb UV rays effectively.
But one thing is that you should include coconut oil because it has antiseptic and anti-inflammatory qualities. So if you select coconut oil or virgin coconut oil as one of the important ingredients of your natural suncream lotion, that really protects your skin any of harmful dermatitis effectively.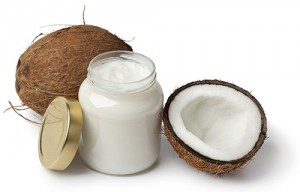 This natural sunscreen lotion will stay fresh for months. So all you have to do is take a small quantity from it and apply it on your skin before going outside as well as after taking a shower at home. The homemade sunscreens are also able to maintain our skin so soft and smooth and full of fragrance.