G Suite was previously known as the Google apps, and Google business is one of the premium business solution built for the businesses that require advanced user management and a powerful emailing system supercharged with the power of Google and Gmail. G Suite has 4 pricing plans which include basic, Business, Enterprise and the free; the free version is available only for the recognised educational institutions like schools, colleges, universities, and not-for-profit businesses like charity organisations and NGOs.
Setting up G Suite is quite easy and quick, which takes less than a 10 minutes to the full configure with your domain except in case of the free plan which requires additional verification documentation. Though setting up G Suite with your domain is easy yet sometimes you may find it a bit complex like setting up email authentication with DKIM results in error like "We are unable to process your request at this time. Please try again later. (Error #1000)" which we have covered in detail in the G Suite Authenticate Email DKIM Generation Bug Solution.
Most of the newly G Suite users had a complaint that they are not able to update, change and certain information like gender, name and profile picture to their profile as they encounter an error like "Sorry we could not save your profile photo. please try again later issue", and similar issues are encountered while updating other details.
Well, that's not an error; instead, it's a restriction generally imposed by the G Suite admin or some time it comes pre-defined which you've to reconfigure to resolve these issues.
How to resolve G Suite profile picture, gender and name update issues?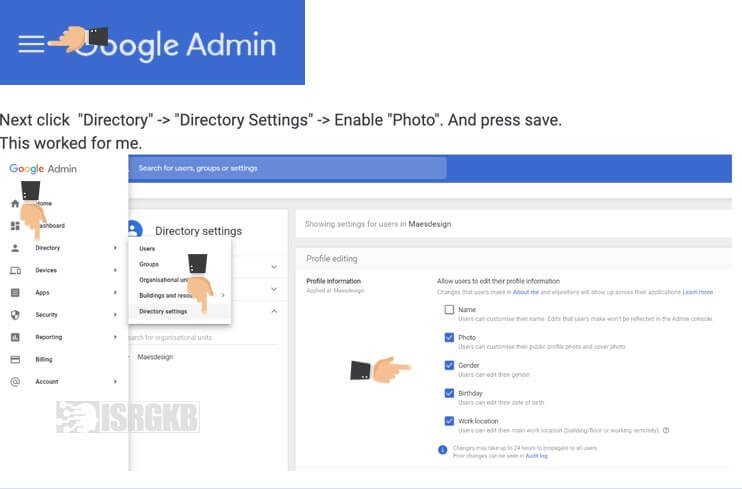 Login into your G Guite admin dashboard from admin.google.com
Click on the left menu to open the left navigation bar
Select Directory> Directory Settings> Uncollapse the Profile editing section> Select the fields that you would like to allow your users to update by themselves
Click on "Save" button.
Google says it may take up to 24 hours to propagate the settings, so it may take time to reflect the changes.
Once the settings have been configured you and your users will be able to update their profile details without any issues and still if the problem persists, you can always contact the Google G Suite Support centre through Chat, E-mail and Phone.