Now it seems that the automobile industry is already in a somewhat normal state. All the employees of the industries are taking care of the production as well as the safety of the people. Sanitization and thermal screening facilities are available at plants, dealerships, and all other Maruti centres to avoid Corona So that their staff and visitors are protected from the epidemic, Corona. Now Maruti is going to launch many accessories for the safety of its customers, which will protect against corona disease. The company has released a list on its official website, which states that Maruti is going to launch some accessories to avoid Corona, car partition, face vision disposable eye gear, disposable shoe cover, face mask Such as accessories included. Maruti says that the accessories that are being launched are a campaign for health and hygiene, so that if someone gets out of a car and goes to a public place, then accessories protect us from the virus.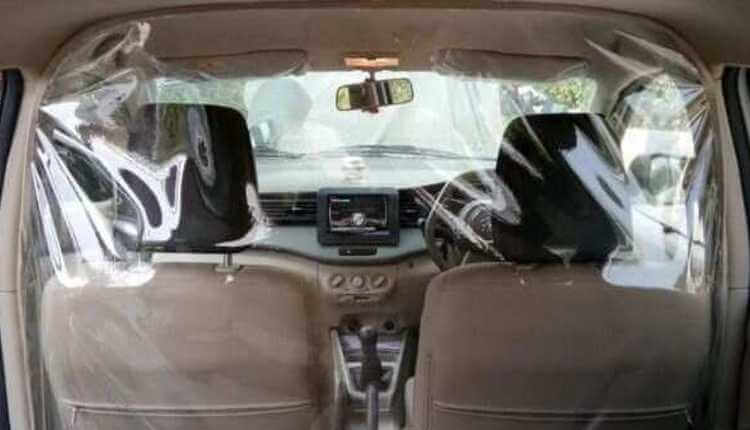 The company official says that the job of car partition accessories is to protect the person sitting on the front seat of the car from the person sitting on the seat next to the car. The company also says that these PPE kits will be more beneficial for commercial vehicles. Although Maruti says that these accessories cannot stop the Corona from spreading, but will help us a lot in Protecting from coronavirus. And it doesn't cost much, and These accessories will be available between Rs 10 to Rs 650. It also protects the accessories from the drops coming out while coughing or sneaking so that it does not spread from one person sitting in the car to another. The car partition is more useful for the front and rear passengers so that social distancing can be followed during the journey. You can install a car partition in the car using Velcro. The car partition is made from virgin grade premium Polyvinyl chloride material. The company also says that PPE kits have been launched in the market on the demand of customers. Maruti has named these accessories MSGA (Maruti Suzuki Genuine Accessories). The company believes that new products will help people avoid Corona if a person wants to buy these accessories, then they can also purchase from their nearest Maruti dealership or the official website provided by the company. The following are some of the car partitions available for almost all models.
| | |
| --- | --- |
| Accessories  | Module  |
| Car Partition | Ertiga, XL6,Ciaz,SCross,Old VagonR,Ritz,Dzire Tour,Celerio,Alto etc. |
Similarly, Maruti has also created car partitions for the Vitara, Brezza, and Eeco. The price range is based on the car model. Following are the price lists of accessories launched by Maruti, the special thing is that some accessories start at just Rs 10.
| | |
| --- | --- |
| Accessories | Price List (in Rs) |
| Face Shield Visor | 55/- |
| Protective goggles | 100/- |
| Hand gloves | 20/- |
| Shoe cover | 21/- |
| Three-ply face mask | 10/- |
| N-95 Mask | 149/- |
Apart from this, you can also buy Sonax and Liquimoly to clean your interior, which costs between 2199 to 4275 rupees. Maruti Suzuki also revealed that all these accessories had been launched in the market only after being certified by QCS and Sitra Lab. The company claims that it is not only disposable but transparent and lightweight accessories specially designed to avoid Corona. During the Corona period, Maruti's sales had seen a sharp decline, but now it is being revamped. Maruti is now offering discount offers to push sales. You can take advantage of this discount offer through Nexa dealership, and this discount offer has just been implemented for June, and as its sales report will come then, it will be considered further. So know which discounts are available on which Model of Maruti.
Maruti XL3086
The XL 6 is a multipurpose vehicle with a 1.5-litre petrol engine. Both manual and automatic gear options are available in Maruti XL6. Up to Ten thousand discount offer is going on, and if you are thinking of buying this car, then you can save up to 10000 Rupee.
Maruti Ciaz
As we know, Maruti Ciaz is the popular sedan car of the company, and it is also very popular in India as this car has more space as well as many features. There are different types of discount offers on this car, if you are planning to get a Maruti Ciaz, then An exchange bonus of 20000 rupees and the corporate bonus of 5000 rupees is also being offered with a discount offer of 10000 rupees on this vehicle. This vehicle has a 5-speed manual and 4-speed automatic gearbox, and this vehicle also has a 1.5-litre petrol engine.
Maruti Baleno
The Baleno is included in India's premium hatchback car, with a discount offer of up to Rs 15,000. This vehicle includes an exchange bonus of 15,000 and a corporate discount of Rs3000. Maruti Baleno is a 5 seater hatchback car which is very popular in India. The price of this vehicle starts from around 800000 rupees.
Maruti Ignis
Ignis is also being given a cash discount of 15000, an exchange bonus of 15,000, and a corporate discount of 3000. The Ignis is a petrol engine car with both automatic and manual gear available.
The company says that this offer will continue during the entire lockdown, a discount offers may change, but customers will get some benefit. If you too are planning to get Maruti Suzuki, then this is a good opportunity for you.
Due to Corona, the entire country was locked down, due to which production was also closed but the plant reopened on 12 May with some guidelines. Home delivery of cars was also started in May. Right now you can choose the Model, colour by online and the products will be delivered home. The company has also ensured that the employees at the customers' home will follow all security guidelines. The company's staff has also been told that if they go to visit, they will have to carry masks and sanitizers along with. The company was able to sell 13865 units in May. Now the company will increase sales of vehicles. According to a report, there are a total of 3086 showrooms in 1964 cities of Maruti Suzuki across the country.