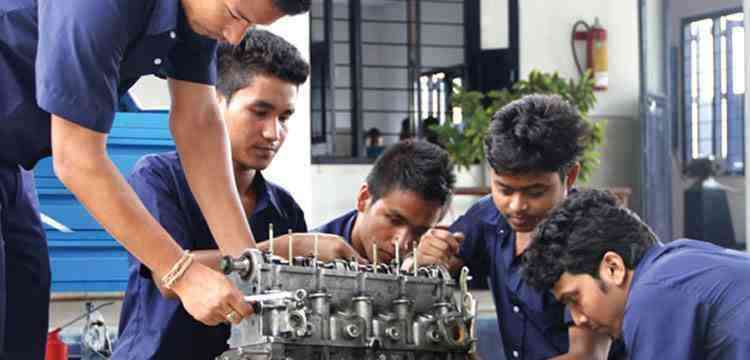 Scope of B.Voc Course in India and Abroad
What is B.Voc and its significance and scope in India and abroad?
B.Voc stands for Bachelors in Vocational studies which is an emerging course in our country. This course aims at allowing an individual to acquire skills for a particular trade. These are non-academic.  The course deals with application based studies rather than depending on theoretical knowledge completely. Vocational studies cover a wide range of fields. Some of these fields include health care, creative fields like graphic designing and web designing, food technology.  It is also provided in skills trade including plumbing, automotive repair and many more.
The course specializes on providing practical training, and hence is can be regarded as a skill development degree.
Why is it important?
It is important for our country as our government has launched a special scheme of "Skill India". Pradhan Mantri Kaushal Vikas Yojana or PMKVY is the flagship programme of the Govt. of India, Ministry of Skill Development & Entrepreneurship (MSDE) that enables Indian youth to indulge in skill related or industry related training which will be beneficial for them. It provides short term training to the youth.
Therefore, acquiring skills through learning is a significant aspect in today's education scenario.
Bachelor in Vocation is a three year undergraduate course. Eligibility for this course is successful completion of class 12th in any stream from a recognized board.
The course helps the individuals to grow and learn professionally.
Apart from it, students after 10th standard can also opt for short term or long term courses like diplomas and degrees. Thus, vocational studies are a diverse field. However, B.Voc course is a full time degree and it cannot be taken as an add-on programme. The age limit for this course is 16-45 years.
Why did it come into picture?
There was a long felt need to align higher education with the needs of the Indian economy, which could be only fulfilled by allowing the youth or individuals of our country to indulge into a course that would not only enhance their knowledge in the respective field but would also provide them with the required skill and practical knowledge that would help them to acquire jobs as per their requirement in the long run. This course can even help out the individuals to take a step ahead and think of becoming entrepreneurs. It can be considered as an education which is flexible in providing knowledge and thereby helping them to groom.
Advantages if B.Voc course includes:
The course helps an individual to focus on practical skills.

It provides knowledge of the subjects.

It provides an insight to the job requirements.

Provides expertise in innovative field.

Employability for suitable jobs

Provides relevant work experience.

The course focuses on specialized learning.

Makes a student confident in his field.
Specializations include:
Agriculture

Business

Computer science

Marketing

Industrial arts

Nutrition and dietetics

Corporate communications

Office management

Applied arts

Tourism

Automobile

Consumer electronics

Software development

Retail management

Construction technology and many more.
Types of programmes:
These programs mainly lead to industry skills certificates, either for credit or non-credit and associate's degrees.
Associate's degree is awarded at the end of vocational programme example of which includes Associate of Arts and the Associate of Science.
The most common vocational degree which is emerging is typically the Associate of Applied Science.  These programmes also give credits and these vary according to the field of study and the institution offering it.
Students pursuing Bachelor of Vocation course can opt for the appropriate employment, become business leaders, entrepreneurs and can help in the development of India's economy. 
A person can take an exit in between the 3 years course by taking a Diploma or Advanced Diploma degree. It is industry and work integrated course. An individual's knowledge and skill is valued at every level and she or she will be qualified for suitable jobs. The course consist of 60% vocational training or practical and 40% of general education i.e. theory. B.Voc. course is financially aided by the University Grant Commission (UGC). The course complies with the rules of National Skills Qualification Framework (NSQF).
These days industries expect employees to posses all types of practical skills and knowledge so therefore B.Voc course caters to the needs of business and industries.
By this course students get hands on training in their respective field. Students can indulge in industry based experience which aims at developing the practical and sensory abilities that help them serve better in industries and various organizations.
There are several colleges that offer Bachelor in Vocational studies course, some of which include:
 Tata Institute of Social Sciences-School of Vocational Education (TISS-SVE)

Kalindi college, University of Delhi

College of vocational studies, University of Delhi

B. R. Ambedkar Govt. Polytechnic

Mangalmay Institute Of Management and Technology, UP

Academy for Aeronautics and Computer Science 

Abdul Kalam Institute of Technological Sciences
What are the career prospects of this course?
As discussed earlier, the program aims at providing education with the idea of building specific job skills in students, so that they can gainfully participate in accelerating the growth of India's economy and also serve the industries better.
Here is a list of job description and average payouts so expected in various fields after opting for this course.
For a computer operator, an average annual salary of about 2-4 lakhs is expected. The job is to oversee maintenance, hardware and software operations. Checking up viruses, backing up data, upgrading software etc are also performed.
For an accountant, average annual salary of 2-6 lakhs is expected.  The person basically documents the financial transactions and recommends financial actions to the manager. Apart from it, he also analyzes the account information.
For a food technologist, an annual average salary of 3-4 lakhs is expected in which the person will be expected to develop safe and consumable food products catering to commercial markets. Also he will be responsible for new product development, and modifying the current food products. The person will also manage food production on an industrial scale.
Who all should opt for this course?
Those who have the ability to work as a team

Ones who are inquisitive

Ones who are willing to work on their interpersonal skills

Those who possess physical stamina for fieldwork

Ones with critical thinking and problem solving skills

Those who have good communication skills

The ones who have good observational skills
After completing your B.Voc degree you can start working immediately. As this degree is aimed at enhancing your skills for a particular job which other general degrees don't allow. This gives individuals pursuing the degree an extra edge. Apart from this, people also get industry recognition which is very important. Not many people are aware of the fact that these corporate tie up with universities for providing training and internships at their organization to the students pursuing the degree. This means that these corporate recognize this degree and value it as well. They are well aware of that fact that the students have hands on experience and possess the skill which they seek for, which as compared to other students having B.A or B.Com degree, who just have the theoretical knowledge. This means B.Voc course is largely associated with enlightenment of the course beyond the books.
There is M.Voc degree in some universities for the students who have completed their B.Voc course and this will thereby increase their certification level to a greater extent and thus will strengthen their skills. Industrial experts welcome such students.
Once an individual acquires a required skill, he or she becomes totally independent as it gives him confidence about his respective field because now he owns the knowledge as well as the expertise.
It is interesting to know that Department of Education of Newfoundland and Labrador, Canada, conducted a study in which it was found that about 94% of Bachelor in Vocational Education graduates were working in a field related to their own degree as compared to 80% for all graduates with an undergraduate degree. This simply shows that people who pursue B.Voc have a broader range when it comes to job prospects. Also, another important thing to note here is that such courses are now coming up in India, while it was long practices in other countries. It is also popular in California.
Hence, we can say that India will soon compete with other countries as well in the respective field, if more and more people realize the importance of this course and show their interest in taking it up. Courses like computer science, Information technology, electrical and electronics, etc are too main stream and people in our country treat them as the prime courses and prime sources for job. While it is not so.
People should realize that certain upcoming and emerging courses can also drive our economy and hence they are also influential or significant courses.
On the whole we can say that  B.Voc courses not only helps to ensure the learners to develop adequate skills but also make them work-ready and enhance their employability in the job fields
A salient feature of this curriculum is that there exists a blend of theoretical and vocational concepts.
This course incorporates the needs of various organizations in a flexible manner that develops and grooms the individuals that thereby helps them to meet the emerging need of the economy.
Therefore, at the end we can conclude that B.Voc is a highly significant and emerging course which will be very much beneficial for our economy and for the individuals too as it will sharpen their both theoretical and practical knowledge and will help them serve better to our country in job related areas. Thus, it has great scope in our country.