We are Tech Savvy People and no doubt if you are reading this article you might be having an Android Smartphone or other Smartphone. Today, most of us have almost the same issue with our Smartphone that is, "faster battery draining" which sometime causes irritation. Well, this time we are back with some great tips which will answer you "Phone Ki Battery Kaise Bachaye?", "Phone Jaldi down ho raha hai kya karene?" etc.  Follow below instructions to save the battery of your cell-phone and that's without installing any apps.
1. Lower the Brightness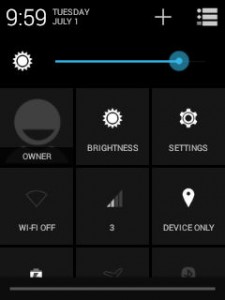 There is a simple philosophy by our out there on saving the Smartphone's battery which is, "Lower the Brightness, longer the battery life".
You can save the battery life, by setting the Brightness as minimum as you can keep and operate your phone.
Brightness setting is generally located in the Settings> Display> Brightness
2. Disable Network or Use Flight Mode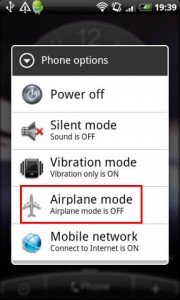 It is better to use Flight Mode or Disable the Network while traveling in the Metro or in the areas where the coverage is zero i.e "No Network" cases. While in the stage of no coverage zone your phone increase the network strength in order to find the coverage which not only uses more power, but also extracts more radiation which causes various harmful Radio-active diseases.
By Disabling the Network or Using Flight Mode you can save the battery life. In order to disable the Network go to the Setting> Wireless and Network> Flight Mode or alternative to this hold the power key and select the Flight Mode from the switch off pop-up option.
3. Disable Pre-Installed Apps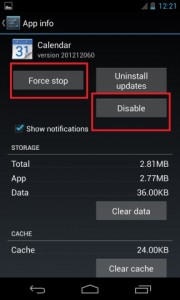 Pre-Installed apps are one of the biggest irritating thing you might have seen in your smartphone. These apps cannot be removed simply as you uninstall any other apps. These apps can only be removed after Rooting Your Android Phone. Before you root your Android Smartphone you should be aware that rooting have two biggest disadvantages one, your warranty voids and second, it opens the door to spammy apps, adwares etc. and other attacks.  There is no doubt that the most of pre-installed apps are useful and should not be removed even rooting.
But in second hand these apps consumes a lot of power and there is only one risk free solution to get rid of pre-installed apps and that's without rooting your phone is by Disabling these pre-installed apps.
In order to disable these apps go to Settings> Apps or Applications  and select the app and tap on the Disable
button.
4. Force Close
Sometime Force Close is better option rather than disabling the app. Disabling of your app require to re-enable in order to make "em reusable where Force Close helps you to disable the app until you re-opens it. Force close gives you an ability to shut the unnecessary application running in the background which consumes a lot of power. By force closing these apps you can save the battery.
In order to disable these apps go to Settings> Apps or Applications  and select the app and click on the Force Close button.
Note: Some apps are vital apps which should not be Forced Closed; this may cause critical issues. In order to fix it, do a restart.
5. Turn off the WiFi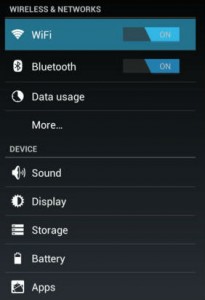 It is highly recommended to to keep your WiFi turn off when it is not in use. We all are aware WiFi consumes a lot of power and also extracts harmful radiation. So, by Turning your WiFi Off you can save the battery life as well as you can help in creating a healthy environment.
In order to Turn off the WiFi, go to Setting> Wireless and Networks> WLAN Setting and tap WLAN option or Just tap WiFi icon from the notification area.
6. Keep Your Phone Charged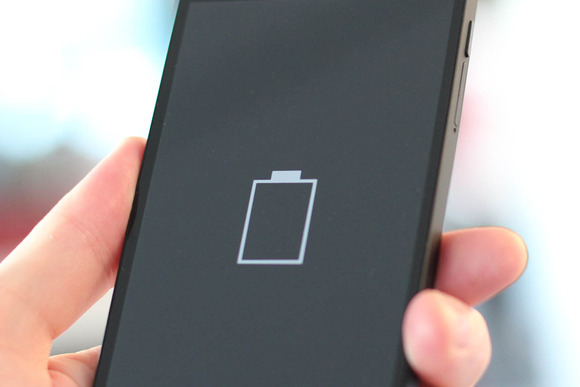 One of the very strange thing you might not be aware that by keeping your smartphone charged and not letting the battery level to go to the 15% you can add more life to your smartphone's battery. Also, it helps your smartphone to run smoothly.
7. Always Keep Some Memory Free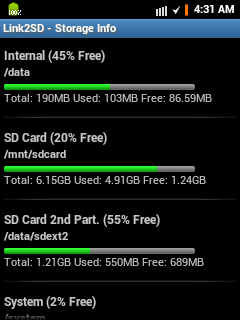 You should always keep some memory free in the internal card which is your phone's memory and the external card which is your SD card Memory.
Android is based on UNIX Operating System which processes a lot of stuffs in the background in the RAM as well as in the internal and of course in the external memory. If in case your phone does not have sufficient free memory the Operating System may require extra efforts to run the stuffs in background smoothly which is obvious that it will consume more power as compared to normal processing.
Hope this will help you.
Cheers!