After 34 years a New National Education Policy similar to that of the Public Health Policy in 1983 evolves with the purpose to provide students all over India, irrespective of their status and class, to get a standard education throughout the country to compete with the rest of the world. The Union Cabinet endorsed the policy on 29th June 2020,  and the main purpose of the implementation of the New Education Policy was to revamp and refurbish the Education System in India. The New National Education Policy 2020 is meant to dispense a Comprehensive Vision and Extensive Structure for Schools and colleges whether it's a primary school, secondary school or all higher education in the country.
The National Education Policy was introductorily amended in the year 1992 during Shri P. V. Narasimha Rao Government tenure and was formulated in the year 1986. In between this period to date, a lot of changes apropos to the economy and whereas new technology, a wider concept of globalisation and international trades has emerged rapidly. So, changes in the education system are required whereas, the Government and the Prime Minister, Shri Narendra Modi had instigated the undertaking of the composition of the New National Education Policy through a deliberation process for an all-embracing, partaking and holistic perspective, which takes the cogitation all adept outlooks, pragmatic researches and through best experiences learned.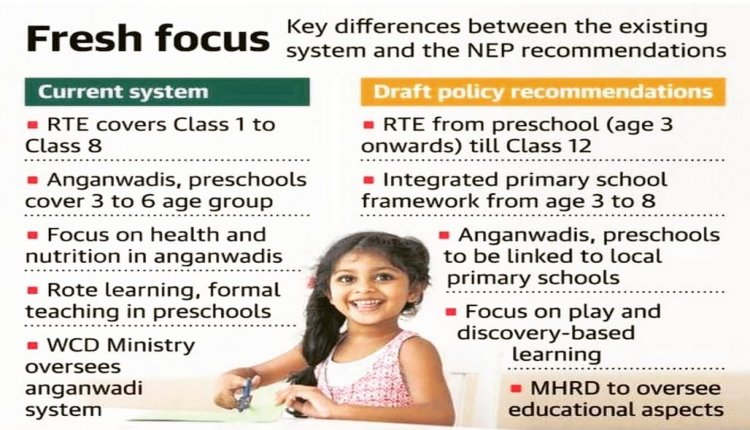 The new NEP-2020 proffers to reform the education system, both the school curricular structure and for higher education. The main objective of the new National Education Policy 2020 is to make "Indian a Global knowledge superpower".
Well! Let us first go through the changes that the new NEP-2020 is proposing to bring in both school and higher education.
School Education (Primary & Secondary):
The NEP-2020 focuses on the universalization of education from preschool to secondary level with 100% Gross Enrollment Ratio (GER) in school education by 2025. The contemporary 10+2 system will be taken placed by a new 5+3+3+4 curricular structure corresponding to ages 3-8, 8-11, 11-14, and 14-18 years respectively. The new NEP will bring the not displayed age group of 3-6 years under the school curriculum, which has been recognized globally as the pivotal stage for the development of mental faculties of a child. The school education system under the new NEP will also comprise of 12 years of schooling with three years of pre-schooling. School governance is programmed to change with a new empowerment framework and an independent authority to modulate both public and private schools. Priority will be given to foundational literacy and numeracy and there won't be any inflexible separation between academic streams, extracurricular, or vocational streams in schools.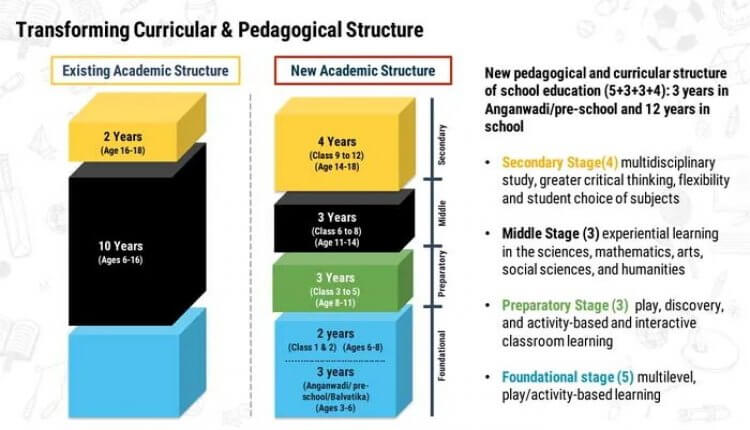 It also includes that schooling up to Grade 5 will be in mother tongue or the vernacular of the particular region. Nonetheless, no language will be foisted on any student. There will be a new and comprehensive NCFTE that is the National Curriculum Framework for Teacher Education in 2021 and it will be contrived by the NCTE or the National Council for Teacher Education after a conference with the National Council of Educational Research and Training (NCERT).
Higher Education (College, University & Institutes):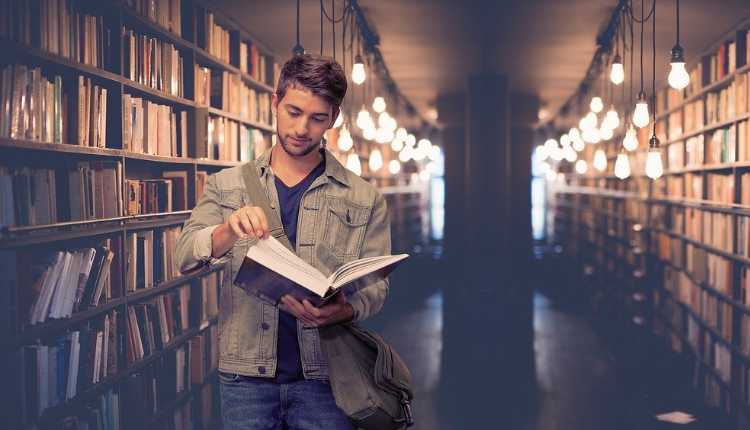 The GER in higher education will be elevated to 50% by 2035. According to the new NEP, 3.5 crore seats will be added up in higher education by then. There will be an integrated undergraduate education with an adjustable curriculum which can be of 3 or 4 years with numerous exit options and pertinent certification within this interval. M.Phil. courses will be terminated and all the courses at undergraduate, postgraduate and PhD level will be multidisciplinary. Academic Bank of Credits to be initiated to assist the transfer of credits. MERUs or Multidisciplinary Education and Research Universities, at par with IITs and IIMs, will be set up as models of best interdisciplinary education of global standards in the country.
Higher Education Commission of India will be put up as a solitary guardianship body for the total higher education, precluding medical and legal education. Public and private higher education academies will be governed by the same group of standards for regulation, accreditation and academic standards. Affiliation of colleges will be terminated in 15 years and a stage-wise procedure will be established for permitting graded autonomy to colleges. Over an interval of time, every college will be contemplated to inaugurate into either an autonomous degree-granting institution or an integral college of a university. Affiliation of colleges will be terminated in 15 years and a stage-wise procedure will be established for permitting graded autonomy to colleges.
Over an interval of time, every college will be contemplated to inaugurate into either an autonomous degree-granting institution or an integral college of a university. It also opens the way for foreign universities to put up campuses in India. The National Institute for Pali, Persian and Prakrit, and the Indian Institute of Translation and Interpretation is being aimed be put up.
Other changes:
1. Teachers Education: By 2030, the minimal degree qualification for teachers will be a four-year combined B.Ed. degree.
2. Financial Support:
The new NEP targets to expand the civil investment in the Education sector to reach 6% GDP at the earliest. Currently, India expends around 4.6% of the total GDP on education. Again private institutions will be persuaded to offer scholarships to their students and the exemplary students belonging to SC, ST, OBC and other socially and economically backward groups will be given incentives.
3. Technology in Education:
The new education policy has prioritized the incorporation of technology at all phases of learnings. The National Education Technology forum, which will be an autonomous body, is going to be established for the intercourse of ideas on the practice of technology to enhance learning, assessment, planning and management. A reliable unit for the objective of creating digital infrastructure, digital content and capacity building will be organized in the ministry. Last but not the least, an amalgamation of technology will be done to enrich classroom methods of learning.
Now let us observe the changes the new National Education Policy of 2020 promises to bring.
Since the Education system serves as the future of India as it shapes the citizens of the country, the government aims for its betterment. However, hope may persist in us.
On Friday 7th August, PM Shri Narendra Modi delivers his inauguration speech for the new National Education Policy. He begins by mentioning that the NEP stresses two important motives "How to think?" and "What to think?".
The PM said in his speech that every student must have the opportunity to follow their passions which can be changing or more than one. Thus the new NEP presents to us a multiple entry and exit in the higher education system. According to the student's convenience and need, they can follow any degree or course and can leave any time. They can also enter any time again and after re-joining the students need not start from the beginning but can continue with what the student had left. This is also the thinking behind removing the concept of "stream" in higher education and introducing credit bank. The PM motives to create an era where any individual will not remain in one profession throughout his life and for this, the individual can always re-skill and up-skill himself. This positive intention and initiative of the government regarding the education reforming can be a game-changer and can create more job or career opportunities for every citizen of the country.
The PM says that in the new National Education Policy, the dignity of the teachers has also been taken care of with special emphasis on the training of teachers and continuous up-skilling them. As the new National Education Policy focuses on practical training and technology, it also puts effective effort of basic learning of computer coding for all students at the basic level and enhances virtual lab experiments to all. The new National Education Policy intents to promote and stimulate a comprehensive, implicated and integrated perspective, which takes into contemplation field practices, pragmatic research, participant feedback, as well as lessons learned from best training and experiences.
It is an escalating and reformer shift towards a more accurate approach to education. The stipulated structure will help to gratify the capability to the child and its stages of apprehensive evolution as well as social and physical cognizance. If executed in its true imitativeness and foresight, the new anatomy can bring India at par with the leading countries of the world. However, one may ask, again and again, how much effective it will be and how much can be implemented?
Major flaws and problems of The New National Education Policy 2020:
Reports say that more than 56 per cent of students matriculate in special tuitions. However, it is to look at how the new NEP will throw a vital effect on this dynamism. The NEP wants to estrange and influence school students away from personal tuitions classes. The NEP has disclosed that the government intents to provoke the Boards especially the CBSC Board to be simpler and more adaptable. Also, the 10th and 12th Board examinations will be susceptible to pass, claims the NEP.
It will examine the student's fundamental abilities or aptitudes. Any child who will be attending and compelling a primary exertion in the school lessons will be able to pass and do competently satisfactory in the representative board examination without much supplementary endeavour and visiting tutorial classes. Nevertheless, some of them pointed out defects in this new education policy are: homogenisation; how is the system sought to be homogenised? A central education service will man all universities and education ministries. A revamped central body will guide the state-level body is in determining school curricular, taking out the role of state governments from the process. Centralisation outside political influence, enmity towards private enterprise in education, self-propagation of governing body ideology across generations of higher education institution and refusal to recognise caste as a disabling factor that calls for explicit remedial measures are the other flaws in the new education policy.
Together, these push education outside democratic accountability and reduce boards-based access. Centralisation stems from a single regulatory body for higher education and a central body to determine all educational properties for schools and higher education. In these bodies elected representatives of the people to have a limited, decorative role. The majority will lie with so-called professionals and people of eminence. The initial choice in appointing such people will determine the philosophy of these structures that will govern education at all levels.
So the question is, are for-profit private educational law or the courts hold that education should not be for-profit, private institution veil their for-profit selves behind demure philanthropy. Nevertheless, on the other hand, the government aims to make the major higher education institutions autonomous.
The policy says the being should be to enrol 50% of those who complete high school into globally benchmarked colleges, with a teacher-to-a student ratio of 1 to 10 or 20, while upgrading the quality and the number of schools. It wants to allocate 6% of GDP to education, a meagre increase of 1.7% of GDP from the present level when the gross enrolment ratio is half the target level and education at all levels get large dollops of private funding, which NEP wants to eliminate. Will public spending of 6% of GDP suffice to achieve this goal, even when supplemented by private philanthropic investment?
The Education Minister, Shri Manish Sisodia said that the National Education Policy is an advanced document that admits the drawbacks in our education system and strives to better it. However, he said the difficulty with the policy is that there is no clarity on how it is to be enforced and does not clear out the burdens of the previous education system. He also says that the new National Education Policy is inadequately funded and highly regulated policy that has numerous regulatory bodies that will end up conflicting with each other.
However, there are multiple defective bodies in this new education policy disregarding the positive factors of it too. Although for the first time, initial childhood education has been generated in the mainframe and the education about distributing breakfast along with lunch under the mid-day meal scheme. This being a positive point for the NEP the government had made quite rash decisions before like the demonstration which aimed for several positive changes but couldn't make through only creating chaos and waiting for a change.
Thus one main question arises again and again, will this new National Policy Education be able to bring any change?