With Diwali, arriving, it is time to get started cleaning and decorating your house. Here are few DIYS you can try if you wish to decorate your house by adding a touch of creativity. These are all pretty, cheap and exciting projects. All of these are recycled projects. Thus, they are environment friendly!
1. Use Old Bangles to Create a Candle Holder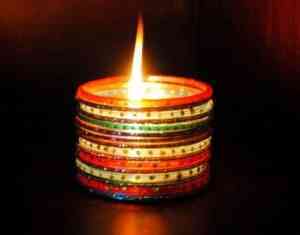 Things You will Need: Old Bangles, Candle, Hot Glue
For old bangles, glass is preferred as the plastic ones might melt and cause fire. They can be of the same color or differ.
Process: Take a bangle and glue it to another bangle. Do it until you have used up the last bangle. You may consider adding a surface of the lamp holder by using some uninflammable or something which will not melt under the heat of a candle.
2. CD Coasters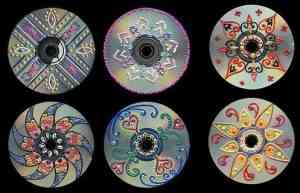 Indian festivals are incomplete without food and drinks. So that the drink does not leave an imprint on the table, create these awesome, festive coasters out of CDs.
For this you will need: Paint, CD, Setting spray, Mirror/Vinyl sheet and creativity.
Process: Using a paint pen (or any paint) begins to create various designs on the CD. Think that you are creating Rangoli on the surface of CDs. Let it try. Apply a few coats of satin spray. If you want to, you can stick some sort of transparent material on top so the pain does not end up peeling off. Think mirror or vinyl sheet.
3. Coat Hanger Diya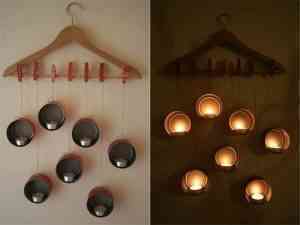 Things You will Need: Old coat hanger, few clips, Metal tins, Wire/Thread, Electric Diya and Glue
Process: Create holes on the bottom of tin cans. Pass thread or wire through these holes and time them. Take the long end of the threat and clip it to the coat hanger using clips. Glue electric diyas inside the tin cans.
4. DIY Candles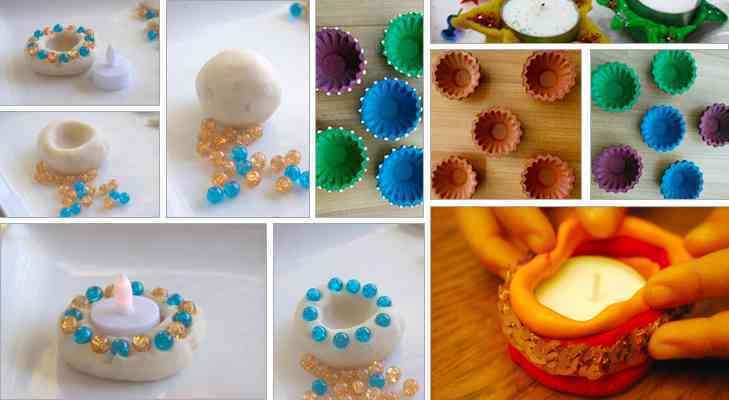 You can create candles out of almost anything and everything such salt, dough, egg shells, seashells, orange peels, glass, clay…Just paint them with paint, use glitter glue, stick sequins. Add a wick inside the container. Melt the candle on a stove. Add some coloured wax crayons into the mix. Now pour this mix into your choice of candle holder. To add some fragrance to it, you can use essential oils or cinnamon sticks, coffee beans etc. into the mix.
5. Modular Rangoli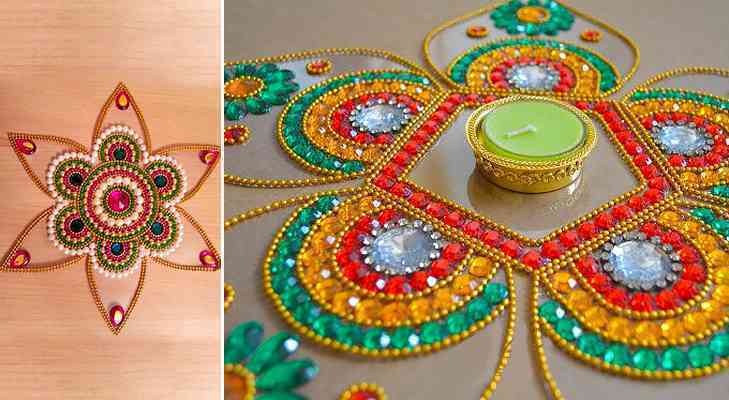 Rather than sitting down to create Rangoli on the floor, you can use a cardboard and use it according to need.
Things You Will Need: Glue, Sequins, Paint/Rangoli Colors, Design, Cardboard
Process: Take a cardboard. Using a pencil creates your desired design. Apply a coat of fevicol and stick sequins, glitter and there on it. In other areas you can apply stick Rangoli colors. On the rest you can use bright paint to paint on them. Whenever you want, bring it out of the armoire and place it outside the door like a mat. This way you will not have to spend extra time on creating Rangoli and waste money on Rangoli colors.
6. Old Sari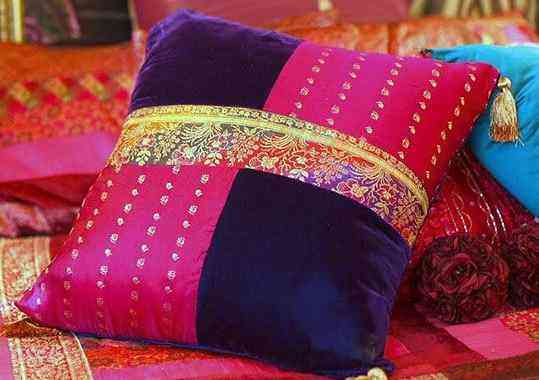 Throughout your life you might have collected a bunch of saris which you might not wear. They might be worn and torn or you just do not like it as much. Here is what you should do. If you know how to stitch, make curtains, table spread or cushion covers out of them. If you do not know how to stitch, give it to your tailor and he will do it for you. You can add extra items to jazz it up like tassels, zari etc.
7. String Art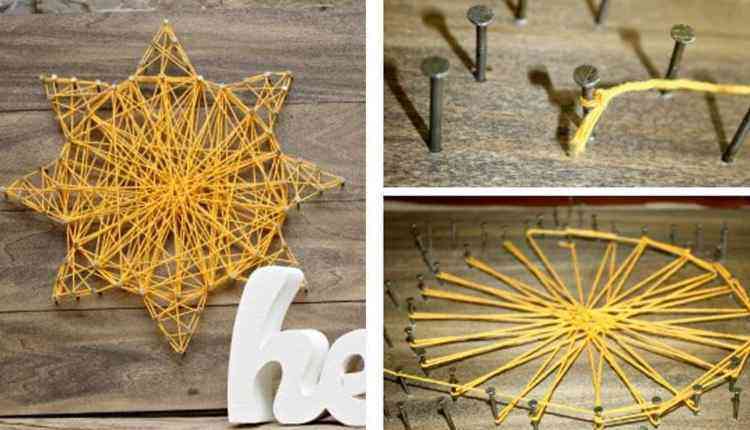 Things You will Need: Wood, Nails, Hammer, String and a Pencil
Process: Take a pencil and sketch your design. Hammer in the nails at points you think will work best. Begin stringing around the string to create the desired shape. Keep checking on density so that the shape is visible.
8. Recycled Glass Vase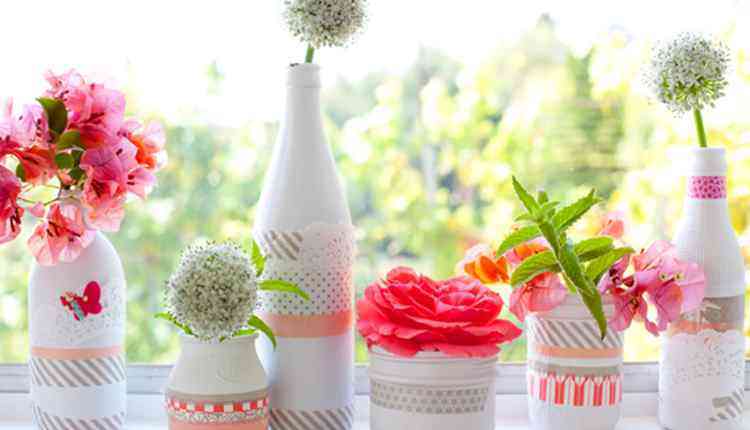 Things You Will Need: Glass Bottle, Brush, Paint, Ribbon, Lace, Fake Flowers and Glue
Process: Apply generous coat of paint on the glass bottle. Use glue to stick ribbon and lace onto the glass bottle. Add fake flowers inside the bottle. Keep various sized bottles together like this near a vibrant area.
9. Treat Tower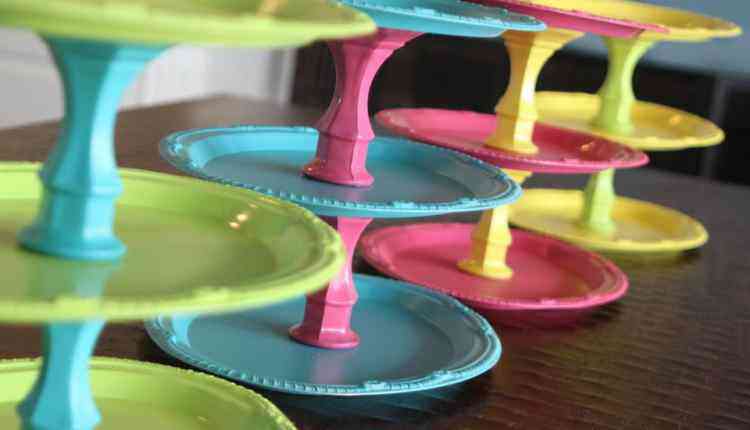 Thing You will Need: Candle Holder, Dish, Bowl and Hot Glue Gun Process: Take a dish and stick a candle holder to it. Take another dish and stick it to the candle holder. Stick a candle holder to the same dish. Apply coat on top of the candle holder and stick it to the bowl. Put some sweets around the dish and chocolates into the ball. Keep it at the center of the dinning table.
10. Compact Mirror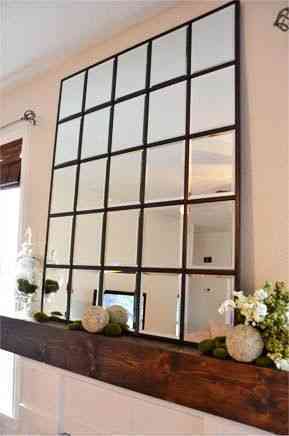 Things You Will Need: Compact Mirror, Hot Glue Gun, Hook and Carboard. Make sure that if you are using a circle, compact mirror, all of them must be circled. If you are using square, then all of them must be square. To be precise, all of them must be in the same shape. The size may vary, but not the shape. Until and unless you know how to work it.
Process: Stick the compact mirror to each other using hot glue gun. Let them dry. Clean of the extra residue seeping in. Cut a cardboard into the shape of your mirror and stick it behind. Take some sort of hook and stick it to the back of the cardboard. Now hang.
And there you go! Ten amazing, brilliant and easy DIYs that is sure to make any Diwali or festival amazing. Like mentioned before, these all have been created by recycling items that you might end up throwing or end up never being used. This Diwali, celebrate with nature and create these DIY. While the project dries, you can consider doing something else like cleaning or shopping or maybe cooking some fabulous delicacy?
After you are done with the project, you sure will want to brag about your creating. Rightfully so since you have earned the right to do. With this, we leave you with some YouTube channels you might consider watching videos. They have amazing DIYS for Indian community. So, check them out as well:
1. Artkala
2. Punekar Sahu
3. Simplify Your Space
4. HomeHashtagLife