Yogi government orders seizing of property from stone pelters and criminals as to recover the damage done by them— No one can forget the horrible week when the front line workers which included doctors, police officers and nurses were injured in the stone-pelting from the hate-mongers. A video went viral in which a group of more than 25 people had mercilessly attacked the Frontline health care workers, police personnel, doctors and had injured them when they were just trying to help the patients infected with COVID-19.
Within a short span from April 2 to April 15, many frontline health workers and police personnel were attacked and out of them, many were hospitalised due to serious and critical injuries caused in the stone-pelting and attacks. Also, read What if Tablighi Jamaat case never happened?
Recently, when a team of doctors, health workers, and police personnel went to pick up a COVID-19 patient and his family members in Moradabad district of Uttar Pradesh, the crowd turned hostile towards officials, and most of them were injured where the Chief Minister, Yogi Adityanath ordered strict action against the culprits which included recovery of the damage by either in cash or seizing their property.
CM Yogi Adityanath on April 15 announced that anyone who would attack any frontline worker including doctors, nurses, security and police officials be held against National Security Attack (NAS). In strict words, CM Yogi advised the officials that there should be no negligence against the criminals and their property would be confiscated as payment if the criminals fail to pay the recovery amount.
Opposition and many people said that slapping NSA law on the stone pelters and criminals is a very highly determined action by Yogi Government. However, is it justified or not?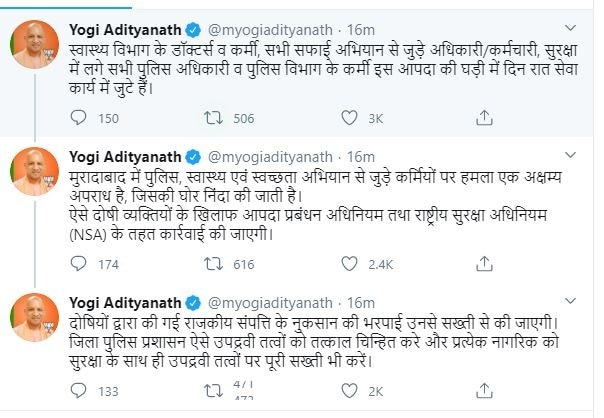 Imposing NSA and seizing the property of the criminals is very much justified as no one have the right to harm and attack the frontline workers in any condition especially when the frontline workers are risking their lives in saving the nation from the spread of the Coronavirus. Also, stone-pelting and injuring someone who is willingly risking their lives are as valuable as government officials. Though even being an ambulance driver is high of importance, and harming them is unjustified and a top criminal offence at this time when the pandemic is on the verge to turn into an endemic in India.
Around 25 people including women were arrested for stone-pelting, and the cruelty act towards the frontline workers which almost cost them their lives, as this was not the first attack and even many police personnel have been admitted to the hospital, one of them has also lost his hand. CM Yogi said that such cruelty against the officials and health workers isn't unacceptable and a high offence crime.
A statement given by a senior home department said that the police were doing their duty by preventing people from coming out of their homes during the lockdown when there were incidents in the state where the policemen were attacked by the commoners and to deter such people the government decided to impose NSA on them.
The slapping of NSA doesn't just stop here. It was also invoked against six members of Tablighi Jamaat who were under observation in Ghaziabad and had a relation with Nizamuddin Markaz incident. We should not forget that Nizamuddin Markaz and Tablighi Jamaati are responsible for spreading 30% of the COVID-19 cases in India and more than 80-90% in many states of India. Most of the Jamaati were held against the due complaints by the medical staff for their insatiable behaviour while they were in quarantine. In the investigation, it was found that Jamaati has urinated in the corners where they were kept on quarantine, including behaving shamelessly with the female nurses. There was no such report ever seen in the history of the COVID-10 worldwide.
NAS act was invoked on such culprits and offenders to stop them in future from committing such miserable and shameful act. While to recover the damage cost caused in the stone-pelting and attacks on the frontline workers there was need of imposing different act which should compel them to repay loss caused by them. Attack on frontline workers and loss of the property due to the attacks were seen as sensitivity, and highly critical which has not only exposed the mindset of such offenders but also their support in the fight against the Coronavirus.
Invoking of the NSA and the act to seize the property of the offenders in the state of Uttar Pradesh does seem to be justified but being critically injured and seizing of the property from individuals may provoke them more, and they may be inclined to attack officials again. As they might be homeless after the seizing of the property, it can also be the wrath of common people when they were devoid of service and had low stocks to support their survival during the lockdown, but this doesn't mean that such offender should be left as they have no right to take the law into their own hands and attack on the officials, doctors and nurses. Such an offender should think twice as frontline workers are risking their lives in saving the nation from a serious global pandemic.
Many actors, social activists, politicians, and state government came in support of this law of imposing NSA and seizing the property of the culprits as the right to express and protest should not allow them to attack the officials and damage the property. In fact, this law should be imposed nationwide for a better cause and creating a safe environment.
No matter what the reason is, hurting the frontline workers is beyond exemption and explanation. This is a serious offence, and damage to government property is also not justified in any circumstances, after all, it's the loss of the common people and taxpayers.
The law of India doesn't give permission to anyone to attack the government employee, healthcare and frontline workers who are risking their lives in fighting against the pandemic. The punishment of attacking offence is necessary and should be immediately imposed.
This action of Chief Minister Yogi Adityanath doesn't need any justification as it itself is like a ray of sunshine for those who were injured in stone-pelting and attacks. This action by the UP government is justified and perfectly right as no one has a right to hurt an innocent individual without a motive just for helping someone in this time of a global crisis.
In the end, how the mentality of the citizens really work has surfaced once more, though pelting stones on someone is a punishable offence and there should be an invoking law against people who don't respect Health care workers, honest police personnel working for the betterment of the city and state, doctors working endlessly to save lives, and an ode to each and every individual who has provided any form of relief resource to a needy person.
Saluting our Heroes in the attire of a white coat or a uniform. You're appreciated.