With TikTok's future, that is unpredictable, and after being banned from some countries, Instagram saw this the right opportunity to launch Instagram reels. If this idea sounds a slight familiar to TikTok, then you're right. Almost everybody is comparing Instagram Reels to TikTok!
Instagram is anticipating to persuade the creators away with the roll-out of a direct competitor, Reels, which is introduced in more than 50 countries today, including India, Japan, US, UK, Australia for the iOS and Android platforms.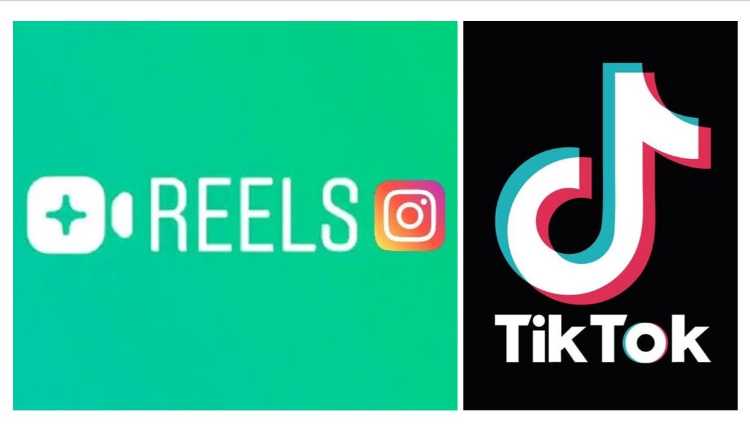 Instagram has now created a new way for you where you can show off your creativity. The social media platform recently launched TikTok's tremendous competitor, Reels, which will let you record, edit and post a 15-second video in the Instagram app. Reels is now available in all the major countries where the Instagram is operational except China and Russia, and it seems like it'll give the social media influencers and other new creators a new way to film and share short-form content.
Instagram wants this feature to be available for all their users, e.g. Personal users, businesses, influencers etc. Some features of Instagram, like IGTV and in-Story swipe up links, are different across users based on their followers, which have been points of dispute for millions of users on the platform. According to Instagram, sharing their Reels in Explore gives people an opening to access a massive audience, especially since 50% or more of accounts on Instagram worldwide visit Explore every month. Explore can showcase an enjoyable selection of reels shot by public statements on Instagram, which may motivate people to create their next Reel.
However, Instagram Reels still has some catching up to do. TikTok has been downloaded by people more than 2 billion times and is famous among Gen Z. Instagram. Although it has more than 1 billion monthly users, which is slightly older. But Instagram's common platform may make it a way for people who didn't download TikTok, and they can experiment with the 15-second video format. Since India has banned TikTok and the White House is considering a ban on TikTok due to the clashes with China, Instagram Reels has already become popular in India and may be picked up by some users who are concerned about this, too.
So what is Instagram Reels?
Instagram Reels is a brand new way you can create fun and alluring video content on Instagram — Like TikTok, Instagram users can shoot, record and edit together a 15-second video clip along with the music. They can share them to their Stories, Explore Feed, and the new Reels tab on the user's profile. Instagram Reels has their own version of the For "You page," i.e. the new Reels Explore Feed. You can find the Reels feed on the Instagram Explore Page.
Instead of only seeing Reels from your following accounts as you scroll, you will see Reels from famous and trending accounts on Instagram. While the algorithm of Reels hasn't been locked down yet, it feels like the Tiktok "for you" page, and it will be influenced from your following list and what content you interact with, and where you're particularly located.
As will be scrolling, you may see some Reels have a "Featured" label above the caption. Instagram has revealed "If your Reel is featured in Explore, you'll get a notification. Instagram chooses featured reels in order to help you discover original content that will entertain and encourage you."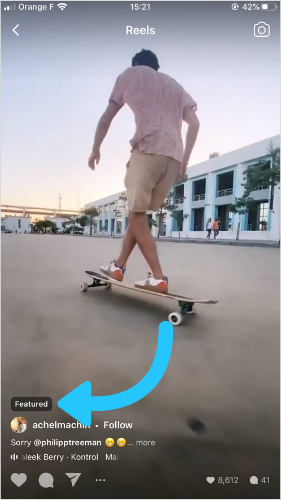 And similar to TikTok, if you find a song or music clip you like, you can tap the music and select "Use Audio".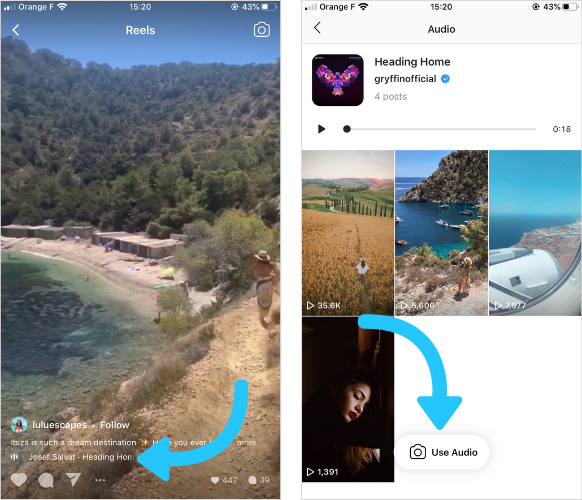 TIP: You can also take a peek at the other's videos and use that audio and see what's out there. There is no harm in taking inspiration from other's and jump on a trend!
Instagram Users can also choose music from a huge library or use their own created audio. Along with selecting and adding music, there are a lot of handy video editing tools you can explore. While creating a Reel, you can also select film video clips on the spot or upload from your phone gallery. Once you're satisfied with the clips, you can use the draw and text tools and also select from Instagram stickers Instagram Reels is a lot easier to use if you've used Instagram before, or if you ever made a Vine earlier or a TikTok more recently.
How to shoot an Instagram Reel?
1. If you have an old version, download the latest version of the Instagram app on your iOS or Android, and then open the app.
2. Swipe right to open the Instagram camera, or tap the camera icon in the top left corner and at the bottom of the screen, tap the Reels option.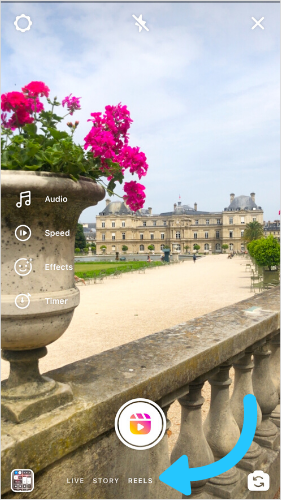 3. From the below screen, you can choose the audio by tapping the music icon.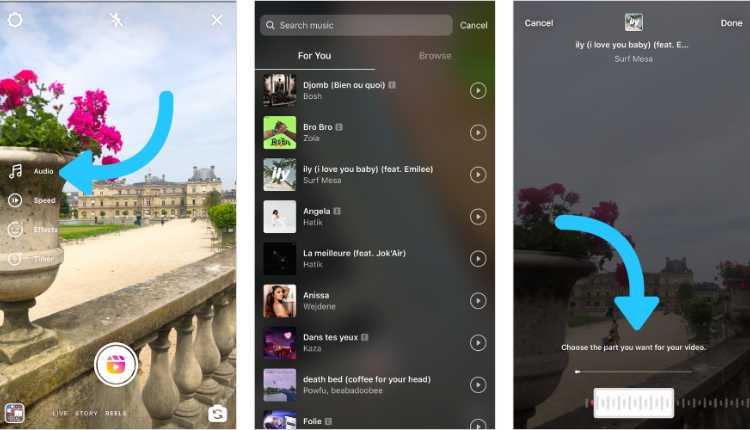 4. On the left of the screen, you can click the "Browse Effects".and explore Reel's collection of editing tools, including adding audio, AR filters, text or other effects to your Instagram reel videos.
5. Then click the record button to capture your Reel (the video must last between 3 and 15 seconds),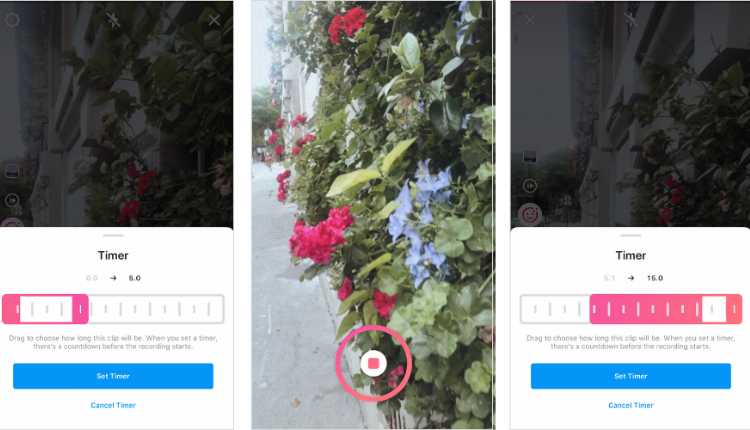 6. You can select from the draw and text tools and choose from a number of Instagram Stickers, and once you are done with the reel and satisfied, you can edit it.
7. When you are done, you can edit the cover photo with a video thumbnail or add a cover for your reel from your gallery.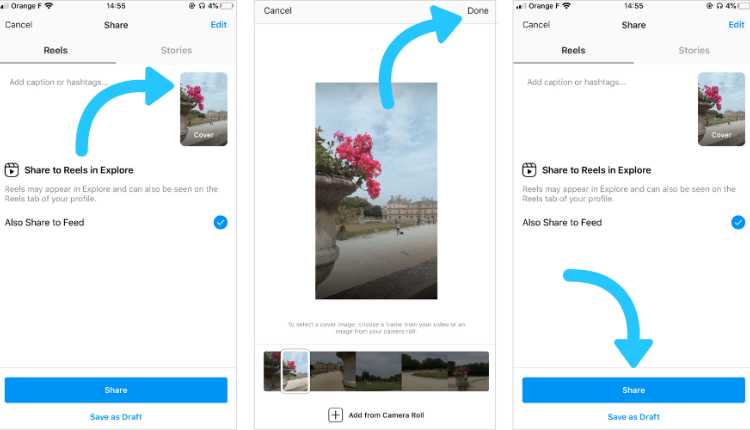 8. Now it's time to share your creation! Post your Reel to your Instagram story or page or add the Reel to your drafts and keep working on it later.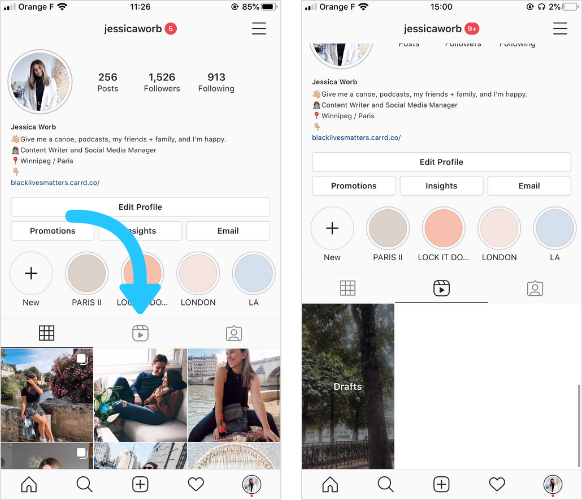 If a Reel is saved in your drafts, you can see it in the Reels tab on your profile. If you have already shot a video on your phone that you want to turn it into a Reel, here's how you can do it:
First, open the Instagram app.
Swipe right to open or tap on the Instagram camera and then choose reels at the bottom.
Swipe up to find your camera roll and select the video you made and trim it if needed.
Edit your reel by adding audio, music, text or other effects.
Post the video on your Instagram profile or story, or save it as a draft.
Instagram Reels was the feature first to be tested in India after Tiktok was banned here. It was then tested in Brazil, Germany and France. Instagram Reels is the latest way to build your community and increase your reach on Instagram. It's a fun, and delightful way to share viral (and creative!) Reels with your audience. Even in its initial stages, Instagram Reels is proving to be a platform where both creators and brands can make waves. If you have already been using Instagram for your business, then Instagram reels it may be worth giving a try. If TikTok's hike to popularity is anything to go by, then Instagram reels may be worth getting in on the action, and quickly!
Here are three techniques you can use Instagram Reels for your marketing strategy:
1. Create Original Content that is relatable to Your Audience
When Instagram Stories was launched in 2016, only some could have predicted just how successful the fun and informal transitory format, it would prove to be. If Instagram Stories is to be compared, Reels could be even bigger. Instagram Reels are created to be fast and fun and are packed full of special features that make creating alluring and authentic content seriously easy. This provides a great chance for businesses to show a more relatable, less picture-perfect side, which can be great for building authentic relationships and strengthening community. Instagram spoke with Chriselle Lim ("Rich Mom" on TikTok), and she explained a lot of her Instagram followers didn't even realise she was funny until they saw her on TikTok. In short, you just need a platform to showcase your talent; it can be either TikTok or Instagram; all you will just need to slide to your Reels tab and what's even better? You'll engage a whole new audience doing so. Your Reels will appear on users 'Explore pages' where they'll be able to tap the follow button at that instant.
2. Post Educational Content
Sharing educational content is a great idea to start, you can give your followers your travel tips, tutor them how to get the perfect photo, or show them how to style clothes in different ways For e.g. a Paris-based food studio, the social food. They only posted a few Instagram Reels, but they soon found their niche: sharing recipes with their own products where they also shared the recipe in the caption with several hashtags.
3. Endorse Products
Instagram Reels is a huge platform for businesses and brands looking to drive awareness and increase sales from them Especially since Reels was introduced on the Reels Explore Page, viewers who don't follow you will also see your huge content! And, while we don't have much idea how the Instagram Reels algorithm works just yet, it's a great idea to use hashtags and illustrative captions to let Instagram know what you're posting about. New to Reels with only a few videos, Jonak Paris, a french footwear organisation, uses Reels to promote their new summer collection in a fun, creative way.
Tips for using Instagram Reels:
When you post Reels featuring certain music, effects, hashtags your video may also be shown on dedicated pages whenever anyone taps on that song, effect or hashtag.
Reels are meant to be humorous, creative, genuine and most importantly, enjoyable. A perfect Reel would be a 15-second video that:
Makes my day – Unique Videos, make people laugh and timely.
Makes me want to – watch the clip again, post it and make a new Reel
The content must be reliable, relatable, inspiring and responsible.
Note: If you want to reach a vast audience through Reels, you should have a public account. If you have a private account, then even though you can share your Reels on your profile, Stories so your followers can see them. However, they will disappear after 24 hours.
So what will this new feature Instagram Reels mean for businesses and brands on Instagram?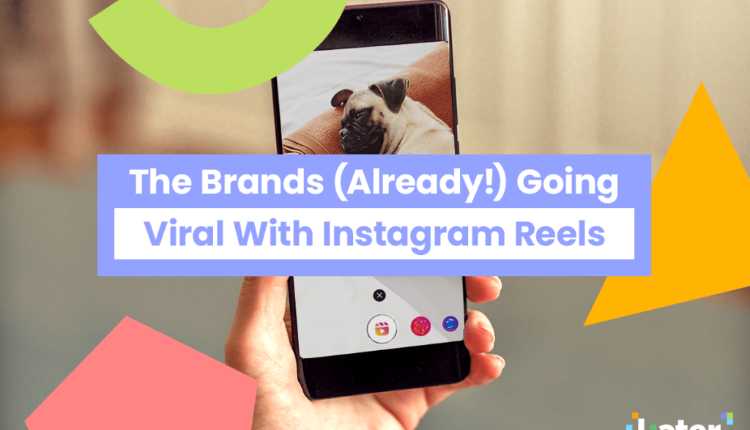 When Instagram introduced Instagram stories in 2016, there were around 150 million users. Now, almost four years later, with over 500 million users use this feature every day. If this is any indication, it seems like Instagram Reels has a bright future ahead.
It's a fantastic decision to jump to Instagram Reels early. At the same time, competition is low with TikTok, especially since Instagram could be giving extra importance to get the feature off the ground.
Creators and brands have already starting to use Reels to promote products, and this is only the beginning! Similar to TikTok, brands will grab this opportunity to partner with social media influencer's to make branded Instagram Reels.
Now, users can use only a select number of GIF and stickers on their Reels. But, as the Instagram reel users increases and after giving their feedback, we can hope to see a lot of Instagram Stories' features released for Reels, similar to swipe-up links and shoppable stickers.
It will not only be a platform for brands and businesses to share their unique content, but it will also be a way to endorse their products. Similarly to how sponsors can place adverts between Instagram Stories, we anticipate the advertising ways will be quite similar. Instagram Reels may also be another way for brands and businesses brands to acknowledge their Instagram community better even further. Currently, the only analytics included for Reels are view count, comments and likes. But, similar to TikTok and Instagram Stories, we hope there to be in-depth analytics for Instagram Reels feature in the future. Whatever your business or brand, there's a creative window waiting for you.