Welcome to Isrg Knowledge base (KB). In our article we will guide you on how to install C++ and C compiler on your Apple Macintosh iOS Machine.
Download C++/C Compiler for Apple Mac OS X
Download the latest available Eclipse Compiler from eclipse.org/downloads/ for your OS X.
Go to eclipse.org/downloads/ and select Operating System type from the drop down option located in the right top side (as shown below in the image)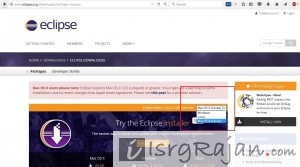 Alternative to this you can follow the direct link eclipse.org/downloads/?osType=macosx to download Eclipse for Mac OS X
Find "Eclipse IDE for C/C++ Developers" option once you select Operating System
In the right to the Eclipse IDE for C/C++ Developers, click on 64 bit
Once you click on 64 bit, the page redirects to the download minor page
Click on the Download button located in the left of the page
Once you click on Download button, the Save option pop-ups.
Click on OK button to save and wait until it gets downloaded.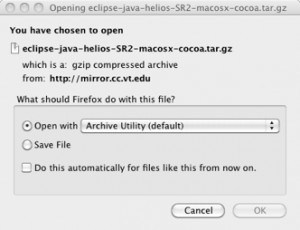 Installing C++/C Compiler on Apple Mac OS X
Once you finish with downloading the Eclipse compiler for Apple Mac OS X
Go to the Download folder (which is the default download folder)
Double Click on the downloaded file and you will see a folder named, Eclipse
If possible extract the folder by dragging to the desktop or within the scope of the download folder.
Now launch the Eclipse and grant the permission by Clicking on "Open"
Select the installation location or leave it as default and click on "OK"
Once you confirm by Click on Ok button the main installation window appears.
Now follow the general installation instructions to set-up.
Cheers! You have done.