Have you ever wondered about going against your destiny? Interfering with a trap that binds your whole life is something you need to have a thought before giving it a chance. It's like playing with a doll that can burst out at any time you never know. But if you follow the pre-signals of destiny beforehand, the chances are likely to have a peaceful and satisfactory life that could even surround you with surprises. But as our ancestors said and our parents still say that 'It's all in the planet's' proves to be true a couple of times in our life and then we realize that experience really counts.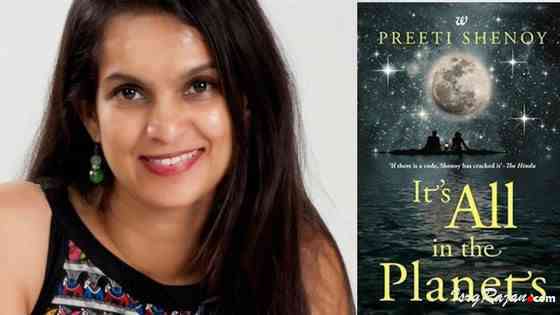 Preeti Shenoy in her book 'It's all in the planet's' come up with the above mentioned concept of destiny, planet's, happenings, relationship portrayed through a story of two people. Aniket, a boy of 27 happens to meet a girl, Nidhi on a train journey that leads to a conversation opening up many secrets and desires. Their destination is same. The meeting leads on to a situation where Nidhi who has quit her corporate job to follow her passion of writing and pottery, goes on to become the 'relationship coach' as well as 'fitness coach' of Aniket. The friendship eventually turns deep into love that they both are unaware of. These decisions set into motion a chain of events that eventually had an intense impact on the lives of all those characters revolving around Nidhi and Aniket.
The book does not give a touch of all those monotonous love stories caught up every time with the same plot and the drama. It's an unusual kind of story depicting how planets and destiny can take you towards something of which you have no idea or never dreamt of. It is also a mixed portrayal of intense feelings for someone leading to a certain situation that could either be paving a way for one's betterment or heading towards someone's end to life. It's a blind choice for the astrology lovers, destiny believers and the ones interested in philosophy.
Preeti Shenoy, with a gripping style of storytelling has done full justice to her work. Be it characterization or describing the intensity of emotions, plot structure or timing, she excels at every single step. Maybe we can say that it's like an old dish served in a new plate, but ultimately what matters is the taste that should be mind driving. The style through which she presents her theme and makes her reader's eye fixed is totally appreciated. Will Aniket move on with Trish and have a well settled life? Will Nidhi compromise with her passion and work to move on to a new place? Will Darshita Sen's predictions be making a way for Nidhi and Aniket and what turn will their life take? Well to reach out for the answers, give a reading into the 'It's all in the pants and gratify all your excitement. A pinch of suspense, a tinge of romance, bubbles of surprises are all you are going to experience with a cup of coffee, a comfortable couch and the book in hand.