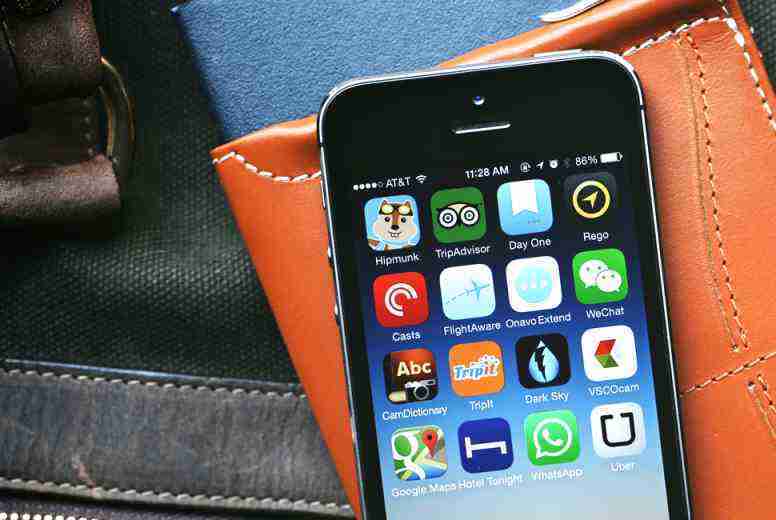 List of 15 useful Travel apps for your Travel within India and Abroad
Apps are now the part and parcel of life in the era of digitization as we can skip the long queue and can do everything by the blink of an eye, by one touch of a button. Travel is the most important thing which is mostly cover by apps and travelling business is expanding because of the more use of mobile application. From hotel booking to bus booking to car booking even the tour booking all can be done through apps.
So, it has got advantage as you can leave all your travel worries of where to stay, what to eat, and where to go all without bargaining. Also, here you can compare different prices of different airlines, hotels of various sites and book whichever is comfortable for you. So, just like the traditional method travelling will not need any months planning by booking hotel, railway or flight tickets etc. Now all the worries are solved only by touch of a button.
Here are the list of 15 useful travel apps which you just need to install in your smart phone and can go for a long holiday without any worries with family or friends and also useful for solo travelers who love to travel India and Abroad.
1. Yatra.com
One apps to take away all holiday worries as this apps can be used to book flights, trains, hotels, buses along with combination like hotel plus flight booking and choosing holiday packages, as this apps contains full holiday package tour of destination. So, this apps can be useful as it has both International and domestic trips and also one can compare price of different flights available.
2. Make my trip
Another apps where one can book both International and domestic flights and can search for cheaper flights on a particular month or a particular day. Apart from comparing flights one can also find hotel or home stays, bus or outstation cab. Also there handpicked holiday packages to choose from. So, this apps can be useful when you are planning International or domestic travelling.
3. GoIbibo
One can use this apps both for International and domestic travel destination, for booking flights and can also avail the services like booking trains, hotels, cars or bus. In the go package offer one can choose combination of flight plus hotel staying. In the activity section one can find activities to do while travelling to any cities abroad. Another useful apps with combination of all facilities to ease travel plans.
4. Skyscanner
Skyscanner is best for booking flights, hotel and also car for International destination. Here also one can compare flight price while booking tickets. One can book flights of major international cities and also can find all travel information like weather, exchange rate, airport facilities, local transport and main sightseeing of the place where you are travelling. For a great international trip this apps is very useful.
5.Booking.com
One of the very easy and useful apps for booking hotels mainly for international destinations. For applying visa all you need to hotel booking and if you don't know where to stay in new city then booking.com is of much help. Main thing is one can book hotel without advance payments and you can pay after visiting the hotel. So, it take worries of where to stay while travelling abroad as this apps is most reliable, provide standard rooms. Also this apps has flight, car rentals and airport taxis.
6. Viator
Imagine you are visiting in city and not plan what to do in sightseeing or you have too much plan for sightseeing but don't know how much time it will take or what will be the cost be, or you are not finding reliable agent in a new city. So, in viator you can book a whole trip or sightseeing and the fare is also given there. So, you can book according to your budget, time, and preference like cultural tour, cuisine tour, city sightseeing or combination of many tour.
7. Tripadvisor
Here also you can book International flights, hotels etc and search for other things like sightseeing and restaurant in the new destination. Here one can read review ratings and can ask query in forum regarding travelling. So before visiting to any location be it India or abroad one can get to know about whole city and get idea how to visit, where to see, what to see along with many other information.
8. Oyo Rooms
If you are travelling with family and want a safe room then oyo apps is most trusted, reliable and safe, mainly for family and loved ones. But this is mainly for Indian cities. Oyo rooms are mostly secured and with all facilities like AC, Wifi, parking, laundry, tv, etc with complimentary breakfast. So, one can easily travel with any cities with their family and friends and book rooms with the help of this one.
9. Uber
Uber is used in India as well as over 600 cities around the world. So, before visiting any cities you can check the uber service there and can use uber to go to any place as the estimated price is always shown on the apps, so you can have idea of fare in unknown city. In our country too uber is widely used mostly in cities and one can share pool service to reduce the cost by sharing with others.
10. kayak
For international destination and for booking flights from one cities to another during International travel kayak is useful. Apart from booking flights, kayak has option like booking hotels of different cities including India. Kayak has other service like car rental or flight plus booking hotel etc. Also one can see guides of tour, like which places to visit in particular city is given in apps. So, one can use this apps for travelling.
11. Redbus
This is the most reliable booking bus and car for India. It has various location to choose from, where you can choose your own seats and book as per convenience.  Apart from providing bus service, redbus can also be use for booking hotels. There are different types of car to choose for for outstation travel. It also got pilgrimage services to the famous pilgrims destination from different cities of India.
12. Trip Lingo
First of all travelling to a new city need lots of passion to explore the city. Apart from flight, train, hotel, car we also need to communicate with local. Trip Lingo can be used for some basic local phrase to the people of different countries to interact with them. So apart from planning trips and sightseeing it is also needed to download some basic phrase apps for travelling to international destination.
13. Expedia
Expedia is another reliable and trusted apps, so when you are in abroad or travelling to other cities or other countries in international destination you can use this apps. It has flight booking, hotel, car etc. Also it has several activities or things to do list while visiting an international destination. So one can easily get an idea of their tour beforehand and can plan accordingly during the travel.
14. Yelp
Although not available worldwide but if you need home service, doctor, food, especially when in European countries or in US, this apps can be helpful. Particularly in new city, where you suddenly need doctor, laundry, salon or for online food delivery yelp can be help. Also, before travelling to a new country check if yelp is providing service in those region and that would be helpful.
15. Google Maps
Last but not the least, always use google map to see the distance and the route. It is better be safe beforehand also when you are enjoying out in unknown city and have to reach home maps can be helpful. Also it help to see distance between sightseeing, hotels to airport, and to keep track with congested route, shortcut route etc. So google maps is must used during travel.