About CES
C.E.S is an acronym for Consumer Electronic Show, a global trade show held annually at Las Vegas, United states in the starting month of the year displaying the technological  innovations and advancements of various consumer electronics that will be invading the market for the year, in other words we can say that its a time for the gadget extravaganza .It was started in the year year 1967 in New York and has been providing innovations and technology a break through for the past 50 years. CES is a stage where not just the tech giants but even the startups comes up with their innovations on consumer electronics. A global stage where next-generation  innovations in audio,drones,gaming,Augmented and Virtual Reality(AR &VR),vehicle technology,wireless device ,wireless service ,Digital health ,Wearable devices  and many more are introduced to the marketplace.This year the event is starting from 9-11 of Jan. Las Vegas United States. Through this article i would like to share the Next Generation Innovations   in the Display sector at CES-2018
The Rollable TV
LG Display unievls 65-inch OLED Rollable TV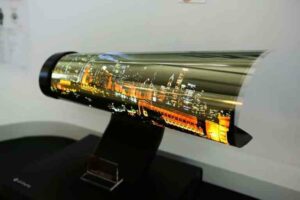 This might sound crazy,but its true LG has been long  innovating itself in the television field but this time the technology is better  like never before .The Korean display giant has come up earlier with an OLED which was just 2.85 mm thick and a couple of years ago an 18 inch OLED TV that can be rolled .But this time they came up a 65 inch OLED TV prototype that can be rolled up like a poster .This Flexibility allows you to easily store and transport by rolling it up like a poster or a newspaper .As the LG'S  images depicts ,it is controlled by a remote and is seen descending into a box and disappears so the mechanism of rolling the display lies inside the box.The technology used is Organic Light Emitting Diode (OLED) providing the best picture quality
THE WALL
World's First Modular TV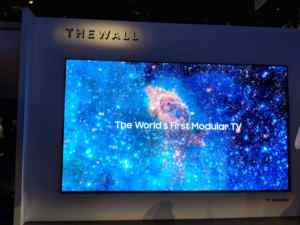 Television always reigns CES the previous year shows has been a proof for that ,but this time the Korean electronic giant has come up with a 146 inch gigantic screen called The Wall ,whose name is actually very appropriate for it to be called so, as it measures 146 inch diagonally .It is also the worlds first Modular TV which means the users can change or customize the size of the TV  making it bigger or smaller as per their convenience  by changing the module, with zero impact on the display and thus removing the previous  limitation on screen size . Unlike LG display which uses OLED , Samsung uses MicroLED'S , and this MicroLED technology gives you an amazing watching experience without the use of backlights, where in comparision with traditional LED'S and LCD based TV which uses liquid crystal layer  and LED backlights,  and the use of backlights makes it difficult to produce deep black as their illumination spills beyond pixels they are targeted at .But this year Samsung has come up with Micro LED'S, which is an array of million of LED'S providing bright picture without the need of a backlight, and an ultimate viewing experience to the users.The price of THE WALL has not been released yet, i believe  that i would be a whooping amount .
TV that uses Artificial  Intelli

gence
With launching the worlds first modular TV Samsung has also came up with a display technology that uses Artificial Intelligence which is an 85 inch TV providing a resolution of 8K  and uses QLED .The  futuristic thing about this TV is that it can adjust the screen resolution based on the characteristics of each scene thus taking the resolution from low to as high as 8K  depending on the content of the scene.This 85 inch with a resolution of  8K incorporates with AI  in order to upscale the resolution upto 8K, which uses a proprietary algorithm to produce clear and pristine viewing experience for the viewers.It also includes new features such as Noise reduction, sound adjustment for different content such as Sports Music Concerts.