If we could become a detective simply by binge-watching various murder mysteries, then we could have Sherlock Holmes everywhere. In general, we do spend a lot of time watching fictional crime dramas investigating case after case. You would agree that there is nothing more satisfying than deducing who did it and putting the pieces together.
What actually makes a crime-thriller? Isn't it the mind-blowing revelations and plot twist, there is always an unusual kind of escapism in unfolding a dark murder mystery.
All of the crime thriller TV shows with their enticing storylines and tons of mysteries are exceptional brain teasers. So if you are looking forward to sharpening your detective skills, then here is a list of heart-pounding crime thrillers that will give your brain a workout.
1. Sherlock (2010-2017)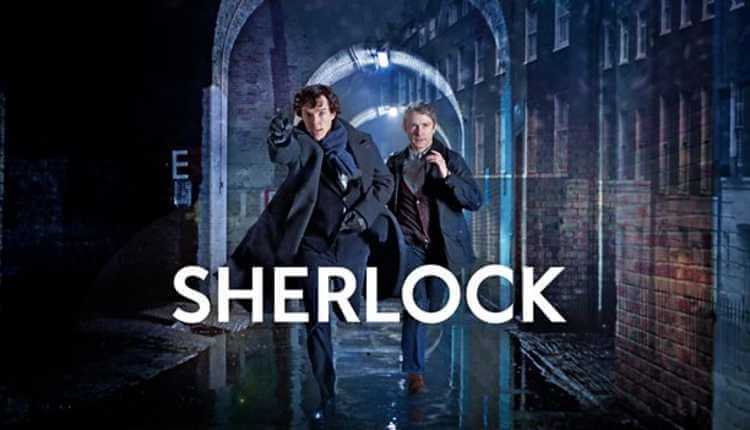 If you have not watched this 21st-century reincarnation of the famous detective, then you have missed the boat. "Sherlock" is a BBC mini-series with four seasons released, is based on the books written by a Scottish writer, "Arthur Conan Doyle," which was released in 2010.
This mystery drama is the modernized version of the world's well-known detective. In this contemporary version, popular private detective Sherlock Holmes played by Benedict Cumberbatch, and his friend, the military doctor John H. Watson Martin Freeman is Located in London. Sherlock Holmes, a strange but charismatic genius who works as a consulting detective to Scotland yard, meets his new flatmate Watson, a war hero, and soon they become close friends and detective partners. As soon as Dr Watson moves into Baker street flat with Sherlock, they find themselves embroiled into crime mysteries, where they soon find out that sherlock's nemesis Moriarty has a hand in it.
All in all, Sherlock remains a triumphant vision of a modern-day Sherlock Holmes. Holmes's quick deducing skills keeps the viewers guessing why so many people can't tolerate such a brilliant man. It is an absolute must-watch for everyone who enjoys watching crime and thriller series.
Don't miss the 20 Hollywood Movies to watch during the homestay and lockdown.
2. The Mentalist (2008-2015)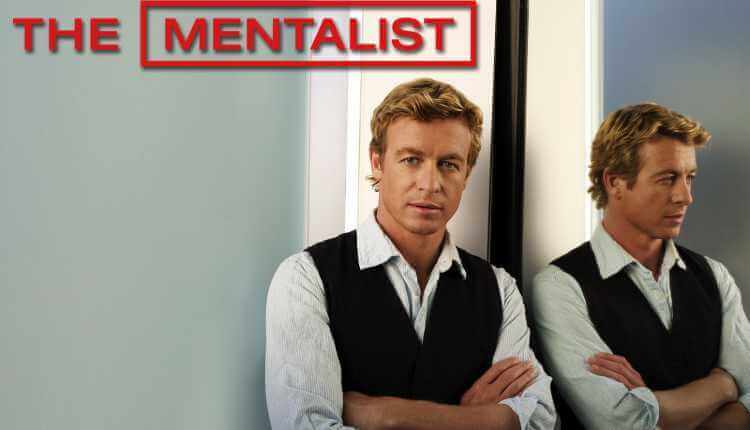 If there were someone who could make you believe in magic, it would be the charismatic and intriguing Patrick Jane. This is an American police crime/mystery television series that ran from 2008 to 2015 with seven seasons on CBS.
The series revolves around "psychic" Patrick Jane, played by Simon Baker, an independent consultant for the California Bureau of Investigation(CBI) based in Sacramento, California. He helps the CBI to solve crimes with his keen observational skills. He can deduce facts about people and read their minds. Patrick Jane's main motto to enter the CBI and help with the cases is to track down the deviant serial killer Red John who brutally killed his wife and daughter.
The show is named after the lead protagonist, and he promptly delivers well. He is fascinating yet gritty, nonchalant yet brilliant, reckless yet vulnerable. The Mentalist, just like Life, is not a Puzzle to be Solved, but a Mystery to be Lived. The Mentalist is one the best show for any fan of criminal shows, and a must-see for those who enjoy the thriller genre as well.
3. Mindhunter (2017)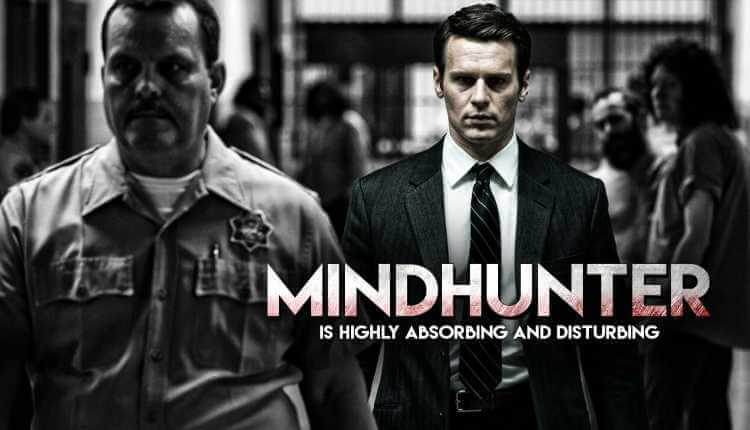 Do you know what makes Serial killers tick? What are their reasons for such maniac acts? Do you want to know? Mindhunter took the world by a storm when it was released. It is based on a real crime book Mindhunter: "Inside the FBI's elite serial crime unit" written by John E Douglas and Mark Olshaker.
The series revolves around two FBI agents, Holden ford played by Jonathan Groff and Bill tench, played by Holt McCallany along with a psychologist Wendy carr played by Anna Torv, where they set up interviews with the most notorious Imprisoned serial killers to understand their psychology. They dive deep into serial killers' minds and figure out their motives and what led to such maniac acts. They utilize the knowledge and information gained to catch potential and deviant killers on a spree.
Mindhunter is a series where each character leaves an enduring mark on your psyche, and since it is based on reality, it gives you an atrocious satisfaction each time you finished watching an episode.
If you like TV shows with great scripts that focus on chronological psychological investigation and have a sort of moral failure versus mental affliction vibe, if you are interested in serial killer hunting stories, then Mindhunter is the one for you and is highly recommended.
4. Criminal minds (2005-2020)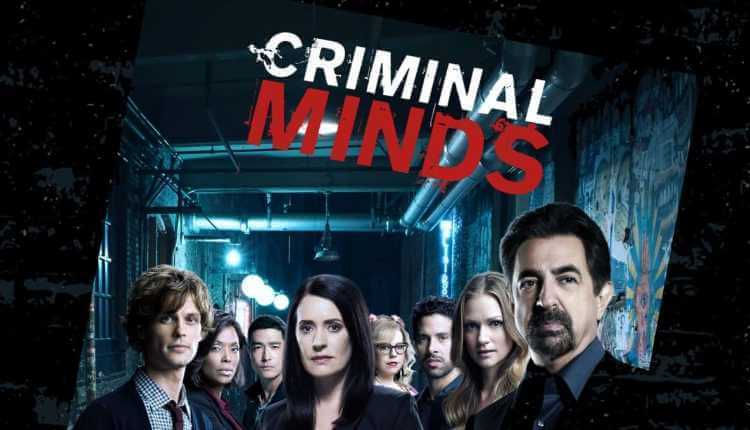 If watching a criminal profiler solve crimes is your catch, then this is the perfect show for you. This show is based on real crimes, isn't this interesting?
Criminal Minds is an American police crime thriller television show by creator and producer Jeff Davis. A team of profilers chasing the most dangerous and insane criminals. Criminal minds started it's the first season on CBS in 2005 and concluded its final 15th season on 2019. The story follows around a group of criminal profilers working for FBI(Federal Bureau of investigation ) using behavioural analysis they study the most dangerous killers to predict their next move to stop them from hurting innocent people.
This is yet another show that will have you gripped to your seat. Another unique twist, where you will think that you have figured out who is guilty, but the show will take another surprise turn, and you have to try and deduce who else could be the culprit. If you want to start a new show in this genre, you will love criminal minds.
5. Breaking bad (2008-2013)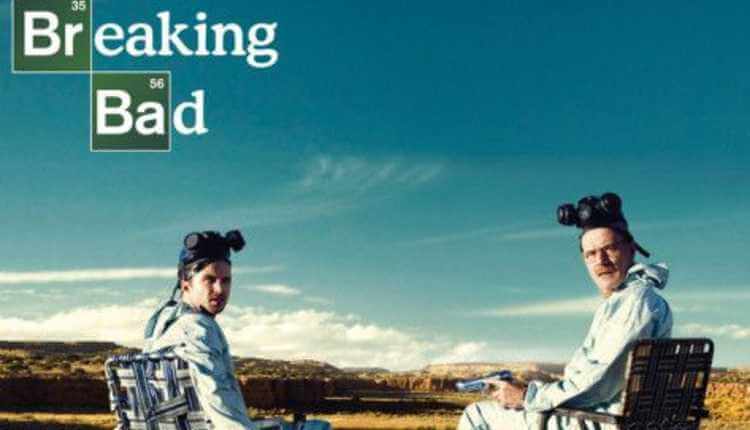 Do u remember how we used to take a short nap during our chemistry lectures to avoid the complex chemical formulas? This show might change your mind as it shows how chemicals can change your Life.
Breaking Bad is an American crime mystery TV Show by creator and producer Vince Gilligan. The show aired on AMC channel from 2008 to 2013, comprising of five seasons and is the most awarded television show of the 21st century.
Breaking Bad starts, it's a story by introducing us to the main character Walter White played by Bryan Cranston who's main duty and purpose of life is to take care of his family. He works as a chemistry teacher at a high school where his abilities and potential are not recognized, and soon he is diagnosed with lung cancer. To secure his family's future, if he dies, Walter along with his former student Jesse Pinkman team up to produce and sell drugs, and they soon discover they can earn a lot if they keep producing crystallized methamphetamine.
Once you are finished watching this classic, watch it again because there is so much attention to detail that you can't pick up on in your first watch. If you haven't seen Breaking Bad yet, do yourself a favour and experience this once in a lifetime masterpiece.
6. The Wire (2002-2008)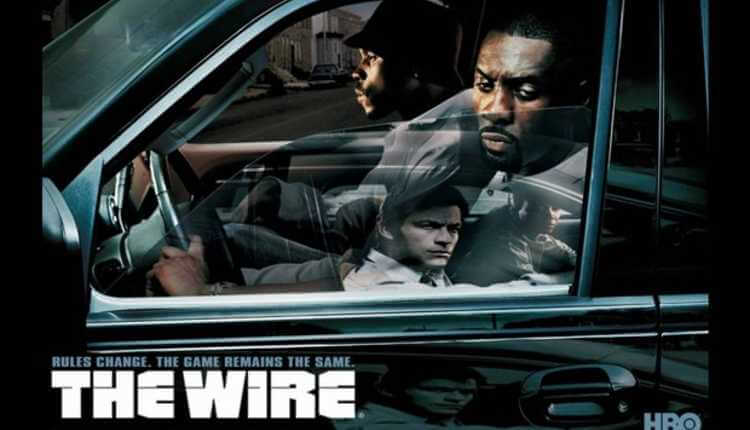 The Wire, a Baltimore based series broke new mould which led this series to a must-see genre. The Wire is an American crime tragedy show which is created and written and created by author and antecedent police reporter David Simon. The Wire is appreciated for its intellectual themes, its uncommonly precise exploration of society and politics, and its realistic portrayal of urban Life.
The Wire's story is in the city of Baltimore, and it's about the gradual fall of Baltimore city, about the senseless wars on drugs, the bureaucracy and corruption that affect both the police force and drug-dealing gangs, class discrimination against the labour unions, and the city's dysfunctional public schools system. And it's all unveiled through the perspective of law enforcement and drug dealers. As the story goes, you'll come across many plot twists.
The Wire is about what institutions-bureaucracies, criminal enterprises, the cultures of addiction can do to ordinary people "The Wire" is one of the best, engrossing classic struggles between good and bad. The exciting part is trying to deduce who it is. This series is a must-watch if you want a reality check.
7. Dexter (2006-2013)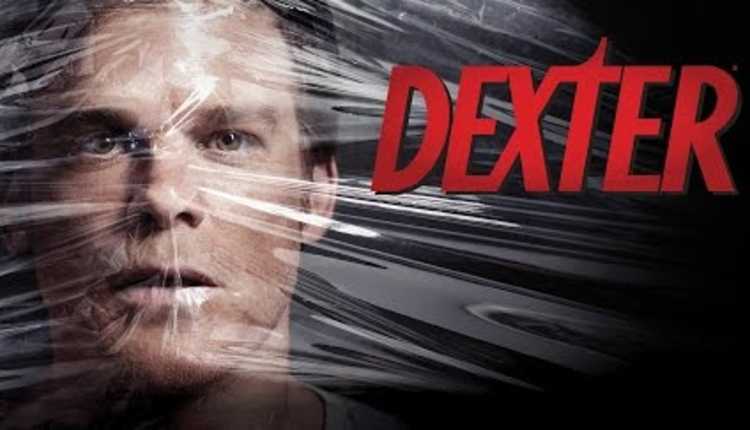 When it comes to serial killer shows, there's nothing as intricate and persuasive as Dexter. Dexter is an American psychological crime mystery television show which was adapted as a show by screenwriter James Manos Jr. which comprises of 8 seasons which aired on CBS
This series centres on Dexter Morgan, played by Michael C. Hall, who works as a forensic lab expert for the Miami Metro police department, helping the police department find criminals. As night takes over, he becomes a serial killer who narrows down a victim from the pool of criminals who have escaped the justice system. Dexter is an extraordinary insight into the mind of a serial killer protected by his occupation and who serves justice by killing the murderers at night. Dexter enters every week with a new sociological dilemma as well as a new killer to annihilate.
Dexter is a masterpiece with entertainment at it's best but definitely not for the weak-hearted. It will keep you hooked after the first episode.
8. The Sinner (2017)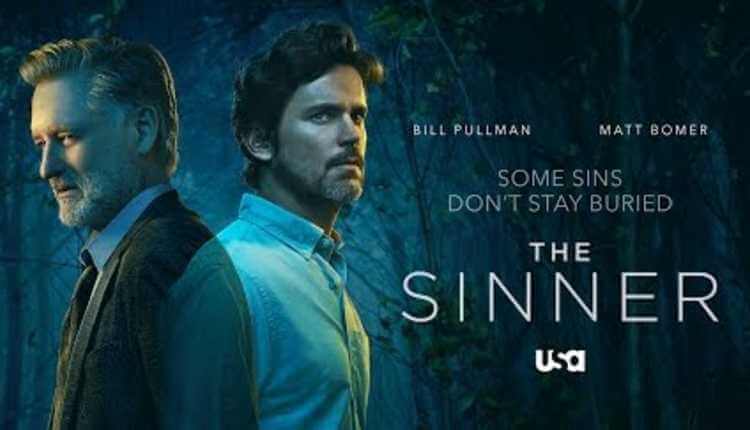 Unlike most detective series, The sinner doesn't focus on who did it. But the why, the reason behind it, it is another anthology thriller mystery series for USA network by Derek Simonds. The series is named after Petra Hammesfahr's 1999 novel, and the first season is based on it. Initially, there were two seasons, but the latest season i. e. third season was released on June 2020.
The show goes around Detective Harry Ambrose (Bill Pullman). He investigates brutal murder cases and tries to analyze the reasons behind ordinary people committing such atrocious crimes and unfold the culprit's motive behind it. Detective Harry Ambrose has his dark secrets that he has to battle with while finding the truth. This show, "The Sinner," is undoubtedly a slow-burner, It brings to light some significant questions that many people may not understand regarding mental illness, human nature, and the intent to find the truth in all of its ugly glory.
The show is one of the best psychological thrillers. The ending is realistic with unpredictable climaxes that will keep you craving for the next season.
9. White Collar (2009-2014)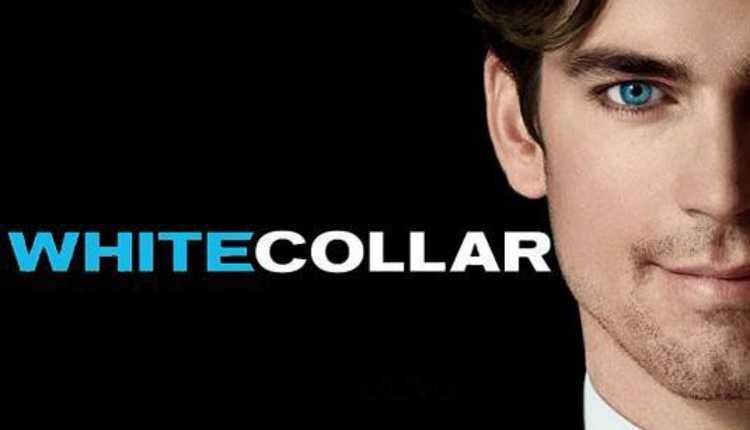 There is saying "To crack the hardest crimes, hire the smartest criminals". White-Collar is a police drama television series by creator Jeff Eastin premiered on USA network television. What should we do with an amazing criminal mind wasting away his intellect by escaping a high-security prison? White-Collar will answer this question. This show features Matt Bomer as Neal Caffrey a brilliant and multiskilled con artist who has to help an FBI agent Tim DeKay as Peter Burke, where Neal provides his expertise to catch other elusive white-collar criminals in exchange of his freedom.
The show is based on the concept of cons, so each episode individually conned you, and will lead up to the end of the season, for one big con. And then in each season, it will get more complicated. Overall one can watch it for its wits, unpredictability, complex cases that the FBI has to solve with, it is a Highly Recommended show, and you will definitely become devoted to it.
10. Broadchurch (2013-2017)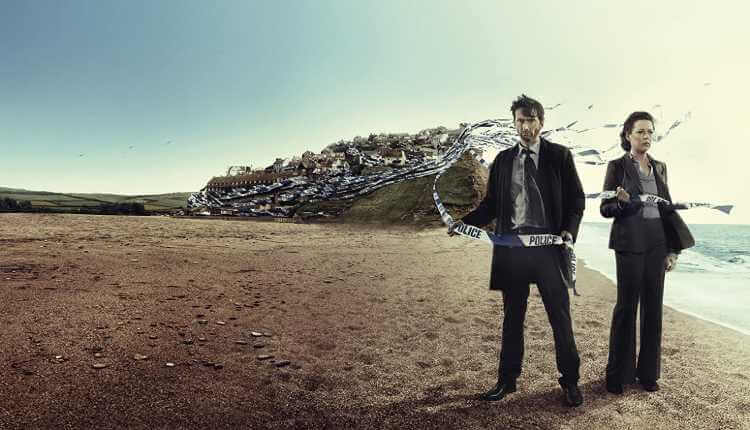 Broadchurch has all the elements to make a compelling crime mystery. Broad church shows how gruesome crime can affect a small community. Broadchurch is a British crime series created by Chris Chibnall and produced by Kudos Film and festival. It was first broadcasted on iTV, which consists of 3 seasons.
Broadchurch series is a story of 11-year-old Daniel Latimer, who is found dead on the beach by the authority in the town of Broadchurch, which makes the close, tight-knit community fall apart. The question soon arises Who would kill such a young boy, and why? Where two investigators are given this case where they have to work together and figure it out. The death tears apart the community as they start doubting the family members and former friends, and many secrets are revealed of the people in the town.
Overall, Broadchurch is a pleasing yet heartbreaking show that will make you grateful for your family and loved ones, and you will look out for them. The broad church is very voracious and moving Hollywood series that you will love.