Growing up or even as an adult, everyone desires to go on vacations to foreign countries, meet new people and explore different cultures. But for most of us, it always remains a dream. The Indian rupee's value is less than dollars or euros, which is why going on a vacation abroad seems impossible. People assume they have to save their entire life savings from planning a holiday abroad and thus cancel the whole plan in their mind.
Most Indians end up settling their dream vacation only within the countries' boundaries (no doubt India is extremely gifted by Mother Nature), putting a stop to their dream vacation abroad.
To make your dream come true of travelling abroad, here are the 10 cheap countries to travel from India without worrying about your budget going over the top:-
1. Thailand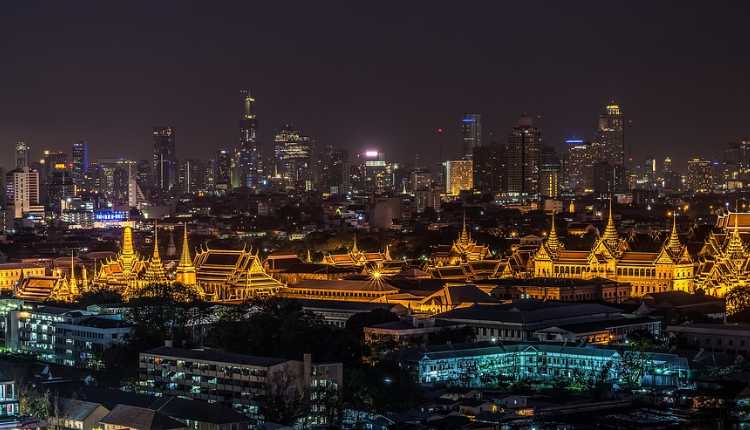 The country of Thailand is one of the most popular tourist destinations in the world, especially for Indians. The country is known for its tropical islands, golden temples known as Pagoda, shopping streets, and cheap street food varieties. The country is also famous among the tourists for the most exciting nightlife and adult entertainment in the whole of Asia, filled with pubs and bars in every street and corner. While for the entertainment of the kids, a number of wildlife safaris are available. The capital city of Bangkok is the most popular. Some of the most popular tourist spots in Thailand are Phuket Island, Phi Phi Island and Pattaya.
Visa on arrival facility is available for Indians, so you don't have to worry about the visa clearance as the visa facility is available at the airport. The cheapest flight from India to Thailand is from Netaji Subhas Chandra Bose International Airport (Kolkata), costing only around Rs 5000. Hotels are cheap too; in Thailand, a  three-star resort can be booked in less a 4000 rupees. The local currency of Thailand is Baht, where 10 rupee is equivalent to 4 Baht.
2. Nepal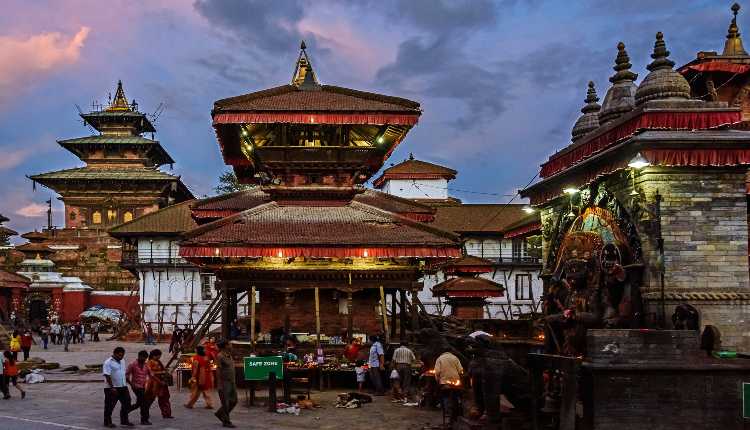 Nepal is the neighbouring country to India and shares borders with many India states, including West Bengal, Sikkim, Bihar, Uttar Pradesh, and Uttarakhand. It is located in the beautiful Himalayan ranges and is the home to the world's highest peak, Mt. Everest. Thus, you are sure to get stunning views of the snow-capped mountains and enjoy the dense forests and reserves' greenery. It an excellent place for mountaineers who love going on treks as the country has many beautiful excursions to offer. Culturally and religiously, India and Nepal have a common tradition include a belief in Hinduism, and like India, Nepal also has a rich heritage. You can visit the famous temples of Pashupati Nath as the country is the most Hindu dominated country in the world. Lumbini in Nepal is the birthplace of Lord Buddha and some of the most beautiful monasteries.
Nepal's capital is Katmandu, where you can get some of the exceptionally talented crafters and handicrafts. Pokhra, Chitwan and Manang Mustang are some of the highly visited places in Nepal apart from Kathmandu. Passport and visa ain't required for Indias to visit Nepal, but you should carry a valid government-issued ID proof like a Driving license, Voter ID card or Aadhaar card. Bus, flights, and trains are available from India to Nepal. Also, some tours and travel agencies offer taxi services. Accommodation, hotels and travelling are cheaper, compared to India. Nepal's local currency is Nepalese rupees, whereas 1 Indian rupee is equivalent to 16 Nepalese rupees (approx.)
3. Sri Lanka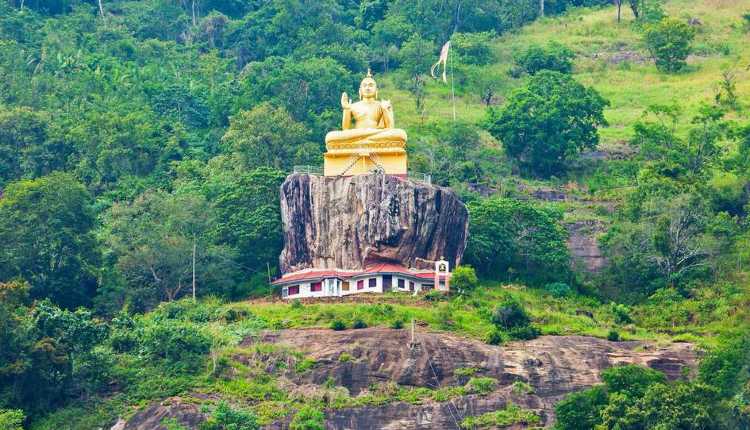 Sri Lanka is one of the world's island countries, formally known as Ceylon, shares a maritime border with India and Maldives. The country is known for its vibrant historical-cultural relation with India. According to Hindu mythology, Ramayana, Sri Lanka, was the home of the demon king Ravana. The Rama, incarnation of Supreme God, Vishnu, killed the demon king Ravan and return to his home, Ayodhya.
Sri Lanka, one of the greenest places on Earth, has a vast range of forests famous for its wildlife. The country is known as the Pearl of the Indian ocean for its beauty. Some of the famous tourist destinations of Sri Lanka include Sigiriya Fortress, Yala National Park, Ram Setu, etc. For Indias, it is effortless and quick to get a visa to Sri Lanka. The cheapest flight from India to Sri Lanka is available from Chennai International Airport, costing around 3000 rupees. Accommodation is also cheaper in the country, which will cost less than 1500 rupees per day. The local currency of Sri Lanka is Sri Lankan rupees, where 10 Indian rupees is equalled 25 Sri Lankan Rupees.
4. Myanmar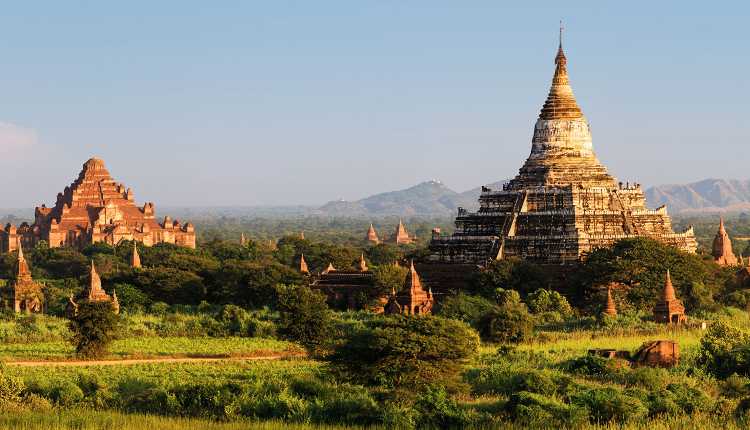 The country of Myanmar is famous for its magnificent temples and natural resources. It is also popularly known as the Golden Land. Earlier, the country has isolated itself from other countries, including its neighbouring countries, but the country has opened its gate to the tourist in recent years. Some of the famous tourists' spots are Shwe Dagon Pagoda, Inle lake, Kyaiktiyo Pagoda, Ananda Temple and Sule Pagoda etc.  Even for Indians, a visa required to visit Myanmar, which isn't difficult to get. You should also be aware that you can enter the country only through certain specific airports, including Yangon Airport, even with a visa. The air tickets from Kolkata to Yangon would cost only around 6000 rupees. The local currency of Myanmar is Kyat, and 10 Indian rupees is equivalent to 211 Kyat.
5. Cambodia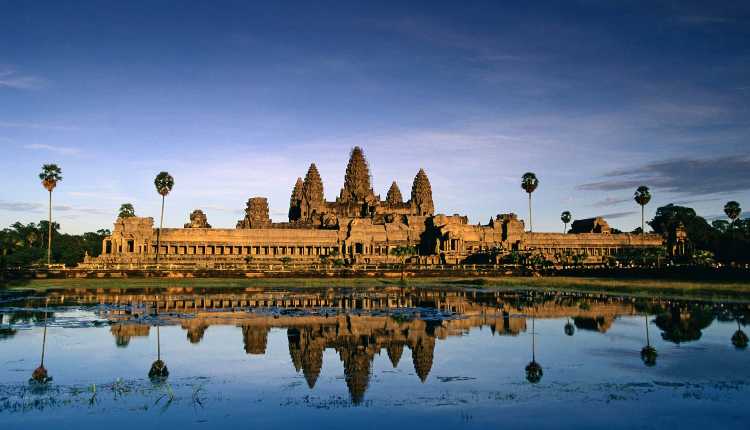 The country of Cambodia is situated near Vietnam and Thailand. It is another emerging popular tourist destination among the Indians. It has several tourist places, including the world's largest temple, Angkor Wat. The temple is dedicated to the Hindu supreme god, Lord Vishnu, built in the early 12th century. The temple holds great significance for the Cambodians as a mark of respect, represented in the national Cambodian Flag. Other than that, you can visit the National Museum, Royal Palace and beaches etc. Cambodia's local currency is Cambodian Riel, and 10 Indian rupees is equivalent to 564 Cambodian Riel. There are no direct flights from India to Cambodia, and has one-stop flight till Bangkok. The hotel's price ranges from 1500-3000 Indian rupees.
6. Indonesia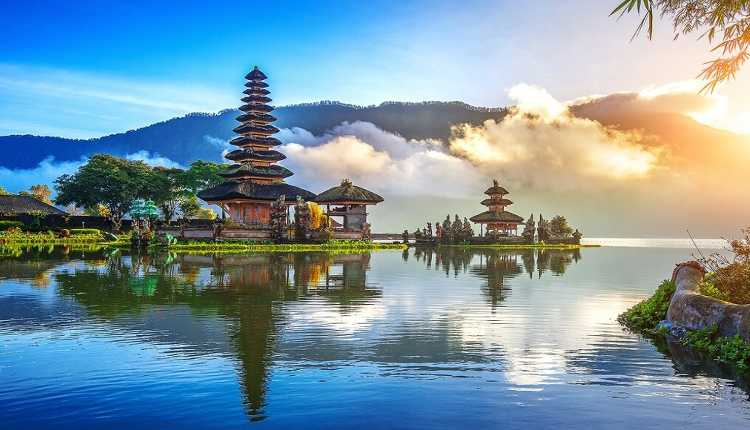 The country of Indonesia is another famous tourist destination known for its breath-taking natural environment. It is the largest country in South-east Asia and the fourth most populated country in the world. It is built by joining several small islands, and the most famous island of all is Bali. These islands have the densest forests, beautiful beaches and magnificent waterfalls. The country is known for selling a copy of luxurious good.
A visa isn't required for Indians if you are visiting for fewer than 40 days, but you need to get an exemption stamp from the immigration office. The cheapest flights from India to Indonesia is available with non-stop flight from Kolkata to Bali costing around 14000 Indian rupees. The local currency of Indonesia is Rupiah, and 10 Indian rupees is equalled to 1963 Rupiah.
7. Vietnam
The beautiful coastal country of Vietnam is known all over the world for its exotic beaches. The country also provides a variety of cheap street foods, including delicious seafood. The most popular tourist destination in Vietnam is the city of Hanoi. With only a three-hour boat ride from Hanoi, you can reach Ha Long Bay, one of the world's famous natural wonders. With big green limestone mountains surrounded by water on all sides, the view you get from the top of the mountains is speechless.
The capital city of Vietnam is Ho Chi Minh city. Direct flights are available from Kolkata to Hanoi and Ho Chi Minh city at an affordable price. The local currency of Vietnam is Dong, and 10 Indian rupees is equalled to 3230 Dong.
8. Bhutan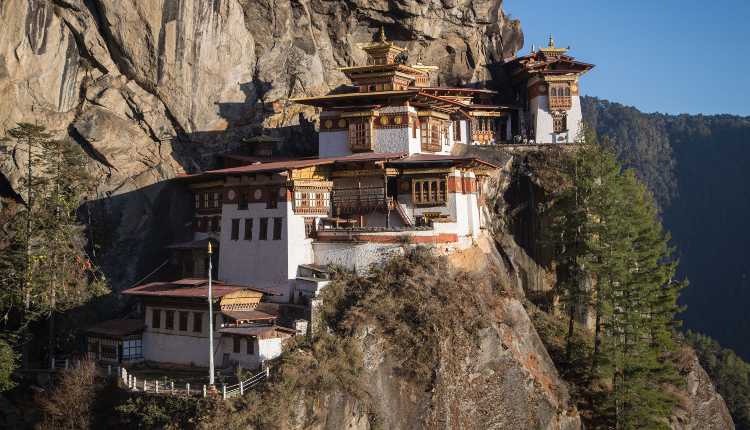 The beautiful green country of Bhutan is also known as the land of the Thunder dragon. It is the only carbon negative country in the world. It is a Buddhist dominated country and is the home to some of the most beautiful monasteries. There is also the royal place where the reigning king and queen of Bhutan live with their family. Some activities to do in Bhutan is to trek to Tigers' nest, the famous monastery built on a mountain edge. Other tourists destinations include Paro and Thimpu etc. Only two airlines fly to Bhutan, which is Brukair Airlines and Bhutan Airlines; as the world's deadliest airport is in Bhutan, airlines find it difficult to fly due to the higher elevation and high mountain ranges. You can also go to Bhutan by road through West Bengal and Assam.
You do not need a visa to visit Bhutan but need to make a permit and also need an identification card to enter. You can find a nice hotel for around 2000-4000 Indian rupees. Bhutan's local currency is Bhutan Ngultrum, and 10 Indian rupees is equivalent to 9.94 Bhutan Ngultrum.
9. Malaysia
Another important foreign country for the Indians in Malaysia. Malaysia's capital is Kuala Lumpur is a busy city with some of the most spectacular architecture, including Petronas Towers, popularly known as the twin tower. You can also visit the Batu cave, KL bird park and China town etc. A very famous spot in Malaysia is Langkawi, known for its beauty. Also, the Resorts World Genting has some of the best resorts and casinos in the world. The currency of Malaysia is Ringgit, and 10 Indian rupees is equivalent to 0.56 Ringgit.
The cheapest flight from Delhi to Kuala Lumpur would cost around 12000-20000 Indian rupees. Hotels will range from 2000-5000 Indian rupees. For Indians, very minimum documents are required to get a visa to Malaysia.
10. The Maldives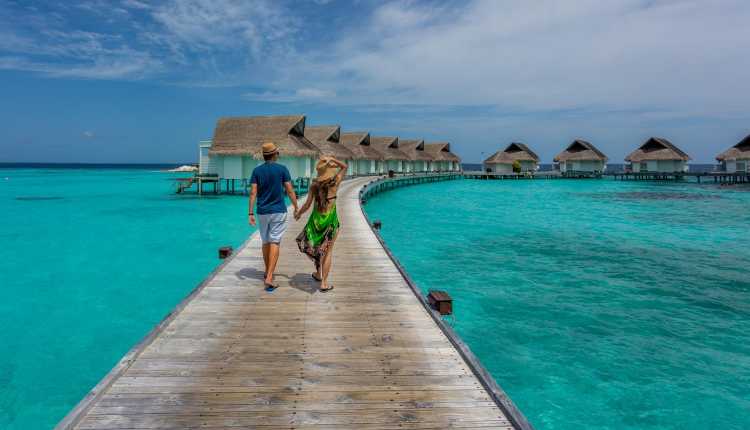 The most famous affordable honeymoon destination for Indias is the Maldives. A small country built with many small islands is located in the Indian ocean. It is world-famous for its luxurious water villas. The blue seawater and the white sandy beach are a retreat to one's soul. The whole country largely relies on tourism. There is only one main International airport, the Male airport, with speed boat and ferry facilities connecting the other islands. There are several adventure water sports available in the Maldives.
Accommodation is very affordable, and the cheapest flight from India to the Maldives is from Kochi, costing around 6000-8000 Indian rupees. The local currency of Maldives is Maldivian Rupees, but the US dollar is most commonly used.