Those who were waiting for release of Windows 10 very impatiently are now very excited with the launch of Windows 10 by Microsoft officials as on 29th July. Most of them have already ready to upgrade their windows to drive whole new world.
Most of people are still waiting for Windows 10 to get it automatically downloaded but some of "em have already downloaded it manually.
Download Windows 10 manually
Before you being downloading Windows 10, you should ensure that you have genuine copy of Windows 7 or Windows 8.1 (includes 8) and your hardware confirmation meets the requirement (See below for more). Once you confirmed that you have genuine copy of window, you can use Microsoft's Windows 10 Media Creation Tool  to download Windows 10. Use below links to download-
But one million question is that what are Windows 10 requirements? Well, we've brought Windows 10 requirement after digging all around on the internet. These are-
Windows 10 Requirements
There is not much difference in the requirement of Windows 10. It is almost as same as it was for Windows 8 and Windows 7.
Processor
1 gigahertz (GHz) or faster processor or SoC
RAM
1 GB minimum RAM for 32-bit version and 2 GB for 64-bit (recommended 4GB)
Hard disk space
At least 16 GB for 32-bits and 20 GB for 64-bit version
Graphics card
DirectX 9 or later with WDDM 1.0 driver
Display
Minimum screen resolution 1024×600
Windows 10 Features
1. Return of Start Menu
Those who missed start menu in Windows 8 and 8.1 can now feel happy with return of start menu in Windows 10 with slightly difference. Actually, it is the combination of Windows 8.1 and the old version with new look, style and award winning icons.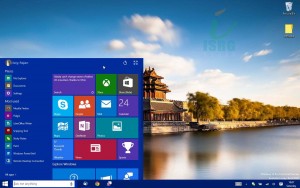 2. Windows 10 the last version
Microsoft has officially announced that Windows 10 will be the last version since the company has planned to release updates like Android, iOS does instead of launching whole new Operating System small to large updates will be released occasionally.
3. Project Spartan
Microsoft Edge alternative to Windows Internet Explorer will be integrated in Windows 10 under the codename Project Spartan. Microsoft has claimed that Microsoft Edge will be much more advance and yet the simplest one in terms of User-friendly.