Recently, during my visit to Bangalore to attend a seminar on my Research areas, I discovered a hidden monument in the city, which is not so much visited by the tourist, as it was very empty during my visit there only with a handful of local youth, who found it a very peaceful place to spend a lazy afternoon. Bangalore is a city full of high rise and technology park and well equipped with all modern technologies and facilities but Bangalore was once upon a time, was ruled by the most powerful  dynasties of South India, and the historical legacy is clearly visible in different parts of the city.
During my recent visit to Bangalore as solo traveler I was looking for a place to spend some of my time in and around the city as I was unable to go out for a long tour due to a busy schedule,  at this point of time, while searching on Internet, I found this monument called Bangalore Fort and decided to give it a try by visiting it on an afternoon.
Located amidst the hustle and bustle of the city, with no fancy gate or entry fee, this place almost stands as a forgotten monument in the heart of the city. So one can spend some quality time here and this place is must try for all those history and architecture lover or enthusiasts. I myself being a history lover found this place a great attractable by its mesmerizing architecture. In addition this place is a great spot for photography or photo shoot and unlike other place, there is not even a charge for photography. The mesmerizing things about this fort is the great Iron gate of entry. There is also a small temple architecture located in the entrance.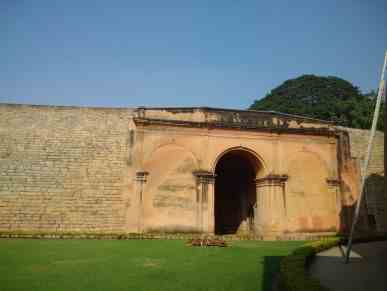 About the Monument
The fort was built in 1537 by the Kempegowda I under Vijaynagara Empire. Although the fort was originally built as a mud fort it was only in 1761, Haider Ali reconstructed it into a stone fort. The fort is now located in the New Tharagupet in Bangalore. The Bangalore fort also holds a glory of the great ruler Tipu Sultan as during the British Period this fort was a stronghold of Tipu Sultan.
How to get there — Direction & Location?
Bangalore Fort is well connected by roads and is only 38.5km from the Kempegowda International Airport of Bangalore. Bangalore Fort is about 9.6km from the Yeshvantapur Railway Station. Cabs are easily available in this location and the surrounded areas are full of market place and hospital.
Entry fee of Bangalore Fort
The important things about this place is that one can absolutely spend some quality time here without any entry fee.
Nearby sightseeing near Bangalore Fort
The Lalbagh Botanical Garden is located very near to the fort, so for nature or history lover the two place combo provides an enthralling tour. Also, as Lalbagh is a famous tourist spot than Bangalore Fort so during a visit to Lalbagh it is highly recommended to visit the Bangalore Fort and enjoy the glorious architecture from the pages of history absolutely free of cost.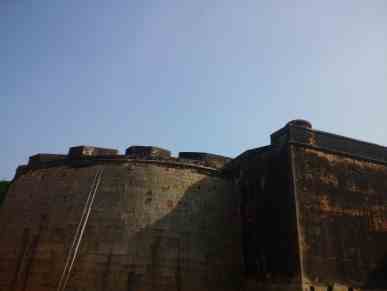 Lalbagh is located around 2km from Bangalore Fort. Another famous monument located just near the sight is Tipu Sultan Summer palace, which is around 450m from the Fort. Although both of this place have a very nominal entry fee and popular tourist destination in Bangalore, the fort can be enjoyed in absolute free of cost in combination with nearby sight seen.
Best time of visit Bangalore Fort
The best time to visit here during the winters, i.e., from November to February.
At the end I must add, don't forget to explore the hidden gem of any cities along with the popular tourist place and also don't forget our glorious past and marvelous architecture build by our forefathers in our country.