Online webspace has shown considerable growth in the recent decade and, this lockdown has a massive impact on the viewership of these web series as the statistics show 83% growth in this period. Cinemas were closed due to COVID-19 over the top platforms receive a higher viewership and also produced engrossing content even in the COVID-19 times that allows viewers to sit safely in the comfort of their homes and keep themselves entertained throughout the lockdown period.
These web series has come up in pace from 2019 as now youth population are driven more towards these type of genres it shows rather than watching movies. These web series presents drama stories, including real, fictional, romantic, comedy and, the most loved genre is CRIME and, are many web series that have come recently on this genre and attract many viewers. There are more than 100 Indian and Hindi web series one can watch to erase their boredom and view it easily on their mobile phones sitting in their comfortable place that plays a role in its prominence. Many-a-times person can get confused about which series to watch from a list of the lot.
This article lists the 6 popular Indian web series that will mesmerise you with their story and acting and make you clap in its appreciation. These are the best Hindi and Bollywood series to watch on Netflix, Amazon Prime, and Hotstar.
The 6 Best Hindi Web Series to Watch on Hotstar, Amazon Prime and, Netflix That Can Amaze you are:
1. Delhi Crime – Based on a Real Story
It is one of the best Netflix original web series that one can watch over the top platforms. It is also the international EMMY winning web series in the category of BEST DRAMA SERIES AWARD. It is covering the Crime and drama genre. Created by Richie Mehta and casts some amazing actors as Shefali Shah, Rashika Duggal, Adil Hussain, Rajesh Tailang, and many others. It is related to the crime incident in south Delhi that occurred on 12 December that disturbed the whole country.
The series gets praise due to its realness in the story, acting of the characters, and it also shows the real status of abuse and crimes in Delhi. This series revolved around the Nirbhaya event and how the police solved the case by capturing all the accused. It is, stimulated by the aftermath of the horrific gang-rape case in 2012 that makes it difficult for viewers to watch it, but has a powerful impact too along with Shefali shah's powerful performance. Delhi Crimes consists of 7 50 minute episodes that show how each accused gets captured by the police for further punishment. It also shows how the whole country gets united with each other to get justice for the girl. This series receives 8.5/10 from IDMB, 4/5 by Hindustan Times, and remains in the top 10 list in Netflix the whole march of 2019. It is considered a popular Indian web series.
However, the series also receives criticism, as shown in a very biased way towards the Delhi police. Despite its criticisms, it is one of the best web series that will mesmerise you.
2. Scam 1992 – based on a real story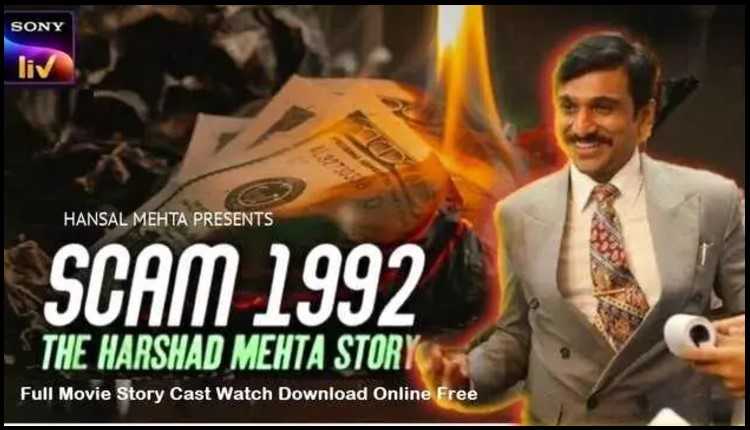 It is another famous and interesting Sony LIV original web series, and as earlier, it is related to a real-life story of a 1992 Indian stock market scam. Hansal and Jai Mehta directed this show. The cast is Pratik Gandhi, Shreya, Anjali Barot, Nikhil, and many more. Crime is the genre this series covered as this genre attracts the most viewership from the audience due to its suspense. This series premised on a book written by two authors on THE SCAM: WHO WON, WHO LASTS AND WHO GOT AWAY? This series focuses mainly on Harshal Mehta, who, to earn, tried every job but later arrive in the Bombay stock exchange as a jobber. Later, he started his firm and when he gets aware of the loopholes in the market system soon began to earn enormous income by bribing many officials. Parallelly the series also presented an account of a journalist who investigates his case and finds out his involvement in the scam of STATE BANK OF INDIA. This series has ten episodes that keep the audience engrossed throughout and did not even present a moment of boredom. This series receives 3.5/5 from TIMES OF INDIA and 9.5/10 from IMDb due to its stunning writing, cinematography, and presentations.
Despite its praises, this series was criticised, first for how it presented the role done by supporting characters only about the lead one. Even when the lead character, Harshal Mehta, is not on the screen, supporting actors only talk about him in his favour or opposition. The whole story only revolves around the lead character. Another critic points to some dialogues as, RISK HAI TO ISHQ HAI, seems as forced upon even in those situations where it is not needed, but still presented.
3. Panchayat – based on a fictional story but presents a real scenario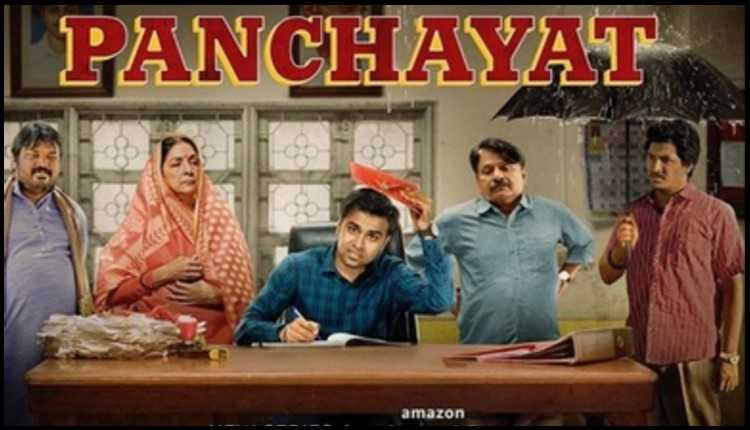 It is a comedy-driven light Hindi Amazon prime original series and is liked by the viewers due to its sweet story that gives a big message out there. Deepak Kumar Misra directed this popular Indian web series, casts amazing actors Jitendra Kumar, Raghubir Yadav, and many more. Comedy-drama is the genre of this series, and it is one of the best series to binge watch in a day!! The story is a fictional one, yet shows a real scenario of Indian rural villages and the employment status in urban areas. The story revolved around a city boy who is an engineering graduate, but, due to the shortage of jobs in urban areas, he gets relocated to a small village called Phulera as a panchayat secretary. This series has six short episodes, and all these episodes have sweet and funny names as Bootha ped, many more and also present an impactful message along with comedy and drama.
PANCHAYAT provides different morals and messages from its light-hearted story that can amaze the individual. This series focus on the unemployment issues in urban areas and how people get relocated into their rural homes and villages.
This series got 8.7/10 by IMDb and 4.9/5 from the viewers and social media platforms and has good reviews by the viewers as presented by many websites and articles are very good and praised this series. Panchayat lightens one heart and takes away all the stress along with a sweet and powerful message in each of its episodes. This show presents many aspects of dowry culture in a very light-manner that never gets presented, before and that is why critics have not targeted this series. It is a must-watch series if you want to see some comedy and drama.
4. Family Man – Based on a Fictional Story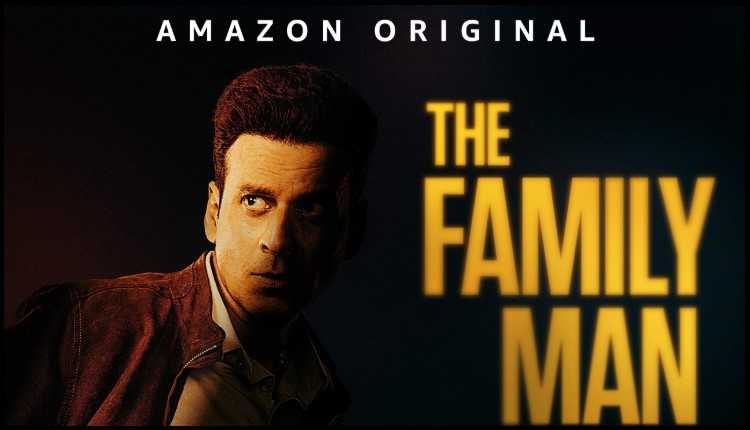 Family Man is a Hindi action-thriller Amazon Prime original series that received 8.6/20 ratings by IMDb, 3.5/5 ratings by Hindustan Times, and 93% by Rotten tomatoes. The story revolves around a man who works as a senior analyst in a surveillance cell (TASC). The issue he has to grapple with is to lead a personal and professional work-life balance that poses a problem to him and causes problems in his life. The credit for the higher viewership goes to the writer Raj & D.K, who presented such a thrilling story of a common man tries to maintain a work-life balance. This series casts some amazing actors who have a history of good movies as Manjo Bjapayee, Priyamani, and many more that made this drama more interesting and resourceful.
This series revolved around a simple man from an international agency who has to protect his nation and maintain a work-life balance by protecting his family from his secret job and being with them.
The series mainly dealt with real-life struggles where the main focus is on the same that can impact on his well-being and worsens his mental health and focuses on terrorism and how youth gets attracted to it, the consequences of involvement. Despite the praises, the series receives criticisms for many other issues and dialogues, but it remains a must-watch series that can give you Goosebumps and mesmerise you.
5. Criminal Justice – Based on a Fictional Story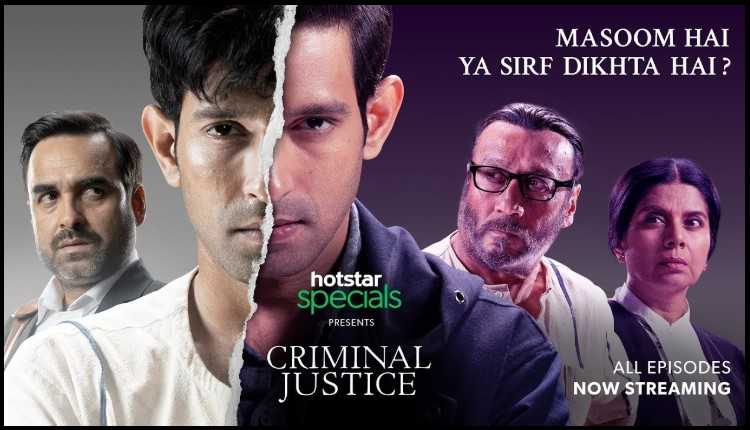 It is a crime thriller Hindi original Hot star web series that has receives 3.5/5 ratings by NDTV.com, 8.1/10 ratings by IMDb, and 3.5/5 ratings by Hindustan Times. It receives 4.5/5 audience ratings on different social media platforms and Google that shows how much it impacts the audience majorly, the acting done by Pankaj Tripathi, Vikrant Massey, Jackie Shroff, and many others along with the director Tigmanshu and Vishal. This series gets the nomination for three awards in the best actor award category, best actor (drama), and best supporting actor. This series is on the thriller and crime genre as the story presents, though the premise is on fiction yet shows a real scenario.
The web series revolved around a cab driver who was accused of the murder of his passenger with whom he has his one-night stand but then finds her dead and himself in her pool of blood. Then, the story revolved around his, how lawyers help him prove as not guilty and, opposition works in a contrasting manner. It is one of the best series that can give you chills, goosebumps, and suspense throughout the story. It's a dialogue on the wallpaper, MASOOM HAI? / YA SIRF DIKHTA HAI? Become very famous and attracted a lot of viewership and, it was in the talks on social media for more than a month. This series has ten episodes, each presenting different suspense and keeping the audience engrossed in the story without a single moment of boredom.
6. Betaal – based on a fictional story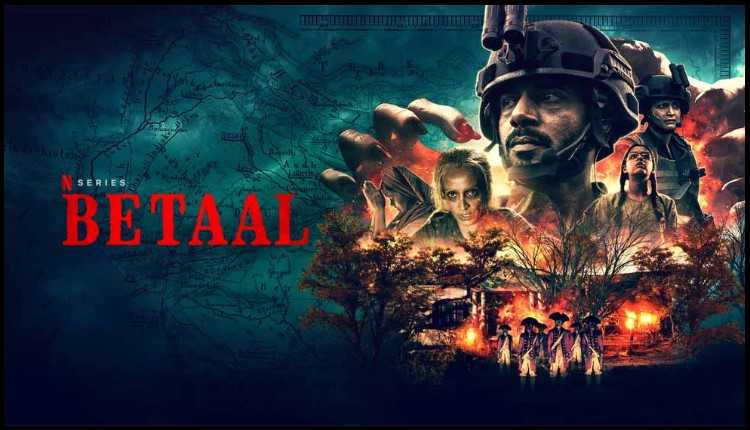 It is a horror, thriller zombie, Hindi original Netflix web series that kept the audience engrossed in the fiction without any boredom; however, it was a fictional story and not based on a real one. But, a fictional tale sometimes can be astounding, as this series is an example of it. Thought, it receives a lower rating of 5.3/10 by IMDb, 3.5/5 by Zoom TV. Reviews from social media platforms are good as 3.5/5 due to its uniqueness in its story and concepts along with just four episodes that one can binge-watch in a day without waiting to watch a long season to finish it. It starred Vineet Kumar Singh, Ahana Kumara, and others in many supporting roles to make the series more impactful with a good story by Patrick Graham and Suhani Kanwar, and praises due its beautiful cinematography and dialogues.
The story of the web series revolved around a village that later becomes a bloody battle as the zombies (a unique concept of the series) attacked the modern-day soldiers who came to that village for a reason. The whole thing turned into a nightmare for soldiers taking everybody's lives. The series has just four episodes and, it presented its story in these episodes completely without any loopholes. It also has received This web series, despite its appreciation, receives criticism from people and websites in many areas as some point to the concept of zombies and stated it as a common concept on Netflix. Another critic is its lack of suspense, thrill, and editing, due to which it receives a very mixed review from different reports and websites. But, still, it is a must-watch that can give you goosebumps and chill your spine.
Web series are great resources to erase boredom and have fun in the comfort of the house alongside gaining moral messages from the shows as panchayat, family man, Delhi crimes and many others.