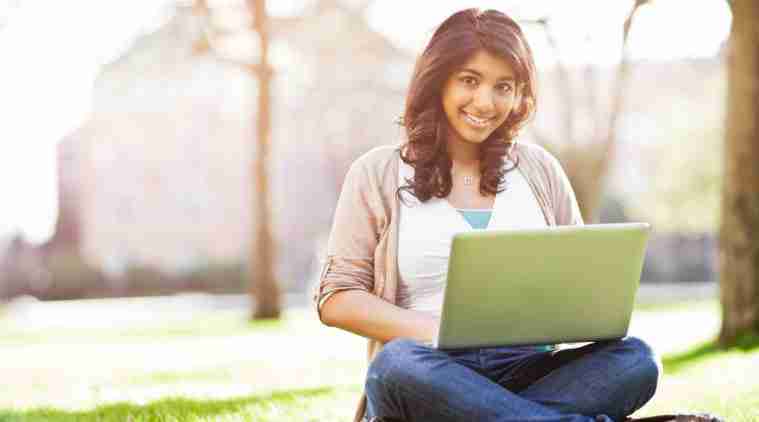 Websites Every Indian Amateur Writer Needs to Try and Love
Writing has always been a tedious job or hobby. Even in times of self-publishing where the writer does not need to boot lick his publishers. Although we can not help you with writing your book, these websites sure can help you attain a little bit of nirvana. These websites will not help you write properly but also make it a fun journey. There is huge risk of procrastinating when it comes to these websites, you can go on scrolling forever and forever while learning the art of writing. With some of these websites comes a headache of not being good but do not lose your head. Try and try until you lose your senses just to have a complete manuscript in your hand which is as good as it can get. Although, do note that most of the websites here are centered around fictional novels and novella but they can surely be modified to suit the needs of a non-fiction writer.
Happy Writing!
1. Isrg Rajan
One of the North India's popular knowledge base-cum-educational website with 1 million readership offers content writing where you can earn for every article that you write. Isrg Rajan Knowledge base team gives topics on which you can write the articles or you can request your own topic.
To join Isrg Knowledge base you can login to join.isrgrajan.com
Wattpad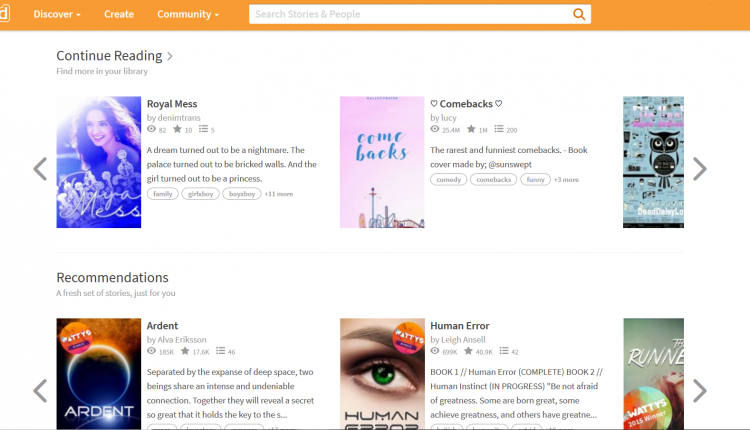 Mostly filled with teenage girls who gush and rush about hot bad boys, a small percentage of this website, include adults who dream of one day making it big. Wattpad is a website where you can write novels or novella for others to read and review. Getting recognition is where wattpad ends up becoming tricky. Wattpad also organizes contests with interesting prizes. Contests include Watty award where books of the year get due recognition. You may also get featured. Chances are a publisher will notice you and you'll end up getting published. The romance novel on which a movie is being made had been once published on Wattpad by the name of "After".
3. Writer's Digest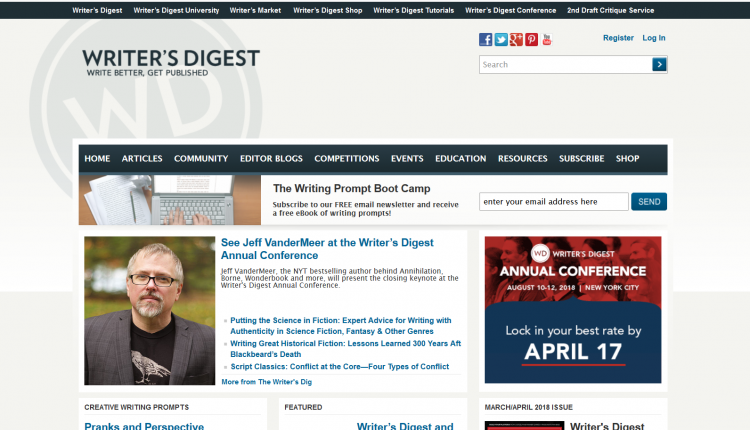 Writer's Digest is a circle of writers sharing tips and tricks to write a magnificent piece of literature. They also hold contests which have amazing prizes. A lot of publishers also roam around the complex of Writer's Digest, in attempt to find the next superstar in the publishing world. The website is great to learn the ABCs of publishing world as well as how to write a book. Writers critic each other's book as well as fan girl about their favorite book. Regular, fun prompt treasure trove is one of its key feature.
4. Pinterest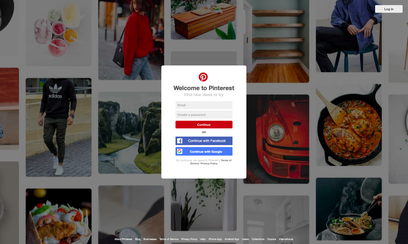 When in need of inspiration or some weapon to fight off Writer's Block, Pinterest comes to rescue. Here you 'pin' or save pictures which you find all over the internet in a particular folder. You can tag this folder by the name of your book's title. Whenever you need an inspiration come back to these folders and maybe that handsome man you pinned before for sake of your romance novel, will give you some ideas.
5. Tumblr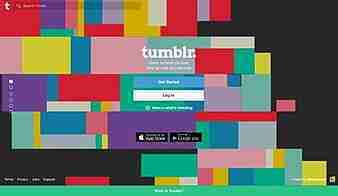 If you look beyond the presumptuous quotes doting Tumblr, you will find brilliant story prompts, writing tips and book discussions. Most of the Harry Potter and Game of Thrones theories came from this website. It is a great source for advertising with aces like John Green using it. Use this website to learn what the current bookworms are into. Although, you need to be wary of the dark side of Tumblr in case you get easily triggered.
6. Quora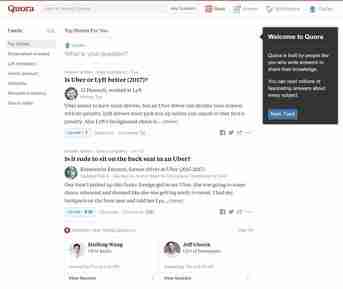 Quora is a question and answer website. It is well equipped with questions relating to beliefs. In case you are an atheist who wishes to write about a theist, you can use this website to learn about their motivation, beliefs and stuff. It also has questions relating to General knowledge. A great website for research purposes. Someone asks a question; a lot of people answer the said question. Writer can also use it to get tips on how to write. Be active, write well and you will get recognition. A good place for advertising your work.
7. Swoon Reads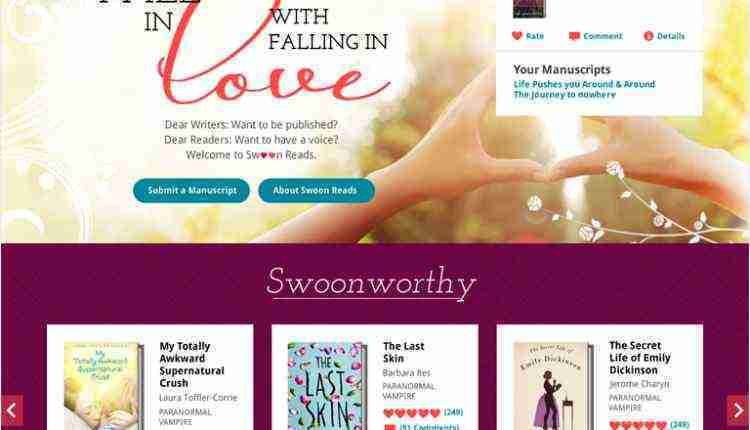 It is in an imprint of Macmillan publishing under the Feiwel &Friends. It was founded by Feiwel. It is a crowd sourcing website which basically means that it is the reader who decide which books they want published. It mostly targets readers in the YA Romance genre. According to Mashable, it is the X-Factor of book publishing. Writers upload their unpublished (keyword being unpublished) manuscript. The community members will read, rate and comment on them. After which the staff of the said website will use these reviews and ratings to decide if the book is suitable for publishing. The book will be published in both E-book as well as print format. The thing is, it is free. No hidden fee attached to membership. All details are given on their websites.
8. Better Novel Project
Christine Frazier uses doodles or well, digital index cards with hand drawn illustrations to breakdown common elements in popular novels. Basically, she draws out character Archetype, word count, plot devices in books like Hunger Games and Twilight. It is not only interesting to go through but also enlightening. You might find this deconstruct of popular books helpful to construct your own. Few of the articles to go through are: The Hero vs The Secret Good Guy and Illustrating a Book? Know Your Rights to Protect Your Work. The writer was even invited to do a guest post on MuggleNet Academia Podcast, hosted by Keith Hawk and John Granger.
9. Storybrain
It is a Youtube channel with videos talking about why no publisher was willing to publish the sensation called Harry Potter. It helps writers understands the characteristics of a successful storytelling, compelling characters and plot lines. Like the above-mentioned website, StoryBrain breaks down popular books as well as movies, iconic personalities and TV series. They give insightful commentaries which are sure to lighten the bulb above your head.
10. September C. Fawkes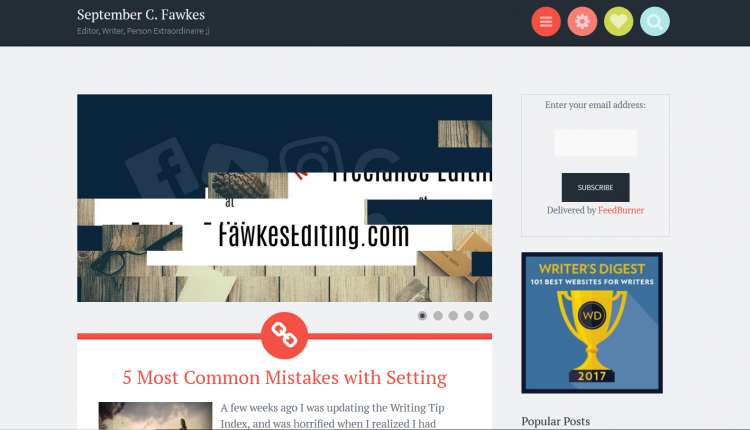 September C. Fawkesis an avid reader ("Sometimes scare away people with my enthusiasm for reading and writing") as well as an aspiring fiction writer. She seeks and shares takeaways from popular media. Like Les Miserables. Fantastic Beasts and Where to Find Them, Interstellar, Divergent, Hunger Games, Game of Thrones, Harry Potter etc. She also happened to be the Assistant of David Farland, one of The New York Times' Bestseller.