Tea is a gift that the East India Company brought with them from Britain to India in the 8th century, the British planted tea in cold mountainous areas like Darjeeling, Simla, and India's tea gardens have existed ever since. Most people in the country do not leave home without drinking tea. Some people drink milk tea. So while some people like the taste of 'green tea' and 'black tea,' people who take special care of their health often like to drink green tea. Similarly, we will tell you today about the healthy beverage, which is known as Blue Tea.
Most Indians like to drink hot tea to relieve the exhaustion and stress caused by the daytime crowds, but if you want to get rid of fatigue and stress quickly, you should use blue tea made from Aprajita flowers or butterfly pea. Aparajita flower has the unique advantage of being as beautiful as it looks. You might also be interested in knowing How Green Tea is the Best Solution to All Your Problems?
In this article, we have covered in detail the Blue tea, health benefits, side-effects, nutrition values, how to make blue tea, and other vital pieces of information.
What is Blue Tea made of?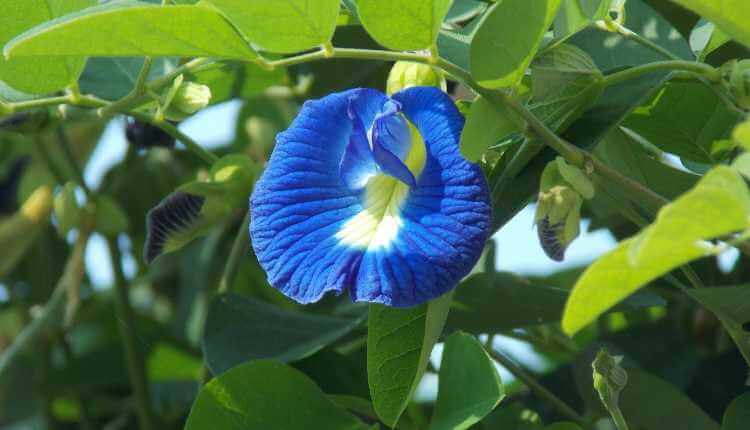 Blue tea is made from Butterfly pea flower. Butterfly pea flowers are gorgeous to see. They are also very beneficial. Butterfly pea, which we know as an herb, this plant grows in the form of a vine with the help of other tree plants. It occupies a special place in home furnishing plants, and its leaves are green and shiny, their flowers are blue or white. All parts of the Butterfly pea plant are used medicinally to treat external and internal problems.
The scientific name of this plant is Clitoria ternatea. In English name is Butterfly pea, Blue pea, Asian pigeonwings. This plant is also known as "Girikarnika" Gokarni, Girikarni, Yonipushpa, Vishnukranta, Aparajita in Sanskrit.
How is Blue Tea made?
The ingredients for Blue tea are:
2 cups cold water
2 tsp honey
Four tablespoons green tea
Six tablespoons blue tea
1-inch cinnamon stick
Three thin ginger slices
glass jars
What is the method or the process of making blue tea?
Put Green and Blue Tea in a glass jar.
Add cinnamon slice and ginger to it.
Cover and stir the jar well.
Keep the jar in the fridge for 4-5 hours.
After filtering, pour it into the cup. Drink tea after adding honey over it.
Another simple method to make it, while heating water in a pan, add a spoonful of sugar and a Butterfly pea flower. After boiling water for some time, its color will turn blue. Then filter it in a cup and take your blue tea is ready. Making this tea in hot water gives a bright color, and at the same time, its fragrance is also excellent. If you mix lemon in this tea, then you will get to drink unique tea of ​​purple color. This blue tea is very beneficial for color and fragrance, as well as for health. Its test is better than green tea.
Also, read the 10 Beneficial Beverages that suits Indian Weather.
What are the benefits of drinking Blue Tea?
The 10 health benefits of drinking blue tea are:
1. Helpful in Removing Toxins from the Body
We do not know how many toxic things go through our food or another medium. The amount of toxins in the body also increases due to the environment being polluted because the air we take through breath has many harmful elements. There is a risk of many types of diseases from this. Blue tea contains a lot of antioxidants. Toxins are eliminated from the body by its regular use.
2. Beneficial for the Brain
Blue tea is significant to keep the mind calm and stress-free. Drinking this tea daily freshens the mind and increases the activity of the brain. This improves memory, and this tea is also beneficial in increasing concentration. By drinking this tea, you feel energetic and competent.
3. Healthy for Hair and skin
Drinking blue tea keeps the Hair healthy, and the skin also shiny. Blue tea contains many types of vitamins. Apart from this, some minerals also keep skin related diseases away.
4. Helps in weight loss
According to research on obesity, blue tea can help lose weight. Drinking this tea regularly reduces calories naturally. Along with this, the metabolism of the body also improves. Blue tea is also beneficial in healing the fatty liver.
5. Protects against Diabetes
A cup of blue tea has anti-diabetic properties. Taking blue tea in between meals reduces the amount of blood sugar and glucose in the body. The antioxidants present in this tea reduce the risk of infection from the body. Due to this, the probability of diabetes is less. Not only this, but this tea is also helpful in removing heart problems. That is, this tea can prove to be excellent for patients with diabetes. Diabetes patients can maintain blood sugar levels through Blue Tea.
6. Relieves Depression
Blue tea also reduces anxiety and depression. The amino acids found in it reduce stress. If blue tea is consumed regularly, then there is agility in the brain.
7. A Boon for the Eyes
Antioxidants are present in this tea. Which increases the blood flow in the eye cells. That is, it can help treat many eye problems like cataract, blurred vision, retina. This tea can also prove to be very beneficial in increasing immunity.
8. Protects against Cancer
Blue tea contains a large number of antioxidants. Antioxidants are known to protect the body from damage. If the loss of cells in your body will reduce, then you can avoid any kind of cancer. Not only this, but blue tea is also helpful in preventing tumors.
9. Full of Antioxidants
The most significant feature of Blue Tea is its antioxidant properties. This drink with antioxidant properties is very beneficial for health. The bio-compound of this tea helps fight free radicals of the body. This makes us look younger. It is beneficial to make the body free from toxins.
10. Beneficial in keeping the Body clean
It is imperative to keep the body and its internal organs clean. Therefore, drinking a cup of blue tea daily can prove very beneficial. It cleanses the liver, kidney, stomach, and intestines. Blue tea is an antioxidant, anti-inflammatory, and natural diuretic drink. This causes complete cleansing of the body. The cleanliness of the internal organs of the body means that the body is protected from many diseases. That is, taking this tea is beneficial to avoid many diseases.
What are the Nutrients found in blue tea?
Blue Butterfly contains a perfect amount of nutrients, which makes it very useful for us. Calcium, magnesium, potassium, zinc, iron, and manganese are available in excellent quantity in Butterfly pea flowers. They are also rich in sodium. This plant contains many vitamins and antioxidants, which help us in getting many health benefits.
What are the Side effects of Blue Tea?
Consuming Blue tea in small amounts does not cause any harm, yet it is advised that blue tea should not be consumed in large quantities for a long time. If you are pregnant or breastfeeding, please consult your doctor before drinking blue tea.