You've probably heard about eating healthy to live a healthy life. Healthy drinks are as important as eating healthy. Let's be real! If you eat healthily and drink soft drinks or sugary packaged juices, you are cutting off the benefits of eating healthy. There are a lot of healthy alternatives that can satisfy your thirst and can give you a lot of health benefits at the same time.
In this article, we have listed the 10 great healthy Indian drinks, which can be found anywhere. These health drinks can be made at home and can also be found in the local markets and stores.
The 10 Healthy Indian drinks that have health benefits and can boost your immunity are:
1. Coconut water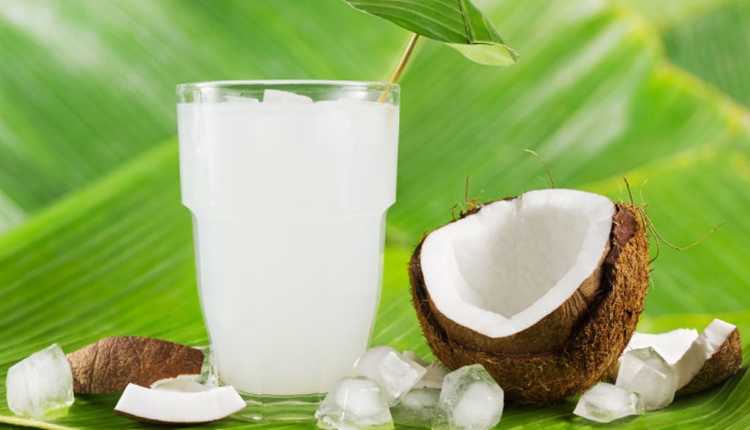 Being tasty and refreshing, coconut water is known for an amusing amount of health benefits that can be found worldwide. It is loaded with a lot of nutrients and minerals. Coconut water contains 94% of water and a minimal amount of fat. It contains nutrients like fibre, vitamin C, magnesium, protein, manganese, calcium, sodium, and potassium. It has antioxidant properties which can help in a variety of sicknesses. It also helps to regulate blood pressure and prevent kidney stones. In research, it has been found that drinking Coconut water can reduce the risk of heart disease.
In conclusion, coconut water is a nutritious and delicious drink that is completely natural and extremely good for health. Also, read Natural Calcium-Rich Foods to Fight With Calcium Deficiency.
2. Buttermilk
Buttermilk is packed with nutrients that's why Gujrati families have this drink almost every day, if not 1-3 times a week. One glass of buttermilk contains around 98 calories. It also contains protein, calcium, riboflavin, sodium, and vitamin B12. It can help in prevention from degenerative bone diseases and maintaining the strength of your bones. It also helps to maintain your oral health as it contains calcium. Drinking buttermilk can help you lower the level of cholesterol in adults and maintain the level of blood pressure. Buttermilk is a very healthy drink if taken in moderation, not more than a glass per day. You should avoid if you are lactose intolerance.
Recipe for making Buttermilk:
Take ¼ cup of curd and salt in a bowl and whisk it well.
Add crushed mint leaves (optional).
Add 1¼ cups of chilled water and whisk it again.
Serve chilled.
3. Banana smoothie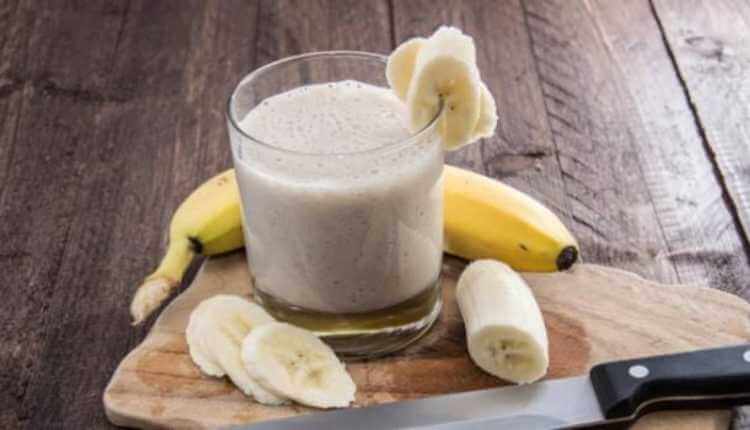 Bananas are packed with nutrients like magnesium, protein, and vitamin C whereas milk is a good source of calcium, potassium, vitamin A, B12, and D. Combining these two makes a delightful drink healthy delicious at the same time. You should avoid if you are lactose intolerance.
Recipe for making the Banana smoothie:
Peel 2 bananas and slice them, then put the sliced bananas in a zip-lock bag and place it in the freezer until the bananas are completely frosted.
Add the frozen bananas in a blending jar followed by ½ cup of Greek yoghurt, ½ tsp of ground flax seeds, 1 cup unsweetened low-fat milk, and 1 tsp vanilla extract (no need to add sugar, the sweetness of bananas is enough).
Blend all the ingredients at high speed until it is smooth.
Serve chilled.
Don't miss the 10 Best Indian Food, Fruits and Drinks To Beat The Heat.
4. Aloe vera juice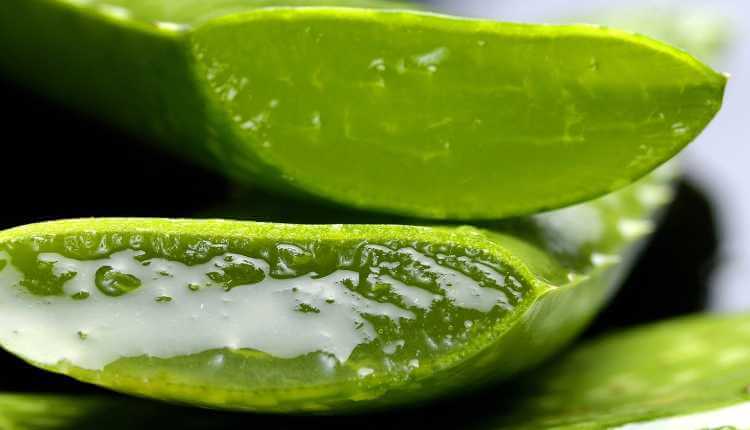 It is a well-known fact that aloe vera is a "magic plant". Aloe vera is known for its amusing health benefits, including benefits to skin, and hair. Almost every other Indian has an aloe vera plant in their home, and people use it often to cure acne, dry skin, and hair to make their hair stronger and healthier. Apart from these aspects, aloe vera can be used to make an amazing drink for freaks. It also helps you lose weight by boosting your metabolism. It also contains antibacterial and antioxidant properties that help you in improving your immunity and significantly reduces constipation. It helps to reduce the growth of dental plaque. Drinking aloe vera juice helps you regulate your blood sugar level. It contains vitamin A, C, B, B12, folic acid, calcium, sodium, zinc, magnesium, and other various nutrients.
If you don't have an aloe vera plant in your home or don't want to plant one, aloe vera leaves are easily available in the local markets. Before you consume its leaves, make sure to hang the aloe vera leaves horizontally for 1-2 hours and cut it from the bottom side so that all the yellow liquid gets drained out as consuming yellow liquid can lead to constipation.
Recipe for making Aloe vera juice:
Extract the gel out of a fresh aloe vera leaf and cut them into small pieces.
Wash the gel twice, so all the sticky residue is gone.
Add the gel, 1 cup of water, and ½ inch grated ginger in a blender jar and blend until there are no lumps.
Pour the juice in a glass then add 2 tsp of organic honey, 1 tsp lemon juice, and a pinch of black salt then stir well.
The juice is ready to be served.
5. Guava ginger juice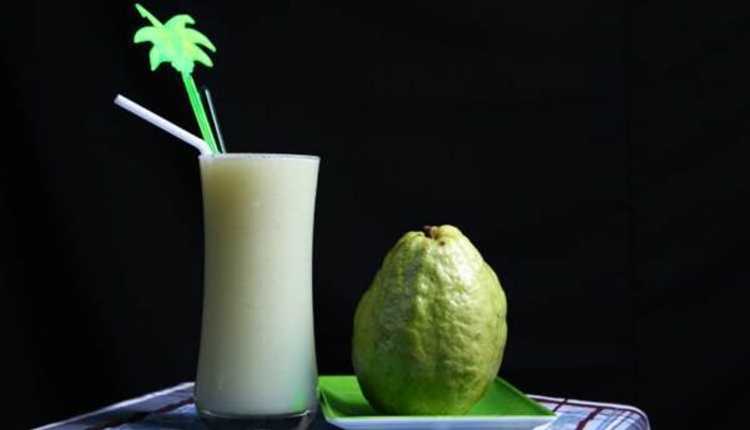 Guava juice is a refreshing drink that you can have in any season. Guava helps lower and regulate the blood sugar level. Drinking guava juice may prevent you from heart diseases by boosting your heart health. For girls, it can help relieve menstrual cramps. It also helps you boost your metabolism so, great for weight loss. It contains sodium, potassium, vitamin A, C, B6, calcium, and magnesium.
Recipe for making Guava ginger juice:
Put ½ a cup of chopped guava, ½ a cup of water, ½ inch of ginger, and a pinch of black salt in a blender jar.
Blend until it's smooth.
6. Lassi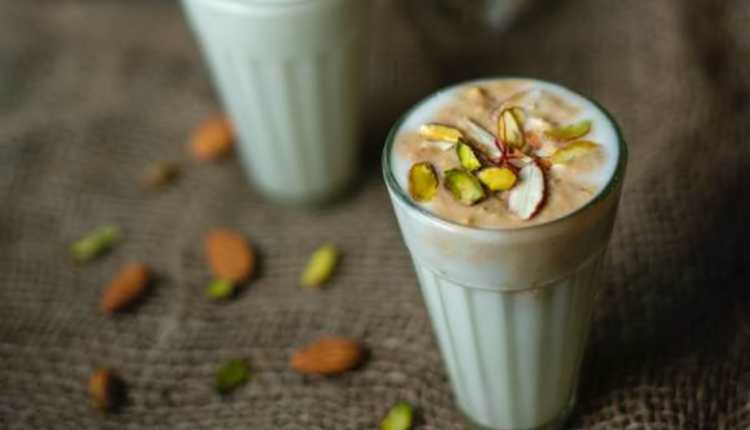 Lassi is a North Indian drink that is usually served with meals. It helps smoothen your digestion as its main ingredient is yoghurt which lubricates your intestines. It is rich in calcium and a great source of probiotics. It also prevents bloating; that's why people usually drink it with or after having a meal. You should avoid if you are lactose intolerance.
Recipe for making Lassi:
Take ½ cup of chilled plain yoghurt, ½ cup of chilled water, 1 tsp of brown sugar, or jaggery in a blending jar and blend well until it's frothy (you can whisk it too).
Pour the lassi in a glass and grated coconut and dry fruits on the top (optional).
Serve chilled.
7. Carrot juice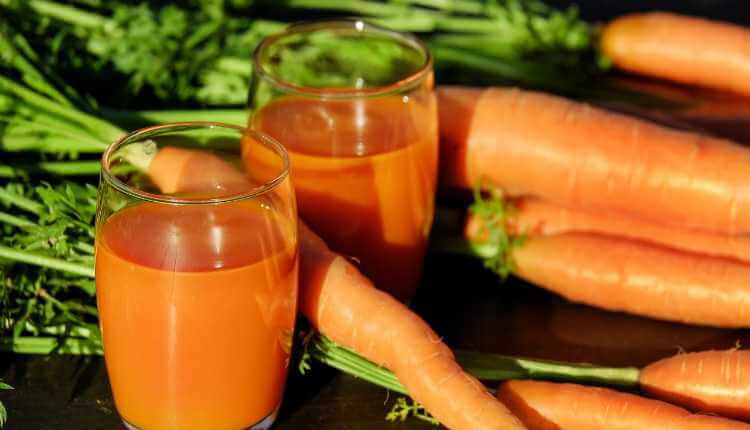 Carrots are highly nutritious and very low in calories. It contains protein, fibre, vitamin A, C, K, and potassium. It helps improving eye health and boost your immunity. It also helps your body fight against cancer cells. It also helps in regulating your blood sugar level. It boosts your heart health and protects your heart against diseases, including liver against many diseases.
Recipe for Carrot juice:
Take ½ cup of chopped carrots and ½ cup of water in a blending jar.
Blend until smooth.
8. Sugarcane juice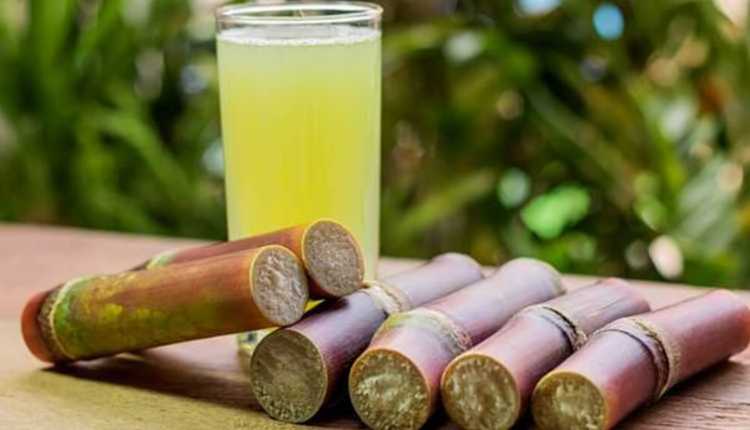 Sugarcane juice is a great energy booster, but diabetic patients should avoid it. It's a great drink for people who have a kidney infection or kidney stone. It helps you fight against cavities and bad breath. It is also a great remedy for jaundice. Drinking sugarcane juice can help you by improving your digestive system and make your bones stronger. Sugarcane contains iron, potassium, calcium, magnesium, zinc, riboflavin, and thiamine. The best part is, it is easily available readymade on the streets.
Sugarcane juice is seasonal and is easily available in the local markets. Sugrance can also be consumed directly without extracting the juice.
9. Green tea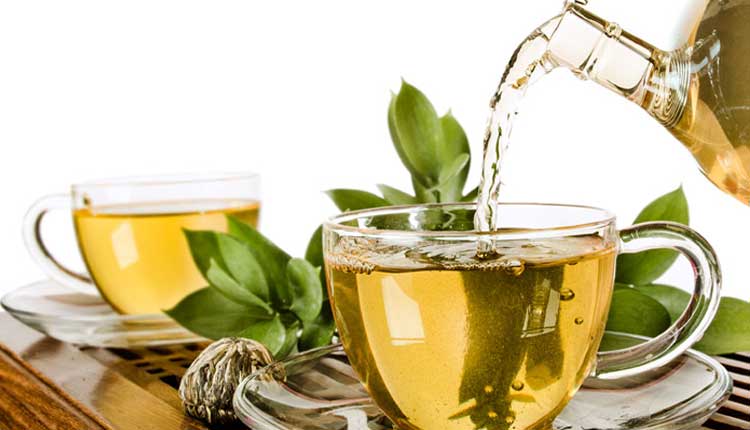 Green tea is a great beverage to kick start your day. It is refreshing and great for headaches by improving brain function. Green tea is great for people trying to lose weight as it helps you by boosting your metabolism. It also protects against cancer cells and lowers the risk of heart disease.
Recipe for green tea:
In a saucepan, add 1 cup of water and 1 tsp of green tea leaves and boil it.
Add organic honey for sweetness (optional).
10. Thandai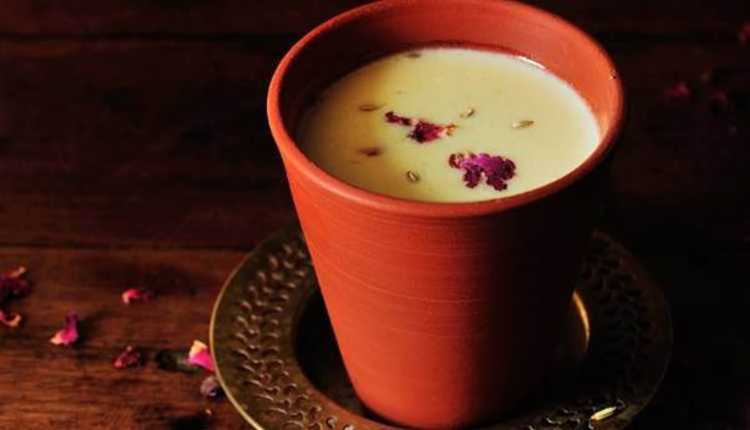 Apart from being delicious, Thandai has many health benefits as it is a great source of protein and calcium. In India, people usually drink this beverage during the Holi festival, but it can be added to your regular diet, especially in summers. It helps to cure constipation and flatulence as it is very cooling to our body. It also helps improve digestion and is a great energy booster. You should avoid if you are lactose intolerance.
Recipe for green Thandai:
Grind pre-soaked dry fruits (raisins, almonds, cashew nuts, pistachios) in a grinder.
Add 1 cup of low-fat milk and ¼ tsp cardamom powder and grind it again.
Serve chilled.