Isrg Rajan is an entrepreneur, philanthropist, poet, computer programmer and blogger. In 2010 he founded Isrgsys formally known as ISCL Online, an IT Consultancy company based in India offers web development, software development and business solutions.
In 2012 he initiated the project "Learn to Run" under the brand name IFDM LifeStyle to help the people to showcase their talent through the art of fashion designing. The company aimed to assist those people who are either in poverty or in a condition where they cannot come forward without a helping hand.
In 2014 he started Soul Shapers a company aimed to offer free Online Stress, Anxiety and Depression Counselling to assist the people in depression. By the end of December 2016, the company helped more than 8,000 people and successfully able to connect and associate more than 60 volunteer members with a pledge to continue serving the people in healing their lives.
Business Career
In 2010 Isrg Rajan initiated a small startup named Isrgsys formally known as ISCL Online to offer IT Consultancy to other small and large scale companies and businesses. At the initial level, the company offered web development, but slowly and gradually, the company begins with providing a business solution, software development, hosting, Bio-matrix attendance system, and gateways like — SMS and Payment.
In May 2012 Isrg Rajan addressed IFDM LifeStyle as a fashion designing company and hosted a fashion show in Jabalpur, Madhya Pradesh to bring up the local talent at the national level. The programme was organised in lieu of the inauguration of the IFDM LifeStyle. In the event, students and models from various backgrounds participated.
In 2014, Isrg Rajan initiated Soul Shapers as an Online Stress, Anxiety and Depression Counselling company. The Soul Shaper's mission and the vision are to offer Free Online Stress, Anxiety and Depression Counselling.
In 2016 Isrg Rajan launched Giant Whoop, a marketing and business promotion company aimed to deliver innovative advertisement, marketing and brand promotion. The goals of the company are to help other firms and associations to reach the market and build-up robust marketing strategies.
Awards and Recognitions
In July 2014 Isrg Rajan was honoured by Uma Bharti, the former 16th Chief Minister of Madhya Pradesh and the current Central Minister in Government of India for Water Resources. He was honoured for the contribution in the field of entrepreneurship and philanthropist.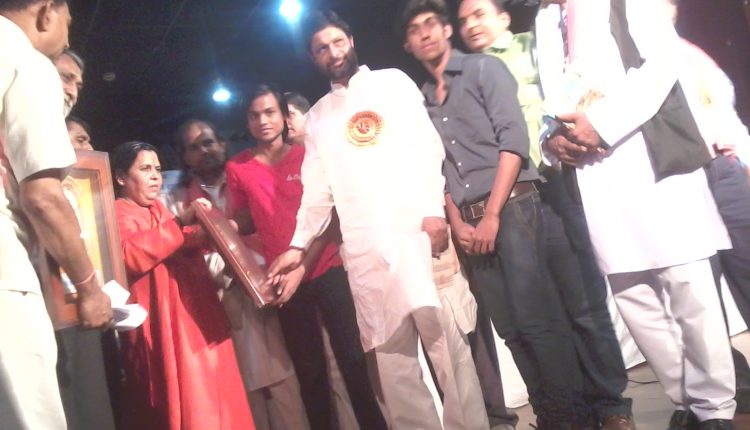 Writing Works
Isrg Rajan has written a fiction named "Till Now — Truth Behind Every Tale". The story of the fiction is based on the life of a teenager girl who was married at a very young age. The story is focused upon the orthodox mindset of the people within a society.
Apart from writing fiction, he has written several poems in English and Hindi which includes Hindi poetries like — मन मोरे पापी भगवन, माँ मोरी जग मोहिनी and English poetries like — Missed you a lot, Cry or laugh, Rascal or Blind and Humanity & Life.
Development Career
Isrg Rajan has built and developed many famous and known web portals and apps as a freelancer to assist the people and students in making better decisions and educational career. This includes Android smartphone app like — Delhi College Predictor and Soul Shapers and web portals like Isrg Education, Isrg Article, Isrg Web Directory, Soul Shapers, Giant Whoop and Isrg Forum.
He has developed Isrg Analytical & Web Security (ISAWS) which help websites running on PHP platform to protect against hackers, spammers and unauthorised access of the sites while it offers real-time tracking of the users and features like spam report, one-click block and automatic CAPTCHA to prevent denial-of-service (DoS) attack.