Most of us love paintings by renowned artists. Painters like Michael Anchelo, Da Vinci, and Ravi Varma have admirers around the world. India also has a unique group of painters. They have popularised Indian traditions through their works. In this article, we will discuss a few important paintings in Indian history. It includes some of the best paintings of the 21st and previous centuries.
Shakunthala by Raja Ravi Varma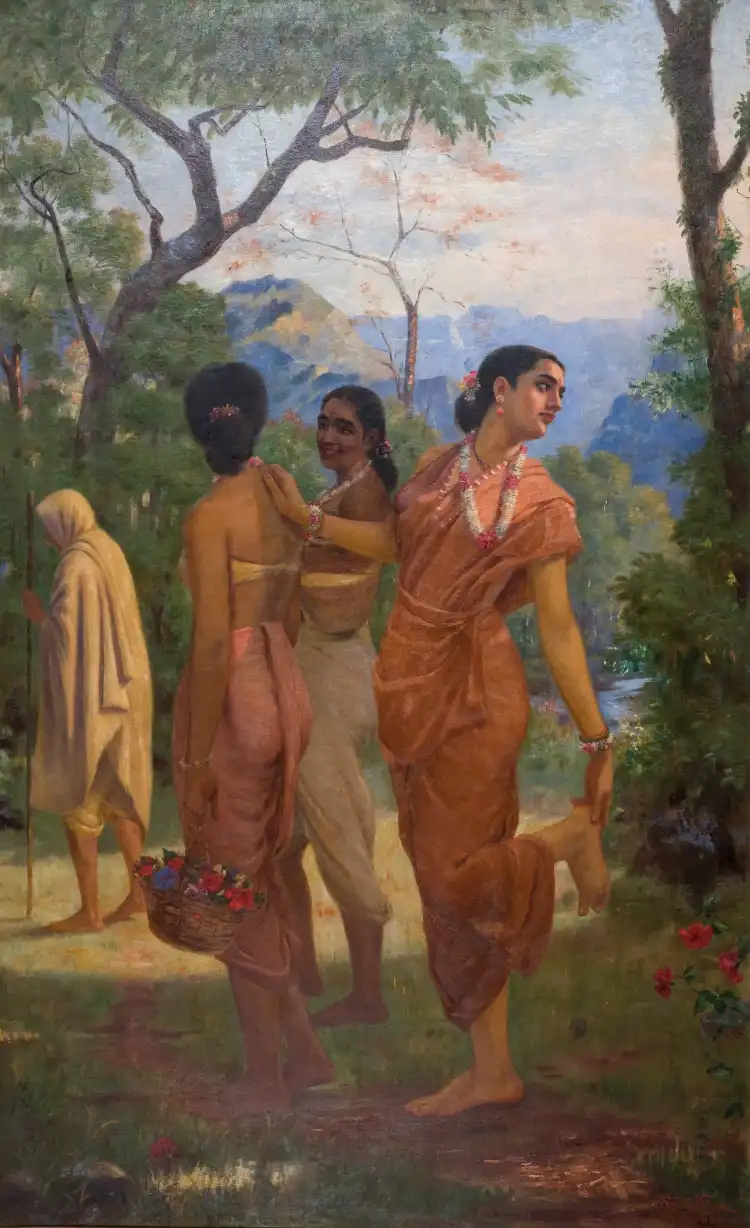 Raja Ravi Varma is probably the most famous Indian Painter. He was born in April 1948 at Kilimanoor. Fortunately, his family had close connections with poets and scholars of the ruling royal family of trivandrum. Raja Ravi Varma demonstrated his talpainter. ainting at a young age. Uncle Ravi Varma became aware of his nephew's extraordinary abilities. As he had close connections with the royal family, he took young Ravi Varma into the palace. Ravi Varma honed his painting skills at the Royal Palace.
Shakunthala is the most famous painting by Raja Ravi Varma. It is estimated that he painted Shakunthala in 1898. As in many other Ravi Varma paintings, the theme of this painting comes from Hindu mythology. This particular theme is from the Indian epic Mahabharatha. Shakunthala was looking for her husband under the pretence of removing a thorn stuck in her foot. The name of her husband was Dushyantha. In the background, a viewer can see that her maids are teasing her. The whole story is understandable in just one glance.
Ravi Varma was deeply influenced by Indian traditions. Once, the royal family commissioned him to craft thirteen paintings. It was to adorn a new hall in the palace. To learn new painting techniques, he travelled across India with his brother. He used oil paint to paint Shakuntala in the Académism style.
Self Portrait by Rabindranath Tagore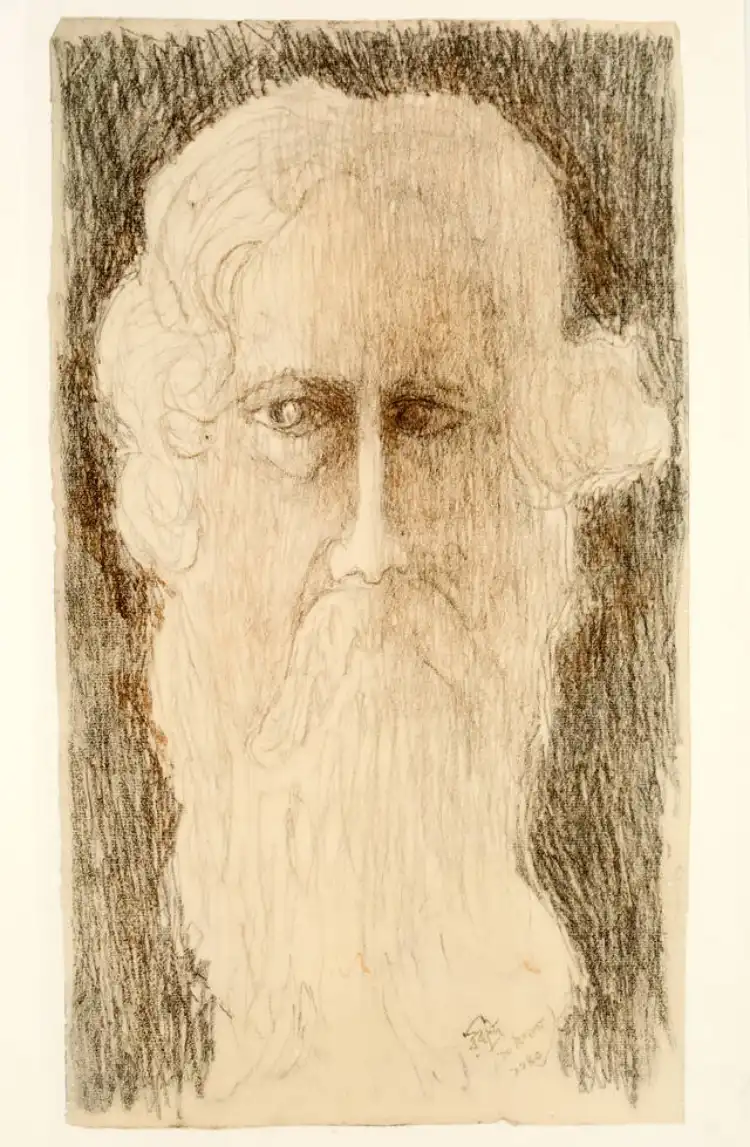 Rabindranath Tagore was the first Asian to win the Nobel Prize in literature. He won it in 1913. His Bengali writings propelled him to national prominence in the twentieth century. He wrote poetry, prose, and plays before he turned towards the visual arts. Even though he was a famous writer, he found the visual arts to be a universal language. Anyone from around the world can understand a picture, unlike a written word. He was in his early sixties when he began to draw pictures. He used common pencils to draw pictures rather than subtle colour paints.
As we have discussed above, the self-portrait by Tagore is a pencil painting. This picture is generally made up of rough pencil lines. As there is virtually no background, the attention of a viewer goes directly to his face. He created hundreds of pencil drawings, but this was the most famous. Many critics believe that the painter is the source of inspiration in this case. He drew the picture in his sixties. It's never too late to start. Like his writings, the pencil drawings of Tagore have also influenced Indian art history.
Rabindranath Tagore was one of the most famous Indians in the twentieth century. Most of its credit goes to the Nobel Prize he won in 1913. A German local newspaper addressed him as the wise man or prophet from the east. His paintings were displayed in a few national museums throughout Europe. However, there were some people who disliked his ideas. Hitler's Nazi government removed his paintings from the Berlin National Museum. They discovered his paintings, along with many others, as evidence of a deranged mind. It was a treatment his paintings never deserved.
The Celebration by Swati Pasari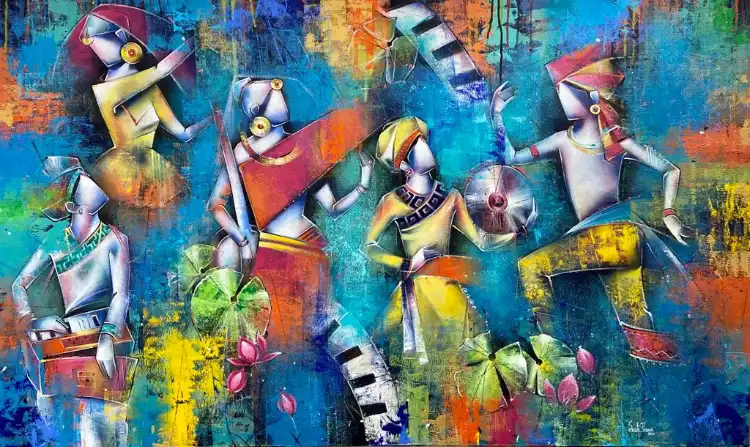 Swati Pasari is a famous Indian painter in the 21st century. Her debut art exhibition in 2008 sold out. It is really rare among new painters. The prominent themes of the paintings are immortality, timelessness, and inner peace. She believes that a primary duty of an artist is to find peace in her works. The celebration is a beautiful painting from this young artist. Ms. Pasari used acrylic paints to bring life to the work. It is estimated that this painting would cost somewhere around 7,000 dollars. She is really fascinated by Indian mythologies. Most of her paintings depict gods from Indian religious texts.
Her journey to become an artist was unique in many ways. Her family ran a decent family business. She completed her graduation in business studies before becoming a painter. Amazingly, she became one of the most popular painters in Asia in a short time. She is a practitioner of pranic healing. Each of her works depicts the wholesomeness of the mind.
Self Portrait By Amrita Sher Gill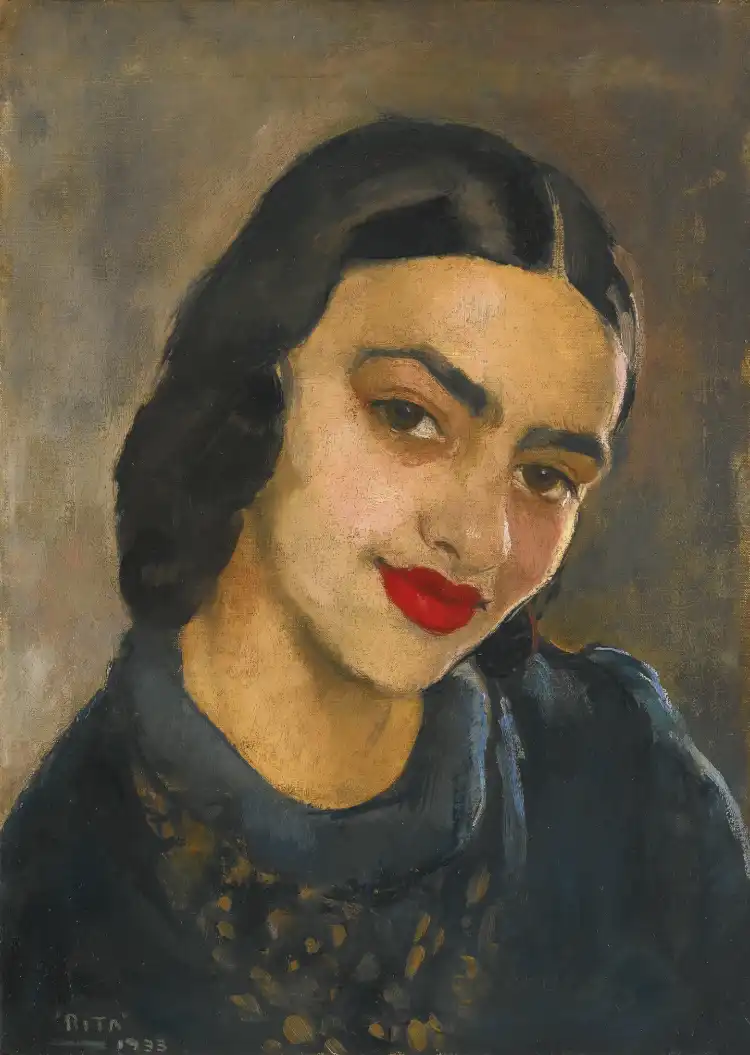 Amrita Sher Gill was born on January 30, 1913, in Budapest, Hungary. Her father was Indian, and her mother was Hungarian. Her parents found out that she had a remarkable talent for painting. In her teenage years, her uncle, Ervin Baktay, helped her hone her painting skills. She began to experiment with different styles of painting. When we talk about the art life of Amrita Sher Gill, we have to remember that the wall paintings of Ajanta Cave have greatly influenced her.
Self Portrait by Amrita Sher Gill is one of the most popular Indian paintings of the 21st century. As the name suggests, it is the picture of the 18-year-old female painter. She used renowned European watercolour techniques to bring life to her young features. It is noteworthy that this particular type of technique was quite different from her contemporaries. Looking at the liveliness of the painting, art critics have an opinion that this painting is almost hypnotic. She left her mark on Indian arts, which were dominated by many male painters, with all of these beautiful works.
Indian culture played a critical role in shaping the mind of Amrita Sher Gill. As previously stated, the Ajanta Caves' wall paintings have had a significant influence on her. However, she used European painting methods for her artworks. At the time, she produced the most colourful Indian paintings. Her contemporaries were Abanindranath Tagore, Abdur Rahman Chugdai, and Nandal Bose. None of them could match the liveliness of Amrita Sher Gill's paintings. These men's paintings were mostly made of the pale hues in vogue.
Three Pujarins by Jamini Roy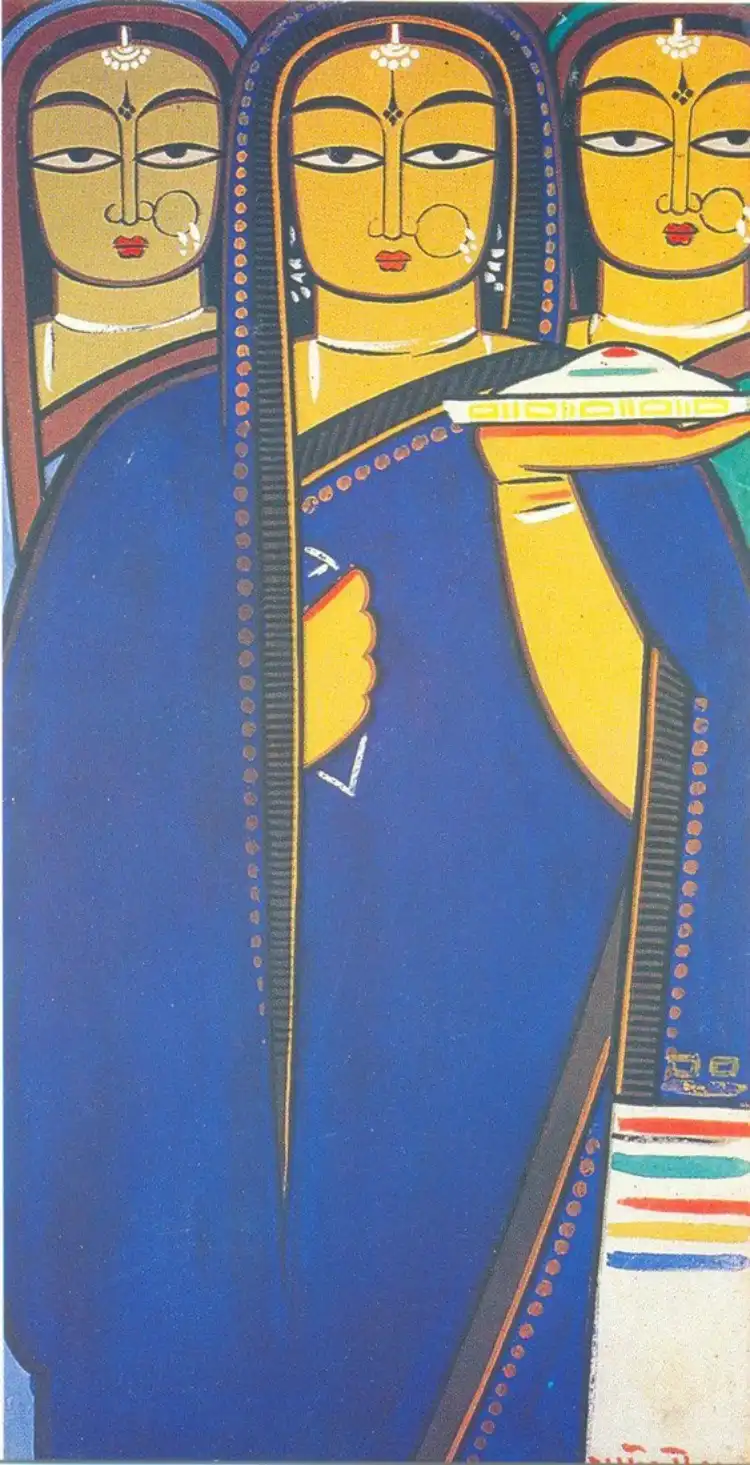 Jamini Roy was born on April 11, 1887, in West Bengal, India. He was a great Indian painter. In his paintings, Jamini Roy depicts the cultural heritage of his homeland, Bengal. Three Pujarins are closely related to Bengali folklore. This picture has three almond-eyed female figures wearing indigo-coloured saris. There is historical reference to this work. During his time, there was a widespread dislike in the country towards the British government. There was an "indigo revolution" popular across the country. He made priests' robes indigo in color. He expressed solidarity with the revolution.
He was a revolutionary artist in many ways. A national figure, Abindranath Tagore, taught him in college. During this time, Mr. Roy was attracted to nationalist ideas. He began to paint pictures with themes related to Indian traditions. The techniques of Mr. Roy's paintings were a mix of Indian and European styles. He began to showcase his skills on themes collected from Bengali folklore.
The Indian government awarded Jamini Roy Padmabhushan in 1955. He used paintings as a means of transforming Bengali art history. He began his career as a commissioned painter. After graduation, he used simple colours that depicted Bengali folklore more precisely. All of his contributions were richly rewarded later in his life.
Horses by M F Hussain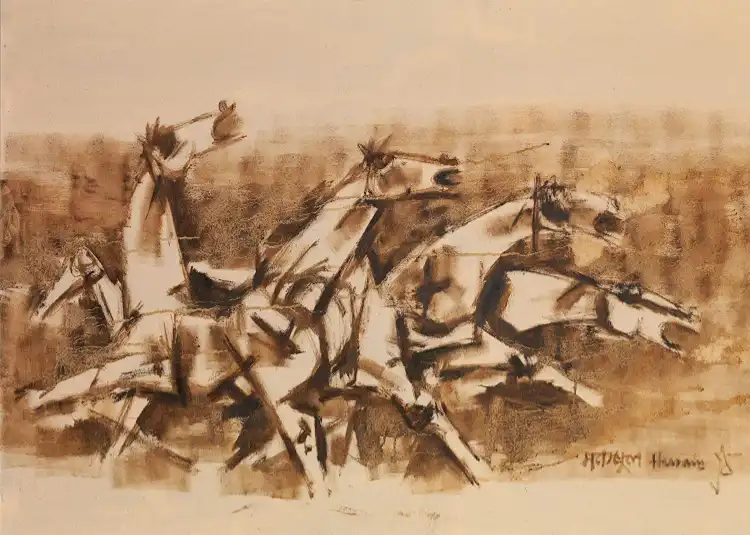 Maqbool Fida Hussain is one of the greats of the 21st century. He was born in Pandharpur, India, on September 17, 1915. Being a child, the muscular beauty of horses fascinated young Hussain. It became an inspiration for many of his works. His works also have the influence of the long journey he took across the world. He travelled across places like China, Europe, and Iraq. The popular paintings and techniques of these regions fascinated him. Talented foreign painters like Qui Baishi and Franc Marcz have greatly influenced his work.
The painting Horses is evidence of Mr. Hussain's fascination for horses. A viewer can see four horses galloping with full energy. Mr. Hussain used simple lines to draw these majestic beasts. Despite no use of oils, this portrait has a powerful impression on the viewer. His fans were amazed to know that he usually finishes a work in one sitting. This is not a practise common among painters. Mr. Hussain was an artist filled with motivation and energy as he worked. This masterpiece is in high demand among art collectors. This painting was sold for a whopping 1 crore at Christie's in 2008.
M. F. Hussain's life, like his paintings, was full of intense events. Despite his artistic background, he represented India in the Rajya Sabha until 1992. He was a widely popular politician in the country. Some people were angry that he drew naked Hindu deities on canvas. There was wide criticism about it. After a short term of self-exile in Qatar, he died in London on June 9, 2011.
Krishna (spring in Kulu) by Nicholas Roerich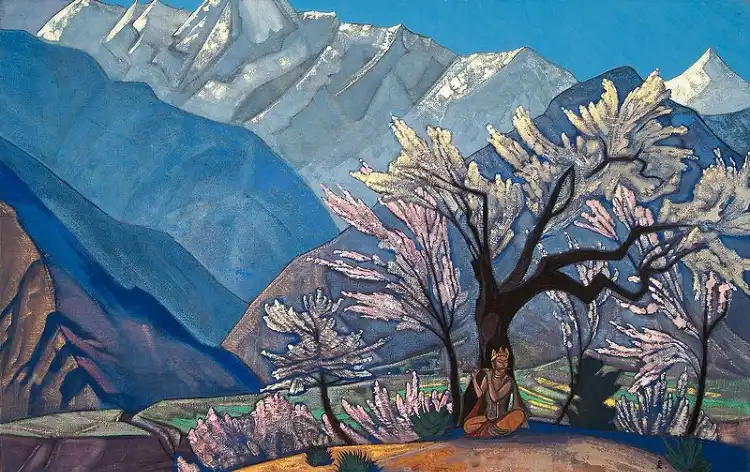 Nicholas Roerich was a famous Russian painter. He was born on October 9, 1987, in St. Petersburg, Russia. He was a member of the Symbolist Movement in Russia. It is a practise in which artists use their works to express their ideals. He was a remarkable painter. To enrich his knowledge of the world, he began a long journey. After visiting places like Japan, China, and India, Hindu and Buddhist ideals fascinated him. Many of his works depict themes derived from Hindu and Buddhist ideals.
This painting, "Krishna: A Spring in Kullu," is a well-known work by Mr. Roerich. It is currently on display at New York's Roerich Museum. A viewer can see the Hindu god Krishna sitting in the foothills of the magnificent Himalayas. It depicts the vibrant blossoms of the spring season in Northern India. Unconventionally, Roerich gave Krishna's skin a brown colour. It is usually depicted in dark blue. This is a religious painting. He believed that a state of spirit achieved through mysticism could be attained through many world religions.
He was more than an artist. During World War II, he wanted to save artwork. It was responsible for multiple listings for the Nobel Peace Prize for peace. He believed in a peaceful coliving between nature and humans. After a good life, he died in the state of Uttar Pradesh, India.
Glow of Hope by S L Haldankar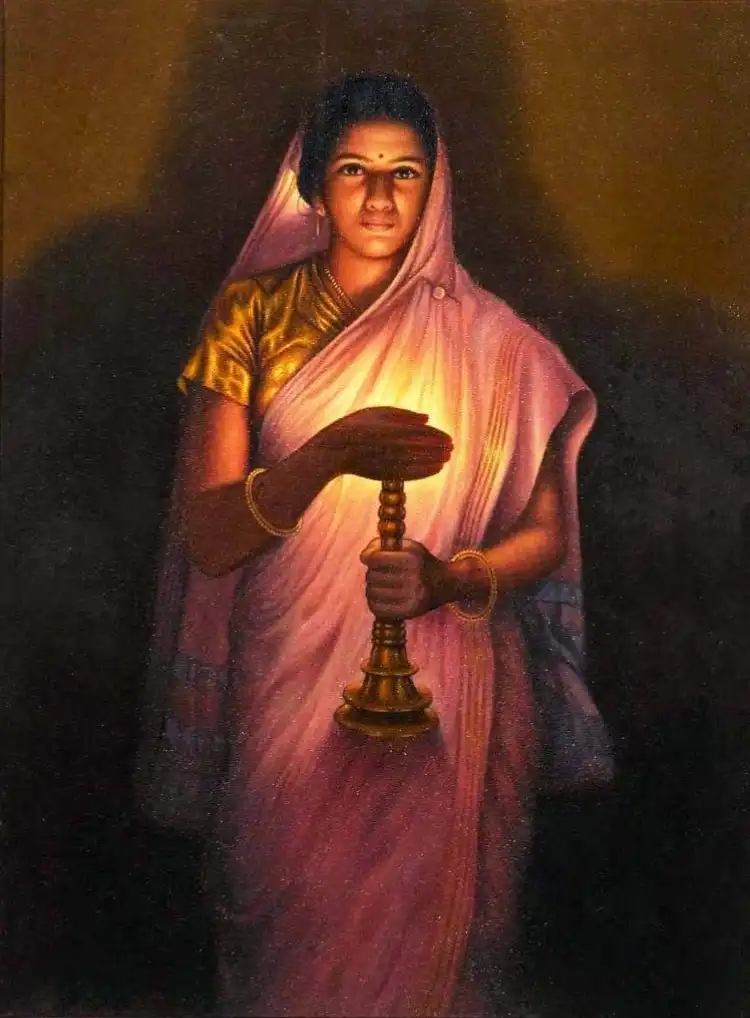 Glow of Hope by S. L. Haldankar is another incredible Indian painting. Every art fan should know about this masterpiece. A viewer can see a woman holding a lamp in the midst of darkness. She was Gita, the daughter of Mr. Haldankar. Light deflected from her hands and fell on her face and the background. These shades are very hard to create on a canvas. There are red tints on her fingers made by the lamp. Many people had mistaken this portrait for that of Ravi Varma.
Mr. Haldankar was born in Sawantwadi. It was once a princely state in Maharashtra. He was attracted to the visual arts from a very young age. His tutor found out that Haldankar was gifted. With his help, Haldankar received a scholarship from the local ruler. To pursue higher education in art, he went to the J.J. School of Art in Bombay. He learned the techniques of oil painting. He found realistic pictures to be inspiring. The glow of hope signifies the need for righteousness in a dark world.
He was a great educator. He established the Fine Arts Institute of Bombay in 1908. This institution gave birth to many artists. He was a great national figure for his time.
Bapuji by Nandal Bose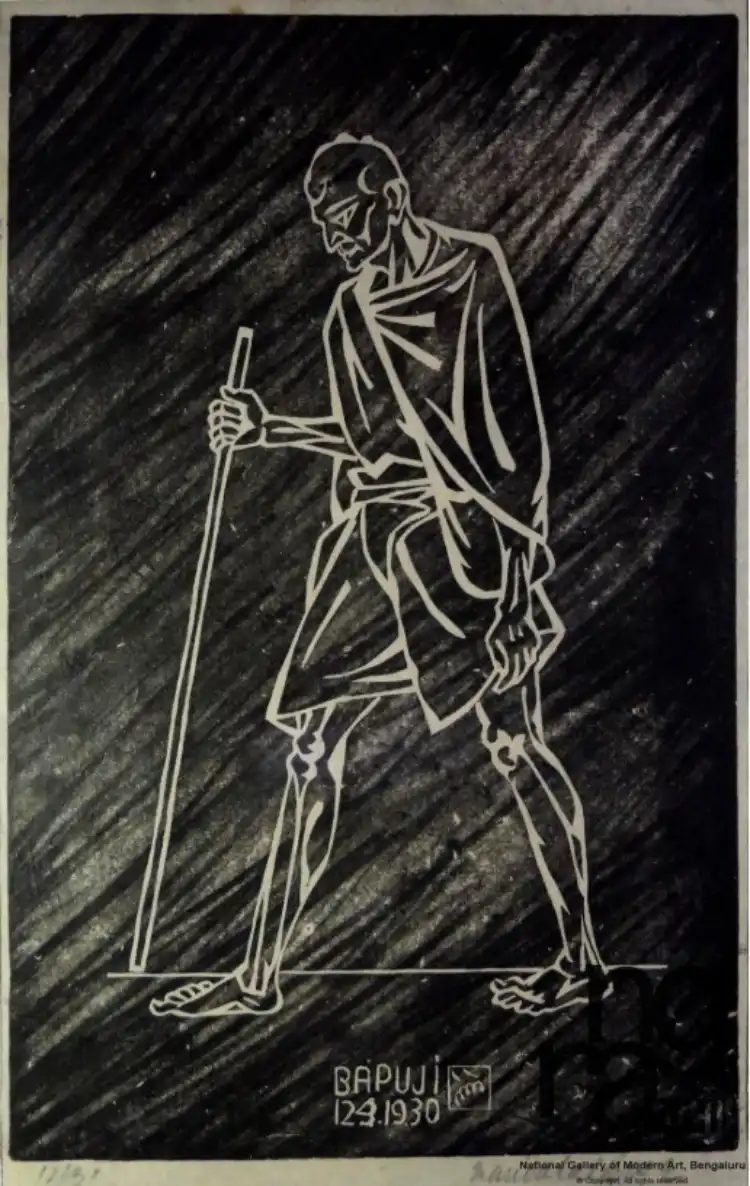 This could be the most popular picture on the list. In India, you can literally see nearly every government office you would go to. Nandal Bose, a Bengali artist, drew this Gandhi image on linoleum sheets. Using this certain material, one can draw a picture in an hour or so. It was mostly used as a doormat or a substitute for wallpaper. Accessibility and ease of the process gave this work an advantage. Many people have widely reproduced copies of this work. The theme is inspired by the historical event Dandi March. It was a movement against the British regime in India.
Nandalal Bose was a national figure in India. He was a disciple of Abindranth Tagore. Nationalist movements had a great influence on Mr. Bose. He drew a lot of pictures using linocuts. Some of his works are printed in Rabindranath Tagore's "Sahaj Path." His contributions to the country were not limited to paintings. On the request of Prime Minister Nehru, he created the emblems of national awards. He was as popular as a nationalist as he was a painter.
It is not necessary to say that he was more than an intellectual. He became an active member of an international art community. This community stood for the preservation of the arts in India. Later, India honoured him with the Padma Vibhushan. He died in 1966 in Calcutta.
These are just a few of the legendary Indian paintings that have been preserved over the years. Many valuable paintings, historians argue, have been lost over time. However, these paintings listed above were safe from the tests of the time. Almost all art lovers around the world might be familiar with at least a few of these paintings. They showcase a perfect blend of skills and love for nature.