Beard trimmers are an essential grooming accessory for men. With the busy work schedule, you cannot always rush to a salon for a shave. As shaving is time-consuming, it is best to use a trimmer at home to groom your beard. With growing competition in the market, many companies are manufacturing a wide range of trimmers. And since online marketing has bloomed, the production and sales of trimmers have risen significantly.
Online shopping lets you buy products from anywhere with only a few clicks. Flipkart and Amazon offer a wide range of trimmers and other shaving accessories with maximum discounts. Go through the pros and cons to buy the best trimmer that is affordable, reliable, and delivers excellent performance. In this article, you will read about the five best affordable trimmers that are manufactured with advanced technology and unique features to overcome the drawbacks of the conventional trimmers.
The 5 Best Affordable Beard Trimmers for Men in India are:
1. Philips QT4011/15 Cordless Beard Trimmer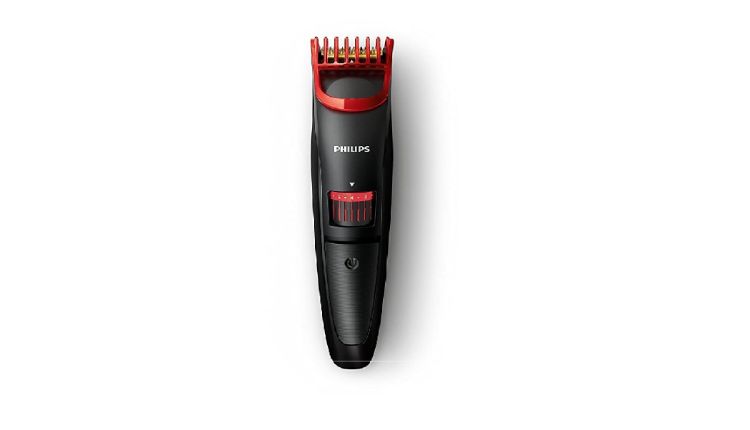 This trimmer tops the list for its extraordinary features and performance. It gives the best trimming experience right from the first use. It comes with advanced self-sharpening titanium blades, which ensures a smooth trim and long-lasting durability. Compared to other beard trimmers, this one will last longer by 4 minutes because of the advanced power technology that optimizes the power consumption. One hour of charging delivers 90 minutes of cordless use. With 20 different length settings, it has a quick-charge battery with an indicator that indicates the charging level.
Pros:
Titanium self-sharpening blades
Supports both corded and cordless use
Fast charge with a battery indicator
1-hour charging gives 90 mins of cordless use
20 lock-in settings for 0.5-10 mm
Easy cleaning and long-lasting battery
Up to 0.5 mm precision
No heating and skin cuts
2-year warranty
Innovative 30% faster cutting
Battery life diminishes over time
Cons:
Trimmer body not washable
2. Philips BT7501/15 Cordless & Corded Vacuum Beard Trimmer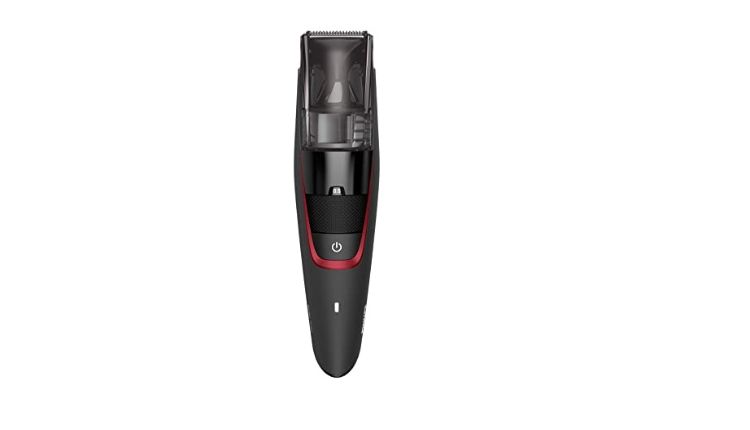 Yet, another best trimmer from Philips, which has a high-performance vacuum system and an innovative lift-trim technology that captures 90% of the trimmed hair. Cleaning is hassle-free as you can wash the head and comb after every trim. It first lifts the low-lying hair and then pulls them towards the sharp steel blade for precise cuts. It also has a Quick-charge battery and battery indicator like the previous one. The battery lasts four times more compared to conventional trimmers. 20 Lock-in length settings and precision up to 0.5 mm.
Pros:
Innovative lift and trim system
Self-sharpening stainless steel blade
2-year warranty
High-performance vacuum system
60 minutes of cordless use in one-hour charging
Battery indicator
Heads and combs fully washable
Cons:
Trimmer is not fully water-resistant
3. Syska Aqua Trim Pro Styling Kit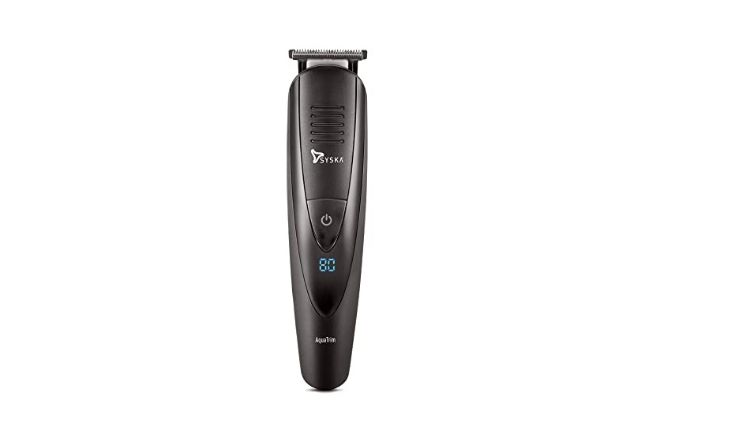 This trimmer comes with high-quality blades that can cut facial hair up to 1-16 mm. It has nine different length settings for trimming and styling. One-hour if charging gives you 90 mins of cordless use. It has a LED battery indicator to display the charging status. Heads and combs are fully washable. The trimmer has a top-quality motor that facilitates precise cutting and upholds the power even when the battery is low. The skin-friendly blades give a smooth trimming experience. Another highlighting feature of this pro styling kit is low noise trimming operation.
Pros:
A high precision performance(1-16 mm)
Advanced blades
Safe, skin-friendly, and precise trimming
1-hour charging gives 90 mins of cordless use.
LED indicator for battery charging status
9-different length settings
Supports both corded and cordless use
Fully washable heads
Travel lock to avoid battery discharge
Offers low-noise operation
Cons:
 Blades are not as comfortable as Philip's titanium blades.
4. Ustraa Chrome 300- Lithium Powered Cordless Beard Trimmer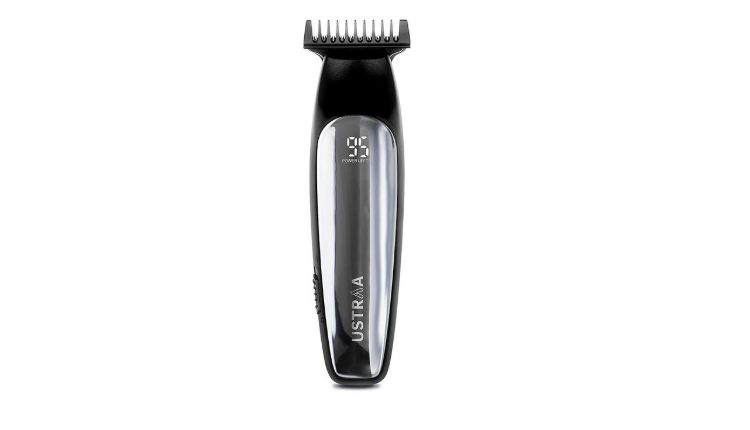 This Lithium powered trimmer is easy to use. The blades are titanium coated with round edges for extra strength and durability. It has sturdy ABS plastic combs that do not rattle. Unlike those conventional trimmers, this trimmer gives its full performance until the battery is dead. You also get a digital display to see the battery percentage, oiling percentage, and charging status. Also, it comes with a blade cap on the trimmer blade to protect from damage. It gives a maximum usage time of 120 mins on one-hour charging.
Pros:
Precision trimming up to 0 mm.
Titanium coated Self-sharpening stainless steel blades.
Sturdy and adjustable ABS combs.
Quick-charging Lithium-ion battery
1-hour charging gives 90-120 minutes of cordless use
Sleek body design for a better grip
Chrome finish body
 Attachments are washable
Supports both corded and cordless use
Comes with a 2-year manufacturer warranty
Cons:
5. Mi Corded and Cordless Waterproof Beard Trimmer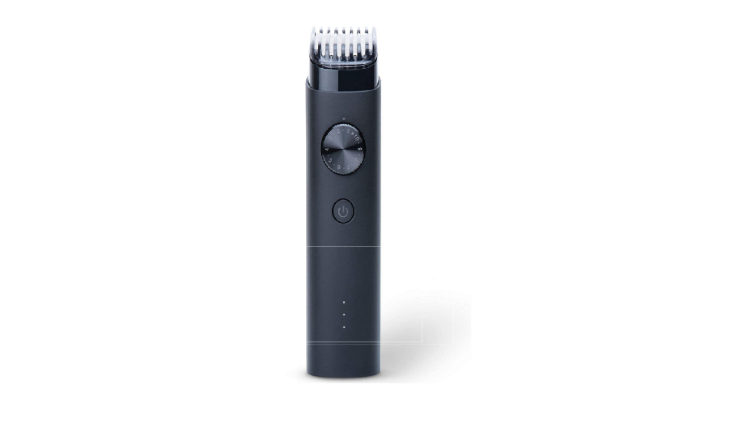 This Mi trimmer comes with an IPX7 waterproof certification. It has 40 length settings and two beard combs with a precision up to 0.5 mm and allows cordless use. The self-sharpening stainless steel blades of this trimmer are skin-friendly. It has a fully washable body for easy cleaning and has a unique quad edge design that helps to reach dense spots effortlessly. 2-hour charging gives 90 mins of cordless use. You can also use the trimmer for 10 mins with only 5 minutes of charging.
Pros:
Offers 40 different length settings
2-hours charging gives 90 mins of cordless use
Allows both corded and cordless operation
Travel-safety lock for safe usage
Comes with a 1-year warranty
Quad-edge design with slip-proof texture for smooth trimming experience.
Long battery life and quick charging
Water-resistant
Cons:
Blades get heated up within a few minutes
Can be charged only with its special charger
These are the five best affordable beard trimmers that are suitable for everyday use. Check the pros and cons of each of these trimmers twice before buying the trimmer. It is best to shop these trimmers online to save money and time. You can avail discounts and coupons by shopping online. Amazon Great Indian Festival Sale and Flipkart Big Billion Days Sale offer maximum discounts on trimmers. These two sites are the two most trusted sites that provide so many benefits, including product replacement and return options. Since they are providing these benefits, do not forget to return or ask for a replacement if you encounter problems with the trimmer within the first few days.