With the rising costs of healthcare facilities in India, health insurance has become a necessary inclusion to your financial portfolio. You are probably well aware of the benefits of health insurance. But if you are unsure about how to buy one, then you are not alone. With so many health insurance plans available in the market these days, it can be a difficult choice.
To buy the best health insurance plan, you need to know everything about the factors, such as waiting period, inclusions/exclusions, no claim bonus, etc., to make an informed decision.
In this article, we will tell you everything there is to know about buying a health insurance plan so that you can purchase one with confidence.
Let us first get started with the basics.
What is Health Insurance?
Health insurance is a type of insurance that covers you against medical emergencies that arise out of accident, injury, all illness. You can use the claim amount to pay for hospital bills, consultation fees, medicines, etc. You can buy a policy for a certain period of time by paying for it monthly or annually.
Important terms associated with health insurance
Before you can purchase the best health insurance plan, you need to understand some key terms:
1. Waiting period:
Most policies come with a waiting period of 30 days which means that your policy benefit activates after completing this period. You can claim the amount for any hospitalization arising out of an accident or illness after the waiting period is over.
2. Pre-existing illnesses
These are the health conditions you or your family members have before buying the health insurance plan. In most cases, an insurer does not provide coverage for these illnesses without a minimum waiting period of up to 4 years.
3. Survival Period
In case of a critical illness, you can claim the cover benefit if the insured person has survived a minimum of 30 days after being diagnosed with the disease.
4. Network hospitals
The list of hospitals that fall within the network of your insurance provider is called network hospitals. You can avail free cashless facility at these hospitals.
5. Riders
You can include additional benefits to your base plan by adding riders to your policy. Riders are optional. These can be decided based on your lifestyle and budget. Look for options like maternity cover, critical illness, top-up cover, etc.
6. Inclusions and exclusions
Inclusions are the circumstances and illnesses covered by your policy document. On the other hand, Exclusions are the situations and conditions not covered by your health insurance.
7. No Claim Bonus
This is a reward added to your sum assured for a claim-free year.
8. Co-pay
This is the policyholder's amount to pay from their pocket before filing for a claim. Check the co-pay clause and the percentage you need to pay before buying the policy.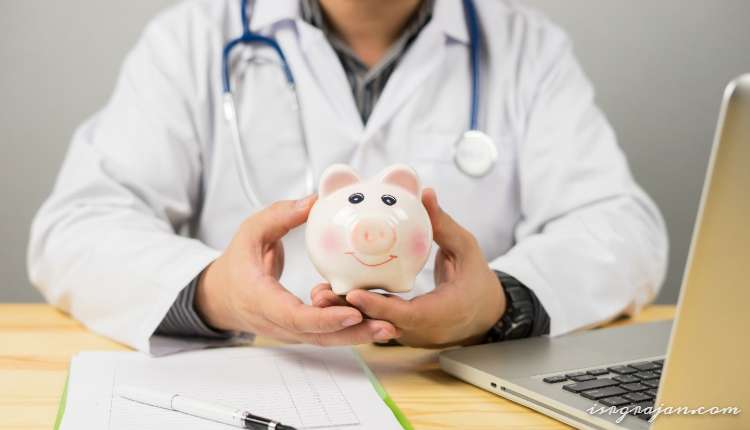 Benefits of Health Insurance Policy
Here are some benefits of having a health insurance plan:
It pays for you or your family members' hefty medical expenses
You can avail of cashless treatment at any of the network hospitals without paying a penny from your pocket
You can also go to hospitals of your choice outside the list of network hospitals and then claim the amount later.
Get coverage for treatments done under AYUSH – Ayurveda, Yoga, and Naturopathy.
Get pre-hospitalization up to 30 days and post-hospitalization expenses up to 60 days.
Different types of health insurance plans
There are several different types of health insurance policies. Some of them are listed below:
1. Individual Health Insurance
These plans provide coverage for an individual only. Therefore, it is most suitable for single men and women.
2. Family Floater Health Insurance
This plan covers your entire family under a single policy. The coverage amount is distributed among all the insured members equally. Therefore, one person or multiple family members can use the Family Floater Health insurance policy in a year.
3. Critical Illness Insurance
This health insurance plan covers serious illnesses, such as cancer and kidney failure, at an affordable premium. You can also buy this cover as a rider with your basic plan. However, be sure to check the list of illnesses as they vary from insurer to insurer.
4. Senior Citizen Health Insurance
This insurance cover is suitable for senior citizens who are above 60 years old. This policy will cover for illnesses and situations in a basic plan.
Tips for buying a health insurance policy
Keep the following things in mind when purchasing a health plan.
1. Benefits 
Compare benefits offered by multiple insurers to choose the policy that gives you the most value for your money. Look for things like a cap on room rent, ambulance charges, daycare treatment, etc.
2. Premium
Check premiums against sum assured and benefits by using premium calculators offered on most insurance websites.
3. List of network hospitals
Ensure that your local hospital is on the list of network hospitals to avail of a cashless facility.
4. Claim settlement process
The claim settlement process should be hassle-free. That is why you must check the company's reputation and claim settlement ratio to ensure that you get your dues on time.
Use this article as the starting point to understand the basics of a health insurance plan. Then, it will help you make the right purchase decision.